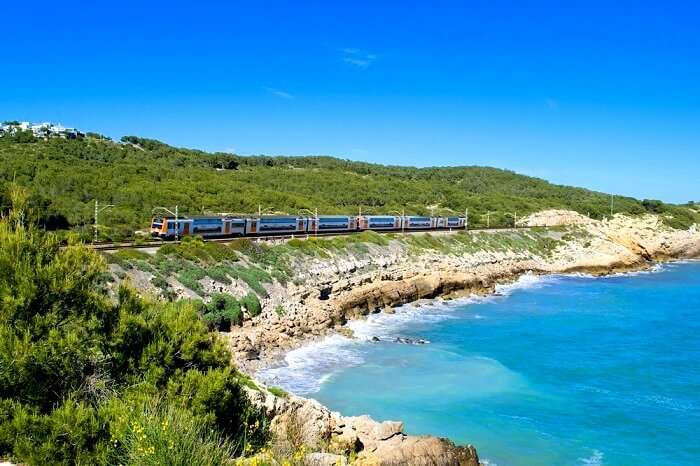 Soaring high up amidst the clouds with a feeling that the world is quite literally at your feet is surely an experience all of us love to have. After all, it's because of this very experience, our mind and heart unanimously jump for joy for the new adventure that's about to begin. However, while a plane ride comes with its own perks, nothing can beat the charm of traveling to certain places in the world by train! Most of the gorgeous cities you should visit by train are located across the world in different continents, but have one thing in common, which is the unparalleled breathtaking views of nature.

With a duration that ranges from an hour to over 10 hours, the train journey to certain cities encompasses through everything from majestic mountains rising from a lush green ground to romantic tunnels where time seems to come to a halt. But since there are so many places that can be visited by train, we dug out the best ones for you from around the world so that irrespective of where you are holidaying or traveling, there's always something exciting to look forward to!
5 Gorgeous Cities You Should Visit By Train
Here's a list of the most amazing cities to visit by train in the world that will leave you in awe and make you realize that it's a heavenly world that we live in!
1. Ella, Sri Lanka

A small quaint town located to the east of Colombo, Ella is one place you need to put on the top of your bucket list of the train journeys you cannot afford to miss out on! While the city welcomes its tourists with a plethora of beautiful attractions, the train ride that makes one reach here from Kandy feels nothing less than a paradise as well. Hailed as one of the most scenic train rides in South Asia, the Kandy-Ella train journey offers a myriad of breathtaking views. Lush green grasslands, rich tea plantations, and splendid waterfalls are only the first few of the wonderful marvels that you would encounter on your way to the town.
Time Duration: 6 Hours
Price: INR 400 to INR 3,000 for first class
Tips:
Book your tickets for the Kandy-Ella train ride well in advance. Prefer getting tickets for the 1st class seats.
Reach the Kandy Railway Station 15 minutes before the time of your train departure.
If the journey seems too long to you, get down at Nuwara Eliya for a one day stay for a blissful sojourn.
Must Read: 15 Things To Do In Ella In 2022 To Take Your Sri Lanka Trip To The Next Level
2. Koblenz, Germany

Located some one and a half hour away from Frankfurt, Koblenz is a German city that you may not have heard of.
A perfect gateway to the fairytale dreamers and wine lovers, this ancient city is known for leaving all types of travelers smitten. On one hand it has the Rhine Valley and Moselle Valley, and on another charming ruined castles. But it's a train ride through the city that makes this postcard-perfect place worth visiting. The train passes along the rivers amidst spectacular views that would make you feel like you have accomplished it all in in life!
Time Duration: 1 Hour 45 Minutes (approx)
Price: INR 1,500 onwards
Tips:
While you can easily buy the ticket at the station, prefer getting one yourself from the Red Ticket Machines installed at the station.
Ensure that you know a few common German phrases so that you understand the last minute announcements being made for the passengers.
Suggested Read: Cottages In Germany: An Exclusive Guide To Locate And Stay At These Lavish Staycations!
3. Barcelona, Spain

Spain is not at all behind when it comes to being home to pristine natural beauty. Almost every other city is the country is painted in the colors of blue, red, and yellow, of which Barcelona undoubtedly tops the list. But that's not the only reason that makes Barcelona worth visiting. Of all, one is the gorgeous work of art by Goudi all across the city and the other major reason is that the city is only some 6 hours away from Paris. Yes, you read that correct. You could easily start your day in France and end the evening in Spain if you take Renfe-SNCF high-speed train. This train journey is not only considered to be one of the fastest ways to travel from Paris to Barcelona, but also the cheapest. And of course, the views are unmatchable!
Time Duration: 6 Hours 30 Minutes
Price: INR 3,000 onwards
Tips:
If you wish to enjoy the best bang for your buck, make sure you book your tickets well in advance. The train ride might seem longer than a flight, but it's absolutely worth every dime.
You need not buy a ticket if you already have a Eurorail pass. Just ensure that you have got the seats reserved in advance.
Suggested Read: 8 Ravishing Water Parks In Barcelona To Stay Cool And Beat The Heat!
4. Fort William, Scotland

Scotland is home to some of the most charming cities, and one must travel beyond Glasgow to witness the country's fascinating places like the town of Fort William. Located in the western Scottish Highlands, this town is popular primarily because of the famous Hogwarts Express a.k.a The Jacobite Train that starts from Glasgow and takes you to the quaint town encompassing marvelous mountains, steep lochs, and much more. What makes the ride more special is the thick puff of smoke that rises from the steam engine as the train crosses the Glenfinnan Viaduct. Right from the moment you start your journey to the time you deboard at Fort William, a plethora of picture-perfect landscapes surround you with utmost warmth.
Time Duration: 6 Hours 50 Minutes
Price: INR 3,000 for a standard ticket and around INR 5,300 for first class return ticket.
Tips:
Try to plan your trip during summer as it is during this time you can choose a train journey at your own convenient time. Unlike summers when the Jacobite runs four times a day, it only runs twice in winters.
Reach well in time and aim for a window seat if you wish to capture the memorable moments of the train crossing the viaduct.
Suggested Read: Scottish Highland Railways: 12 Most Breathtaking Train Rides Of Scotland!
5. Darjeeling, India

India is home to uncountable places that can be reached via scenic rail journeys, but of all the cities you should visit by train in India, Darjeeling is the one that need to be in your bucket list. The vintage toy train run by the Darjeeling Himalayan Railway that starts from the New Jalpaiguri station is a UNESCO World Heritage Site and dates back to the 18th century. The breathtaking route offers unprecedented views of the mountains and valleys, beautiful enough to make you realize that you're en route Darjeeling. The zigzags and loops in the track only add stars to the joyride experience.
Time Duration: 7 Hours
Price: INR 1,200 onwards
Tips:
Book your tickets online for the toy train months before your trip as the tickets get sold out way too soon.
Try to plan your trip between October to December as the weather is absolutely perfect tor the train ride during this season.
Further Read: 5 Best Cottages In Darjeeling Where You Can Soak In Ultimate Bliss & Luxury
All of these amazing cities to visit by train deserve to be a part of your bucket list! While the time taken by train is more in some cases than a flight, the experience of traveling to the specific city by passing through nature's untouched beauty surely makes up for it. So, the next time your plan an international holiday with TravelTriangle or a trip to Northeast, do not forget to include these train rides in your itinerary!
Frequently Asked Questions About Cities You Should Visit By Train
Q. Which are the best places you can visit by train from London?
A. Amsterdam, Paris, Rotterdam, Lyon, and Brussels are some of the best places that you can visit from London. These places are also amongst the top 15 cities you can reach by train in under six hours from London
Q. Which are the best train journeys in the world?
A. The West Highland Line, The Ghan, Trans-Siberian Railway, and The Flam Railways offer some of the most mind-boggling train rides in the world.
---
Looking To Book A Holiday Package?
Book memorable holidays on TravelTriangle with 650+ verified travel agents for 65+ domestic and international destinations.
---