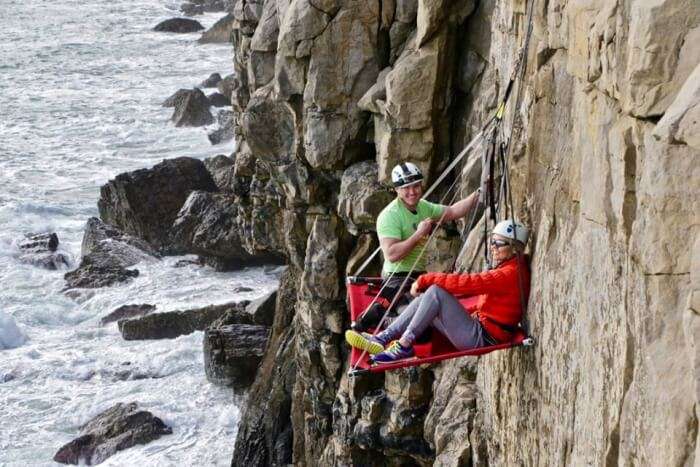 An adventure-enthusiast, Eddy Young has introduced a B&B in Dorset that puts all the adventure stays to shame. Here, you'll be sleeping on a hammock suspended 60 feet above the English Channel. And of course you won't dare to toss and turn while you sleep!
This unique cliff camping experience, or portaledge, is described as "a tent in the world of vertical life." Young's Adventure Solutions, the company mentions on their website "a sense of adventure is most important," and we couldn't agree more. "The clients will stay tied to a harness and the portaledge sinks a bit in the middle to stop you rolling off," says Eddy Young.

Talking of the pricing, it would cost you around 640 USD for a single guest/adventurer to stay overnight, the cost of dinner is included in the tariff. But if you are traveling with another like-minded traveler, the cost comes down to 355 USD per person. And if there are more than three people in the group, Young's Adventure Solutions need to be contacted directly for arrangements.
However, if staying overnight sounds a lot for you, you can opt to have lunch and behold sunset from the hammock B&B. It would definitely cost a lot cheaper. Until now, according to a report by Daily Mail, this cliff camp has hosted just 6 people. Even though the whole experience, even a sight of it, makes us wonder how dangerous it would be, Young assures it indeed is safe and comfy.

Don't know about others, but if you are already smitten by the idea of cliff camping with Young's Adventure Solution, make sure you carry warm and comfortable clothing, shoe, prescribed medications and other essentials you think you cannot go an adventure-filled day without.
Further Read: Skylodging In Peru: Camping While Hanging Off A 1,200 Feet Cliff