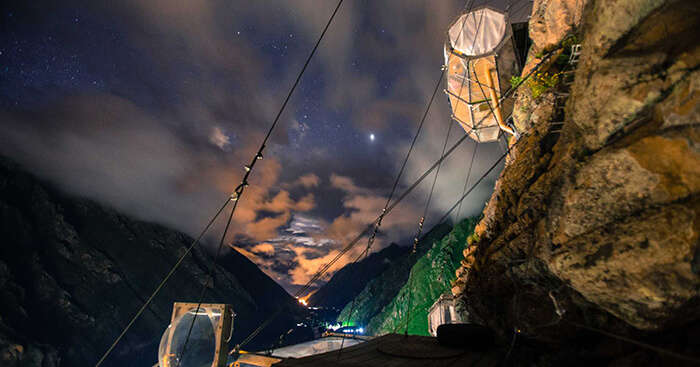 No matter how comfortable you are with heights, this extreme camping experience will surely make you go weak in the knees. The skylodging in Peru guarantees the most electrifying adventure of your life. With transparent pods, it is even worse!

So, what's the fuss about?
The pictures have been trending enough, but in case you missed them, here is what you need to know about this new level of cliff camping. Skylodge Adventure Suites at Peru's Sacred Valley are suites with a difference. Hanging at 1200 feet cliff they are among the most adventurous stays you can plan. With panoramic views of the magnificent valley of Peru (and depending on how adventurous you are) it can be a romantic experience too.

Must Read: 20 Best Places To Visit In Peru For An Incredible Holiday Experience In 2022
Not enough adventure?
Okay, pump in the oomph of 400 meters of hair-raising hike through a course of metal ladders and cables, with a zest of zipping. Or zip the whole way. Your choice, your way – it's your adventure ultimately.

What's it like?
As you lie on your bed and browse through a book, imagine looking down the floor and realizing you are up, really high up in the sky. You are hanging in the air. And not just anywhere, 400 feet above the ground, to be precise. Even though there is all luxury you could want – finely threaded quilts, fluffy mattresses and soft pillows – nothing holds much value here. It's simply exhilarating.
PS: And yes, reading is possible in the suites with its solar operated reading lights and interior lamps.

Claustrophobic?
Worry not, 24 feet high and 8 feet in width, the pod suites have 6 windows and 4 ventilation ducts to make the stay airy and comfortable for you.

So is sleeping in the tent the only option?
Absolutely not! There is a private dining area, four beds and an out-of-the-world dry bathroom, hanging in the middle of nothing. Gourmet dinner at the private dining area and elaborate breakfast at the rooftop of your pod – both taste heavenly here, to say the least.

Afraid of 'peeping Tom'?
Heheheh…there are curtains which you can draw to keep the nosy sky neighbors out of your business. Or just give them a pretty show. :-P

Got safety concerns?
We understand there is some thrill, but huge safety concerns too. But take the words of Skylodge Adventure Suite's guests, suspended on metal cables, these pod suites are more than secure. They are crafted out of aerospace aluminum and highly resistant polycarbonate. In short, they are absolutely safe.
See reviews here.

Must cost a fortune!
Surprisingly, guts are all they demand! You don't need big bucks to book your night of electrifying adventure. A mere $ 450 per person is what they charge!

How do I book?
Make your bookings through Nature Vive's Sky lodge's official website.
Interesting?
Share it.