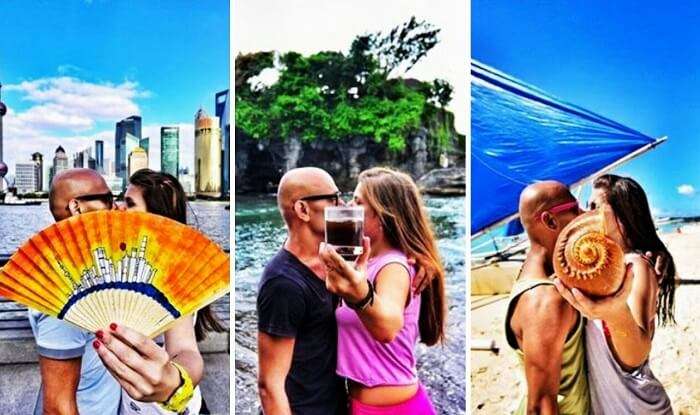 From exploring the coldest desert in the world to swimming with the sharks, Shyam and Anya, an Indo-Ukrainian couple have been unstoppable ever since they decided to break the monotony of their lives. Bored of their regular lives, Shyam and Anya decided to give up everything just to live the uncertain life in which, a kiss of love was the only constant that bound them in love and travel.
Suggested Read: 10 Tourist Places To Visit In China For An Epic Oriental Adventure!
Tired of a life within the walls, and weary of a 9-to-5 job, they decided to break the chains and free themselves from the bondage of boredom just to find the fun that was missing in their lives. And the best way that led them to happiness, was traveling around the world, kissing in public, and literally living an out-of-the-box life.
Without any second thoughts, both of them decided to travel wherever they felt like. They had everywhere to go, and everywhere to be. No matter how dirty their hands were or how low on budget they got, they were high on love, life, and travel.
The traveled across 40 countries over the period of 365 days, and kissing in public was their way of sealing their travel memories in love. This is how they gave birth to #KissIsIt which the couple has it in opinion is a campaign which stands strong on the pillars of love and travel and intends to spread love, which is for all.
Suggested Read: Trans Siberian Railway: World's Longest Rail Network That Crosses 8 Time Zones Across 9300 Kms!
According to Shyam & Anya, "#KissIsIt is not a rebellious, dare the world, break all rules, be bold, stand for something move. It's just collecting experiences from our travel while making it more creative and fun, our own way."
Their journey which has been fantastic so far has led them to explore countries like China, Mongolia, Korea, Japan, Indonesia, Singapore, and Philippines. And in all these countries, each new experience has taught them a great lesson and has been more than amazing.
Suggested Read: China Begins Operation Of World's First Trackless Train, And Redefines Urban Travel
From cuddling with pandas in Singapore to paying a visit to Hachiko in Japan, from getting inked by the oldest tattoo artist in Philippines to hiking up to the last village near Mount Agung in Bali, from clicking a selfie at Borobudur to dipping their hands in the most acidic lake of the world in Indonesia, they've been there and done that with a topping of kiss.
Suggested Read: Best Places To Stay In Bali For An Unforgettable Honeymoon Experience!
In addition to travel, the campaign of #KissIsIt added to their excitement of arriving at a new destination, and capturing their moment that would go down their memory lane. And for Shyam & Anya, the fact that they had something to look forward to everyday, made waking up to a new place worth their experience. Needless to say, they found this way of living life as it comes much better than staying within the walls.
While Shyam & Anya have found their purpose of life, they're true in feeling that life is all about embracing the hardships, not giving up, traveling as far as you can, and spreading the love till your last breath.
Wouldn't you agree to that?