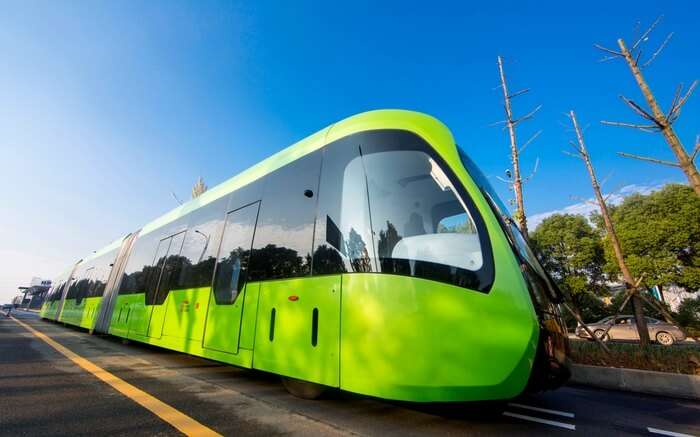 World's first trackless train is here and we can't stop bragging about it. Yes, as the first trackless train begins its operation in the Zhuzhou in Hunan Province in China, it is already touted as a huge boon to the sustainable transport. Developed by CRRC Corporation, one of the world's largest manufacturers of the train, the Autonomous Rail Rapid Transit or ART is believed to be a pathbreaking success in the sphere of public transport. The train, equipped with ultra-modern facilities is certainly the next big thing.
The ART runs completely on the sensor technology and uses guided paths mapped on road for movement. During the initial stage the train comes with 3 carriages but with the expansion in the later stage, it is said to easily carry up to 5 carriages.
Salient features of the world's first trackless train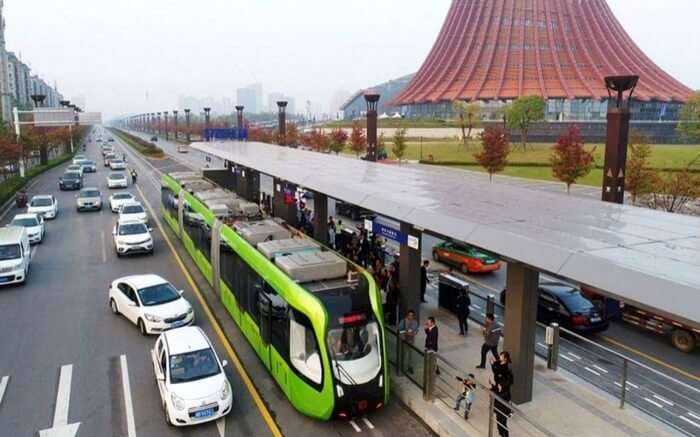 The CRRC Corporation uses rubber wheels on the train with a plastic core, first of its kind.
The trackless train is believed to have a total lifespan of close to 25 years.
The train is 32 meters long and can carry up to 300 people at a time.
The trackless train runs on electricity. It can run 25 km after a 10-minute of charging.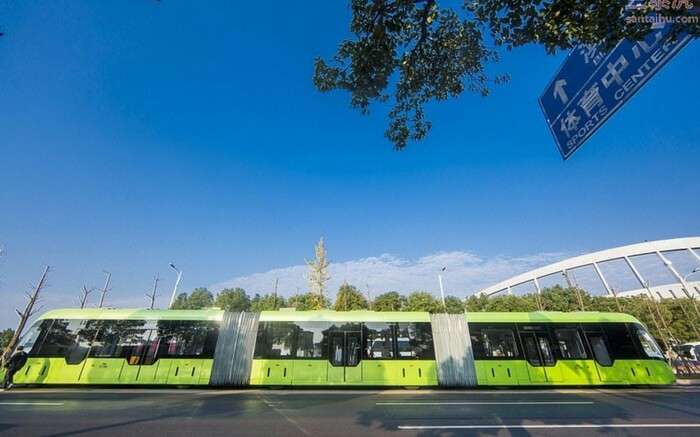 The train can clock a top speed of 70 kmph quickly.
A non-existent railway track is well depicted by dotted lines painted on the road which is 3.75 m wide. The train is supposed to run on it.
It is also said that the train has adequate sensors that identify the pavement and can collect the vital travel information.
With a unique design, the train is believed to be an upgraded form of a public bus and looks more like a tram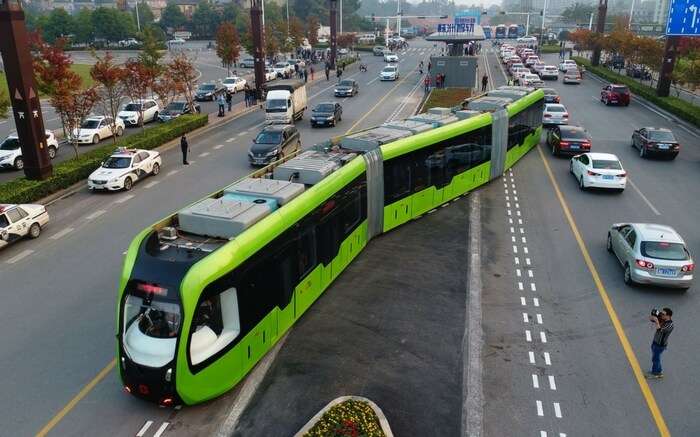 It doesn't require a physical railway track to run.
The train thrives on twin head system, just like a metro train, which means there is no need for a U-turn.
This train is touted as a big respite for the Zhuzhou city that has a population of close to 4 million.
Video of world's first trackless train in China
China continues to stun us with its engineering marvels! From one of the most difficult bridges ever to a world of sustainable development, China is certainly giving a next level challenge to people across the world! Way to go China!
Further Read: Bullet Train In India: Here's How It's Going To Change Our Train Travel