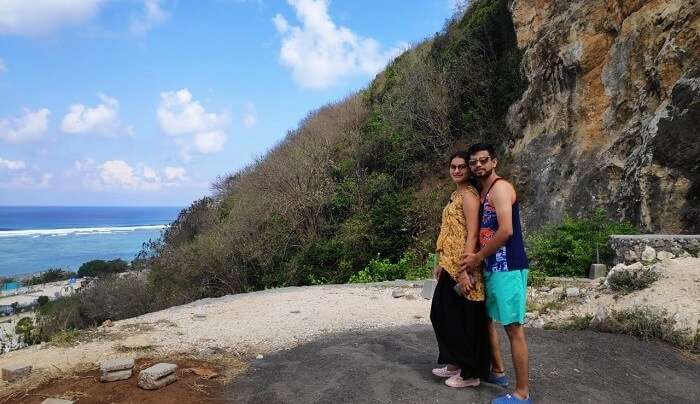 Bali has become a lovenest for honeymooners and couples where they can not only relax by the beach but also have some amazing experiences on their holiday. With bewitching landscapes, thrilling watersports, and lively shopping streets, now wonder it has become every couple's first choice. Here is Manoj and his wife's experience in Bali.
Whenever someone thinks of an island getaway, the first place that comes to mind is Bali. The 'Island of God' is such a beautiful place that it deserves all the hype. Bali is a kind of place that offers beaches, temples, water sports, wildlife safari and lots of shopping options. Who wouldn't like to pick an all-in-one destination such as Bali?
Details of Couple Trip To Bali
Trip Type: Honeymoon
Trip Duration: 7D/6N
Bali Trip Cost for couple: INR 60,000
Inclusions: Airfare, Airport Transfer, Accommodation,Sightseeing, Breakfast,
Exclusions: Lunch, Dinner
Itinerary of Bali Trip For Couple
Day 1: Welcome to Bali
Day 2: Pandawa Beach & Kecak Dance at Uluwatu
Day 3: Mount Batur Lake
Day 4: Watersports & Candle-lit dinner at Spice Mantra
Day 5: Bali 3D Interactive Museums & Bali Night Safari
Day 6: Shopping in Bali
Day 7: Bye, bye Bali
Top 50 Things To Do In Bali That Will Let You Explore This Island Paradise Like A Local
Weather In Bali In July
We visited during the dry days i.e. in the month of July, which is the best time to visit Bali. We were glad that the weather didn't play a spoilsport on our trip. The average low temperature was 22 degrees Celsius. During the day, it went as high as 31 degrees Celsius.
Best Experiences On Our Couple Trip To Bali
Here are the experience we had on our couple's trip to Bali and we think are the best places to visit in bali for honeymoon couples.
1. Bali Night Safari





Bali Night Safari was the highlight of our couple trip to Bali. Meandering through the jungle in the night and watching wild animals in their natural habitat was absolutely thrilling. Bali Wildlife and Marine Park had all kinds of animals from different continents. It was amazing to see them at night from close.
2. Pandawa Beach





Visiting Pandawa Beach was an astounding experience. The fact that it was less crowded than the other famous beaches in Bali made it a wonderful experience for us. The blue and green waters of the sea seemed so soothing to the eyes and water at the beach was clean too.
 5 Majestic Places To Visit Near Kebun Raya Bali For Adventure And Thrill In 2022
3. Uluwatu & Kecak Dance





We were delighted to see the traditional dance performance – Kecak Dance, at Uluwatu Temple. The dance narrated the tale of Gods in Bali. It was fun to watch. One should definitely add this experience to their list when visiting Bali for a vacation.
4. Tanah Lot Temple



What new can I say about the famous temple – Tanah Lot Temple? Located by the sea, the temple is located in a majestic scenery. Our minds were blown. No wonder it is an iconic attraction in Bali.
5. Bali 3D Art Interactive Museum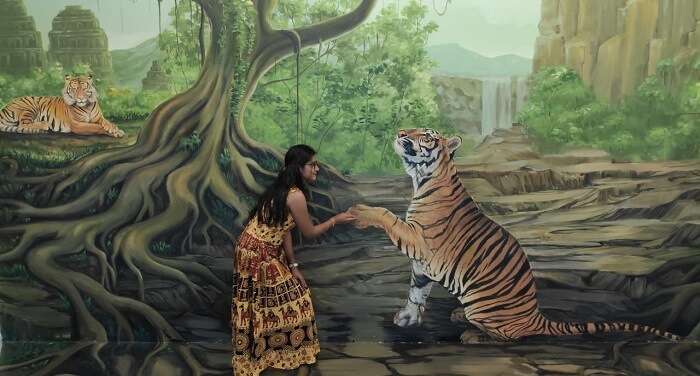 This is where we had the most fun on our romantic Bali vacation. Whoever says museums are boring should definitely visit this place to change their opinion. The optical illusions, vivid 3D art, and special effect at the museum were so quirky and amazing.
Accommodation On Our Couple Trip To Bali
Here are the hotels where we stayed on our couple's trip to Bali and their review.
1. Holiday Inn Express, Raya Kuta
For the initial 4 nights we stayed in Holiday Inn Express, Raya Kuta. Property. It was just above average. EVen though the hospitality and hygiene were at par, the breakfast was a concern for us The best part of staying here was the food street which was right in front of the hotel.
2. Kamuela Suites & Villas, Sanur
For the last 2 nights we stayed in Kamuela Suites & Villas, Sanur. We were impressed by this property that was suggested by my wife to Travel triangle and our travel expert did the best job to get us a great deal on it. I would definitely recommend other travelers to stay here on their romantic Bali vacation though its a bit on the higher side. The suites were extremely spacious with jacuzzi and they even provided a welcome foot massage. The beach was just a small-walk away from the villa where we could go anytime and enjoy the ocean views. Even the street had so much to offer like restaurants with different cuisines, shopping streets, etc.
 Ancient Temples and Monuments Near Nusa Lembongan Bali That Are A Must-Visit
Shopping On Bali Trip
I bet if anyone comes home with disappointment in shopping from Bali. Our's was no less, we were on a shopping spree in every location which we visited. Some of the famous shopping destinations of Bali were
Ubud market
Kuta Market
Tanah Lot market
Uluwatu Temple Market
From our experiences Tanah lot gives you range of items all at one place. Rohtang Sling bags and wooden toys/items are the things a travelers should grab without a second thought.
Food Experience In Bali
Here are the restaurants in Bali where we had a chance of enjoying amazing food. My wife and I are both vegetarians. So, we mainly explore Indian restaurants in Bali that served vegetarian food.
Hotel Lambodhar in front of Holiday Inn was the best restaurant near our hotel. It was the most reasonable Indian restaurant in Kuta that served the best vegetarian food in Bali. if you are an Indian vegetarian, then this place in Kuta is your biggest saviour.
Spice Mantra, Kuta: As per our itinerary, we had dinner from SPICE MANTRA, Kuta. It served mouth watering dishes and the hospitality was amazing. However, it was a bit heavy on pocket, but the delicious food was worth it.
Krishna Bhavan in Sanur offered good quality food with generous quantity. Even the rates were average.
Bali Travel Tips
Here are some travel tips that you should keep in mind to make your experience in Bali worthwhile.
Don't restrict to the beaches. Head to the mountains and other places in Bali.
Plan your vacation in the months from May to August as the weather is amazing
Cover yourself when visiting temples.
Carry a daypack with you at all times to keep all the essentials in it.
Take enough along as there are chances of scams at the ATMs in Bali.
Do's & Don'ts In Bali
Here are a few Bali travel tips that we would like to pass on to the fellow travelers going on a trip to Bali for couples.
Do's
Ask for the hotel which provides Indian food or choose a hotel which has Indian restaurants nearby if you do not like experimenting with the cuisines.
Carry high denomination USD currency from here and exchange it in Bali, not at the airport though.
Dedicate enough time to one spot and enjoy the trip.
Include watersports in your package from Travel Triangle and try to get the best deal. Once you reach the watersports arena, the vendors there try to cheat you by asking you to upgrade or add activities making you pay extra which is not needed at all.
Don'ts
Avoid Seawalk in your water sports package. It is not so great in Bali.
What To Pack In Bali
You must have these things in your luggage to have a comfortable and hassle-free trip to Bali.
Cotton clothes
Beach wear
Flip-flops/sandals
Sunscreen
Water bottle
Mosquito repellent
Heels if you want to go clubbing
Sarong to cover yourself at the temples (however, it is available at Bali temples for a nominal price)
Sunglasses
Extra bag for shopping
Know How An Expedition To Bali In May Was Not Only Romantic But Also Thrilling For This Couple!
How To Reach Bali
We took our flights from Bangalore to Bali connecting via Bangkok.
Experience With TravelTriangle
Frankly speaking , I put my travel agent Mr. Jitendar Joshi through a lot of trouble in customizing my trip itinerary to the best match according to my budget and places that I needed to cover. The patience of Jitendar is truly commendable. Hats off to him! The pre and post sales support of TravelTriangle was no doubt a pleasing experience but I would like to explicitly shout out our Driver's name – Nyoman Danu without whom our trip would have been incomplete. He is a fantastic human being and an excellent travel guide. Everyone would enjoy having him as their travel guide in Bali.
 Spend Christmas In Bali & Indulge In Some Festive Goodness
Our couple's trip to Bali was absolutely amazing. The locals were so polite and helpful in Bali. They always accepted with a warm smile and went out of their way to help us out.. A romantic vacation in Bali is a perfect idea as you can spend quality time with your spouse on the island and also indulge in a variety of activities.
Frequently Asked Questions
Is Bali safe to go alone?
Yes, Bali is one of the most popular destinations in the world where you will find travelers from all parts of the world. If you are careful and confident, then Bali is safe for you.
What is the cheapest month to fly to Bali?
February is the cheapest month to travel to Bali.
What can you do in Bali for 10 days?
You can do a lot of things in Bali in 10 days as there are plenty of attractions to cover and experiences to have on the island.
1. Explore the nearby islands like Gili and Lombok
2. Find hidden beaches in Bali
3. Take a rice plantation tour
4. Join a yoga class in Ubud
5. Take an ayurvedic spa
Is Bali expensive to eat?
Some places in Bali are expensive to eat but not all. If you want to enjoy cheap eats, visit local restaurants or Warungs in Bali.
What time of the year is the best time to visit Bali?
May to August is the time when the weather is at its best. The days are dry and there are relatively less downpours on the island.