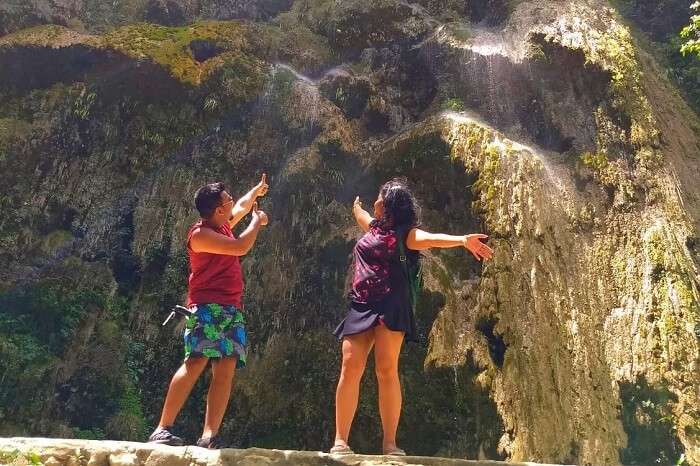 Exploring new places has always been a passion for Anindya Nandi. He has traversed to several places before but this time he wanted to plan a vacation to a place which is away from the hustle-bustle of the city. Along with this, he wanted to spend some quality time with his wife which led him to choose for Philippines as the next holiday destination. Philippines is a blissful place for beach bums as it houses more than 7000 tropical islands. This country satisfies every traveler's desires by providing adventurous sports activities along with laying back on the beaches. The charming beauty of this country compelled Anindya to book a 5-day couple trip to Philippines this time. Let's take a look at how his journey turned out to be in his own words.
Traveling for me is the best way to unwind from the rattling city life. When planning a getaway, I try to choose a destination that is less visited and hence less crowded with tourists. This time, I wanted to head on a vacation with my wife to spend some romantic time. After surfing through the internet and looking at diverse destinations, we finally chose to explore Philippines. Simultaneously, we looked for different travel agents who provide customizable honeymoon packages. We came across TravelTriangle which provided the services of customized packages. It did not take us long to finalize our romantic escapade to Philippines as the company helped us to finalize our package and include all the places we wanted to visit.
Details Of 5 Days Couple Trip To Philippines
Trip Type: Honeymoon Trip To Philippines
Cost: INR 75000 Rupee Per Person (Without Flights)
Duration: 5 Days
No. Of People: 2 Adults
Inclusions: Breakfast, Transfers, Hotel, Sightseeing, Tour Guide
Exclusions: Lunch, Dinner, Airfare, Travel Insurance, Personal Expenses
Travel Agent: RedLetter Holidays
7 Mesmerizing Beaches Near Cebu That Will Make You Want To Stay In Philippines Forever
Take A Look At Our Customized Itinerary
Day 1: Arrival At Oslob/Cebu
Day 2: A visit to Tumlog Falls and Oslob whale shark adventure
Day 3: A visit to Kawasan Falls and canyoneering in Kawasan Valley
Day 4: A visit to Chocolate Hills and Loboc River Cruise
Day 5: Transfer To El Nido
Day 6: Departure
Some Indelible Experiences On Our Couple Trip To Philippines!
We planned our excursion keeping in mind that we had only 5 days to explore this vast country. But we managed to explore as much as we could in these days.
1. Swimming With Whale Sharks In Oslob

We heard that the Philippines houses more than a thousand different species of whale sharks. We wanted to swim with whale sharks but were afraid to do so. But we both gathered some courage and went for it ultimately, after all, it was going to be a new experience added to our lives. So on the first day of our trip, we went swimming with whale sharks.
This activity turned out to be super amazing. We did snorkeling with sharks and it was a whole different experience for us. It is better to come early at this place so as to avoid crowds, especially on weekends and public holidays. Later, we went to a restaurant to gorge on some street food of Philippines.
2. A Visit To Tumalog Falls In Cebu


On the same day, we also visited the Tumalog Falls which is one of the amazing Cebu waterfalls.
This place is a bit secluded due to its remote location where you can watch whale sharks. We took about 10-15 minutes to walk down on the steep road to the waterfall. After reaching the place, we took a dip in the cool water and relaxed for some time. Swimming in these waters is quite easy as it is not too deep. A novice person can easily swim at this place. A dip in the water relieved us from the scorching heat of the Philippines. Later, we went back to our hotel and had a sumptuous dinner before retiring to bed.
3. Canyoneering Along The Kawasan Valley


The next day we proceeded to the Cebu City and opted for canyoneering in the Kaswan Valley. We got to witness the beauty of numerous and waterfalls. There were several other activities like waterfall jumping, rappelling, and rafting. Apart from this, we also saw some rare species of birds and monitor lizards. We loved to spend some alone time amidst the lush greenery along with blue waters. After this, we went to the hotel to call a night!
Nightlife In Philippines: An After-Dark Abode For Party Lovers
4. Tarsier & Chocolate Hills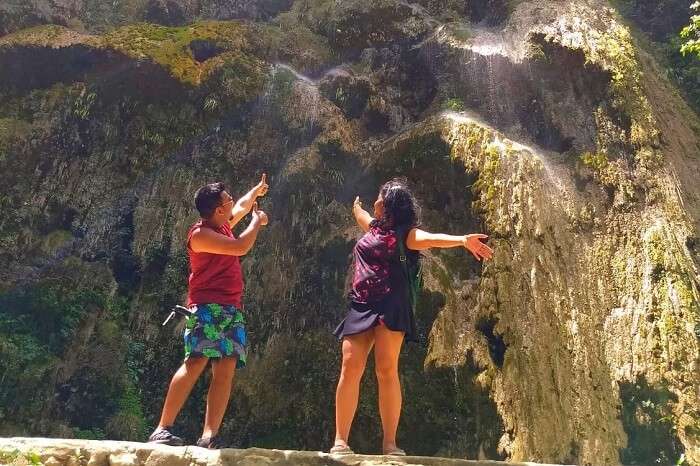 We started the day afresh after having a lip-smacking breakfast at the hotel. I was mesmerized to see the wide assortment of breakfast items. After refueling our energy, we head out to Bohol where we saw many Tarsiers, the world's smallest primate. It measures only 4-5 inches which is not longer than a man's palm. I stared into their mesmerizingly big eyes and clicked some pictures too.
Later, we explored the famous Chocolate Hills which are located in the middle of Bohol. We tried to capture a panoramic view of these hills in our camera but were unable to do so. We took a stroll nearby and saw that these hills are spread over a large area. While exploring the place, we whispered sweet-nothing to each other.
5. Loboc River Cruise


On the same day, we got a chance to explore the jade-green Loboc River as we boarded a cruise. The cruise is a floating restaurant that provides a buffet meal to the passengers. So, while admiring the beauty of the river we had an appetizing meal. When in Bohol, you might not want to miss out on this cruise journey as it was one of the best experiences of our trip. Do take care of the fact that it is one of the cleanest rivers in the country so do not litter around. After an hour-ride on the cruise we stepped off from it and went for a stroll nearby. This amazing day came to an end and we retired to our hotel for an overnight rest as we had a flight to catch in the morning to El Nido.
Boracay Island: A Detailed Guide To Explore Philippines' Little Paradise
6. Shopping Spree In El Nido

Today, we took a flight in the morning to El Nido. We were still tired due to sightseeing from the day before and took a nap for some time on the flight. One of the best parts of our journey was the aerial view of the archipelagic islands. It was a sight to behold so I woke up my wife so that she does not miss it.
After arrival, we checked-in to the hotel and relaxed for some time. As this day was for our own leisure, we decided to explore the markets and look for things to buy in Philippines. We asked for some guidance from our driver and went out to buy some Philippines souvenirs. We were fortunate to find some fridge magnets, keychains, and other gifts for our family and friends. During our shopping spree, we tried the street food of Philippines and chocolate-dipped dried mangoes which were amazingly delicious. After this, we went back to our abode for some rest.
7. Island Hopping In El Nido



We saved island hopping for the second-last day which included snorkeling and scuba diving. We got to explore the sandy beaches , nature, and culture of the country. Apart from this, we savored some of the best dishes from Philippine cuisine which gave a gastronomical ride to our stomachs. We had the next day at leisure so we stayed at the hotel and relaxed for the whole day before boarding the flight back to our home.
A Shopaholic's Guide To Shopping in Philippines
Tips For Future Travelers
Before going to the place, search for the cities and places to visit in Philippines
. Some of the activities might not be suitable for small kids.
Some activities like visiting the sand bar depend on the tidal currents. In case of high tide, some sand bars may not be in the visible range so check about it with your guide before going to the place.
It is advisable to apply for the visa well before your Philippines vacation. Moreover, it is important to go through the guidelines for the visa process properly to avoid any complications.
Our Experience With TravelTriangle
We are happy with our decision for choosing TravelTriangle for our couple trip to Philippines. We opted for installment payment and it turned out to be quite useful. Our queries were handled professionally and were answered promptly. Their agent even helped us to assemble extra documents that were required in the visa process. We will definitely recommend TravelTriangle to our family and friends as they made our trip hassle-free.
5 Best Villas In Philippines That Are Lavish, Luxurious, And Light On Pocket!
Philippines has a lot to offer to tourists from its ethereal beauty to panoramic views of oceans. It has an ideal setting for a romantic getaway. If you also want to plan a couple trip to Phillipines, then head over to TravelTriangle and customize your package for a romantic sojourn to Philippines. Wait no more!
Frequently Asked Questions About Couple Trip To Philippines
What is the best time of the year to go to the Philippines?
We went to Philippines at the end of the dry season and enjoyed our time in the country. However, the best time to visit Philippines is the dry season which ranges from November to April. At this time, several islands and remote areas are easily accessible. Traveling to Philippines in the rainy season might cause problems as there could be flight turbulence and some islands would be inaccessible.
Is Philippines expensive to visit?
No, Philippines is not expensive to visit. In fact, there are several means of transport like jeepney to explore tourist places. It is like a tuk-tuk or auto rickshaw and is cheap to travel around. Otherwise, cabs are easily available and are not at all costly as pesos are almost equal to Indian rupees.
What are the best things to buy in Philippines?
There are several souvenirs available in the local markets of Philippines like fridge magnets and key chains. However, I liked chocolate-dipped dried mangoes which were available in packets. They are definitely worth a try because we did not find it in India. In fact, we bought some packets for our family too as they are the best Philippines souvenirs.
What are the top places to visit in Philippines?
Some of the best places that we visited were Bohol, Cebu, and El Nido. There are several islands in Philippines that one can explore.
What are the best things to do in Philippines?
As Philippines is famous for its water activities like kayaking, snorkelling, and scuba diving, we also opted for them on our Philippines vacation. Besides this, we liked swimming with whale sharks as it was a new experience for us.