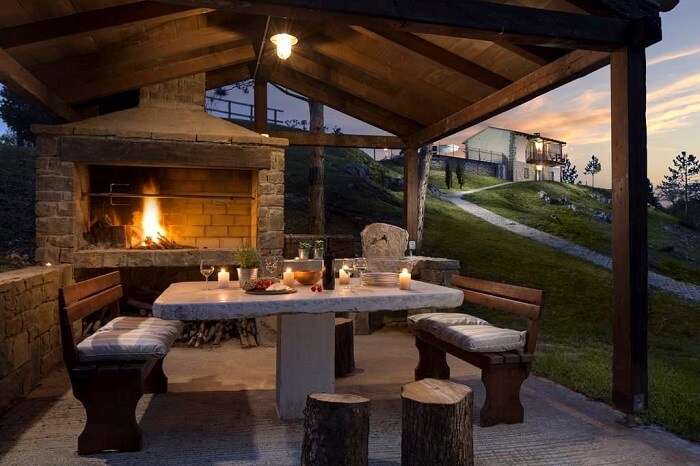 Having a long coastline with famous seaside cities and towns like Dubrovnik, Split, Zadar & Hvar, Croatia is the best place to be. And even though it is synonymous with the beach and surf, there is more to it than just the ocean. It is gifted with natural wonders like the Plitvice Lakes National Park, Motovun Forest, Istarske Toplice, and Sjeleme, which are actually some of the top destinations where you can witness the country's natural wealth. But, the best way to enjoy these destinations is to stay at the best Croatia resorts that offer unique and wonderful experiences right in the lap of nature.
10 Top Croatia Resorts For A Blissful Staycation
Here's a list of the best Croatia Resorts so that you can know what's in store for your Croatian holiday. Take a look at the top 10 picks!
1. Plitvice Fenomen Resort
The Plitvice National Park is one of the first national parks to be added in the UNESCO World Heritage List. And bang in the middle of the park is a beautiful resort known as the Plitvice Fenomen Resort. It is amongst the best Croatia 5 star resorts and is an excellent example of nature-inspired architecture. The lavish resort is perfect a stay both during the winters and summers. You can go for outdoor activities like hiking, mountain biking, or walk along the picturesque lakes.
Starting Price: INR 20,000
Location: Plitvica Selo 81, 53231, Poljanak, Croatia
Google rating: 4.8 | TripAdvisor Rating: 4.5
Website | TripAdvisor Reviews
2. Istarske Toplice Thermal Resort
The Istarske Thermal Resort is located in the region of Istria in the canyon part of the River Mirna. The area has a thermal spring with multiple healing properties that have attracted people from all over Europe ever since the time of the Romans! Today, it is among the best all inclusive Croatia resorts and offers multiple packages focused on healing and rejuvenation. The resort is surrounded by the Motovun oak forest which is ideal for hiking and walking. The comfortable rooms, the extensive wellness center, and the spa make it a very relaxing place.
Suggested Read: 15 Best Croatian Waterfalls That Are A Perfect Respite From Summer Madness
Starting Price: INR 3,200
Location: Sv. Stjepan 60, 52427, Livade, Croatia
Google rating: 3.6
Website
3. Ethno Houses Plitvica
One look at the Ethno Houses resort and you will feel like you have been transported to the 15th century! The resort has used traditional Lika architecture to make wooden cottages that recreate a Croatian village. But step inside, and you will find yourself in a chic and contemporary resort room with high-end luxury amenities. The Ethno Houses resort is among the most popular tourist resorts in Croatia as it is located in the Plitvice Lakes National Park. It is perfect for nature lovers, photographers, and families looking for a nice outdoor vacation.
Starting Price: INR 14,000
Location: Plitvica Selo 66/1, 53231, Plitvicka jezera, Croatia
Google rating: 4.3 | TripAdvisor Rating: 4.0
Website | TripAdvisor Reviews
4. Holiday Resort Olive Garden
The Holiday Resort Olive Garden is definitely the best resort in Croatia for couples. Located in Jadrija, it offers true Dalmatian hospitality. The resort itself feels like being a part of a traditional Croatian home and is surrounded by Olive trees. The best time to visit the resort is of course in October when it's time for the Olive harvest season. It is a great place to spend your honeymoon as it is conveniently located near the coast and the Croatian city of Šibenik. You can soak in the sunny climate of Jadrija and enjoy fresh food right from the garden at this pretty resort.
Suggested Read: 10 Things To Do In Croatia To Treat Yourself With The Best Of Balkans' Offerings
Starting Price: INR 13,000
Location: Jadrija 69, Jadrija, Sibenik 22000, Croatia
Google rating: 4.6 | TripAdvisor Rating: 5
Website | TripAdvisor Reviews
5. Resort Cize
Motovun is one of the oldest Mediterranean forests left in the world and has thousands of ageless trees of Oak, Elm, and Ash. There is an ancient town neighboring the forest which is located on the hill and can be accessed only by a steep climb of 1, 052 steps. You can access this region in a short drive from the Resort Cize which is one of the best Croatia luxury resorts. It is the perfect place to explore the rural Croatian heritage and soak in its natural beauty.
Starting Price: INR 11,000
Location: Trviž 48, 52000, Trviž, Croatia
Google rating: 4.8 | TripAdvisor Rating: 4.5
Website | TripAdvisor Reviews
6. Hotel Bezanec Castle
The stark white buildings with red roofs stand regally against the verdant green gardens of the royal hotel. The first castle turned heritage hotel in Croatia, Hotel Bezanec is a real cultural treasure. The castle was originally built in the 17th century and has since been restored to its glory & is now accessible to tourists. The interiors are plush and have all the modern facilities. You can go horse riding, walk in the extensive gardens, or relax with a book on the central patio. No doubt, this castle has now joined the list of the top resorts in Croatia!
Must Read: 10 Croatia Beach Resorts For Everyone Planning A Lovely Adriatic Vacation
Starting Price: INR 4,000
Location: Valentinovo 55, 49218, Valentinovo, Croatia
Google rating: 4.6
Website
7. Hotel Tomislavov Dom
Sjleme is a ski town near Zagreb and a must-include in your Croatian itinerary. Tomislavov Dom is a stunning ski resort in Sjleme and is counted amongst the best resorts in Croatia. It also has a rich heritage and was started in 1877! Located in the heart of Medvednica Nature Park, it is best visited during the winters when the surrounding region turns into a winter wonderland and is perfect for skiing. The ski tracks on the slopes range from 390m to 1,090m making it suitable for the entire family.
Starting Price: INR 3,200
Location: Sljemenska cesta 24, 10000, Zagreb, Croatia
Google rating: 4.3 | TripAdvisor Rating: 4
Website | TripAdvisor Reviews
8. Rakovica Forest Resort
Whether you want to camp or stay in the rustic lofts, Rakovica is the ideal place for a family getaway. The resort is located in Croatia's farming region and is immediately surrounded by woods. A countryside destination, the resort offers activities like Barbeque Pits, cycling, forest walks, and even farming activities in the farm adjoining their property. They also have homelike cooking, which will ensure you experience authentic Croatian hospitality.
Suggested Read: 10 Artsy Places To Visit In Croatia To End One's Quest For The Archaic And The Lively
Starting Price: INR 4,000
Location: Grabovac 11, Rakovica, 47245, Rakovica, Croatia
Google rating: 4.2
Website
9. Obonjon Island Resort
Obonjon is one of the best-hidden spots in Croatia! It is an island in the Adriatic sea and offers a one-of-its-kind glamping experience. The resort has both tents as well as cottages that offer luxury amenities with the rustic feel of camping. It is the perfect place for a getaway with friends and hen parties. Wake up with yoga, savor a healthy lunch, and end the day with a wild party with the best DJs in the world!
Suggested Read: 10 Surreal Things To Do In Zagreb For An Unforgettable Holiday In Croatia
Starting Price: INR 17,000
Location: Obonjan Island, 22000, Šibenik, Croatia
Google rating: 4
Website
10. Corberon Wedding Resort
Image Source
This is the first wedding resort in Croatia that has set a new trend for the other Croatia resorts. If you are looking for the perfect place for a destination wedding, then this is it! Just a short drive away from Zagreb, the Corberon Wedding Resort is situated in the midst of 30,000 acres of forest and wilderness. The resort is built around the theme of weddings and is ideal for taking those unique wedding photographs too! The resort is almost dreamlike with transparent tents with subtle lighting and pretty decor.
Starting Price: INR 17,000
Location: Mačkovec, 10291, Prigorje Brdovečko, Croatia
Google rating: 4.8
Website
Further Read: 12 Buzzing Croatian Festivals To Experience The Country's Culture & Enjoy Every Bit Of It
Loved these resorts in Croatia, didn't you? Make sure you include them in your itinerary and stay at one of them on your holiday in Europe. Happy staycation!
---