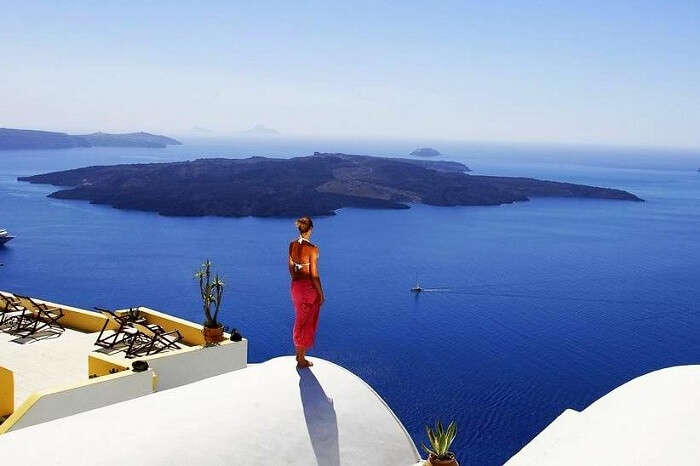 There is no person on the face of the earth who would need an introduction as to how incredibly romantic Santorini is. Owing much of its fame to the magical white blocks with the most striking blue domes, Santorini is literally celebrated as one of the most romantic honeymoon destinations in the world. And adding to the beauty and charm of this paradise, is that of the Dana Villas in Santorini which is taking all the love birds by storm.
What Is Dana Villas In Santorini All About?
Perched high on a cliff of Firostefani, treating the couples to the most romantic sunsets, and featuring the most surreal and luxurious infinity pools, Dana Villas in Santorini is all about love, luxury, and lifestyle.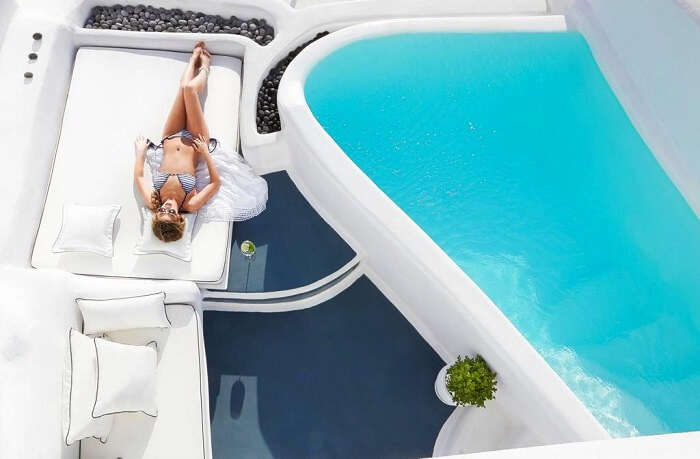 Suggested Read: Santorini Honeymoon Is The Romantic Escape Newlyweds Dream Of!
The gorgeous suites and villas at Dana Villas in Santorini Greece offer breathtaking views of a variety of landscapes, the pristine blue waters, and the majestic volcano. Also, this bustling property features tranquil environs that provides all the peace and quiet in the world that the couples need.
Location Of Dana Villas In Santorini
Types Of Other Rooms At Dana Villas
Elegantly designed and built in a Cycladic style, all the rooms, suites, and villas at Dana Villas offer ultimate luxury that leaves the couples with no choice other than being spoilt for choice. A perfect amalgamation of great looks, and much greater amenities, Dana Villas offer the best private pool villas in Santorini in addition to other types of accommodation as follows:
What Makes Dana Villas In Santorini So Special?
The Infinity Suites and Infinity Villas at Dana Villas are what makes this property so special in the heart of Santorini, Greece.
The Infinity Suites
These lavish suites are spread across an area of 125 sqm and are ideally set between two heated pools which offer ultimate privacy. These suites also feature an infinity plunge pool with a Jacuzzi in the outdoors which can also be accessed from within the rooms.
Suggested Read: 5 Most Romantic Places In Santorini That'll Electrify Your Escape
Other than that, there is also a 23 sqm heated pool with a Jacuzzi which features waterfall and lighting controls and is set on the interiors of the suite. Not just that, these suites at Dana Villas in Santorini comprise of a shower room that features two LED rain showers.
Cost Per Night: INR 35,000
Max Occupancy: 4 to 6 guests
The Infinity Villas
Spread across an area of 170 sqm, enjoy your own space with the best of Santorini private pool villas at Dana Villas. Featuring four gigantic pools (two inside and two exterior infinity pools), the whole point of this master villa is to let the couple enjoy the peace and quiet that isolation has to offer.
The villa is divided into two master suites located on the right as well as on the left which accommodates a minimum of two couples at the same time and comprises of two pools each in both the suite. Centrally monitored by smart controls, the interior pools are equipped with different mechanisms than the exterior pools. Along with Jacuzzi jets and usage of active oxygen, staying at one of these Infinity Villas undoubtedly provides an unforgettable experience to the couples.
Cost Per Night: INR 45,000
Max Occupancy: 4 to 6 guests
How To Reach Dana Villas In Santorini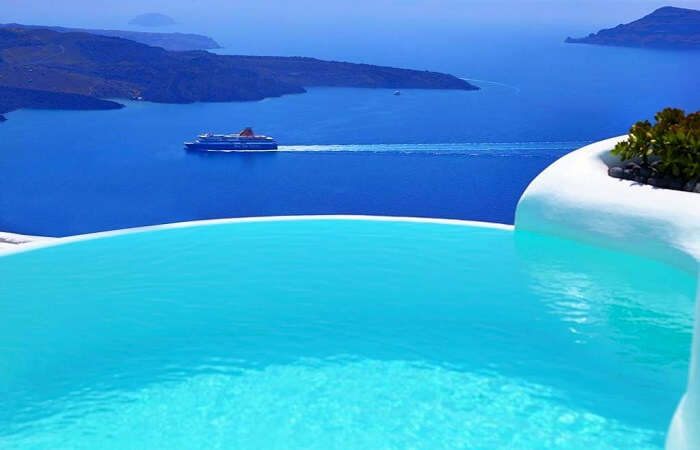 Suggested Read: 15 Best Things To Do In Santorini For An Impeccable Island Holiday!
Dana Villas is located in Firostefani which is located at a distance of about 5 kilometers from the nearest airstrip of Santorini Airport. From there, one can take a taxi to Firostefani which takes only 25 minutes to reach. Also, for those who're trying to reach the location from nearby towns and cities, a ferry ride would be the best choice to get to the paradise of Dana Villas in Santorini.
And for those who're yearning for more of Dana Villas, here's a tour of the Infinity Suite in HD!
Impressed much? Finding it hard to resist the charm of Dana Villas in Santorini? Pamper yourselves by booking a customizable Europe honeymoon package with TravelTriangle and get going to Santorini!