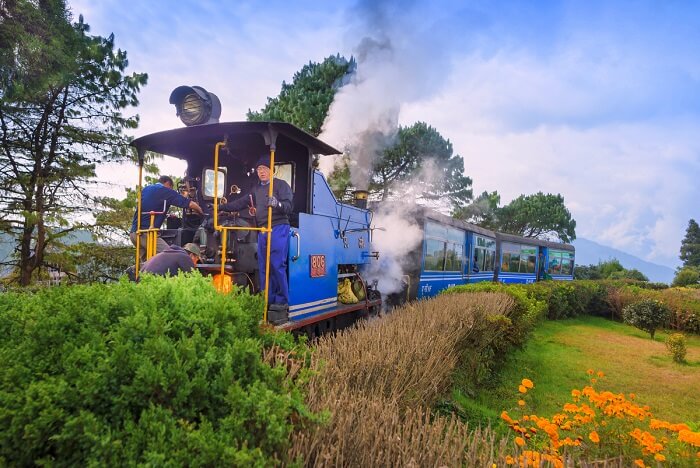 The Queen of Hills in North Eastern India, Darjeeling is among the most frequented hill stations in the country. From toy trains to cable car rides, from adrenaline-pumping treks to soul-satisfying cuisines, there is nothing that Darjeeling doesn't offer to its travelers from all walks. And guess what, Darjeeling in December turns double charming and double exciting against whatever notions tourists may hold. Don't believe us? Well, take a look at what all you can do in this picturesque hill town in December to experience its unique blend of tradition and beauty that draws travelers here year after year.
We've tried to put together all the fun that Darjeeling can offer in December and that you can explore through this blog. Though we couldn't fit it all in one blog, we've tried to capture as much of the beauty of its green environs, rolling hills, rhododendron valleys, and those majestic views of Khangchendzonga!
The Weather Of Darjeeling in December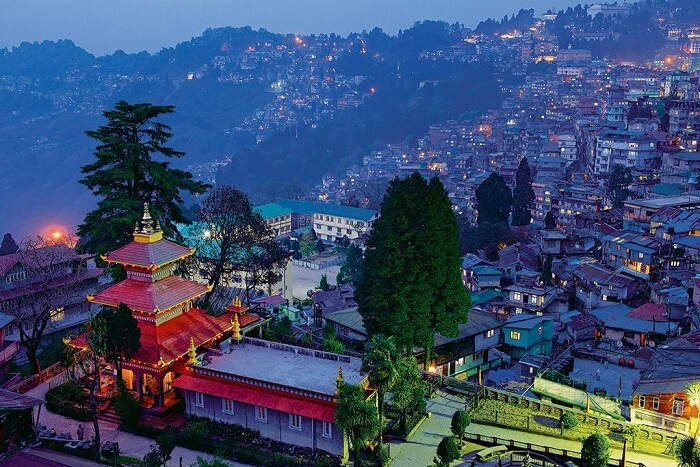 Image Source
December is the time to visit Darjeeling in winter when it has just set it. The cold is bearable and pleasant, turning the city a haven for winter lovers. The average temperature during this time ranges from 2.5°C to 11.2°C, and most of the attractions are open. Darjeeling weather in December is usually not accompanied by snow. In fact, January is the best time to visit Darjeeling for snow. However, when it there really is snowfall in Darjeeling in December once in a blue moon, the charming hill town turns into a snowy fairyland!
Must Read: Why Visiting Darjeeling In Monsoon Is Among The Best Travel Decisions Ever!
How To Reach Darjeeling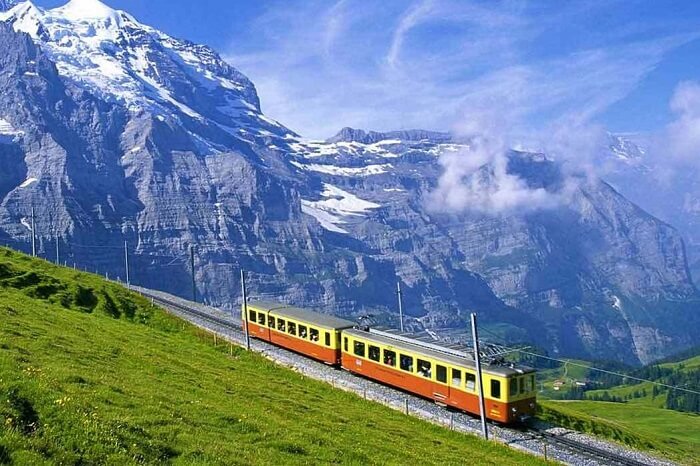 Image Source
Owing to the fact that Darjeeling is one of the most visited hill stations in India, travelers never face issues in getting to this paradise. Let's look at ways to get to Darjeeling in December by different means of transport:
By Air
The nearest airport to Darjeeling is located 95 km away in Bagdogra. The airport receives direct flights from major Indian cities like Delhi, Kolkata, Guwahati, and Mumbai and is your best bet to reach most of the places to visit in Darjeeling in December. After getting down at the airport, one can easily cover the rest of the three-hour distance to Darjeeling via road. Taxis and buses are readily available at Bagdogra to take tourists to Darjeeling at rather affordable rates.
By Road
One can either take a bus or drive all the way to Darjeeling from towns like Siliguri, Bagdogra, Kurseong, Kalimpong, and Gangtok. Buses ply form all these nearby cities at affordable rates and take travelers through scenic routes and over well-maintained road networks. One can also take a shared cab or drive their own from these cities to Darjeeling for a rather more comfortable journey and convenience.
By Train
The nearest railway station to Darjeeling is New Jalpaiguri in Bagdogra which is 73 km from Darjeeling. One can easily board the 9 AM train to Darjeeling every day and get there by 4:15 PM. The train journey to Darjeeling is an experience in itself as it takes one through breathtaking landscapes and green environs. The New Jalpaiguri railway station connects Darjeeling with all the major parts of the country, with trains to and from metros like Delhi, Chennai, Mumbai, Bangalore, Kolkata, Guwahati, and Kochi. It's relatively easy to reach Darjeeling from the station by cabs and local buses.
Suggested Read: 7 Scenic Tourist Places In Darjeeling
Things to do in Darjeeling in December 2018
There's no end to the fun one can have in Darjeeling in winter, especially December. With myriad places to see and activities to indulge in, Darjeeling would turn out to be as much a delight for tourists in December as it is in the summer months. There are myriad activities for adventure, fun, and a honeymoon in Darjeeling in December. Here are some of the best activities to pursue when on a Darjeeling trip in December:
1. Be part of the exciting festivals of Darjeeling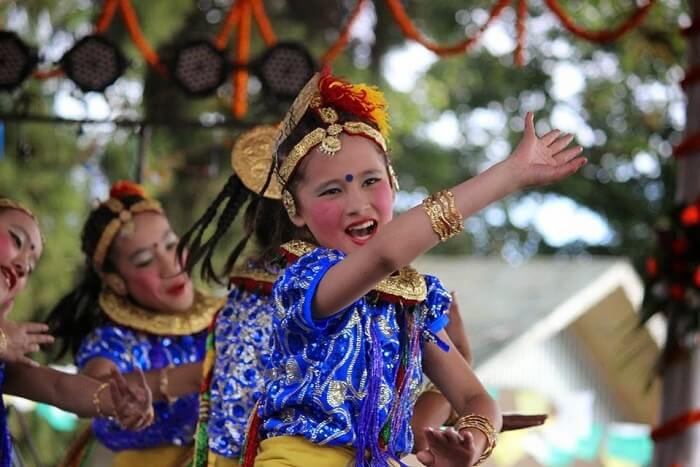 Image Source
Darjeeling observes two major festivals during December that are fun to witness and be a part of for both locals and tourists. The Teesta Tea & Tourism festival as well as the Darjeeling Orange Festival usually take place in the month of December every year and are essentially attempts of the West Bengal government to boost tourism in these parts as well as the sale of these two crucial items grown in and around Darjeeling. These festivals give travelers a chance to relish the true festive essence of Darjeeling.
Teesta Tea & Tourism Festival: The landscapes of Darjeeling transform as large fairs are set up selling different varieties of tea. The air swells up with the delicious aroma of the world famous Darjeeling tea as well as local North Eastern cuisines like momos and thukpa. The celebrations are dominated by toy train rides, tea stalls, as well as food stalls selling local food items and traditional specialties. People are also educated on the hefty process of tea making and how the Tea Industry contributes to West Bengal's economy and revenue generation.
Darjeeling Orange Festival: As the name suggests, the festival revolves around this juicy fruit where farmers from over 50 villages around Darjeeling come together to promote and sell their produce. The locals try and make the festival interesting by holding cultural performances during the fair and also by educating people about the varieties, qualities, and conservation methods of oranges produced around Darjeeling. And by the way, these aren't your regular oranges. Those that grow there are smaller, paler, and even sweeter compared to those in other parts of India.
Christmas: Darjeeling observes a peak season from 23rd December to the 1st week of January every year due to the Christmas and New Year fervor. The streets are bathed in multi-coloured hues, while all stores and diners dip themselves in Christmassy lights and colours and start rolling out special menus and discounts to attract customers. Bakeries start preparing special Christmas items like plum cakes, puddings, pies, pastries, and candies while hotels are brimming with energy with carol singing, cultural dances, special dinners, bonfire, live band performances, and more delights for guests.

Suggested Read: 31 Reasons Why You Should Never Visit Northeast India In 2018

---

Sikkim-Gangtok-Darjeeling Holiday Packages On TravelTriangle

Visit Sikkim and explore Yumthang valley, Tsomgo Lake, Gangtok, Nathula Pass, and Pelling. Experience peace and tranquility while exploring Buddhist monasteries, snow-capped mountains, and wildlife sanctuaries. Book packages inclusive of airport transfers, cab, resort, sightseeing, and meals.

---

2. Savour the taste of Churpi, a local treat to beat the winter blues

Image Source
Churpi is a traditional cheese of North East made from yak's milk. The cheese-cum-chewing bar has a delicious sweet and salty taste which makes it a delight for travelers and one of the best places to visit in Darjeeling in December. One of the most attractive properties of this cheese is that it helps immensely by keeping the body warm and giving energy even during extreme cold weather conditions. One can buy it at nominal rates from almost any local grocery store or even souvenir shops since it makes for a great food item to gift to friends and loved ones. You can horde up a stock of churpi for yourself to treat your winter blues.

3. Gaze at breathtaking panoramas from Tiger Hill

Everyone knows that the Tiger Hill in Darjeeling gives stunning views of the sunrise in the summer months. What they don't know is that the beauty of those views multiplies in December! Yes, Darjeeling weather in December at Tiger Hill will be colder than the summer months, but the sights will be worth it! Make sure to get to Tiger Hill by 4 to enjoy those unmatched vistas. Watch sunlight fall on those majestic snowy peaks of Kanchenjunga and illuminate it in gorgeous hues, at the same time as it takes you too in its warm embrace. Visiting Tiger Hill is actually one of the best things to do during honeymoon in Darjeeling in December end.

Tip: Visit early in December to avoid fog.

Suggested Read: 8 Honeymoon Places In Gangtok And Darjeeling That Will Spark Up Your Romantic Escapade

4. Visit the amusing Batasia Loop & Ghoom station

Image Source
Apart from holding great historical significance, Batasia Loop is a scenic junction that travelers love to visit on their Darjeeling tour. and a great option for sightseeing in Darjeeling! It's a famous railway loop in Darjeeling with the open-air Gorkha War Memorial in the center. The memorial was established in honour of the brave soldiers of the region who lost their lives in WWI and WWII. Watching the tiny toy train go round the circumference of the war memorial and descend down the hill is absolutely amusing.

5. Go on a delightful cable car ride

The best way to witness the panoramic views of Darjeeling is via the Darjeeling Ropeway, or the Rangeet Valley Cable Car as it's known here. This 45-minute cable car ride takes you up at an altitude of 7,000 ft over this attractive retreat, and lets you enjoy views of mist-laden valleys with colourful huts as well as popular places like Chowk Bazaar, river Rangeet, Tukvar Village, Singla Tea Estate, and more. The ropeway system in Darjeeling is divided into three stations on the basis of their height – the lower, medium, and high station, all with different ride timings and views to suit the preferences of different travelers.
Location: Singamari
Timings in December: 10 AM to 4 PM
Admission fee: INR 165/- per person (adults) | INR 80/- per person (children aged 3 to 8 years)

6. Ride the Toy Train through lush naturescapes

The joy of riding those petite toy trains in Darjeeling in unbeatable. Embark on a scenic journey across lush tea plantations with views of snow-capped hills and picturesque valleys as the cold wind ruffles your face and gives you goosebumps on your ride. You can start your ride from either Darjeeling or the Ghoom station and go all the way to New Jalpaiguri via the scenic towns and villages of Kurseong, Sonada, and Tung on the way. You can also get down at any of the station in between and enjoy delicious meals at the many local food joints. Travelers usually like to get down at Ghum itself to enjoy the breathtaking panoramic views of the surrounding hills.

Toy Train roundtrip fare: INR 800/- for Diesel Engine Ride | INR 1,300/- for Steam Engine Ride

Tip: Board your train from Darjeeling well before 9:15 AM for the best seats and views!

7. Greet the wild side of North East at Darjeeling Zoo

Padmaja Naidu Zoological Park is among the best places to visit in Darjeeling in December for families with kids and lovers of wildlife. Home to some of India's most rare and exquisite flora and fauna, PNZ Darjeeling an unmissable part of a tour to Darjeeling in December. The zoo is located on the downslope from the Jawahar Road and is home to the largest population of Snow Leopards in India, a factor that draws zillions of travelers here every year irrespective of the season. Other animals that share a habitat here include the queer Red Pandas, Himalayan Bears, Clouded Leopards, and Tibetan Wolves. One can also visit the Snow Leopard Breeding Centre while they are here.

Location: Jawahar Parbat, Darjeeling 734101
Timings: 8:30 AM to 4 PM
Admission fee: INR 20/- (Indian tourists) | INR 50/- (Foreign tourists)

Suggested Read: 15 Resorts In Darjeeling You'd Never Want To Leave From

8. Test your strength with the Sandakphu-Phalut trekking expedition

The Sandakphu-Phalut trek is a wonderful trek loaded with stimulating challenges and surprises at every turn. Trekkers from all over the world are extremely fanatic about the Sandakphu trek, also called the Singalila trek. Trekkers enjoy going on this trek in December as it grants them the greatest of views, adrenaline fueling challenges, and motivates them to keep moving for more, no matter how difficult the terrain, or harsh the climate!

What The Trek Offers:

It gives trekkers incomparably beautiful views of four of the five highest peaks of the world including Mt. Everest, Makalu, Kanchenjunga, and Lhotse, along with that of the Three Sisters and various other peaks of Nepal, Tibet, Bhutan, and Sikkim in a single stretch.
It takes trekkers through valleys of rhododendron, giant magnolias, spruce, and range of orchids, even in December.
Trekkers get to pass through the Singalila National Park where their journey is complemented with sneak peeks at some of the rarest animals in India, including Red Pandas, Pangolins, and a variety of birds.
There is hardly any snow on the trek, so trekkers are awarded a stable temperature and
least amount of snow-related dangers.
Trekkers get to camp in the Himalayan forests on the trail where the rarest of flowers grow in the winter months.

Sandakphu Trek Route: Mirik — Manebhanjan — Dhotrey — Rimbik — Srikhola — Rammam — Gorkey — Phalut — Sabarkum — Sandakphu
Sandakphu starting point: Manebhanjan
How to reach Manebhanjan: Manebhanjan is 4 hours away from NJP railway station and from the Bagdogra Airport. One can hire cab to cover the 4 hour long distance between Manebhanjan and the airport/station
Total distance to be covered: 32 km
Total time required: 8-9 days
Sandakphu elevation: 11,929 ft
Temperature of Sandakphu during December: Ranges from 10 to -6 degree Celsius, but can be dealt with as long as trekkers have the right equipment and food supplies

9. Gorge on delish local cuisines of Darjeeling

Darjeeling has scrumptious answers to your hunger pangs while you're there. One can dine at the many popular restaurants and enjoy a variety of finger-licking culinary delights while one a Darjeeling trip in December. Savour the taste of delicacies like Momos and Sael Roti at Kunga, Thukpa at Dekevas, Aloo Dum at Hasty Tasty, Dalle at Keventers, Nepali thali and Naga Platter at Revolver, and alcoholic beverages like Tongba and Chhang at the many pubs in Darjeeling. If you're looking for budget options, you can eat momos and thukpa at the many street joints at almost every nook and corner of the town.

Further Read: 16 Offbeat Things To Do In Darjeeling: Experiences That You Won't Find In Any Travel Guide

Did you ever think there would be so much to explore in Darjeeling in December? Well, now you do! So, book your trip to the wintery paradise of Darjeeling now and start packing for your Darjeeling tour in December. Know of anything else one can do in Darjeeling during December? Put it down in the comments below!

Frequently Asked Questions About Darjeeling In December

Q. Is December a good time to visit Darjeeling?

A. Darjeeling in December is very pleasant since it's only just the onset of winters. The town receives very little to no snowfall during this time, owing which most the attractions remain open. The air is generally clean with very less or no fog, because of which visibility remains high and people are able to enjoy the views! While the mornings are cold, the afternoons are rather pleasant and cozy. And the best part, Darjeeling will be a lot less crowded in December than in any other month since it's the offseason. Which is why a honeymoon in Darjeeling in December is a great idea for couples seeking peace and tranquility. With all this, one would find themselves enjoying all the popular places to visit in Darjeeling in December more than in any other month!

Q. Why should you visit Darjeeling in December?

A. Darjeeling is at its least crowded and most scenic phase in December. Since it's an offseason, you won't find many people blocking your snaps of landscapes and scenic views. So no long queues at the ticket counters of Toy Train stations, Darjeeling Ropeway, and the PNZ Park. Besides, the clear air grants visitors some of the clearest views of snow-clad peaks and the sleepy town. And since there isn't usually any snowfall in Darjeeling in December, the Darjeeling weather in month won't be dead cold for people who love the hills but can't stand the dipping temperatures. Darjeeling at this time is also a hub of festivals and carnivals.

Q. Does it snow in Gangtok?

A. In Gangtok, although the temperature drops upto 4-degree Celsius, the snowfall is Gangtok is very rare. But the routed to many high altitude places from Gangtok, including Tsomgo lake and Nathula Pass often get closed due to heavy snow.

Q. Is it good to visit Gangtok in December?

A. The best time to visit Gangtok is between the month of September and June. This makes December also a suitable time to visit. But the winter in Gangtok is chilly and foggy, so make sure that you carry sufficient woolens along.

---

Looking To Book A Holiday Package?

Book memorable holidays on TravelTriangle with 650+ verified travel agents for 65+ domestic and international destinations.

---

Comments

comments