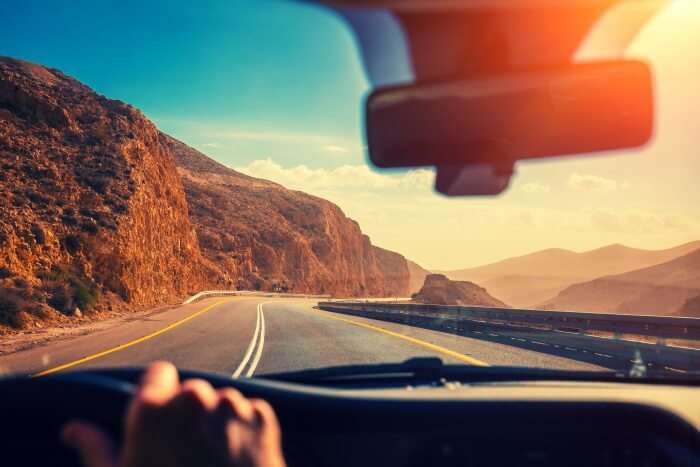 Israel is a country with very rich culture and has a strong story behind its origination. Israeli land is among the most important lands for Christians, Jews, and Islam, Muslims, as this is where these religions developed. The history of Israeli land is quite rich and its heritage goes back to centuries, to the Egyptian civilisations belonging to pharaoh's age. The land has been ruled by many empires over the period of time and therefore has a touch of different civilisations. Israel also has beautiful landscapes, amazing coastal areas, mountain ranges, ancient cities, and modern high-tech cosmopolitans. There are various brilliant tour guides who offer excellent guided day trips from Israel.
Best Day Trips From Israel
Here is the list of best destinations for day tours in Israel that you should definitely go for if you are travelling to this wonderful land and want to be a witness to its enchanting beauty and vibrant culture.
1. Masada And The Dead Sea

One of the most popular day tours from Israel and this one is a must if you are visiting Israel. The Masada and the dead sea tour can be taken either from the city of Jerusalem or Israel's financial capital – Tel Aviv. Masada and the Dead sea are the two most famous and important tourists spots in Israel. Dead sea is a unique sea in the world known for its healing and relaxing mud bath. The antiseptic and healing qualities of the mud of dead sea is globally very famous and now you may even find it as an ingredient in some skin creams and lotion.
Few minutes for your body soaked in the mud will completely rejuvenate your senses – this is one experience that you shouldn't just miss. The other wonder of dead sea – one would float in the dead sea even if one doesn't know how to swim. Masada is a magnificent heritage fort at the top of a plateau near the dead sea. Masada is a very old and ancient fort – believed to be built in 31 BCE – now few remains of this heritage fort are still standing tall at this place. The place has extreme cultural importance for Jews. This has to be one of the best day trips from Israel.
Must Read: 10 Hip And Historic Hostels In Israel Perfect For Exploring Its Cities
2. Nazareth And The Sea Of Galilee Day Trip From Jerusalem

Galilee and city of Nazareth are situated at the north Israel. Northern Israel is covered with surreal mountain ranges and is full of enchanting flora and greenery. City of Nazareth is one of the old ancient city with important cultural and religious heritage. It is the city where Jesus had spent his childhood years and this is a pilgrimage for Christians. This is among the largest city in Israel and has strong middle eastern touch to it. The city presents an confluence of Arabic and Israeli world.
There are many beautiful and old churches with strong cultural background. Many of them are so old and believed to be the ones where Jesus had spent his considerable time in interacting and serving the local people. Sea of Galilee is a beautiful natural large lake – among the largest in Israel. It is also very popular due to its rich heritage background and is an important pilgrimage site as Jesus is believed to had spent many years by this lake, helping and feeding the needy and poor's here.
Suggested Read: 10 Best Places To Visit In Israel For An Extended Tour Of The Holy Land
3. Old And New Jerusalem Day Trip

Jerusalem is one of the most important religious city for Christians, Muslims and Jews. This ancient magnificent city is perhaps one of the most important globally for its beautiful rich vibrant culture and religious background. This is the city where Jesus was believed to have spent considerable amount of his life and was believed to be crucified here. The city isn't the most important destination for Christians but also for Jews. Western Wall in the old Jerusalem is the biggest pilgrimage for Jews and many from around the world visit it each year. Al Aqsa Mosque in the same city is one of the most important and holiest pilgrimage site for Muslims.
Most of these cultural places are in the Old Jerusalem which is also called the walled city here. New Jerusalem is completely different from its walled counterpart – and has the modern vibes and colours. There is also a holocaust museum – Yad Vashem Holocaust Museum in this city – which showcases the stories of one the biggest and most heinous of crimes which saw death of millions of Jews in Europe. The museum tells the tale of the struggle of people and how the community evolved after that. This is a popular Israel day tours from Tel Aviv. Not just Tel Aviv this is also a popular Israel day tour from Haifa if you chose to stay in Haifa.
Suggested Read: 10 Things To Do In Israel: Know Why It's On Every Wanderer's Bucket List
4. Petra Tour From Tel Aviv

Beautiful heritage city of Petra is the one you will never want to miss if you are travelling to Israel. Although Petra is situated in Jordan but one can visit this enthralling city from Israel. Petra is one of the seven wonders and list among the top of UNESCO's global heritage sites. The site now gives the glimpse of rich heritage if the ancient city of Petra which is believed to be two thousand years old. One would also get to see the beautiful wondrous landscapes and beauty of Wadi Rum. Jordan border for Petra is an hour distance from the city of Jerusalem and this day tour can be taken from Jerusalem. There are limited number of days and limited number of visitors are allowed from Israel therefore it becomes important that this day tour is booked well in advance. One would also need to check out visa formalities for travelling to Jordan which you can also get from Jordan embassy in Tel Aviv in case if you haven't got it prior to travelling to Israel.
5. Golan Heights

The day tour to Golan Heights can be started from Tel Aviv or the city of Jerusalem. Golan Heights is among the most beautiful bewitching sites in Israel. Golan is also known as a city of refuge among the Christian world. The city borders with Syria. Golan Heights is a beautiful hilly area, with its largest mountain being Mount Hermon which is more than 2800 Meters tall and is very popular among hiking enthusiasts. The region also has a beautiful lake called Birkat Ram. Golan Heights region had its controversies and the region has undergone brutal wars. This region became part of Israel after the famous 1967's 6 day war.
Suggested Read: 12 Perfect Wedding Venues In Israel For Your Happily-Ever-After!
6. Timna Park

Timna park is a beautiful dessert city situated in southern Israel. The tour can be taken from Eilat – southernmost city of the country. Timna is known for its beautiful landscapes – gorgeous desert reserves and old magnificent cliffs. Timna park has also strong cultural heritage and links with Egyptian pharaohs and ancient Egyptian civilisation. The park also holds some of the world's oldest mining sites especially for Copper and Iron.
Suggested Read: 15 Scenic Israel Beaches That Flaunt The Best Of The Mediterranean
7. Caesarea, Rosh Hanikra and Acre Day Trip from Tel Aviv

Caesarea, Rosh Hanikra and Acre are the important port cities of Israel with lot of history and cultural attributions to them. There are ancient ruins in the city of Caserea which includes ruins of Roman theatre – an important cultural historic site. In this tour you will also be visiting magnificent beautiful Bahai gardens and exploring the captivating and fascinating Rosh Hanikra Grottos. You will also get to explore the crusader underground city Acre – a city with full of underground secrets and mysteries. This tour will give you a unique experience into an intriguing part of this beguile part of the world.
Further Read: Honeymoon In Israel: The Beginning Of A Lifelong Romance
Guided day tours in Israel offer you the best way to have a knowledge about the country and learn its rich culture, heritage, history, and enthralling story of the people here and their initial struggle. It is recommended that you book your day trips from Israel well in advance as these are very popular and get booked by visitors earlier than expected. Make your holiday in Israel worthwhile by going for these amazing day tours.
---
Looking To Book A Holiday Package?
Book memorable holidays on TravelTriangle with 650+ verified travel agents for 65+ domestic and international destinations.
---