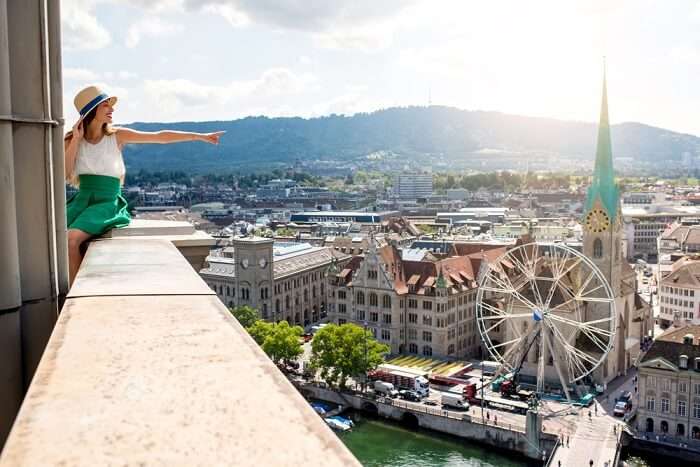 Zurich is Switzerland's biggest city located in the north-central region. Although Switzerland is considered as one of the world's top financial center but Zurich's glorious Alpine view, snow-capped mountains and clear lakes make visitors forget that they are in money related center of the world. You can go on day trips from Zurich to Austria, France, Germany, and Italy, which are near Switzerland.
10 Top Day Trips From Zurich 2022
Zurich has a well-developed rail network that makes it a decent base for day trips. In a simple day from Zurich, you can enjoy half day trips from Zurich by train rides to the peaks, visit different towns, travel to the modest territory of Liechtenstein, take lake travels, and visit magnificent waterfalls. Below are listed top ten day trips from Zurich.
1. Schaffhausen
Located at around 50 km from Zurich, the beautiful old town of Schaffhausen is on the River Rhine, is a well-preserved town from the middle ages. Here you will find Old Town's structures enhanced with oriel windows and brilliantly painted timber-frame houses. The cloister structures currently house All Saints Museum, one of the most extravagant galleries in Switzerland, with accumulations of ancient material, religious craftsmanship, customary outfits, and works by present-day Swiss artisans.
Day trip from Zurich to Schaffhausen
• By train – 40 minutes
• By car – 40 minutes
Must Read: Get Ready To Chomp In 2022 At These 10 Best Restaurants In Zurich
2. Bern
If you are looking for day trips from Zurich in winter then located 125 km southwest of Zurich, Bern is a destination that can be reached merely by train. Bern's Old Town has been named a UNESCO World Heritage Site for its avenues of the seventeenth and eighteenth-century houses and shops and you'll discover a considerable lot of the primary attractions, which incorporate its renowned clock tower with moving figures and the awe-inspiring Munster.
Day trip from Zurich to Bern
• By train – 1 hour
• By car – 1 hour 30 minutes
3. Lucerne
You can enjoy both the city as well as the mountains, during zurich to lucerne day trips. Lucerne is well-known for its historic architecture and snowy mountains. You can spend quality time in Lucerne's noteworthy old town with its numerous alluring structures, visit Jesuit Church, Chapel Bridge, and the moving Dying Lion statue. You can also explore this city from the water.
Day trip from Zurich to Lucerne
• By train – 50 minutes
• By car – 45 minutes
Suggested Read: 15 Most Romantic Places In Zurich For A Memorable 2022 Swiss Vacation
4. Jungfraujoch
This mountainous region is also recognised as the top of Europe connecting Monch and Jungfrau in the Bernese Alps. A day trip to Jungfraujoch will let you explore the Sphinx Observation Terrace and Plateau and stunning views of Aletsch Glacier. You can also see three pinnacles of the Bernese Alps, Jungfrau and Monch by travelling in a cogwheel train. Day trip to Jungfraujoch is considered as a life-changing day trip that should not be missed by any aspiring traveller.
Day trip from Zurich to Jungfraujoch
• By train: 2 hours to Interlaken and 2 hours to Jungfraujoch
• By car: 1.5 hours to Interlaken, then 2 hours train to Jungfraujoch
5. Basel
In the past, this city has been the part of Germany and France. The day trips from zurich in December to Germany will let you discover the town of Basel that goes back to Roman occasions. It is home to some commendable destinations including the Gothic entryway, the medieval house of God (Münster), Spalentor and the Historiches Museum, which follows the city's history, and the intricately painted Town Hall. The primary centre of the marketplace is the red sandstone Town Hall. Head to Basel and enjoy one of the best day trips from Zurich to Germany with your friends.
Day trip from Zurich to Basel
• By train – 55 minutes
• By car – 1 hour
Suggested Read: 10 Hotels In Zurich That Redefine Happy Stays!
6. Appenzell
The town of Appenzell is fixed with brilliantly shaded structures, many embellished with frescoes and iron signs. It is one of the lesser-known areas of Switzerland encompassing slopes and rich green fields and brown dairy animals. The Museum Appenzell that displays antiques from this residential community's rich history. The amazing natural beauty and historical values, compel the visitors to add this place under their list of day trips around zurich. The little town of Appenzell is a photo postcard of a Swiss town that is a genuine treat to visit.
Day trip from Zurich to Appenzell
• By train – 2 hours
• By car – 1 hour 15 minutes
7. Liechtenstein
Located at a distance of two hours from Zurich, Liechtenstein is a sixth smallest city in Europe. It is famous for its Royal Castle and well-known postage stamps. Those who will on a zurich to liechtenstein day trips are probably going to be more awed by the magnificence of the encompassing farmland. Liechtenstein is home to five castles that are flawless and romantic.
Day trip from Zurich to Liechtenstein
• By Train – 1 hour 20 minutes
• By Car – 1 hour 10 minutes
Suggested Read: 10 Best Churches In Zurich One Must Visit In 2022 To Connect With Your Inner Self Once Again!
8. Fribourg
The day trips from zurich switzerland also include Fribourg. This captivating city is located 156 km from Zurich. Lying on the River Sarine, Fribourg is home to endless bistros and boutiques and is outstanding amongst other protected medieval towns of Switzerland. Here you can explore many exhibitions along with the Cathedral of St Nicholas. In case you're looking for a casual day trip from Zurich then Fribourg is an incredible beginning place.
Day trip from Zurich to Fribourg
• By Train – 1 hour 25 minutes
• By Car – 1 hour 45 minutes
9. Kleine Scheidegg
It is a mountain pass between the pinnacles of Eiger and Lauberhorn in Bernese Oberland. This is another of a day trip from Zurich that includes Switzerland's stunning cogwheel trains. From here you can begin on the Jungfrau Eiger Walk which offers stunning views of the Eiger icy mass. Here you can find number eating spots on the mountain and spend your day tasting espresso and taking in the fantastic pictures.
Day trip from Zurich to Kleine Scheidegg
• By Train – 3 hour 20 minutes
• By Car – 2 hour 30 minutes
Suggested Read: 5 Hotspots For Shopping In Zurich & Tips To Consider
10. Engelberg
It is home to the most amazing religious communities of Europe. It is well-known for its custom-made cheeses. Benedictine priests built the Engelberg Baroque religious community in 1120. Right up 'til the present time the religious community is home to more than three committed priests. The Engelberg Ironworks is a UNESCO World Heritage Site that might be of enthusiasm for some.
Day trip from Zurich to Engelberg
• By Train – 1 hour 50 minutes
• By Car – 1 hour 10 minutes
Further Read: Street Food In Zurich: 5 Dishes To Treat Your Taste Buds With The Real Swissness!
There are lots of reasons why the Zurich has its very own translation of day trip. Such a large number of spots can be explored in such as short duration of time. The best thing is you can complete your day trips from Zurich by car. Get ready to soak in the best Swiss experience on these day trips soon. Plan your Zurich trip with TravelTriangle to discover what these Swiss Alps have in store for you!
---
Looking To Book An International Holiday?
Book memorable holidays on TravelTriangle with 650+ verified travel agents for 65+ domestic and international destinations.
---