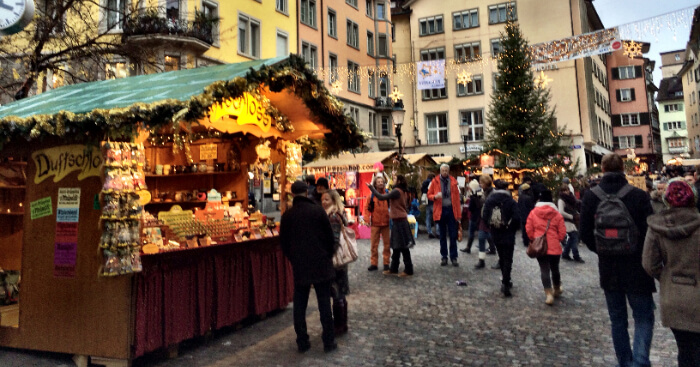 Zurich, the beautiful city of Switzerland, needs no introduction. This is the largest Swiss city, which means when we speak of shopping in Zurich, we know this is a land of opportunities for the shopaholics. Whether you are head over heels for high-end brands or want to roam about the streets to shop for local stuff for cheap, this is the place to be.
Our blog post here intends to tell you about the locales to prefer while shopping here. You also have bonus tips to consider. So, keep on reading!
Where to go for shopping in Zurich
1. Seefeld
One of the best places for shopping in Zurich, Seefeld is where you get more personalized stuff. Not just that, there is something in the store regardless of what you prefer in the fashion world, to be particular.
Visit Atelier Boule Rouge for Swiss personalized handmade laptop cases, designed both for men and women, if you are a techy.
What to buy? Fashion apparels, accessories, laptop cases
Suggested Read: 10 Things To Do In Zurich Everyone Should Try!
2. Bahnhofstrasse
Bahnhofstrasse or the Zurich 5th Avenue is a holy grail for any shopaholic indeed. If you fancy luxury shopping in Zurich, this is the place to be. Right from the local Swiss stores like Manor and Globus, to the high-end brands such as Grieder and Trois Pommes are all yours here. Bahnhofstrasse is considered one of the world's most expensive and exclusive shopping avenues. It is the downtown street of the city, so you can expect quite some buzz around!
What to buy? Clothes, accessories, perfumes
3. Niederdorf
Zurich Old Town, Niederdorf will greet you with local heritage, and cobblestone pavements where cars are not allowed. The ancient buildings, antique fountains, and monuments transfer you to the erstwhile era as you shop for trendy stuff. This old world charm is something that will totally get you, and you will be spoiled for choice when it comes to eating and drinking.
What to buy? Souvenirs, clothes (especially formal clothing), accessories
Suggested Read: 15 Splendid Places To Visit In Zurich
4. Kreis District 4&5
Kreis District 4&5 is the place for those who are head over heels for new designer labels. This sophisticated locale is where you will find showrooms of Little Black Dress, Changemakers and other such brands.
What to buy? Apparels and accessories
5. Weekly markets
When it comes to cheap street shopping in Zurich, the weekly markets will be your treasure. You can find anything and everything at attractive rates. Of course you can try your hands at bargaining too! Bürkliplatz Flea Market is a popular weekly shopping extravaganza, where you can shop for preloved accessories, antiques and more. In fact, not just weekly, you also have month-long market known as Rosenhof Market.
What to buy? Clothing, accessories, flowers, toys
Suggested Read: Zurich Nightlife: 10 Happening Places For The Nightowls!
Tips for shopping in Zurich
Most shops in Zurich stay closed on Sundays. However, shops in Urban areas, train stations, airports and Zurich shopping malls stay open. It's always best to speak to a local before you go shopping.
If you are traveling in January or July, you are in for a treat as many showrooms provide sales on their products.
Usual timing for shops in Zurich is 9:00 am to 8 pm.
It's ideal to know learn few words in German, so you can interact with the salesperson regarding deals and negotiation.
Hope this blog post helps you have a wonderful experience of shopping in Zurich. If you wish to explore this stunning city, minus all the hassles, go for our customizable Zurich tour packages!
Comments
comments