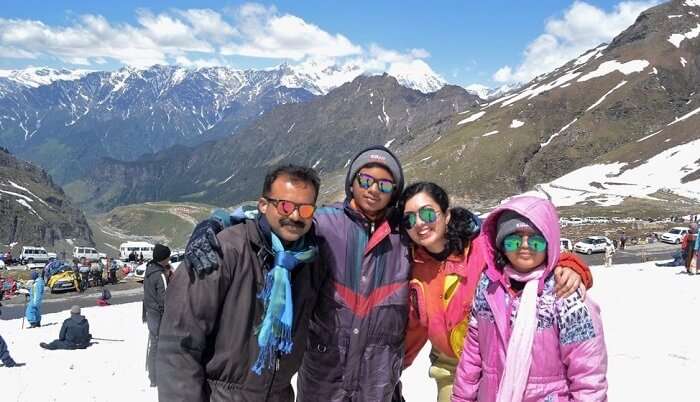 Himachal Pradesh is the other name for "everything heavenly"! It is home to so many beautiful hill stations that you will be left spoilt for choice. Whether it is the folks favourite Shimla or exotic Spiti valley or even the exotic unexplored territories, Himachal has it all. From buddies to families, everyone loves to step their feet on the lands of Himachal and raise their hands to its azure sky. The variety of experiences it offers to different kinds of travelers is what brought Joseph and his family to the land of beauty and he started his expedition of Delhi to Himachal trip.
We all had been wanting to plan a trip soon and since Himachal is loved by everyone, we chose it as our destination. My kids also wanted to watch snow and mountains and they loved the idea. Our experience was even more amazing than what we had thought. From our stay to sightseeing, everything was perfectly planned by TravelTriangle and we just had to have fun there. Here are the details about my family trip to Himachal which left us in awe of it.
Details Of Our Delhi To Himachal Trip
Trip Type: Family
Cost: INR 63000 – INR 72000
No. Of People: 3 Adults, 1 Child
Duration: 11 Days
Inclusions: Breakfast, Dinner, Airport Transfer, Govt Taxes
Exclusions: Lunch, Accommodation, Rail Tickets, Bus Tickets, Flight Tickets
Itinerary Of Our 11 Days Trip To Himachal
Day 1: Arrival, Transfer to Kalka
Day 2: Transfer to Shimla via Toy Train
Day 3: Transfer to Kufri, Sightseeing
Day 4: Transfer to Manali, Sightseeing
Day 6: Sightseeing in Manali
Day 7: Transfer to Dharamshala, Sightseeing
Day 8: Transfer to Khajjiar, Sightseeing
Day 9: Transfer to Delhi, Sightseeing
Day 10: Transfer to Agra, Sightseeing
Day 11: Departure
Trekking In Himachal Pradesh: 23 Best Routes To Put On Your Bucket List In 2022!
Best Time To Visit Himachal Pradesh
Though you can visit Himachal Pradesh anytime of the year, the best time to visit Himachal Pradesh is from March to June. During this time, the weather is simply perfect to expand your horizons and touch the endless skies. Himachal Pradesh's temperature in June remains around 22 degree celsius to 37 degree celsius. March to June is also the best time to visit Himachal for snow. So, plan your trip accordingly.
Weather Of Himachal Pradesh In June
The weather of Himachal Pradesh in June is perfect for exploring the beautiful state. The temperature of Himachal Pradesh during June varies from 22 degree celsius to 37 degree celsius. It is also a good time to witness the snow.
Top Experiences Of Our Delhi To Himachal Escapade
1. Mesmerizing Kalka Shimla Train Ride




The first and the best part of our trip to Himachal in June, famous Kalka and Shimla train ride left us mesmerized like never before and took us back to the old world charm. Our kids really enjoyed the ride and it was a kicking experience for us too. We stayed at Kamna hill resort which is the perfect place for an out-of-the-world staycation. Tucked away from the hustle and bustle of the city, the resort provided peace and calm. The food of the resort was very yummy and the staff was very generous.
2. Playing With Snow In Manali




Seeing it in the movies and watching it for real has a lot of differences. We have grown up watching movies where they play with snow and it is so soothing. While in Manali, we had a visit to Rohtang pass, we got to play with snow and it left us speechless. My kids were even more excited. And our stay at Holiday Heights put stars to our visit there.
3. Watching The Sunrise At Dharamshala




On the sixth day of our Delhi to Himachal trip, we visited Dharamshala. It is a very beautiful hill station, no doubt. It offers picturesque views and lush greenery that we were able to savour from our hotel. From temples to peaks, it has a lot in store. The most memorable part of our stay here was watching the sunrise from the balcony of our hut which was truly magical.
7 Scintillating Places To Visit In Himachal Pradesh In Monsoon In 2022!
4. A Lovely Night In Dalhousie



Dalhousie was a pure treat to us as we moved forward to the calling of the green valleys and blue skies! It was a great time for me and my family to spend the heartiest moments with each other. From our resort to sightseeing, everything kept us engaged. But the most beautiful part was yet to come. A night spent listening to live music was like the cherry on the cake. We would love to have another Delhi to Himachal vacation.
5. Revisiting The History At Delhi & Agra






Our last escapade during our 11 days trip to Himachal was Delhi & Agra, the two historical poles. Visiting Taj Mahal and Agra fort was fun, we clicked a lot of pictures. Our stay at the five star hotel in Delhi was also reviving and rejuvenating. It was totally a fun-filled affair. While in Delhi we were reminiscing about our previous adventures and planning our next expedition with huge smiles on our faces.
What To Pack For 11 Days Trip To Himachal
During your family trip to Himachal in June, carry sunscreen and lotion with you to avoid dryness on skin. Kids are more vulnerable to dry skin, so keep them properly moisturized.
Even if your Delhi to Himachal vacation is in june, you must carry warm clothes, especially for the places that experience snow.
Make yourself and your kids wear proper shoes during your trip.
In order to avoid mountain sickness, make sure you are carrying the right medicines. Also, carry spray and ointments in case of emergency.
Do not forget to bring a camera, batteries and power bank to capture the beautiful moments that you will be having on your vacation.
Explore The Himalayas: 48 Best Places To Visit In Himachal Pradesh In 2022!
Travel Tips
1. While planning your vacation, keep a check on Delhi to Himachal Pradesh flights so that you get discounts and offers.
2. Carry all the necessary IDs, tour vouchers, tickets with you.
3. Keep the weather of Himachal Pradesh in mind and pack accordingly.
4. Always carry extra money with you and keep it safely.
5. Remember your emergency numbers and take care of your health during your visit.
Our Experience With TravelTriangle
Our experience of Delhi to Himachal trip with TravelTriangle was awesome. From A to B, we were provided with everything we had asked for. Thanks to our trip organiser who was there with us day and night and catered to all our needs. It was a very smooth and entertaining trip. We would love to book through TravelTriangle again.
A Girls Trip To Jibhi And Laida In Monsoon: Two Hidden Gems In Himachal
Joseph's family trip to Himachal Pradesh was one everybody looks forward to. Zero hassles and full entertainment was the gist of it. If you have been inspired by his smooth and sassy experience, then plan a trip to Himachal Pradesh right now!
Frequently Asked Questions About Delhi To Himachal Trip
Is June a good time to visit Himachal Pradesh?
Yes, June is definitely a good time to visit Himachal Pradesh
Where can I find snow in Himachal in June?
You will find snow in Himachal in June at Rohtang Pass.
Is there snow in Shimla in June?
No, you would not find snow in Shimla in June.
People Also Read:
Trip To Ladakh With Family Himachal Pradesh In April 5 Days In Kerala With Family