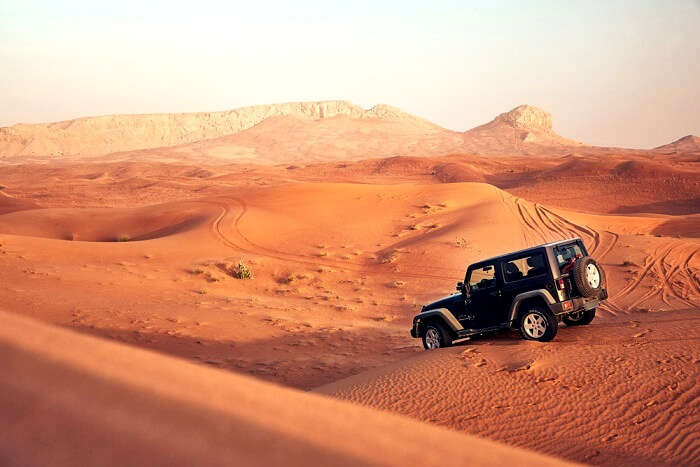 The seven emirates of UAE are a treasure trove of experiences for the discerning traveller looking for some unique destinations to add to their travel bucket list. Abu Dhabi is the glittering gem amidst them, fast making its mark on the travel map of the world with some amazing attractions and experiences up its sleeve. Desert safari in Abu Dhabi steals the show with its air of wonder and mystery held by the shifting sands of the vast Arabian Desert. There is something ethereal about traversing the glittering golden sands and witnessing luminous sunrises and magical sunsets in the desert. Here's your go-to guide for planning this adventure, including suggestions for best desert safari in Abu Dhabi and other important tips.
Top Places For Desert Safari In Abu Dhabi
1. Rub Al Khali (Empty Quarter), Al Dhafra
Making up almost two-thirds of the emirate, Abu Dhabi's western region Al Dhafra is a land of dramatic landscapes and the perfect setting for your desert safari in Abu Dhabi. While the Liwa oasis will amaze you with its expansive date palm plantations, it is also the gateway to the world's largest expanse of uninterrupted sand mass aptly christened the Empty Quarter or Rub Al Khali. The majestic dunes and spectacular sandscapes are sure to take your breath away by their sheer size and spread.
Must Read: Honeymoon In Abu Dhabi: For A Romantic Rendezvous In The Charming Capital Of UAE
2. Al Khaznah
Tucked between Abu Dhabi city and Al Ain oasis, another breathtaking patch of dunes at Al Khaznah is quite popular for desert safari in Abu Dhabi. With its long sand valleys and massive dunes Al Khaznah beckons the intrepid adventurer souls for some high-octane dune bashing, quad biking and other adventure sports. Al Khaznah also offers the quintessential Bedoun life experience at Arabian Nights Village as well as Al Badeyah desert camp.
Timings And Prices For Desert Safari In Abu Dhabi
Whether you're looking for a 5-star experience or low price desert safari in Abu Dhabi, there are myriad operators offering a wide range of tours to suit your needs. Some of the most popular options for desert safari in Abu Dhabi include:
1. Morning desert safari in Abu Dhabi
Mornings are a wonderful time to head on a safari in the desert with the cool temperatures and wonderful shadows casted by the rising sun. The morning desert safari is a must-have experience if you wish to witness the beauty of the golden land under the golden hues of the shining sun.
2. Evening desert safari in Abu Dhabi
For a quintessential magical desert sojourn, an evening safari is your best bet with its authentic feel of the desert environment. Along with all the exciting experiences you also get a chance to witness the breathtaking sunset, capture some great photographs and enjoy a desert camp under the glittering night sky.
Suggested Read: Delve Into The Abu Dhabi Nightlife & Let The Party Begin
3. Overnight desert safari in Abu Dhabi
There are also options for an overnight safari for those who love the adventure of the desert more than the comfort of their hotel rooms. Night time is the best hour to let the vastness and unadulterated beauty of the desert engulf your senses. Sleeping in your tent under the stars and waking up to a gorgeous desert sunrise is surely an unforgettable experience.
Half-Day Desert Safari In Abu Dhabi Inclusions And Cost
Whether you choose a morning or evening safari, the inclusions and experiences usually remain the same with few changes in meals, etc. here is what to expect from a 5-6 hour half day safari exploring the desert.
Round-trip transport in a 4×4 air-conditioned Land Cruiser or similar vehicle (on sharing basis)
Desert driving and dune bashing
Refreshments/barbecue dinner at desert camp along with traditional entertainment
Sandboarding, camel ride, henna tattooing, shisha smoking and photos in traditional Arabic attire
Arabic tea, coffee, and dates
Quad-biking is arranged at an additional cost
Price of desert safari in Abu Dhabi: The prices usually vary between AED 250 to AED 350 depending on the inclusions and their quality. Reliable operators include Emirates Tours and Safaris and Abu Dhabi Desert Safari.
Things To Not Miss Out During Desert Safari In Abu Dhabi
As you head out on your desert sojourn, here are some of the top experiences that allow you to immerse in the desert way of life and explore its many wonders.
1. Camel ride & camel farm visit
When amidst dunes, you cannot miss out a ride on the ship of the desert as they steadily navigate across sand crests and valleys. Most desert safaris include 15-20 minutes of camel riding around the desert camp, an experience to remember for a lifetime and preserved for posterity through some amazing photographs. A visit to the camel farm en route your desert camp can be an exciting experience for the kids.
2. Quad biking
Nothing can match the adrenaline rush as you head out to conquer the desert on a powerful quad bike. Those seeking thrill and adventure with nothing between them and the majestic desert dunes must not miss out on this ride of a lifetime.
Suggested Read: 10 Best Abu Dhabi Festivals & Events That You Must Attend On Your UAE Trip
3. Dune bashing
No desert safari in Abu Dhabi is complete without this thrilling experience amidst rolling sand dunes. While you're tucked safely inside your powerful 4×4 vehicle (Land Cruisers/ Range Rovers), an experts driver takes you on this thrilling desert rollercoaster ride that'll set your heart racing as you shout your lungs out on every descent down a steep dune.
4. Sand boarding
Most desert camps allow you to experience sand-boarding and sand-skating which can both be a whole lot of fun. You just need to get hold of a sand-board, find a sloping dune close by and let gravity do the rest! You're sure to end up with some warm memories and loads of sand on your skin, so be sure to take a shower back home!
Suggested Read: Have You Visited The Two Of The 'World's Greatest Places 2018' In Abu Dhabi Yet?
5. Barbeque dinner and belly dance show at Bedouin Camp
The grand finale of almost every desert safari in Abu Dhabi allows you to experience the life of desert folks in all its glory. Various desert camps bring alive the magic of Bedouin way of life through campfires, sumptuous barbecue dinner under the stars and traditional entertainment by local artists. As you relish your 3-course meal in the cool desert air, belly dancers and tanoura artists enthral the guests with their talent. The entire atmosphere transports you to the world of Arabian nights, complete with the magical setting and Arabian music.
6. Camping under the stars
If a few hours in the vast sands of Arabian Desert leave you asking for more, you can choose to spend a night at the enchanting Bedouin camps under the glittering desert sky after your delectable barbecue dinner.
Suggested Read: 7 Best Abu Dhabi Beaches That Are Perfect For Soothing Your Mind, Body & Soul
Tips For Desert Safari In Abu Dhabi
Casual comfortable cotton clothing, sunglasses, sunscreen and hats are a must to beat the desert sun and sand.
It's advisable to wear open shoes, flip flops or sandals as you will be moving out on the sand frequently.
Pay close attention to the instructors as you indulge in adventure activities including dune bashing, quad biking, etc.
Carry a stole or light jacket for evening safaris as the air gets nippy after sun down.
Choose the time of your safari wisely to ensure you have a pleasant experience. Evening safaris in the winter month are amongst the best.
Further Read: 18 Top Restaurants In Abu Dhabi To Indulge In Its Rich Culinary Delights
Enticed to experience the thrill of desert safari in Abu Dhabi already? Well, what are you waiting for? Plan your UAE trip with TravelTriangle and get ready to have the best time of your life!
---
Looking To Book An International Holiday?
Book memorable holidays on TravelTriangle with 650+ verified travel agents for 65+ domestic and international destinations.
---