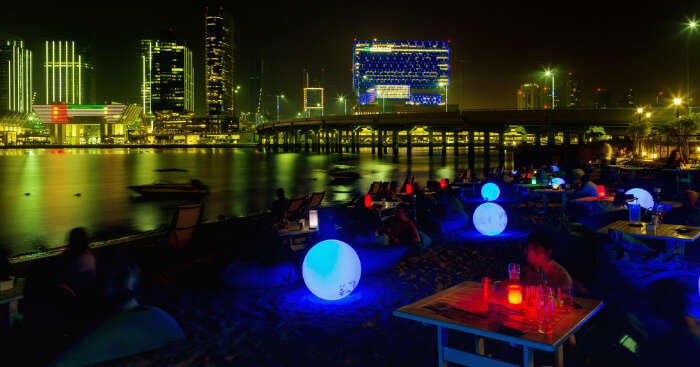 Abu Dhabi has a thrilling nightlife with glitzy clubs, restaurants and other hangout zones. After a busy sunny day at work, people come together to relax, enjoy and celebrate. Abu Dhabi has never shied away from the nightlife culture. You will surely regret, if you are here and you still miss to experience the Abu Dhabi nightlife!
Dance, Drinks, Desserts, DJ & More
Even if it is for a night, you have hundreds of options to spend it in Abu Dhabi. Check out the best that suits your mood and taste:
Ladies' Night Out
Thursday Nights
Pool Parties & Beach Boats
Latin Nights
Jazz Nights
DJ Nights
1. Ladies' Night Out
For all the ladies out there in Abu Dhabi, put your favourite party dress and head to these restaurants and bars near you. One of the popular and oldest club in the city, the Yacht Club throws an amazing party on its terrace. The Wednesday Ladies' nights make the venue swell with woman party-goers. DJs and dancers evoke the fun mood. Its you best chance to get free or less priced drinks. Go grab it!
Entry Fee: Free Entry
Check out these best nightclubs in Abu Dhabi where you can enjoy Ladies' night out with your girls-gang:
Barfly the Budhha-Bar: Wed 6pm – 1am
BU!: Mon 8pm – midnight
Cooper's Bar & Restaurant: Thu 8pm – 10pm
Iris Yas Island: Sun 9pm – 3am
Loca: Wed 7pm – 2am
Mad on Yas Island: Thu 11pm – 1am
McGettigan's AUH: Tue 6pm – 10am
Sho Cho: Wed 7pm – 1am
Ray's Bar: Sat 8pm – 2am
Tamba: Thu 8pm – midnight
Yas Marina: Wed 7pm onwards
2. Thursday Nights
Abu Dhabi and many other parts of UAE have Fridays as weekly off. So there is an altogether different kind weekend vibe on Thursday eve. A lot of pubs and restaurant host special Thursday night parties to celebrate the same. These parties generally last till late at night and gets over around 3am in the morning. Almost every dance bar in Abu Dhabi organises a thursday bash. They also give away great offers on food and drinks during a Thursday night.
These Thursday nights are the best answer to your Monday blues:
Flow at Rush: 10.30pm – 3.30am
Ministry of Sound VIP: Last Thu of every month 10.30pm – 3.30am
Mischief at Left Bank: 9pm – 3am
The Shadow at People by Crystal: 11pm – 4am
Thursday Madness at Etoiles: 11pm 3.20am
Revival at People by Crystal: 11pm – 4am
Must Read: 10 Things To Do In Abu Dhabi Unveiling The Best Of Arab Emirates
3. Pool Parties & Beach Boats
Beach and pool parties are a thing Abu Dhabi. The city itself has some of the great beaches. Following are some of the most thrilling pool and beach parties in Abu Dhabi:
Blue Sensation Pool Party at Noche Chill-out Lounge: 10am – 10pm
Fire & Ice Beach Party, Wakatua Beach, Le Meridien Abu Dhabi: 4pm – midnight
Foamaloco Pool Party, Centro Yas Island
Immaculate Touch Pool Party, Al Maya Islad
Immense Ibiza Yacht Party, Emirates Palace Hotel Marina: 11am – 9pm
Liquid Rain Pool Party, Mai Cafe: 8pm – 3am
Ocean Beats Boat Party, Intercontinental Abu Dhabi: 2pm – 6pm
Sun Kissed Boat Party, Yakhout Club: Starts at 2pm
Wet & Wild Pool Party, Abu Dhabi City Golf Club: 7pm – 3am
4. Latin Nights
Just like Arabic Nightclubs in Abu Dhabi, Latin Nights are gaining popularity. The salsa nights have themed parties and menu. Even the band playing at these parties are Latin. Given below four top Latin Night parties:
Chamas: A Brazilian themed Churrascaria restaurant: 9am – 1pm
Imago Restaurant & Bar: Fri 9pm
Stars 'n' Bars: 9pm
Puesta Del Sol, Saadiyat Beach Club: 7pm
Suggested Read: Hotels In Abu Dhabi: Best Of Arabian Hospitality And Luxury
5. Jazz Nights
Abu Dhabi has lately developed a taste in Jazz. Live music has its own impact on the audience. This soothing musical therapy will lift your mood in to time. Up for a Jazz night? Come here to listen to:
Luna Soul at Jazz'N Fizz: Sun – Thu 9pm – 1.30am & Fri 12.30pm – 3.30pm
Matt West at Rays Bar: 5pm – 2am
UpTown at Jazz @ Pizza Express
6. DJ Nights
The DJ Nights at Abu Dhabi's popular clubs are highly effervescent. Head to any of these spots and let these DJs takeover the night:
Cliff Townley at Pop – Hilton Abu Dhabi; Still – Crown Plaza Yas Island, Ray's Bar – Etihad Towers
DJ Foxxy at Stars 'N' Bars, Sax, Empire and Relax @12
DJ KaBoo at Sax's ShutDown Urban Night on Sat, Empire Night Club on Mon and Saadiyat Beach Club on Tue
Nell T at MAD on Yas Island
Saif and Sound at Sax Club Abu Dhabi, Stars 'N' Bars, Al Maya Island, Saadiyat Beach Club and Yas Beach
Groovy music, great stimulating lights, tasty food and drinks and friends, your perfect nightlife concept, can come true in Abu Dhabi. Plan a trip to Abu Dhabi now so that you don't just live the days of your life, but live the night too.
Further Read: 10 Reasons Why You Should Never Visit UAE
People Also Read:
Dubai With Kids 3 Days In Dubai Nightlife In Dubai
---
Looking To Book An International Holiday?
Book memorable holidays on TravelTriangle with 650+ verified travel agents for 65+ domestic and international destinations.
var metaslider_50011 = function($) {
$('#metaslider_50011′).flexslider({
slideshowSpeed:3000,
animation:'slide',
controlNav:false,
directionNav:true,
pauseOnHover:true,
direction:'horizontal',
reverse:false,
animationSpeed:600,
prevText:"<",
nextText:">",
easing:"linear",
slideshow:false,
init: function(slider) {
$('#metaslider_50011 .msHtmlOverlay').each(function() {
$(this).css('display', 'block');
});
},
before: function(slider) {
$('li:not(".flex-active-slide") .animated', slider).not('.disabled').each(function(index) {
var el = $(this);
var cloned = el.clone();
el.before(cloned);
$(this).remove();
});
},
itemWidth:300,
minItems:1,
itemMargin:0
}); $(window).resize(function(){
$('#metaslider_50011').metaslider_scale_layers({
downscale_only: false,
orig_width: 300
});
});
$('#metaslider_50011').metaslider_scale_layers({
downscale_only: false,
orig_width: 300
});
$('#metaslider_50011 .msHtmlOverlay .layer[data-link], #metaslider_50011 .msHtmlOverlay[data-link]').each(function() {
var layer = $(this);
layer.css('cursor', 'pointer').on('click', function(e) {
if( ! $(e.target).closest('a').length) {
window.open(layer.attr('data-link'), layer.attr('data-target'));
}
});
});
$('#metaslider_50011 .msHtmlOverlay').each(function() {
$(this).css('display', 'block');
});
};
var timer_metaslider_50011 = function() {
var slider = !window.jQuery ? window.setTimeout(timer_metaslider_50011, 100) : !jQuery.isReady ? window.setTimeout(timer_metaslider_50011, 1) : metaslider_50011(window.jQuery);
};
timer_metaslider_50011();
---