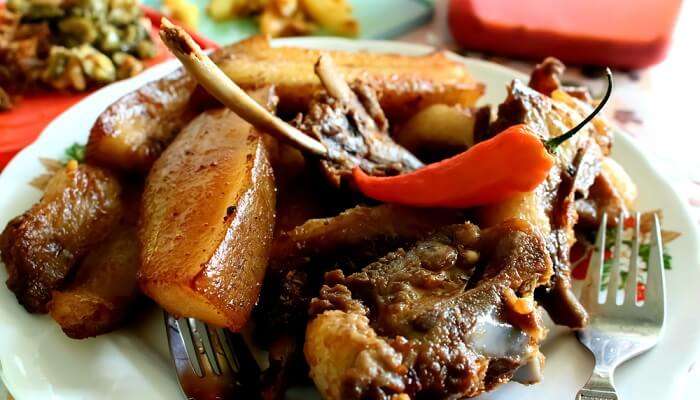 Nagaland is a culturally diverse state known for its colourful traditional festivals, nature, alluring landscapes, historical sites and cuisines. As we all know, the northeastern states follow extremely different cultures and traditions when compared to other parts of the country due to their geographical conditions. Food always fascinates everyone, no matter what age group you belong to. The famous foods of Nagaland are usually tempting, some of them include Zutho, Samathu, Bushmeat, Aikibeye, Akini and so on.
9 Famous Foods of Nagaland
As a traveller, if you are wondering what local dishes to try in Nagaland for a unique experience. Here is the list of delicious foods that one must taste in this destination. There are few traditional dishes too, always seeking guidance from the locals to know more about their practice and customs. They are friendly to interact with but make sure you greet them with the highest respect and kindness. Below is the list of the top 9 famous foods of Nagaland that must be tried as a tourist
1. Zutho

A fermented rice beer of North Eastern states of India, popularly known as Apong. This drink is famous in Nagaland and prepared by sprouting, fermentation by yeast and enzymes. The starch in the rice is made into malt to bring a particular taste and effect. People enjoy this drink with their friends to have fun and excitement.
Street Food In India: 17 Scrumptious Treats For Your Food Spree In 2021!
2. Bamboo Shoot

Bamboo Shoot enhances the sour taste in the dish and it's used as a major ingredient while preparing pork and fish dishes. Not only in Nagaland, but most of the northeastern states of Nagaland also use Bamboo shoots as their important element while cooking and are healthy enough to consume as they are rich in fibres and vitamins.
3. Fish in Bamboo

Nagaland is a paradise of Bamboo trees, local people hollow the bamboo and put the marinated fish with spices and masala to make it more delicious. It is kept on the fire to cook well, the fish finally turns out to be tastier with stuffed spices and flavours of bamboo tree. It's one of the famous dishes of Nagaland to try as a tourist.
17 Impeccable Food Trucks In India 2022 That Serve Scrumptious Food With A Twist!
4. Bushmeat

The most famous food in Nagaland, Bushmeat or dog meat is known for cheap meat dishes in the Northeast. They are available at reasonable prices, hence locals and restaurants use this meat to make toothsome recipes.
5. Aikibeye

A Nagaland famous food used to blend the flavoured and spicy non-vegetarian foods as it consists of mustard leaves and Colocasia roots. They cook it by adding just salt so that the aroma combines with each other. The gravy is generally preferred to be thick and consistent to match with the main course.
8 Food Trucks In Bangalore 2021: Redefining Street Food Culture In India
6. Akini

Akini is cooked by roasting and grounding the perilla seeds which have medicinal properties, soya beans and paddy field snails. Locals enhance the dish by adding some flavours, axone and lard from the pork. Nagaland dishes taste different and delectable. As a traveller, you must try tasting some of the famous dishes of Nagaland for a new experience.
7. Samathu

Fermented soybean or axone is used with smoked pork to make a thick curry and a huge amount of chilli powder is added to make the dish spicy. Later, it is allowed to cook for a while to blend with the flavours. It's one of the traditional foods of Nagaland among the Sumi houses and the tribes.
10 Vegan Indian Food Items That Will Turn You Into A Vegan Overnight In 2020
8. Hinkejvu

A simple dish enjoyed by the locals which is a part of their everyday meal, cooked with colocasia, shredded cabbage leaves, mustard leaves, French beans and a pinch of salt. All together are boiled in a vessel until it's fully cooked to merge the savour for a perfect cuisine.
9. Black Sticky Rice Pudding

A healthy pudding is often consumed by diabetic patients too as it lowers insulin levels and this Chinese black rice is glutinous in nature. It is cooked by adding coconut milk and brown sugar for sweetness and warm spices like cinnamon, cloves, nutmeg, and star anise according to your preferences.
10 Great Restaurants In Kota For Some Tempting Rajasthani Food In 2022
Travel is not just about wandering scenic places, it also includes experiencing and understanding their culture and practices. The local foods of Nagaland is a must-try activity to enrich your trip memories. Nagaland in Northeast India is known for its mouth-watering dishes and spices. As a land of Bamboo, the locals cook many dishes in bamboo that enhance the flavours of the meal. Try out the listed foods for the upcoming Nagaland trip and enjoy the exclusive culinary creations of the region.
For our editorial codes of conduct and copyright disclaimer, please click here.
Frequently Asked Questions About Famous Foods Of Nagaland
What are the famous dishes of Nagaland?
Northeastern states follow completely different cuisines due to their geographical location. Dishes like Zutho, Bamboo shoot, Bushmeat, Hinkejvu, Samathu, Fish in Bamboo, Akini, Aikibeye, Black Sticky rice pudding and Axone are the most popular foods of Nagaland.
What is the staple food of Nagaland?
Rice is the main dish with rich carbohydrates, fish, meat, pork, boiled vegetables, pickle and curry and combined with the main course to have a balanced healthy diet.
What is the most preferred dish in Nagaland?
Raja Mircha Pickle is made from the chilli pepper, Bhut Jolokia cultivated in Nagaland. Local people eat with rice, roti and dosas as it is an amalgamation of flavours like spicy, smoky with a hint of sweetness.
What is Nagaland famous for?
Nagaland is one of the top-rated northeastern states of India to relish enhancing green landscapes. It's also a paradise for adventure seekers as you can indulge in activities like trekking, hiking and mountain biking. Attend colourful festivals like Hornbill and Aoling Festival to enjoy and understand their traditions and culture.
How to spend a day in Nagaland?
Nagaland or the land of festivals is known for cultural diversity and traditional practices, nature, adventure activities, mesmerizing landscapes, toothsome cuisines and historical sites. You can spend a day visiting some of the scenic places, indulge in adventures like trekking and hiking, go shopping in local markets and try out some famous foods of Nagaland like Zutho, Samathu, Bushmeat, Aikibeye, Akini and so on.
People Also Read:
Famous Foods In Chennai Famous Foods In Agra Famous Foods In Darjeeling