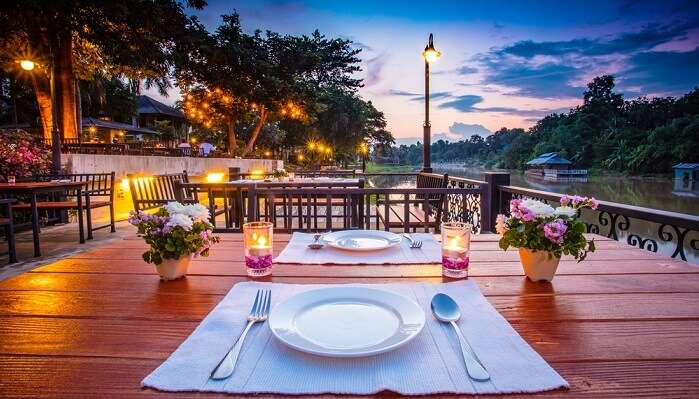 Once famously known as the Awadh region, Lucknow takes pride in its intriguing history, colourful culture, and polite mannerisms. Another highlight of the capital lies in its traditional Lucknowi cuisine that charms gastronomes from far and wide. Be it the sightseeing options or adventure activities, the City of Nawabs never fails to enthral its visitors. Moreover, for couples, there are a multitude of romantic restaurants in Lucknow that truly create magic while serving some scrumptious delicacies. From indoor fine-dining to outdoor candlelight dinner options, the destination features all kinds of restaurants offering couples to spend some moments of love and bliss. Take a look at these impeccable places to have dinner with your significant other and get on a wonderful culinary joyride.
8 Romantic Restaurants in Lucknow
If savouring a meal with your companion is in your mind, these best romantic restaurants in Lucknow have got you covered. Celebrate your love with full élan.
1. The Hazelnut Factory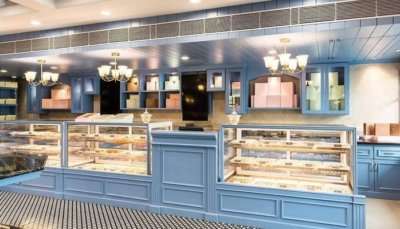 Image Source
Ideally positioned in the Gomti Nagar area, The Hazelnut Factory is famous for serving delectable desserts along with some baked goods. The subtle decor and cosy interiors coupled with an affordable menu make it one of the best romantic restaurants in Lucknow for couples who are seeking a reasonably-priced spot. To give an extra edge to your date, make sure to sit under the brilliantly designed green canopies where lights seem like stars giving your imagination a perfect start.
Must-try food: Spicy tango pizza, paneer shashlik, garden veggie and cheese panini
Cost for two: ₹400
Zomato rating: 4/5
12 Places To Visit In Lucknow That Showcase It's Grand Culture In 2020
2. Spice Caves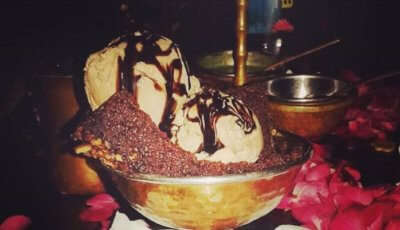 Image Source
As the name suggests, Spice Caves lets one enjoy a cave-like experience. While being one of the best private restaurants for couples in Lucknow, this restaurant serves North Indian, Mughlai, and Chinese cuisines. What makes it stand apart is its interior that is inspired by ancient times. From the ancient-like statues to the faux greenery, everything about the hotel will let you have the experience of being in a real cave. Another alluring element is the private romantic cabins where couples can spend some quality time while indulging in unforgettable culinary experiences.
Must-try food: Mushroom khaleeji, Tandoori Chicken, Roganjosh, Chicken Tikka
Cost for two: ₹1,000
Zomato rating: 4.5/5
3. Azrak by Lebua

Treating its guests with Hyderabadi, North Indian, Awadhi, and Continental cuisines, Azrak by Lebua is an impeccable romantic dinner spot. If fine dining is in your mind, this place will surely live up to your expectations. Ideally positioned in the boutique hotel Lebua, the restaurant allows one to enjoy the feel of the bygone area, especially with its chikan block handles, handmade Moroccan flooring, and rustic furniture. Whether you are opting for indoor dining or outdoor dining, the experience here is sure to be a surreal one.
Must-try food: Gosht Dora Kebab, Murgh Ke Parche, Hyderabadi Haleem
Cost for two: ₹1,600
Zomato rating: 4.⅗
Privately Run Tejas Express From Lucknow To Delhi Is The First In India
4. Terrace By Oak's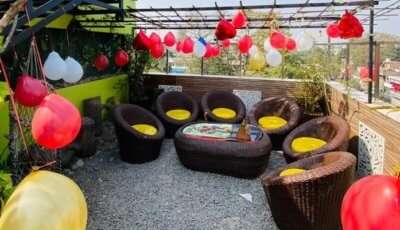 Image Source
Nestled on the rooftop of Chandralok Tower, Terrace By Oak's is touted as one of the most famous casual dining restaurants in Lucknow. Here, visitors can treat their palates with Chinese, Italian, and North Indian cuisines. The chefs at the restaurants curate dishes with the finest ingredients, hence making your culinary experience a memorable one. Besides this, the dance floor, refreshing music, and soothing rooftop ambience will surely uplift couples' moods.
Must-try food: Garlic Chicken, Paneer Achari Tikka, Tandoori Stuffed Mushroom
Cost for two: ₹1,000
Zomato rating: 3.7/5
5. Oudhyana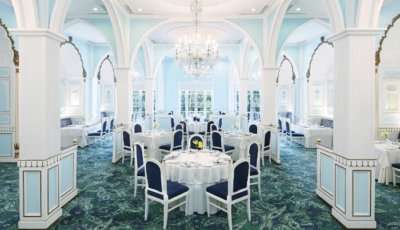 Image Source
Places in the world-famous hotel chain, Taj, Oudhyana allows you to submerge in the mouth-watering tastes of traditional Awadhi cuisine. The sophistication, soothing ambience, hospitality, and chiefly the delicacies of the restaurant will surely bowl you over. Further, the grilled delicacies would please your taste buds and lend you two a memorable experience. So, if you are on a hunt for the best romantic restaurants in Lucknow, this could be your ultimate stop.
Must-try food: Kababs, Shahi Tukda, Breads, Biryani
Cost for two: ₹3,000
Zomato rating: 4.5/5
16 Popular Hill Stations Near Lucknow For An Enthralling Vacay In The Himalayas In 2021!
6. Sepia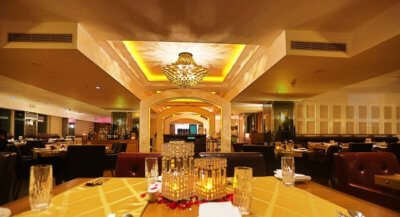 Image Source
A renowned fine dining restaurant in Gomti Nagar inside Renaissance Lucknow Hotel, Sepia offers a wide range of authentic Indian delicacies served in traditional Awadhi style. The restaurant makes an ideal spot if you wish to take your partner on a candlelight dinner in Lucknow. The rich-flavoured dishes served on your plates will surely let you order more. Besides this, the live music, excellent hospitality and delightful atmosphere make a perfect recipe for an unforgettable evening.
Must-try food: Warqui Paratha, Lamb Nihari, Mirch Paneer, Chicken Tikka, Mughlai Food,
Cost for two: ₹1,500
Zomato rating: 4.2/5
7. Rocca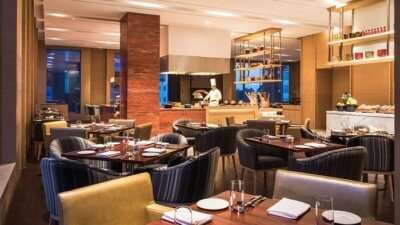 Image Source
Do you wish to treat your companion with the lavishness of a 5-star hotel? Feel such an experience at Rocca that serves its guests cuisine like North Indian, Italian, European, and Fast Food as well. What makes the experience all the more enriching is the open kitchen offering visitors a home-like experience. The skilled chefs curate a wide range of exotic as well as traditional delicacies that are presented in an impressive manner. One of the top places to have dinner in Lucknow for couples, Rocca spares no effort to give you cherishable memories.
Must-try food: Murgh Korma, Gosht Nihari, Subz Biryani, Shrimp Risotto
Cost for two: ₹2,600
Zomato rating: 4.⅖
20 Best Restaurants In Lucknow You Must Visit In 2021 To Eat And Feel Like The Nawabs Do!
8. Sky Lords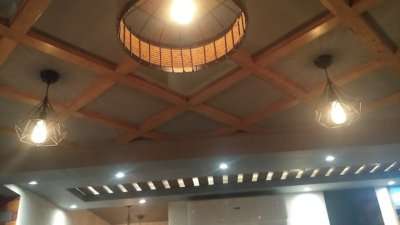 Image Source
A reasonably-priced restaurant with cosy settings, Sky Lords is a perfect place to stop by for a romantic date. The eatery impresses its visitors with its indoor as well as outdoor settings. Additionally, the soft music in the background is always ready to amp up your mood. The skilled chefs are always on their toes to pamper your taste buds with Continental, North Indian, Chinese cuisines. The restaurant makes a commendable affordable choice. So, if you have a shoestring budget, this place will solve the purpose.
Must-try food: Chicken Lollipop, Volcano Pizza, Potato Cheese Shots
Cost for two: ₹800
Zomato rating: 3.7/5
Now when you have a good amount of information about the top romantic restaurants in Lucknow, wait no more and plan an ultra-special date with your partner. The toothsome delicacies along with the perfect romantic ambience will let you two enjoy an out-of-the-world experience. So, plan a trip to Lucknow now and visit these amazing restaurants to gather some cherishable memories.
For our editorial codes of conduct and copyright disclaimer, please click here.
Frequently Asked Questions About Romantic Restaurants in Lucknow
Which are the top romantic restaurants in Lucknow?
Couples who wish to dine at the best romantic restaurants in Lucknow can head to The Hazelnut Factory, Rocca, Spice Caves, SKy Lords, Oudhyana, Sepia, Terrace By Oak's, Altitude, Skyline, Drunch, Jannat, and more. Most of these restaurants serve traditional Lucknowi delicacies.
Is it safe to visit Lucknow during Covid times?
Yes, Lucknow has opened its borders for travellers. However, it is advised to get fully vaccinated before planning a trip to Lucknow. Stay always masked, sanitize hands regularly, and maintain social distancing whenever required. Remember, your safety is always in your hands.
Which traditional dishes of Lucknow one must try?
Some of the top Lucknowi delicacies that one should try include
1. Biryani
2. Galawati Kebabs
3. Shami and Boti Kebabs
4. Kakori Kebabs
5. Sheermal.
6.. Nihari Kulcha
Which are some of the best couple spots in Lucknow?
Attractions like Rumi Darwaza, Kukrail Forest Reserve, Dilkusha Garden, British Residency Complex, Begum Hazrat Mahal Park, Sikandar Bagh, Kukrail Picnic Spot, and Bara Imambara are among the best couple places in Lucknow.
Which are the best rooftop restaurants in Lucknow?
The top rooftop restaurants in Lucknow where couples can enjoy some quality time include Kabila Restro, Woodpecker, Altitude, Terrace Grill, W Cafe, Sarca, Skyhilton, Sky Lords, The Penthouse Cafe, The Bridge, etc.
People Also Read:
Romantic Restaurants in Gurgaon Romantic Restaurants in Goa Romantic Restaurants in Kolkata