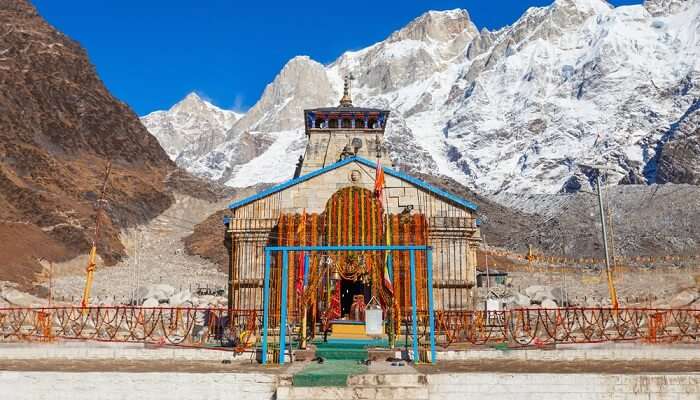 The coldest region of the Indian subcontinent, 'North India' is a true delight for acrophiles and adventure-seekers. While the zone makes a perfect base for such travellers, it also captivates thousands of pilgrims every year owing to its reputation of being a popular haven for diverse gods and goddesses. Famous temples in North India including Kedarnath (the highest among the 12 Jyotirlingas), Vaishno Devi (one of the famous 51 Shakti Peethas), and Badrinath (among 108 Divya Desams), and more, showcase the real essence of Indian traditions, beliefs, and art. All the temples hold numerous intriguing stories making them worth visiting. So, if you are planning a trip to North India, visit these famous temples to uplift your travel experience with divinity.
7 Famous Temples in North India
If a pilgrim site is on your travel cards soon, check out these 7 famous temples in North India that ideally signify cultures, colours, and religions of India. Read on.
1. Badrinath Temple, Uttarakhand

Dedicated to Lord Vishnu, Badrinath Temple is positioned along the banks of the Alakananda River and is one of the four Char Dhams. Captivating worshippers from far and wide, the temple is perched at an elevation of approximately 10,827 above sea level. Enhancing the sanctity of the temple is the idol of Lord Vishnu in a meditative and composed posture around which there are 15 idols carved out of black stone. Considered among the major pilgrim sites in India, the temple remains open only from May to November owing to extreme weather conditions.
Location: Badri to Mata Murti road, Badrinath, Uttarakhand 246422
Timings: 6:00 a.m. to 8:00 p.m.
7 Temples In Jodhpur for A Divine Holiday In The Blue City!
2. Amarnath Cave Temple, Jammu & Kashmir

Lying at an altitude of around 3888m from Pahalgam, Kashmir Amarnath Cave is one of the most Famous Temples in North India. The cave features a Shivling that is naturally formed with ice and ideally resembles Lord Shiva. The temple receives a huge influx of devotees especially during the forty-five of Shravan Mela. You can reach the cave either by Pahalgam or by Baltal. Although the former route is shorter, it requires medium to difficult trekking. So, if adventure is in your mind, reach Amarnath via Baltal.
Location: Baltal Amarnath Trek, Forest Block, Pahalgam, Jammu and Kashmir 192230
Timings: 5:00 a.m. to 9:00 p.m.
3. Birla Mandir Temple, Jaipur

Also known as Lakshmi Narayan Temple, Birla Mandir is positioned in the base of Moti Dungarihill in Jaipur. Surrounded by lush greenery, the temple with its impressive marble carvings catch the attention of millions of devotees every year. The temple was built by the Birla Group of Industries in 1988. The temple is devoted to Lord Vishnu and Lord Vishnu. Enhancing the beauty of the temple are the striking domes and huge walls where carvings of poems from notable poets can be found. The temple comes alive especially during the night when it's lit with thousands of lights. What makes it among the best temples to visit in North India is its belief that all religions are equal and the three domes signify the same.
Location: Birla Mandir, Jawahar Lal Nehru Marg, Tilak Nagar, Jaipur, Rajasthan 302022
Timings: 6:00 a.m. to 12:00 p.m. and 4:00 p.m. 8:00 p.m.
9 Temples In Wayanad To Experience Divine & Tranquility!
4. Vaishno Devi Temple, Jammu & Kashmir

Nestled at an altitude of 5,200ft above sea level in the Himalayan mountains in Trikuta, Vaishno Devi is one of the most famous temples in North India that is dedicated to the Dev Shakti. Featuring three rock heads, known as 'Pindkas or Pindis', the temple is one of the 51 Shakti Peethas. To reach the temple, worshippers need to undertake a 13-14 km trek from the base camp at Katra. For travellers who do not wish to reach the temple on foot or have some medical issues, there are ponies and palanquins available. Although trekking seems arduous, the fun during the journey is never-ending. You can take as many halts as you want and stop by food joints to energise yourself with some snacks and drinks.
Location: Katra-Reasi Road Bhavan, Katra, Jammu and Kashmir 182301
Timings: Open throughout the day
5. Golden Temple, Amritsar

Featuring unique Sikh architecture, Golden Temple in Amritsar is undeniably one of the famous temples in North India. While being constructed at a level lower than the surrounding land level, the temple promotes equality and modesty. Furthermore, the temple's 4 entrances from all directions signify that people from all religions, caste, creed, and gender are equally welcome. From lying down near the lake at night to helping in the kitchen as a volunteer, there are several activities that you can indulge in to treat your mind, body, and soul.
Location: Golden Temple Rd, Atta Mandi, Katra Ahluwalia, Amritsar, Punjab 143006
Timings: Open throughout the day
7 Must Visit Temples in Chandigarh For A Memorable Trip
6. Mansa Devi Temple, Uttarakhand

Spread over 100 acres of the Shivalik foothills, Mansa Devi Temple is touted as one of the most popular temples in North India. Constructed during the 19th century by Maharaja Gopal, the temple is embellished with 38 panels of wall paintings. Additionally, the floral designs over the ceiling and walk emit equal charm. While visiting Mansa Devi Temple, you can visit nearby pilgrim sites including Vaishno Devi Temple, Daksh Mahadev Temple, Gau Ghat, Chandi Devi Temple, and more. If you wish to witness the temple in its full zest, make sure to visit here either during Navratri or Kumbh Mela.
Location: Harkipodi, near Krishna Dham, Kharkhari, Haridwar, Uttarakhand 249401
Timings: Open 24 hours
7. Kedarnath Temple, Uttarakhand

Nestled in the Garhwal Himalayan range in Uttarakhand, Kedarnath is one of the 12 major Jyotirlingas dedicated to Lord Shiva. It is believed that the temple was initially built by Pandavas, and later re-established by Adi-Shankaracharya in the 8th century. Enjoying the vicinity of snow-clad mountains and glaciers, this renowned North Indian temple sits at an altitude of 3,583 km. If your heart pumps for the thrill, then make a plan to visit this temple as it can only be reached while trekking from Gaurikund. Since the location receives heavy rainfall during the winter months, the temple opens only for 6 months (April to November).
Location: Kedarnath, Uttarakhand 246445
Timings: 4:00 a.m. to 9:00 p.m.
6 Ancient Temples In Nainital You Must Visit On Your Uttarakhand Trip In 2022
Reflecting the rich heritage and culture, the famous temples in North India offer a perfect base for pilgrims who wish to get immersed in tranquillity. So, while planning a trip to North India, pay a visit to any of these temples and lend your soul some soothing moments.
For our editorial codes of conduct and copyright disclaimer, please click here.
Frequently Asked Questions About Famous Temples in North India
Which are some of the most famous North Indian temples?
Here is a list of the famous temples to visit in North India:
1. Amarnath Cave Temple
2. Vaishno Devi Temple
3. Badrinath Temple
4. Mansa Devi Temple
5. Vaishno Devi Temple
6. Golden Temple, Amritsar
7. Chamunda Devi Temple
8. Swaminarayan Akshardham Temple
9. Kashi Vishwanath Temple
How long is the Kedarnath trek?
Starting from Gaurikund, the Kedarnath trek is 16 kilometres and it will take you 5-6 hours to reach the temple.
Is it safe to visit North India during Covid?
Since covid cases are declining with a great speed in North India, it is now safe to visit the region. However, you need to abide by all the government protocols that include wearing a mask at all times when out, sanitizing hands at regular intervals, and maintaining social distance whenever in a crowd. Apart from this, make sure to get both doses of vaccination before you plan your trip.
Which are the best attractions near Golden Temple?
Some of the best places to visit near Golden Temple are Jallianwala Bagh, Wagah Border, Durgiana Temple, Akal Takht, Tarn Taran, Harike Wetland, and more.
When can I visit Amarnath Cave Temple?
The temple opens from June-end to August owing to the harsh weather conditions. Notably, the specific period is announced each year.
People Also Read: