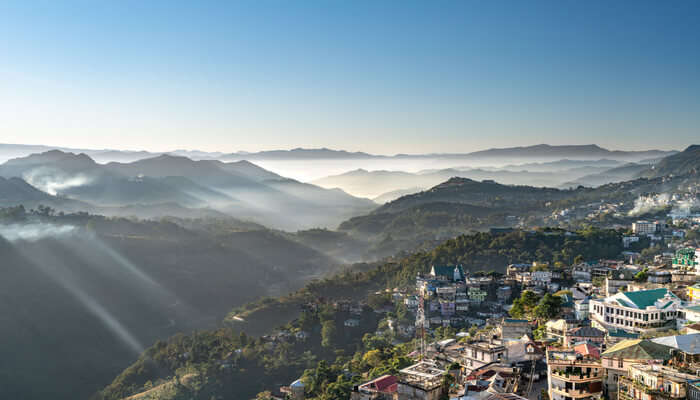 Mizoram is one of the important Northeastern states in the Republic of India. Its native people are popular as the Mizo's. They have an origin from the Southeast Asian countries. Since the medieval time, Christianity emerged as the Mizo people major religion. Yet, the government and its Mizo tribes never forget the routes to celebrate the festivals in Mizoram on time. Many of these festivals have attracted foreigners too apart from domestic tourists. It is advisable to visit here under an all-inclusive Mizoram festival tour and see the Mizo culture and art forms in one place.
Mizoram is a tourist-friendly state in the Purvanchal. Mizo festivals are the best to visit during the season. They are authentic, as they have not forgotten their routes. Still today, they live traditionally. Their cultural dance forms and music are the best to see during the festival times. Their festivals are colorful and delightful. They do celebrate with full glory in their villages, arenas and with large tourists gathering places in Mizoram. Here, we have discussed its major festivals, which take place annually.
Top 3 Festivals in Mizoram
Here are the 3 best and famous festivals in Mizoram which one must experience one throughout the year. 
1. Chapchar Kut Festival, Mizoram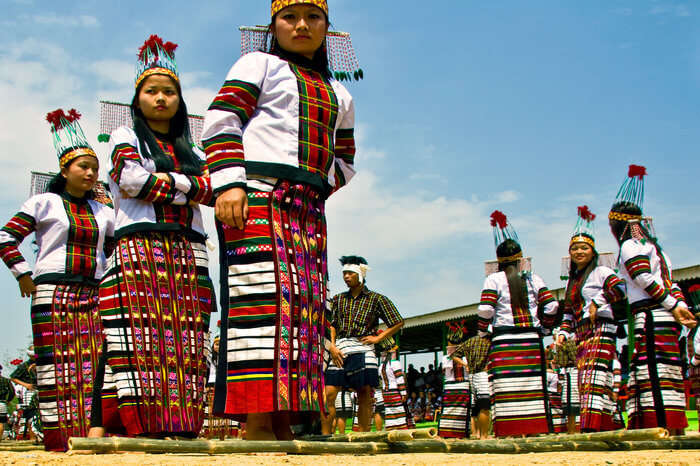 This is a major festival of Mizoram. The foreign and domestic tourists can see this festival in the entire state of Mizoram. This is a colorful festival with dance and songs as they welcome the spring season. Thousands of local and foreign tourists engulf Mizoram to see this most happening festival occasion. In Aizawl and other major town, they celebrate this festival as a carnival too.  It was not a popular festival for the past five centuries. Since 1973, the government of Mizoram emphasized to celebrate Mizo culture apart from religion and ethnic groups. Hence, everyone in agro industry and the tribal people celebrate this festival with full glory.
The onset of spring season marks the clearance of forest land for cultivation. This is how the celebration begins. They cut the woods and make way to farmlands. They burn the leftover woods and saw the cereal crops to harvest during the monsoon. Hence, this is a harvest festival in Mizoram.
You can find Mizo people in colorful traditional attires and makeup. They dance to the tune of bands and songs for Cheraw dance and Chai dance. You can find beautiful Mizo women dancing skillfully over bamboo stick tapping on the ground and they rhythmically raise their legs in-between the bamboo sticks. Rice beer is a common drink, which is available throughout this festival occasion. You can also find carnivals with Mizo arts and crafts. You must be here in the 1st week of March annually to witness the colorful Chapchar Kut festival.
11 Exciting Things To Do In Mizoram To Enjoy The North Eastern India To The Fullest!
2. Mim Kut Festival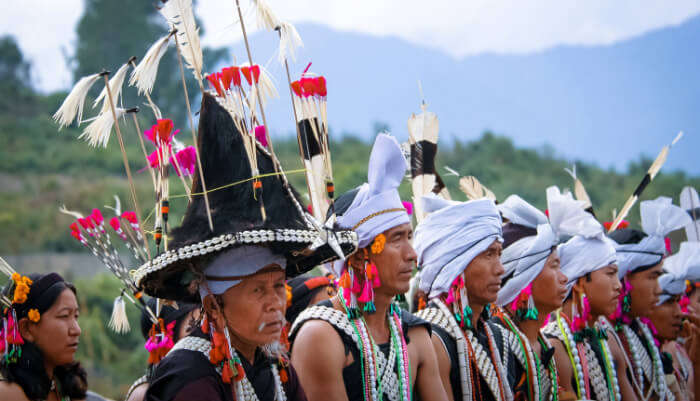 This is one of the harvest festivals in Mizoram, which is also considered for the departed souls. The importance of this festival is also related to the Chapchar Kut festival. This is because what the maize crops are sowed during the Chapchar Kut festival is harvested in Mim Kut festival time. Hence, this festival also comes under the harvest festivals of Mizoram.
This festival is like ceremony than with cultural dance and art forms.
The Mizo people take the first produce and keep them for the departed souls to come to their home and have them. Apart from the maize, they do keep their loved things like clothes and ornaments. This is like a colorful ritual, which takes place in every Mizo homes. Today, there is no consideration of religion in this festival occasion. From Mizo tribes to educated people do this ceremony with great honor to the departed souls. It may seem like the dead festivals celebrated in Southeast Asian countries.
The households prepare Mizo cousins, which are favorite for the dead ones. They prepare rice beer in a traditional method and drink during this fiesta. The Mizo people wear their traditional costumes, sing, and dance to the tune of Mizo culture. In this way, they delight the departed souls. It is a belief since ancient times that Mizo tribes believed in such customs and rituals. The tourists willing to see this cultural festival must visit Mizoram in-between July and August. 
3 Breathtaking Mizoram Waterfalls That Will Leave You In Awe With Their Beauty!
3. Pawl Kut Festival, Mizoram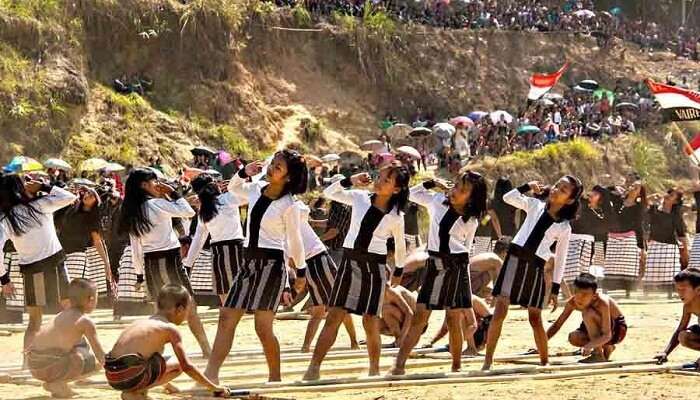 This is also a harvest festival of the Mizo's with a different belief. This is also celebrated in a different season as the other two festivals mentioned above. This festival is recorded in the Mizo history since the 15th century. It is a harvest and cultural festival in Mizoram, which takes place every year. 
There is a myth behind this festival. The origin of this fiesta is near the River Tiau, which is near the Myanmar border. During the 18th century, there were severe drought conditions in this area. This lasted for three years. The Mizo tribes then prayed to the god to bring rain. The rain god listened to them and made a heavy downpour. This has resulted in a huge harvest of corps during the December month. The Mizo tribes decided to give its first produce to the rain god. This was like a ritual and kept food and offerings too. Since then, the December harvest time is celebrated as Pawl Kut festival. This is also the season to end of autumn and the start of the spring.
A two days before the start of this festival, the Mizo's go for hunting. This is for gathering meat food by hunting in the forest. This can be a bird or an animal too. They eat meat and egg during this fiesta season. Egg is prominent to see in the Mizo dishes. They prepare meat dishes out of beef, pork, and chicken. They do serve them to the tourists and neighbors. This is after offering the food to the god. They do wish to bring similar rain during the next harvest season. In this way, this festival is ongoing since the last three centuries in Mizoram.
Dance, music, and songs are common to see in this fiesta. The mezzo people wear their traditional dress during this festival time. It is also like family get-together. The Mizo's working in Mizoram and other places take leave and come to their homes to celebrate with great honor. This is a 2-day festival, which takes place in December.
16 Beautiful Places To Visit In Mizoram On A Trip In 2022
These are some of the best festivals in Mizoram which one must definitely experience and witness the vibrant culture of the state. There is not one but many reasons to visit this place, and these festivals make it more evident. So if you're planning a vacation in North-east make sure to experience these festivals.  
Disclaimer: TravelTriangle claims no credit for images featured on our blog site unless otherwise noted. All visual content is copyrighted to its respectful owners. We try to link back to original sources whenever possible. If you own the rights to any of the images, and do not wish them to appear on TravelTriangle, please contact us and they will be promptly removed. We believe in providing proper attribution to the original author, artist or photographer.
Please Note: Any information published by TravelTriangle in any form of content is not intended to be a substitute for any kind of medical advice, and one must not take any action before consulting a professional medical expert of their own choice.
Frequently Asked Questions About Festivals In Mizoram
Which is the right time to visit to see the major festivals in Mizoram?
You must be here from August to April to witness the major festivals in Mizoram. This is because; most of them are harvest-related festivals.
Which festival attracts domestic and international tourists to Mizoram?
Chapchar Kut festival attracts domestic and international tourists to Mizoram. This is an annual festival, which takes place in March.
What types of festivals are celebrated in Mizoram?
The Mizo people usually celebrate seasons. These are harvest festival, community festival, and heritage festivals. They do celebrate Christmas and New Year's Eve as majority of the population belongs to Christianity.
Is Mizoram a safe place to travel by domestic and foreign tourists during the festival season?
Yes, foreign tourists must take special permit. The domestic tourist must take inner line permit before entering this Northeastern state of the Republic of India.
Are there are threats from Mizo tribes during festival times in Mizoram?
No, the Mizo tribes are tourist-friendly. They are educated and speak English too. They do take part in cultural by performing dance and drums during the festival seasons in Mizoram.
What are the popular dance forms one can see during the festival season in Mizoram?
The Mizo people dance forms are Cheraw, Khuallam, Chheihlam, and Chai dances. One can see these dances during major festival times in Mizoram.
Is it possible to taste Mizo cuisines during the festival times in Mizoram?
Yes, Mizo cuisines are available in all major festival seasons in Mizoram. They are mainly the non-vegetarian food. Most of these foods are made of chicken, beef, and pork meat.
Which is a special drink available during the festival seasons of Mizoram?
They do serve rice beer to the spectators during the festival season. Yet, Mizoram is a non-alcohol state in India. Their rice beer is traditionally made beer.
Is it possible to see the Mizo tribal dances during festivals seasons in Mizoram?
Yes, most of the dance is of tribal dance forms. You can see this with colorful dance with traditional handmade percussions.
---
Looking To Book An International Holiday?
---