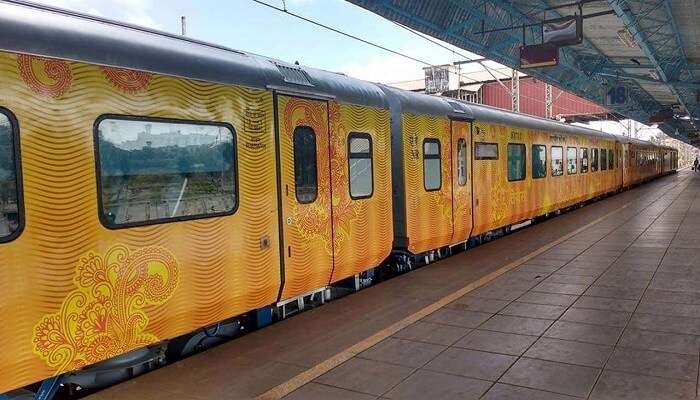 Cover Image Courtesy: DNAIndia Official Website
We all knew privatisation of railways will happen one day or another, especially after the announcement in 2016 for the same. In 2019, it's finally here! The first ever privately run train from Lucknow to Delhi and back is Tejas Express, which will soon be boarded within the next 100 days. For those of you who didn't have a fancy reason to travel via train, here it comes!
This Delhi Lucknow Tejas Express had been announced in 2016 by the authorities and is recently introduced in the new time-table. As per the schedule, the train number 12585 will depart from the Lucknow junction at 6:50 AM and arrive at the New Delhi station at 1:35 PM. Just in time for your lunch meal, the train number 12586 will then leave from New Delhi at 3:35 PM and arrive in Lucknow at 10:05 PM. This said route will be carried on for all days except for Thursday and Sunday.
Must Read: The New Direct Train From Delhi To Leh Will Get You There In Half The Time

Not only will the train offer comfort and luxury services to the passengers, the inside of each compartment will give you all the feels of a flight with installation of LCD screens for both personalised entertainment and information purposes. What's more is that you will also have access to a WiFi, charging points, comfortable seats, individual reading lights and bio-toilets with sensor taps. Could it get any cooler than this?
The main purpose behind this privatisation process is to get huge amounts of needed investments without having to opt for a disinvestment route. Even though the Railways faces threat of protests in large numbers by the Union due to the said proposal, it has finally decided to go about it anyway!
The Railways has stated that it would announce the Request for Proposal and a Request for Quote in the coming 100 days in order to let the private operators participate in the bidding process to carry forward the operations of this said Tejas Express.
Further Read: 46 Weekend Getaways From Delhi Under 5K To Take In 2022
If everything goes as planned, there'll also be a second route of the similar kind and within no time, railways as we know them, will be providing some amazing modern services too! So, while we keep our fingers crossed, you can plan a trip to Delhi with your loved ones sooner than you thought!