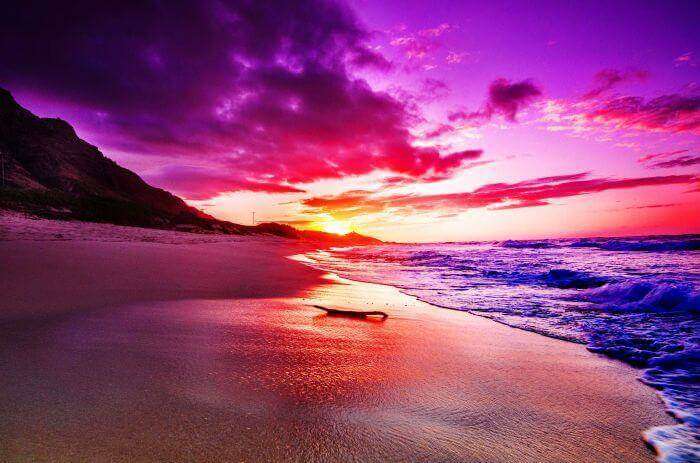 Beach holiday fantasies are made of a pristine beach, blue water, white sand, tempting seafood, adventurous water sports, sun bath and lot more!Let's take the other way round this time and discover few unique beaches of the world.
Starting from glassy shore to green sands, these beaches possess unconventional beauty and serenity.Get ready to be amazed by these unusual beaches of the world, and embark on an unfamiliar holiday this summer.
1. Pink Sand Beach
Harbour Island, Bahamas

What's Unique: Pink sand
If pink is your favourite colour, then plan the next holiday at the Pink Sand Beach of the Harbour Islands of Bahamas. As one of the scenic beaches of the island, the shoreline comprises of powdery pink sand. Pretty is the word!
2. Black Sand Beach
Punalu'u Park, Hawaii

What's Unique: Black sand
Break the monotony of white and yellow sand beaches. Travel to Hawaii to explore and experience the beach of Punalu'u Park with jet black sand. Trust the pictures, it looks gorgeous!
3. White Sand Beach
Hyams Beach, New South Wales, Australia

What's Unique: White sand
This beach in New South Wales is the proud owner of Guinness Records for having whitest sand in the world. Holidaying in the Hyams Beach is like playing with snow in summer.
Must Read: 20 Beaches With Water So Clear You Would Want To Splash Right In!
4. Green Sand Beach
Papakolea Beach, Hawaii

What's Unique: Green sand
At Papakolea Beach in Hawaii the unique green colour is due to the presence of mineral olivine as the chemical constituent of the sand. Just a good to know fact – Olivine, a kind of magnesium mineral, originates after lava is cooled in sea water.
5. Schoolhouse Beach
Washington Island, Wisconsin, USA

What's Unique: Non sticky sand
Now, walking on the sands barefoot is not a problem! Enjoy your beach holiday without sticky sands in Washington Island of Wisconsin. Here the beach is made of smooth, glacier-polished sedimentary limestone that is absolutely non-gluey.
---
Planning your holiday but confused about where to go? These travel stories help you find your best trip ever!
Real travel stories. Real stays. Handy tips to help you make the right choice.
---
6. Bioluminescent Beach

What's Unique: Glowing planktons
Dreams will come true while you stroll on the stars in your beach holiday. Stop fantasizing! It is the luminous phytoplankton that glows and glitters on the shore.
Must Read: Indulgent & Reinvigorating: 11 Spellbinding Water Villas in Maldives For A Calming Vacation
7. Hidden Beach
Playa de Amor, Marieta Islands, Mexico

What's Unique: It's hidden!
Though no strings attached to the frightful past, this beach with an unusual landscape was formed by a blasting the canopy huge cavern by the Mexican Government in 1990. This unique beach is now on the preferred holiday lists of many travelers across the World.
Must Read: 95 Best Honeymoon Destinations In The World In 2022 For A Romantic Escape!
8. Maho Beach
Saint Martin Island, Sint Maarten

What's Unique: Too close to the airport!
The plane can touch you while you are sunbathing, as the beach on S Saint Martin Island is located next door to Juliana International Airport in Maho. Even the speaker at one of the beach bar, broadcasts the communication between the pilot and the Airport Control Room. The beach is a splendid paradise for plane spotters and aviation freaks.
9. Glass Beach
Fort Bragg, California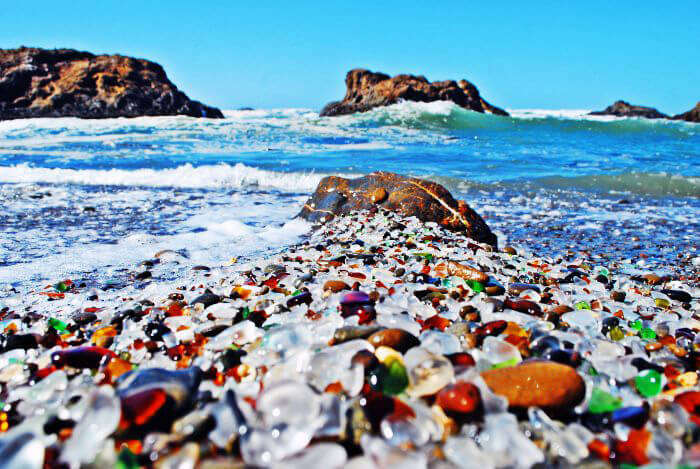 What's Unique: Degraded glass pieces on the beach
'Every cloud has a silver lining'- in this case, there is a glassy side to all the waste disposal over the years! Formerly a dumping ground by the locals, this glossy beach has been formed by the tiny pieces of degraded glasses. The waves have washed away the broken pieces, creating miniature multi-colored trinkets. It is absolutely safe to swim here but not ethical and legal to pick the glasses. No doubt it adds vibrancy to the shores.
10. Hot Water Beach
Coromandel Peninsula, New Zealand

What's Unique: Warm water
How about a hot water geothermal mineral spa on the beach itself? Isn't it amazingly superb! Just drive down to this beach of the Coromandel Peninsula with a spade. The beach on the offers subsurface hot water springs that bubble up through the sand on between low and high tides. People scoop out burrows on sand and create their hot water mineral spa infra.
11. Vanishing Beach
Chandipur, Orissa, India

What's Unique: Vanishing shoreline
Care for morning walk on the sea bed? Yes it's on the marine floor and not along the coast! Throughout the year, twice a day, the Chandipur Beach of Orissa in Eastern India unbelievably vanishes. The sea recedes up to 5 km providing the scope to walk on the sea bed and collect sea shells, red crabs and other underwater marine particles. Just a piece of advice – return well in advance before the next high tide as the sea rushes back to its place.
Must Read: 54 Best Beaches In India Straight Out Of A Tropical Dream To Visit In 2022
12. Bowling Ball Beach
Schooner Gulch, California

What's Unique: Rocks resembling big balls
At Bowling Ball Beach the topography is unique. Large globular rock boulders, resembling big bowling balls are spread along the shore. Formed by some unknown geological wonder, this spherical rocks definitely adds to the distinctiveness of the shoreline.
13. Zlatni Rat Beach
Brac, Croatia

What's Unique: Changing shape of the beach
The slim and narrow marine tongue like beach intrudes up to 300 yards into the sea and amazingly changes shape with water currents.
14. Giant's Causeway Beach
Ireland

What's Unique: Fascinating fissures
This beach in Ireland has a geologic origin and displays fascinating fissures throughout. Once upon a time, 50-60 million years ago, volcanic eruption led to gushing out lava onto the sea. On cooling, this basaltic lava led to hexagonal rock formation comprising of weird cracks.
15. Jokulsarlon Beach
Iceland

What's Unique: Snow chunks lying on the beach
This is a glacial lagoon forming a beach in south-east Iceland. The chunks of snow-white glaciers on the black volcanic sand depicts the picture of a perfect match and gorgeous contrast in one frame.
Break the flatness of a stereotype beach holiday and fly high! Boost and gear up your traveler's cravings and reconnoiter and experience awesome but unusual and unique beaches of world.
And we are sure you know of more such unique beaches of the world. Tell us about them in the comments below.
Further Read: 28 Amazing Budget Beaches of South-East Asia In 2022
---
Looking To Book A Holiday Package?
Book memorable holidays on TravelTriangle with 650+ verified travel agents for 65+ domestic and international destinations.
---