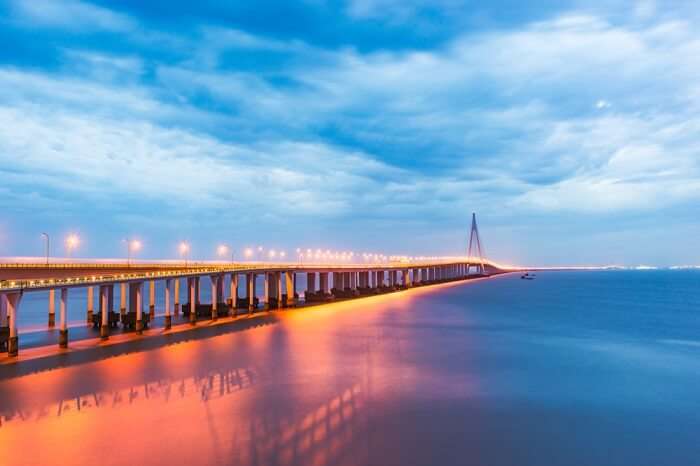 The longest ocean-crossing bridge in the world, Hangzhou Bridge sits with aplomb on the Qiantang River. Joining Zhenjiadai, Jiaxing, Haiyan City in the north side and Ningbo, Cixi, Shuiluwan City in the south side in Zhejiang Territory, Hangzhou Bay Bridge is presently the world's 3rd-widest trans-oceanic bridge, adjacent to Jiaozhou Bay Bridge in China, Qingdao, and American Lake Pontchartrain Bridge.
Hangzhou Bay Bridge Facts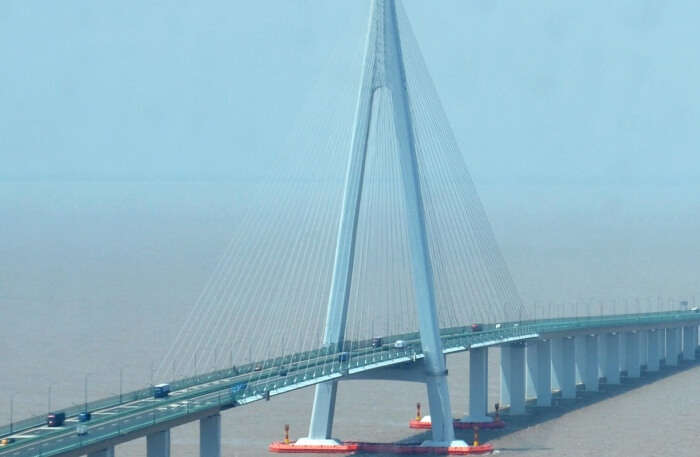 Image Source
Here are some interesting facts you ought to know about the magnificent bridge, an exemplar of grandiose and marvelous architecture.
Its construction was started on 14th November 2003, and then the Hangzhou Bay Bridge opening was held on 26th June 2007 and placed into use on 1st May 2008.
The Hangzhou Bay Bridge has 6-lanes with an outlined speed of 62 miles (100 kilometers) per hour with an estimated lifespan of around 100 years.
The bridge cuts the length between Shanghai and Ningbo by about 75 miles (around 120 km), considerably decreasing the pressure of the packed Ningbo-Hangzhou-Shanghai Highway and setting a Shanghai-Zhejiang-Jiangsu 2-hour traffic circle, focusing on Shanghai.
It is presently a comfortable way on the Haikou-Shenyang Highway, the main line on the national highway of China, and an essential portion of the Hangzhou Bay Circle Highway (G92).
---
Hong Kong & Macau Holiday Packages On TravelTriangle
Visit Hong Kong and explore disney land, ocean park, wet land park, victoria's peak and Lantau Island. Further, explore Macau tower, the Venetian resort, Senedo square and more in Macau.
---
Hangzhou Bay Bridge Appearance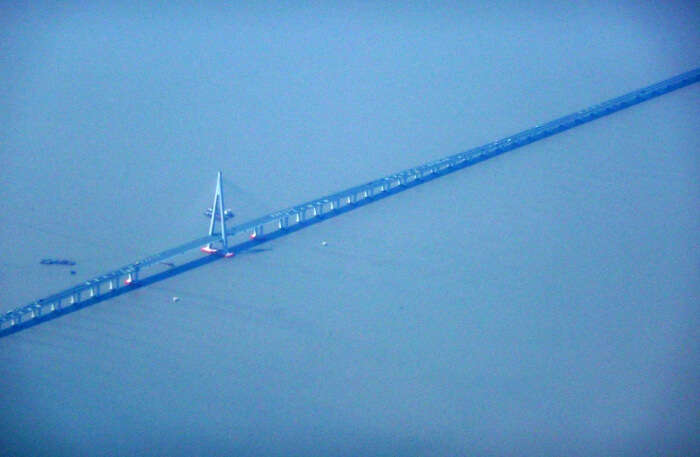 Image Source
The idea of landscape pattern was adopted for the initial time in the bridge designing. Encouraged by the Sudi Bridge across the Hangzhou's West Lake and taking the psychical exercises of drivers, the water conditions of Hangzhou Bay and travelers into deliberation, designers proposed the appearance and location of Hangzhou Bay Bridge. When viewed from the top, the bridge seems a vigorous, beautiful, and dynamic "S". When seen from the side, there are 2 large protruding channels in the north and south, where the Qiantang River Tide and crafts can cross, turning the deck to seem to wave actively. The bridge rails are in the colors of the rainbow, successively violet, blue, indigo, green, yellow, orange, and red from north to south, every color wrapping around 3 miles (5 km).
Must Read: Shopping In China: 10 Best Places For Buying Classic Souvenirs And Latest Products
Hangzhou Bay Bridge Vacationing Platform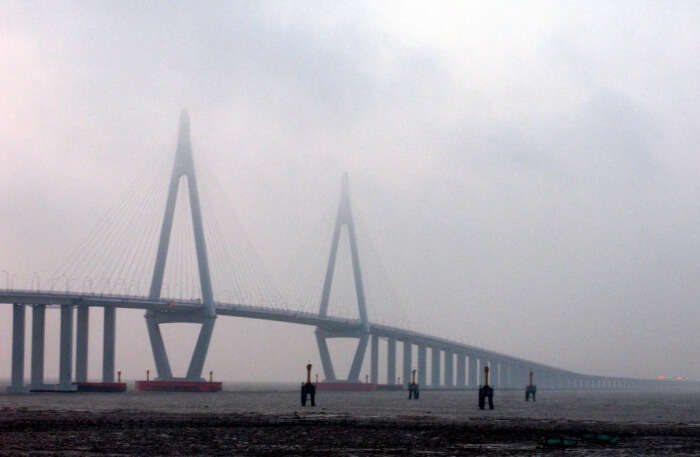 Image Source
At the south side of the south channel, around 11 miles (18 km) apart of the south bank, there is a twelve thousand square meter huge (3 acres) vacationing platform called "Land between the Sea and the Sky". Employed as a sheltered stand for oceanic operators throughout the construction phase of the Hangzhou Bay Bridge, as of now, this platform is the world's only sightseeing territory over the sea. Adorned in white and blue, it comprises a tower and scenic platform. For the platform, the ticket is CNY50, the tower is CNY60, and a combo is CNY100.
The scenic platform is about 79 feet (a 24-meter) high structure made up of stainless steel, following an eagle expanding its arms. It has 6-floors: the 1st and 2nd floors are parking units; the 3rd floor is the central scenic space with an open-air spectacular region, a multi-media theater, an indoor café, a museum, etc. Restaurants and shops are placed on the 4th floor, and a 5-star hotel on the 5th floor, furnished with a banquet hall and conference room. The entries to the 6th floor are restricted to staff only.
The viewing tower is about 477.7 feet (145.6 meters) tall and united to the platform by a 46 yard long (around 42-meters) bridge. Rising on the spectacular corridor on the 5th or 6th floor, tourists can view the Qiantang River Tide, nearby Hangzhou Bay Wetland, and Jiaxing Port.
Suggested Read: 10 Fun Things To Do In China That Will Let You Explore A Land Beyond The Great Wall!
Things To Do Near Hangzhou Bay Bridge
Here are other interesting things that you can do near the bridge on your sightseeing trip, apart from watching the bridge and taking a ride on it.
1. Head To The Parks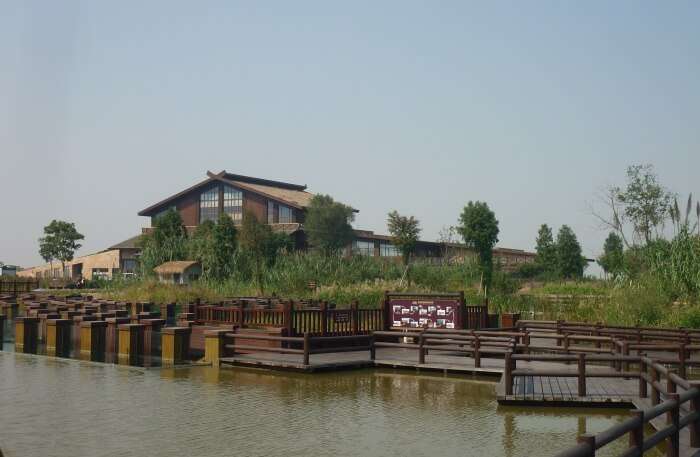 Image Source
just at a walking distance of around 5 minutes, Hangzhou Bay Bridge Wetland Parks has been trimmed and decorated to perfection since its formation in the 18th century. Kids will love traversing the meandering pathways, half-moon bridges, and pavilions while grown-ups can observe locals tradition "sip tea" (tai chi) at an adjacent café.
Suggested Read: Now You Can Win A Stay At The Great Wall Of China. Find Out How!
2. Walk The Su And Bai Causeways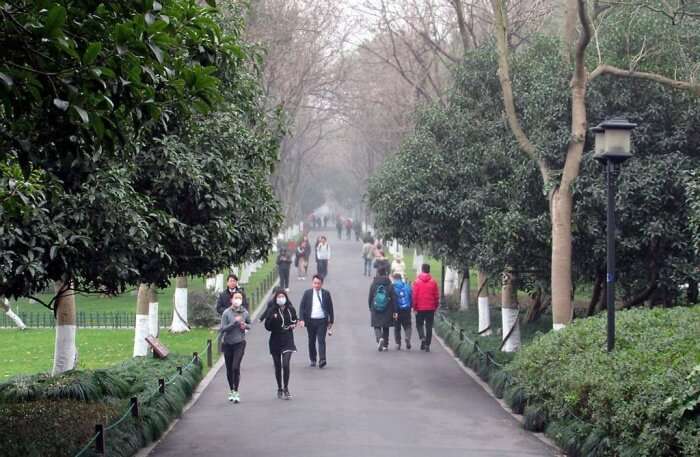 Image Source
No trip to West Lake is perfect if you miss walking the well-renowned Su and Bai Causeways, traversing some miles each. Titled after two past governors Bai Juyi and Su Dongpo, both favorite poets in the literature of China, the causeways are manicured with cherry and plum trees, and on both sides, it is surrounded by the lake. Take a morning stroll, drive on the electrically driven visitor shuttle or escalate into a rowboat for an individual ride across the lake. Watch for the rock carvings of quatrains left behind by Emperor Qianlong, delineating the ten gorgeous scenes of Hangzhou. Don't plan a trip here at weekends to withdraw substantial public masses, and hence attempt to time your trip on a weekday.
3. Experience A Boat Trip At XIXI Wetlands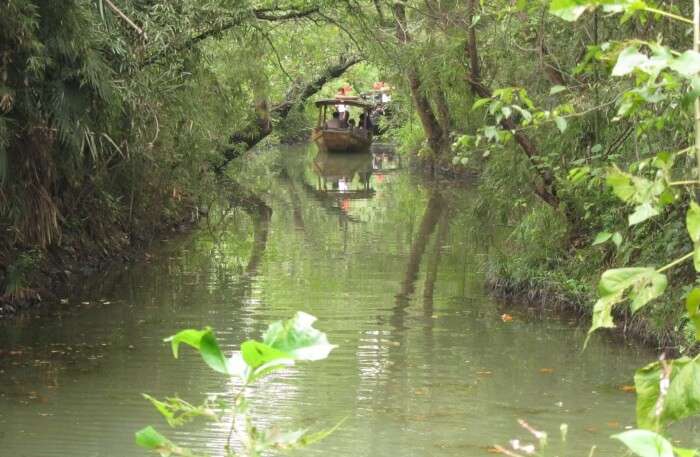 Image Source
Pleasant weather tempts for a journey to Xixi Wetlands, around a walking distance of 15 minutes from West Lake and 1 Hour 30 Minutes from the Hangzhou Bay Bridge. This nature reserve is a magnificent stretch of beautiful shady ponds, waterways, fields, and an ancient fishing village. Take a boat trip by a network of channels to the community, now transformed into a beautiful museum. Step down quiet alleys, view an old rural kitchen and tour a silk generation exhibition.
Suggested Read: 10 Best Restaurants In China To Indulge In A Dreamy Fine Dining Experience
4. Go Back In Time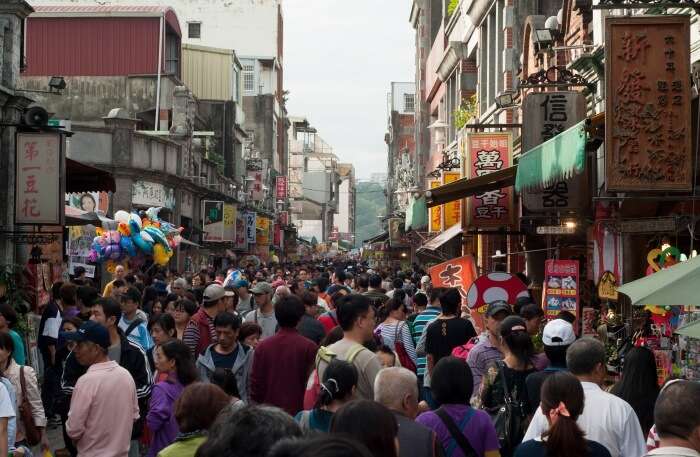 Image Source
If your children wish to comprehend how it seemed to breathe in ancient China, walk down to a historical range of ancient store constructions - "Qinghefang Old Street". The 4-centuries-old Zhang Xiaoquan Scissors store sells elegantly embedded cuisine knives, and Hangzhou Wangxingji Fans provides a broad variety of mythical Chinese fans varying from paper to silk and feathers. This bustling alley is house to everything that will entertain kids, too: the cadenced pounding of mochi with vast mallets, maltose lollipops molded into the shape of sugar figurines and animals crafted by an old artist.
5. Sample Local Food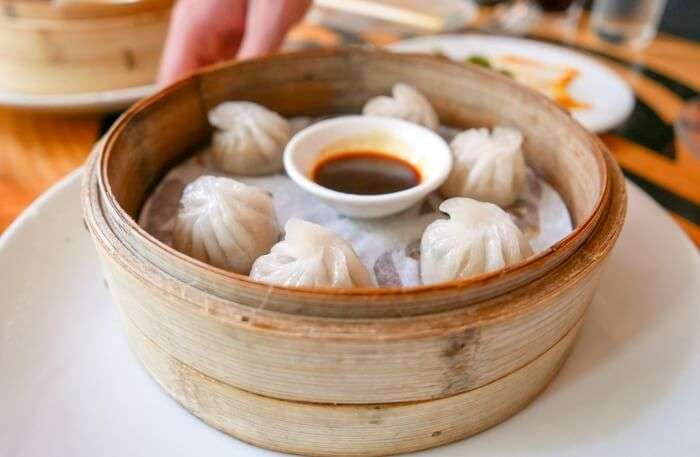 Image Source
At Jin Sha restaurant, inside the Hotel the regional cuisine is amazingly kid-friendly. Viewing a landscaped millpond with decoration that signs of old Shanghai, the eatery possesses eleven beautiful separate rooms. Tuck into local picks such as the favorite Dongpo pork, steamed pork dumplings with crab meat, crisp spring onion pancake, crab claw with sturgeon caviar, and stewed, chilled pear along with wild rice globules.
Suggested Read: World's Largest Glass Skywalk Is High Up In China And We Can't Wait To Walk Down
6. Hang At The Pool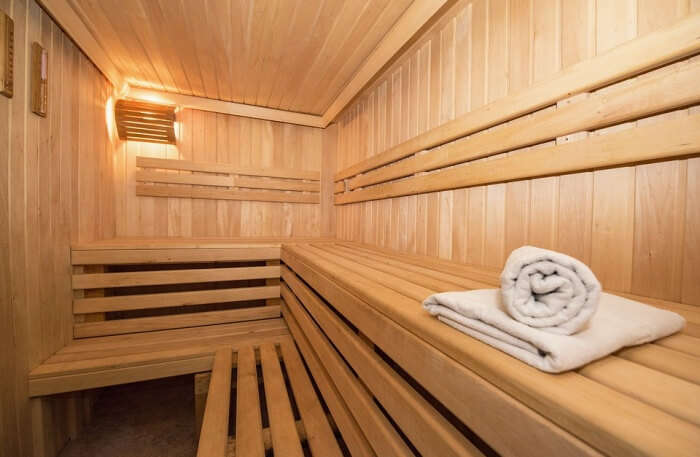 Image Source
While traversing Hangzhou, get time to enjoy the numerous conveniences provided at the Hotel. Both adults and kids have their selection of two swimming pools - one indoors and one outdoors. Bend into the hollow steam chambers, by the indoor pool, while kids play; or reserve a therapy at the opulent Spa.
Getting Around Hangzhou Bay Bridge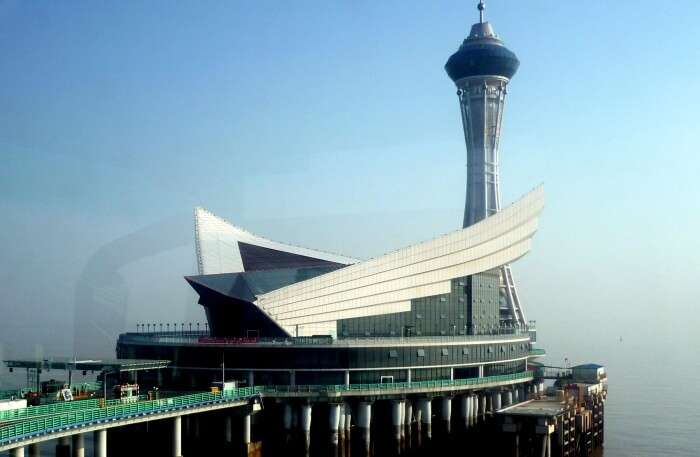 Image Source
Tourists require reaching the service ranges at the Hangzhou Bay bridge's north or south side and then shifting to a shuttle bus. The bus frequency is around 30 minutes, and for a round trip, the ticket is CNY 15.
For self-direct visitants, you also require going to any of the services stretches to acquire a parking license and entrances tickets, and then proceed to ride to the Land amid the Sky and the Sea. The parking charges are CNY 15 per hour for heavy vehicles and CNY10 per hour for light ones during the weekdays; on holidays and weekends, CNY30 for heavy vehicles, and CNY20 for light ones.
The usual bridge custom duty is CNY 80. As there are few lengths within the entrance/ exit and the bridge which are priced more, the charge for passing the Hangzhou Bay Bridge is collectively around CNY 135.
Further Read: 10 Tourist Places To Visit In China For An Epic Oriental Adventure!
Hangzhou Bay Bridge is a piece of marvel architecture that you ought to check out on your trip to Hong Kong and China. Explore what this part of Asia has to offer you. From bizarre food to magnificent attractions, there are plenty of unique experiences waiting for you. Plan a trip with your family or friends and head on an adventure of your lifetime.
---
Looking To Book An International Holiday?
Book memorable holidays on TravelTriangle with 650+ verified travel agents for 65+ domestic and international destinations.
---