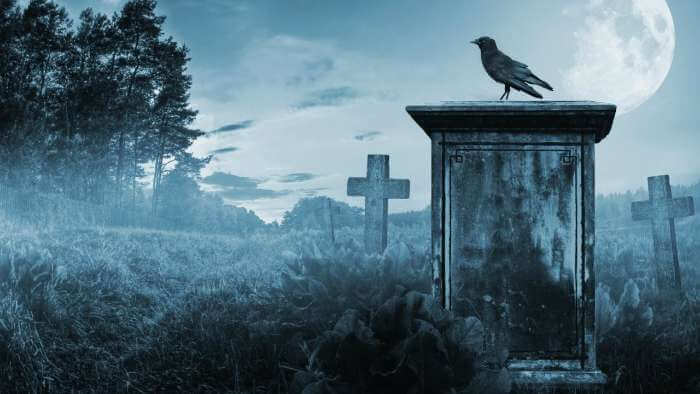 Kolkata iconizes Howrah Bridge, Victoria Memorial, trams, puchka, macher jhol, rosogolla, and complete festivity madness during Durga Puja. It is historical, colonial, bright, and sweet. But there is a dark chapter as well. With this article we bring you the eeriest tales from the most haunted places in Kolkata. Some scary mysteries, eerie beliefs, and presumably real haunted stories in Kolkata that chill the spine and blood to hell.
Top 12 Haunted Places In Kolkata
Let's zoom and view Kolkata through spooky lenses. It's unnerving and we bet you'll be visualizing our words and get goosebumps even in daylight. Here are the 9 shortlisted haunted places in Kolkata:
1. National Library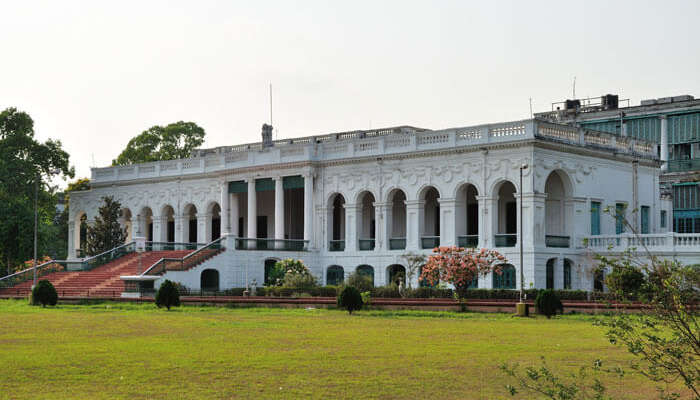 Background: National Library, the former residence of Governor General during the British period, is well-known for rich treasures of rare and significant books and publications; and eerie stories knitted on it. It is said and ardently believed that Lady Metcalfe, the Governor's wife, was fond of books and a cleanliness freak. She hated if things were out of order. What's freaky is that she still does that. So don't you dare forget to keep books in their respective shelves! It is one of the best haunted places to visit in Kolkata.
Spooky Occurrence: Night guards and students studying till late have heard the footsteps of Lady Metcalfe and have seen fade grey shadows on the wall. Many believe that it is the most haunted place in Kolkata, and we don't deny.
Haunting Incidents: In 2010, while restoration work was on, Ministry of Culture and Archeological Survey of India discovered a door-less secret room on the ground floor. People believed with rumours that the hidden room is nothing but erstwhile secret chamber during the British rule.
Must Read: 22 Reasons Why I Would Rather Be From Kolkata Than Anywhere Else In The World

---
Looking To Book A Holiday Package?
Book memorable holidays on TravelTriangle with 650+ verified travel agents for 65+ domestic and international destinations.
---
2. The Royal Calcutta Turf Club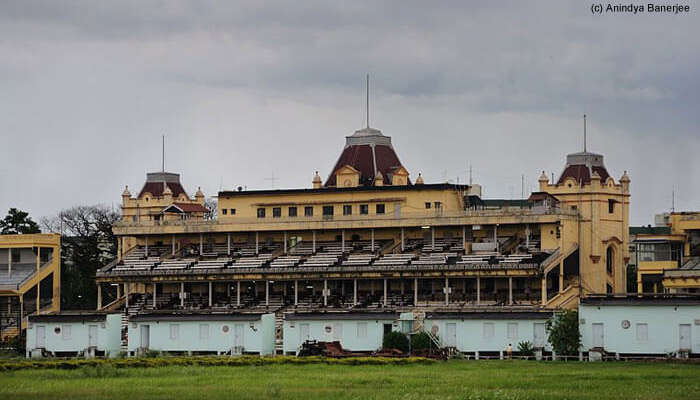 Background: Long ago, there lived George Williams, a complete race freak. His passion, desire and dreams of winning the bet revolved around a snow-white horse named Pride, who was the champion of all tracks. With time, Pride grew old and weak. One day she lost a derby and the next day she was found dead on the tracks itself.
Spooky Occurrence: People passing by The Royal Calcutta Turf Club, also known as Race Course, have observed and reported a white horse galloping on the tracks in a moonlit Saturday night. A perfect colour contrast makes the most horrific scene, scaring the hell out of the witnesses. Certainly a haunted place in Kolkata that one might want to avoid.
Haunting Incidents: Foggy Saturday nights at the Kolkata Race Course are frightening and spooky. People and maintenance staff relate foggy patches with "William Saheb ki Sada Ghora".
Suggested Read: The Cursed Ghosts Of Bhangarh Fort – The Most Haunted Place In India
3. Bhoot Bangla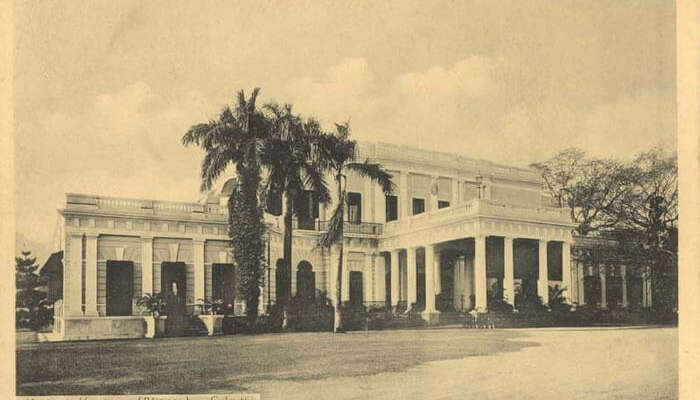 Background: William Hastings, once a Governor General of Bengal, built this ancient building as his residence. Called as Belvedere Estate, this haunted house in Kolkata is presently the location for an undergraduate women's college under the University of Calcutta.
Spooky Occurrence: Rumours say that hotel girls and staffs have heard and seen an English gentleman entering the premises on his horse and galloping throughout. God save the spectators!
Haunting Incidents: Few years ago, a young boy died unnaturally while playing football in the Hastings ground. Odd stories have cropped as few have seen the shadow of the boy who has suffered the untimely death. Many other tales about this haunted place in Kolkata have been heard.
Suggested Read: 7 Haunted Hotels In India
4. Park Street Cemetery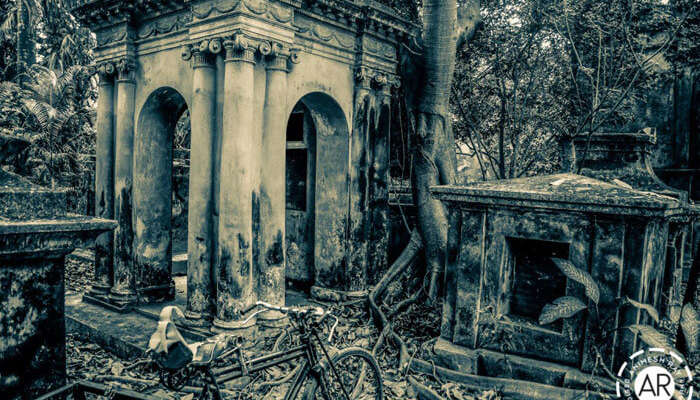 Background: This is one of the oldest graveyards of Kolkata (then Calcutta) built in 1767. The burial ground possesses a bizarre beauty of its own with unique serenity, tall vegetation and age-old graves, mostly of British soldiers. It is one of the most haunted places in Park Street Kolkata.
Spooky Occurrence: The name graveyard is enough for goosebumps. Reported incidents like spotting of hazy shadows on the wall and hearing eerie sounds further accentuate the weird feeling of unnatural presence around.
Haunting Incidents: A group of friends visited the cemetery for photography. Suddenly the photographer and his friends felt dizziness and breathlessness. Even a few photographs captured some creepy shadows. Spine chilling, isn't it? There have been many similar real ghost incidents in Kolkata pertaining to this graveyard.
Suggested Read: 10 Scary Secrets Of The Haunted Yet Surreal Cemeteries In India
5. Rabindra Sarobar Metro Station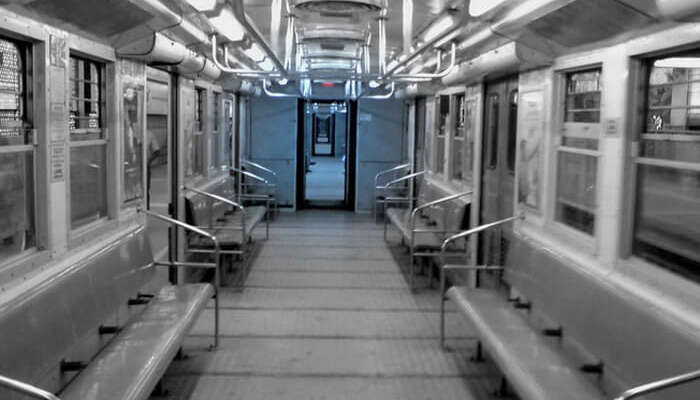 Background: Rabindra Sarobar is one of the busiest metro stations in South Kolkata. Incidentally, the station is the sight for many metro suicidal cases.
Spooky Occurrence: The souls of people who had committed suicide are seen on the metro station platform at late hours.
Haunting Incidents: Peculiar shadows on the platform pillars or passing the tracks are common. Quite scary among the most haunted places in Kolkata.
Suggested Read: 10 Picnic Spots Near Kolkata: Escape From The City Rush In 2020 For A Day's Retreat
---
Planning your holiday but confused about where to go? These travel stories help you find your best trip ever!
Real travel stories. Real stays. Handy tips to help you make the right choice.
---
6. Kolkata Dock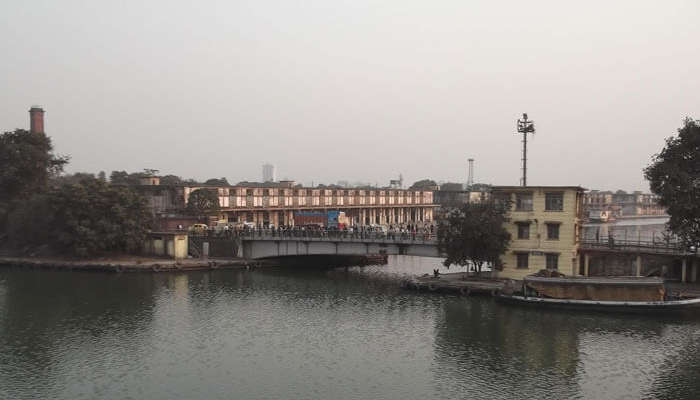 Background: Kolkata dock or Kidderpore dock was constructed by Nawab Wajid Ali Shah of Awadh. He was ditched and dumped by the British while trading with The East India Company.
Spooky Occurrence: There are many scary stories about this place, which is now a significant node of marine trading.
Haunting Incidents: Traders and sailors have seen shadows (read as Nawab's shadow) roaming in the dock area. Rumours underline that Nawab wanders around to take revenge from the British for his betrayal. No British, no Nawab. Only dock staff are there for chilling their blood!
Suggested Read: 25 Most Haunted Places In India
7. Ghats of The Ganges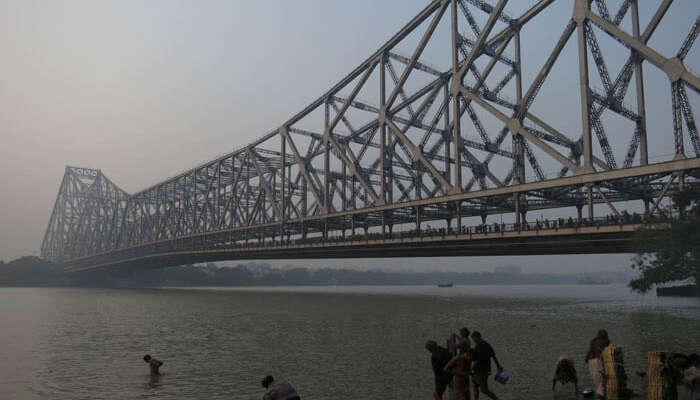 Background: One of the most haunted places of Kolkata are the banks of beautiful Ganges. The ghats of Ganges, especially those near the Howrah bridge, are haunted. There have been countless unnatural deaths including suicide or drowning accidents.
Spooky Occurrence: The undeparted and unsatisfied souls of the accident or suicide victims roam about the area and visible as grey shades. The morning scene is said to be the reason why it features on all lists of most haunted places in Kolkata.
Haunting Incidents: People who visit Mullick and Zanana ghat early in the morning see pale images of hands rising out of the water asking for help. Just be a little alert. You may miss to render real helping hand in fear of the frightening spirits.
Suggested Read: 20 Places In India More Mysterious Than The Bermuda Triangle
8. Writer's Building At BBD Bag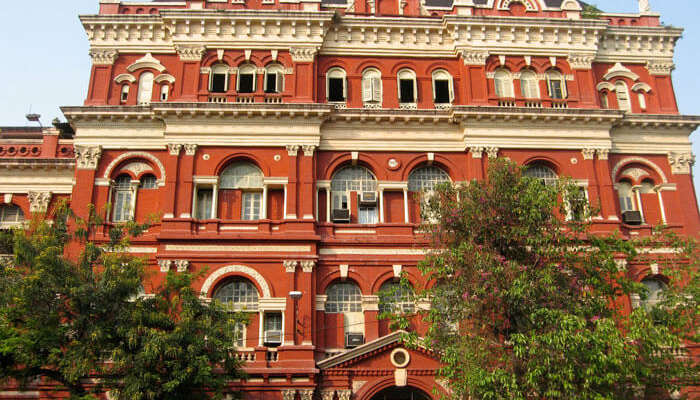 Background: Writer's Building is the former office of clerks and junior staffs of the British raj and now the secretariat of the State Government.
Spooky Occurrence: There are many huge and vacant rooms inside the building; unutilized hence quite eerie. Workers refuse to do night shifts, but is the ghost scare just an excuse? Well, who's ready to take chances with that.
Haunting Incidents: Night guards and food vendors on the adjacent pavements have heard desperate cries from the building late in the evening.
Suggested Read: 6 Haunted Places In Kerala That Offer You A Glimpse Of The Devil's Playground
9. House of Dolls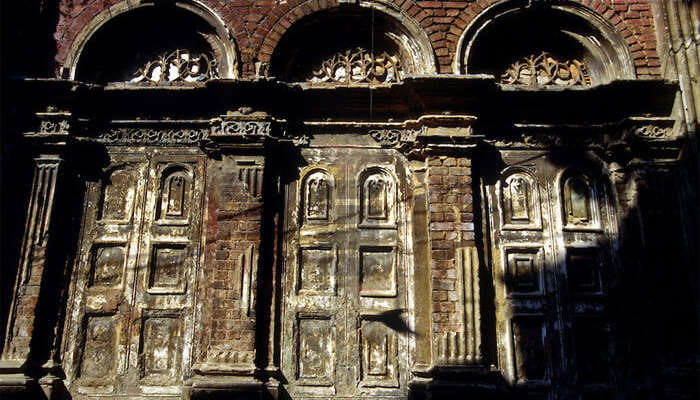 Background: Putulbari (read House of dolls) is a century old house, almost in its ruins. The architecture depicts dolls in the arches, hence the name. The house was once inhabited by rich landlords of Bengal, who tortured and exploited women to a great extent.
Spooky Occurrence: Tittle-tattle talk about hue and cry in female voices is heard from local people.
Haunting Incidents: One can get a Red and White Bravery Award for climbing the stairs till the haunted and dark upper floors of the hoary house.
10. Wipro Office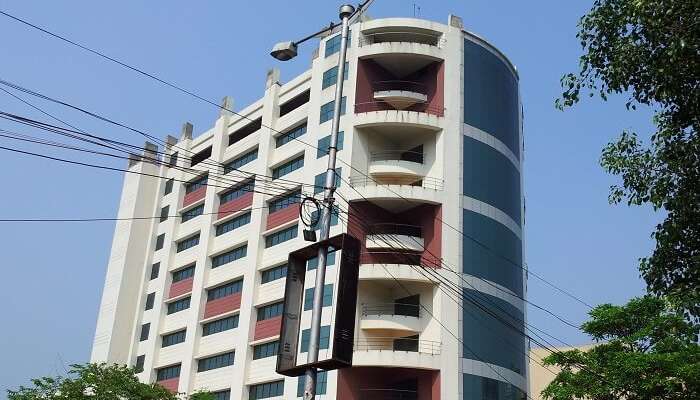 Background: Wipro Office is situated in the Salt Lake area. This area was initially part of the wetlands. The office is allegedly built on a graveyard. It is one of the most haunted places in Kolkata.
Spooky Occurrence: People have allegedly seen strange apparitions in the dark. The third floor of Tower 3 is shut since it is haunted by ghosts.
Haunting Incidents: People claim to have heard noises of things falling when they use the lift or the staircase to the upper floors. The security guards complain of hearing noises all night while they are on duty.
11. Lower Circular Road Cemetery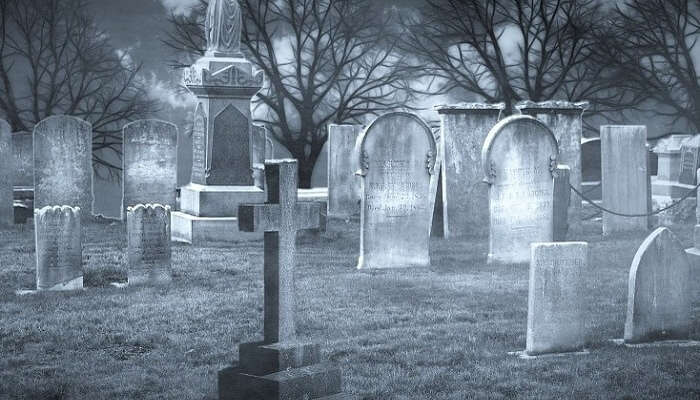 >
Background: Allegedly, Sir William Hay MacNaghte, a civil servant in the British Era, was brutally killed during the first Anglo-Afghan war. His wife found his body cut into tiny pieces. He was buried in the Lower Circular Road Cemetery.
Spooky Occurrence: Several paranormal occurrences have been reported in Lower Circular Road Cemetery. People have reported hearing noises in the cemetery and around it in the night time.
Haunting Incidents: People who narrate Sir William Hay MacNaghte's haunting story near Lower Circular Road Cemetery reportedly felt the tree above the grave start shivering.
12. Kolkata Dockyard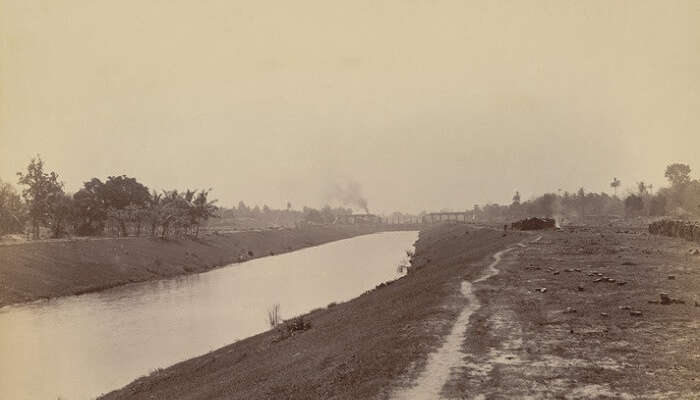 Background: The owner of Kolkata Dockyard was the infamous Nawab Wajid Ali Shah of Awadh. The British removed him from his own home and set up their base there. This angered the Nawab who allegedly died due to heartbreak.
Spooky Occurrence: People have reported seeing the apparition of Nawab Wajid Ali Shah of Awadh roaming in the bylanes plenty of times.
Haunting Incidents: People believe that the Nawab's ghost roams in Kolkata Dockyard to seek revenge from the Britishers who ousted him from his home.
Further Read: 15 Haunted Places In Mumbai
Have you visited any of these haunted places in Kolkata? If yes, share your story with us. If you know of more such hidden spooky areas in Kolkata, do share them in the comments below! These places have the potential to scare the living daylights of you and your family and friends. Spook your loved ones by planning a trip to West Bengal right away!
---
Looking To Book An International Holiday?
Book memorable holidays on TravelTriangle with 650+ verified travel agents for 65+ domestic and international destinations.
---
Comments
comments