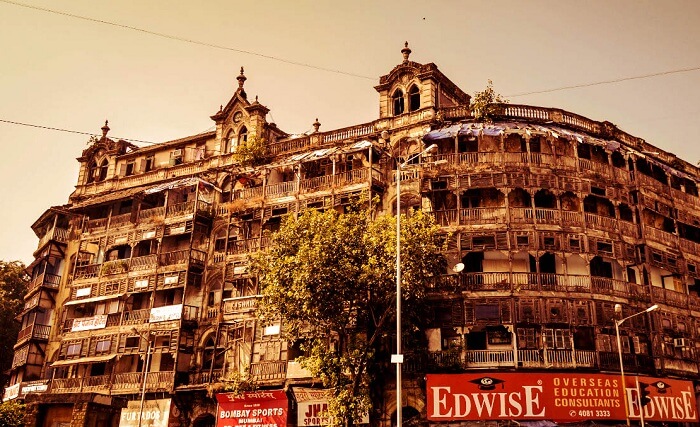 Like all other cities, Mumbai too has a darker shade with its own ghost stories. Besides the magic that it is, the city which never sleeps has some old and dusted tales of sad lives and their tragic ends.
In this piece, we look at Mumbai sans its stunning nightlife, sumptuous street food in Mumbai, and sparkling Bollywood colors. We look at 15 most haunted places in Mumbai that are creepy enough to give nightmares to the bravest of the brave.
1. Sanjay Gandhi National Park, Borivali East – A hitchhiker you can barely see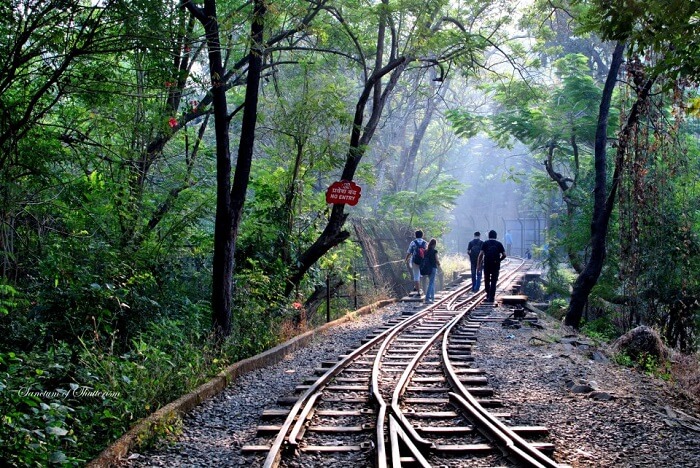 Sanjay Gandhi National Park, the biosphere reserve and trekking site, is one of the haunted places in Mumbai. Many people have reported seeing a hazy shadow of a hitchhiker gradually vanishing in air. The same has been reported by forests guards also. Despite being haunted, the park is still one of the most visited parks in the world.
---
Looking To Book A Holiday Package?
Book memorable holidays on TravelTriangle with 650+ verified travel agents for 65+ domestic and international destinations.
---
2. Mukesh Mill, Colaba – The ghost, like most of his kind, doesn't like guests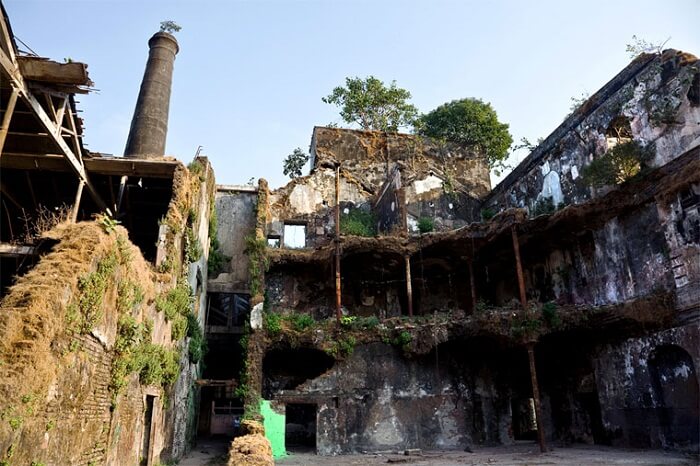 Mukesh Mill got destroyed in a fire accident of 1870. On many occasions, shootings of several famous Hindi movies have been disrupted because of visitors feeling uncanny, seeing mysterious shadows, and getting a strange, unnerving sensation. With crew members feeling uncomfortable and asking for an early pack up in most cases, directors have started rejecting this once famous shooting location.
3. Aarey Milk Colony, Goregaon East – The source of Mumbai's maximum haunted stories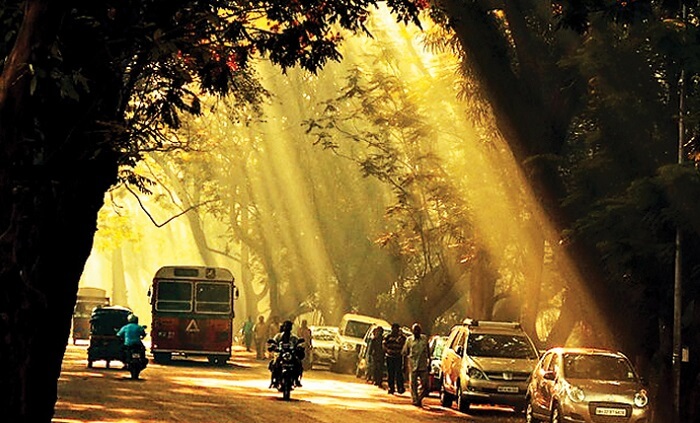 If you are driving through the posh streets of Aarey Milk Colony, you may see a lady with a kid asking for lift. This uncanny lady disappears after a while, scaring the hell out of you. This incident has been reported by many people, including residents of the colony, and this has put this colony in our list of most haunted places in Mumbai. In fact, a huge number of Mumbai's haunted stories comes from Aarey Milk Colony.
4. Tower of Silence, Malabar Hill – Here, hear the silence of the dead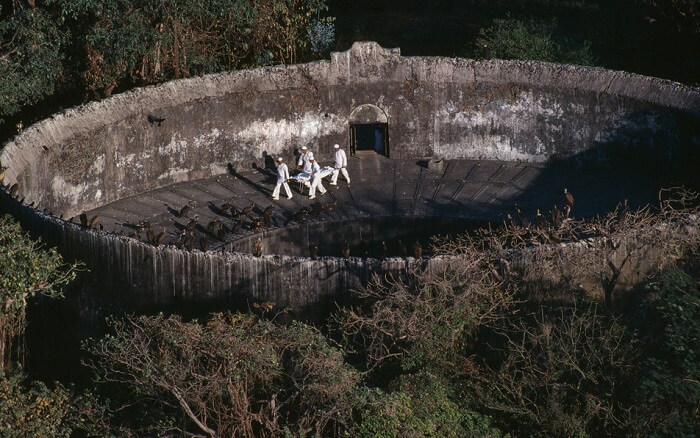 Located at Malabar Hill, Tower of Silence is the place for the Parsis. The community leaves the dead bodies here to be consumed by vultures before their final journey to heaven. One of the prime haunted places in Mumbai, its an extremely demoralizing place with dead bodies lying in queue. The putrid smell and the uncanny quiet ambience add to the spookiness.
5. The D'Souza Chawl, Mahim – An old resident not too happy to leave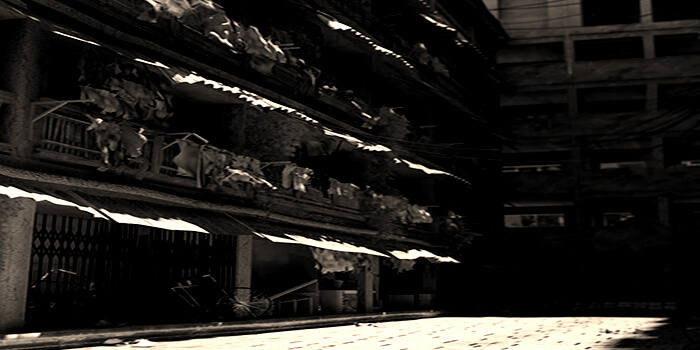 Chawl is a very crowded and popular settlement in Mumbai. D'Souza Chawl in Mahim has a different popularity. Stories talk of an old resident who died by falling in a well. Since then, her spirit is rumored to be roaming around the chawl. Residents claim to have witnessed unnatural shadows and hazy figures. However, it is a nocturnal affair only. Nobody has seen the spirit of the old lady during daytime.
---
Planning your holiday but confused about where to go? These travel stories help you find your best trip ever!
Real travel stories. Real stays. Handy tips to help you make the right choice.
---
6. Marve and Madh Island Road – A dead bride, who often comes haunting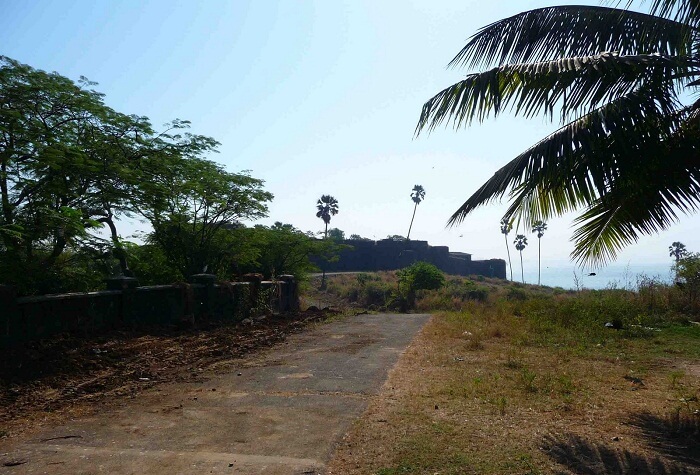 People traveling on the road have seen a girl dressed in bridal wear asking for help. The unsatisfied spirit is said to roam on the road and stop the vehicles passing by. According to these stories, some years ago, a girl was brutally killed on her wedding night and dumped in the adjoining mangrove forests. Since then, people have reported the sighting on many occasions.
Suggested Read: Stories Of 10 Haunted Places In Pune That Will Make You Wet Your Bed
7. Mumbai High Court, Fort – A bilingual ghost of a lawyer. Interesting!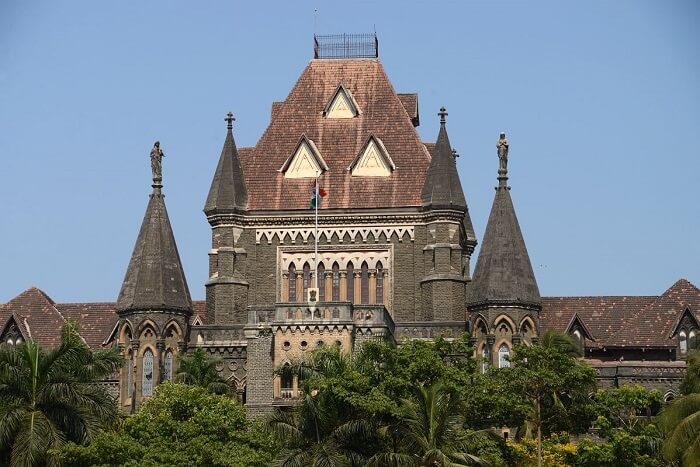 It is hard to believe that the crowded place like High Court is also a haunted place in Mumbai. One courtroom of the Mumbai High Court is infested by a bilingual ghost of a lawyer. During a murder trial in that particular room, the ghost scares the convict to the extent that he/she ends up accepting the crime.
8. Nasserwanj Wadi – The owner still looks after the compound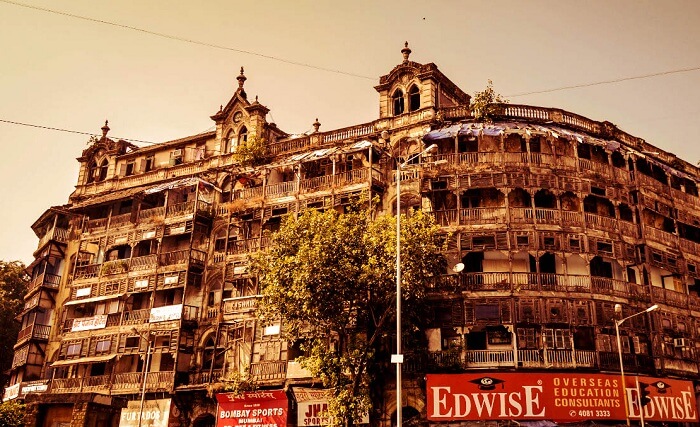 Located in close proximity to Mahim Station, Nasserwanj Wadi is another spooky place in Mumbai. An old compound, it once belonged to a Parsi man named Nasser. About two decades ago, he was brutally murdered and buried near a well in the area. Resident staying here have often seen Nasser, or his spirit, walking around in the premises of the compound. Even the picture above gives a very strange feeling!
9. Poonam Chambers, Worli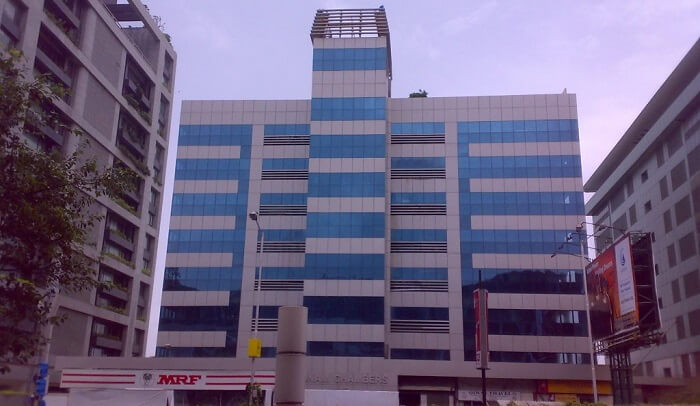 The bomb blast of 1993 and the collapse of B-Wing in 1997 are the two unnatural incidents that happened in Poonam Chambers in Worli. Both incidents saw many casualties. People working in late night shifts and the security guards have, ever since, complained of sounds of door rattle and knocks in the B-Wing. It is certainly scary and many workers just refuse to stay back at work these days. And what else can one expect when they are working at one of the most haunted places in Mumbai!
Suggested Read: The Cursed Ghosts Of Bhangarh Fort – The Most Haunted Place In India
10. Grand Paradi Towers, Malabar Hill – Suicide stories of the 8th floor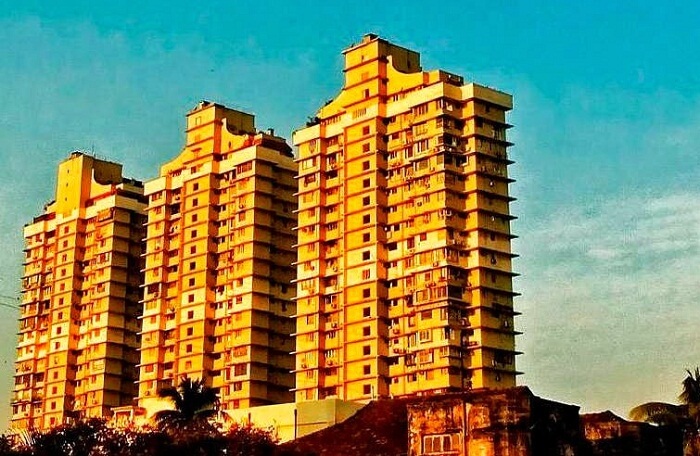 Many high-rises in Mumbai have not named their 13th floor or have restricted entrances to it. The Oberoi Trident Hotel, Hoechst, Maker Chambers, and Atlanta Hotel are some of them. But it's not the 13th always. For the Grand Paradi Tower residential complex, it is the 'Unlucky 8'. There have been many deaths here, and out of the 20 suicides since 2004, the majority took place from the 8th floor. A couple, followed by their children, and an old man jumped from the 8th level in consecutive years.
These real stories of sad, unnatural deaths, make Grand Paradi Towers one of the most haunted places in Mumbai. But that is not the worst – despite its prime location in the posh area of Malabar hills, people are not so keen to buy a flat in the ill-fated towers.
11. Vrindavan Society, Thane – The slapping ghost!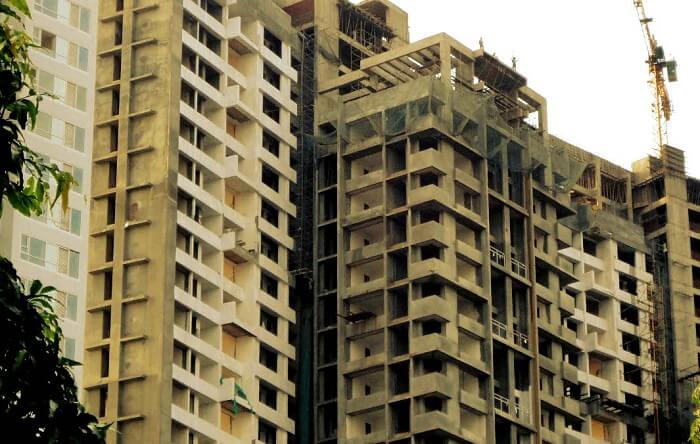 Situated behind the Thane Creek, Vrindavan Society is said to be one of the haunted places in Mumbai. The night security guards have reported to get unnatural slaps if they sleep during duty hours. They have even heard whispers right into their ears during nocturnal patrolling. Stories say that the ghost is that of an old man who committed suicide in one of the buildings in the society.
12. Taj Mahal Hotel, Apollo Bunder – Spirit of a disappointed architect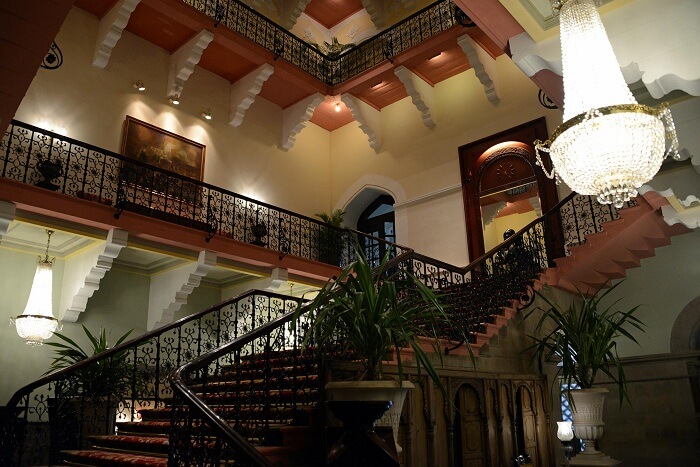 Taj Mahal hotel, one of the signature building of Mumbai, is one of the haunted hotels of India. The architect who designed this magnificent hotel committed suicide as the building design deviated from the original layout. He was shocked and decided to kill himself. Harmlessly, his spirit loiters around various corridors and staircases of the Taj Mahal Hotel that was his dream project too.
13. St John, Andheri East – A Church in ruins, a wandering bride & a failed exorcism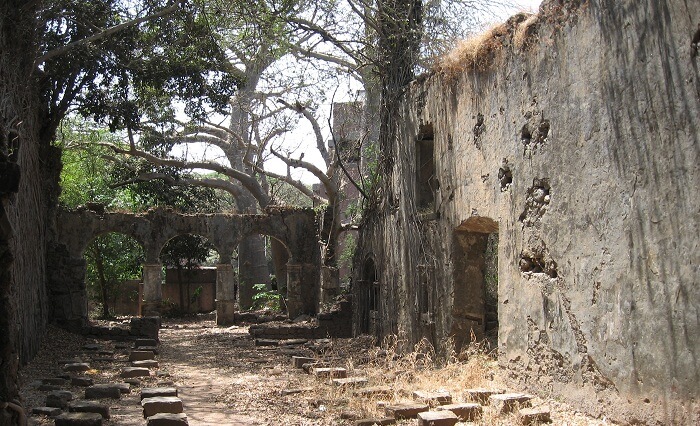 St John – A Baptist Church is one of the haunted places in Andheri. In a state of ruins since the Portuguese abandoned it, the church is said to be about 500 years old. Before 1977, people reported the presence of a spirit of a young bride who used to scare people visiting the church. So the locals decided to call the priest for an exorcism. The procedure was disrupted mysteriously by the spirit and since then no one has dared to explore the church premises.
Suggested Read: 25 Most Haunted Places In India
14. Pawan Hans Quarters, Juhu – A little girl's tragic story!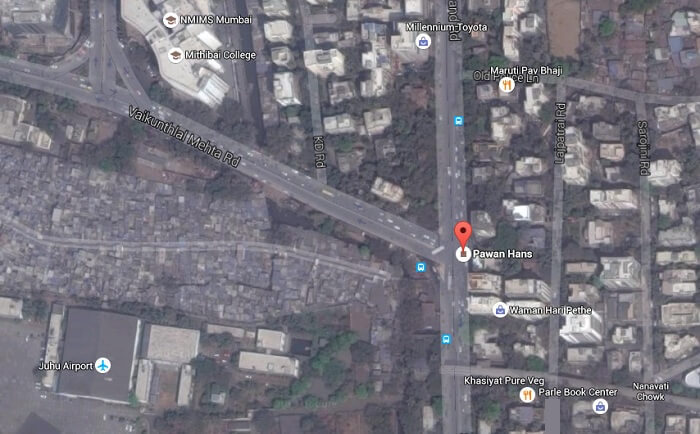 In Juhu, the Pawan Hans Quarter is considered spooky by the local people. In 1989, a little girl, Salma committed suicide by burning herself. Though the reason is still unknown, people claim to have seen her burning spirit running into a Peepal tree located in the quarters. Though the little spirit has not done any harm to anyone, the locals have built a Hanuman Temple for safety.
15. Aashirwad, Carter Road – The haunted bungalow of the late actor Rajesh Khanna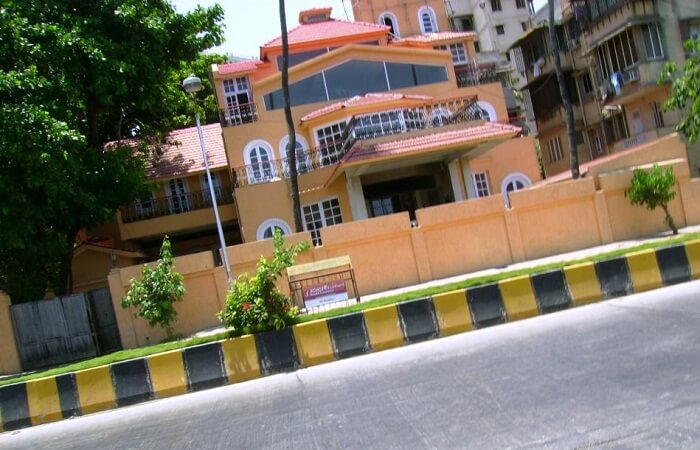 The famous 'Aashirwad' bungalow of the late actor Rajesh Khanna is said to be haunted. It was ill famous as 'Bhoot Bangla' when the superstar bought it from a Parsi businessman. Though Rajesh Khanna refurbished the entire house, the ill-fame was attached to it for long. A recent Bollywood news update said that the bungalow was sold off after his death at a comparatively cheaper price, thanks to its tag of one of the haunted places in Mumbai.
Next time you visit Mumbai, prepare your brave heart to visit at least few of the haunted places in Mumbai. You never know, you may be lucky enough to come back with a more spine-chilling story to share with us.
Further Read: Eerie Tales Of 9 Most Haunted Places In Kolkata That Will Scare The Hell Out Of You
---
Looking To Book An International Holiday?
Book memorable holidays on TravelTriangle with 650+ verified travel agents for 65+ domestic and international destinations.
---
Comments
comments