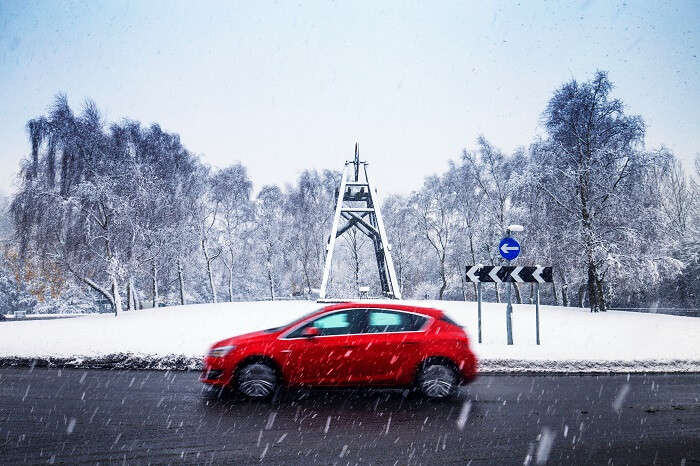 Breakdowns, vehicle collisions, drivers stuck on a highway for more than ten hours, and much more has been happening post heavy snowfall in UK. Travel warnings have been issued in many parts of United Kingdom that have suffered major disruptions overnight. Though the snowfall has turned every bit of the Great Britain into a winter wonderland, such a heavy snowfall in UK has had a great impact on the travel plans of many.
Hence, here's what the travelers and the locals should know about the scenario so far and some useful driving tips that would keep you out of some snowy trouble.
The Scenario Of Heavy Snowfall In UK So Far

Suggested Read: Snowfall In Sahara Desert- Signs Of Climate Change Or A Pleasant Surprise?
Major disruptions have been observed in Southern Scotland.
Northern Ireland and major parts of Scotland will continue to receive snowfall (less severe ones) for which amber warnings have been issued.
Schools have been shut down and roads have been blocked wherein gritters were sent out in huge numbers post Scotland hit sub-zero temperatures.
Snowfall is also predicted in the areas of the Midlands, and Wales.
Minor collisions were also observed in the areas of Strathclyde and the Highlands by the motorists.
At Dalwhinnie, the highways of M9, M73, M77, M80, A7, A9, and A720, were blocked for hours due to a lorry breakdown.
Most of the drivers in Lanarkshire were stuck on the roads for about 10+ hours on M74 while the Moffat Mountain Rescue Team were putting in their best efforts to clear the snow.
Places That Fall Under The Travel Warnings In UK
From Southern Scotland to Northern Ireland, the following places in Britain and surrounding areas have been the most affected by heavy snowfall in UK.

Southern Scotland
Central Scotland
Northern Ireland
Wales
The Midlands
Tayside
Lanarkshire
Fife
Lothian & Borders
Strathclyde
Dalwhinnie
The Consequences Of Heavy Snowfall In UK
While the Meteorology Office stated that the snowfall will gradually subside and the scenario will see an improvement in the coming days, here are some of the consequences that the locals may have to face in future as well.

Suggested Read: Snowfall In India: 20 Best Snow Places In India For The Bewitching Sceneries
Traveling time via roads will increase while obstruction and delays are possible on highways.
Traveling via public transport might get cancelled as many vehicles have been stuck and stranded in snow for long hours.
Chances of power cuts are possible too.
Network coverage and internet services are likely to be hit too.
Green Flag – the breakdown savior in Britain predicts that as much as 1,20,000 breakdowns are possible on the roads due to heavy snowfall in UK.
Tips To Remember For Safe Driving During Snowfall
A natural phenomenon which is naturally out of human control has a great capability to take the locals of Britain by surprise as weather conditions may or may not change at a fast pace. And since heavy snowfall in UK has sent out jitters in most of the major locations, here are few of the tips that will keep you safe and out of trouble while driving in this tricky season.

Check your cars thoroughly for any damage before leaving your home.
Check on your car's ventilation system and beware of its functions and how make full use of it while not causing it to steam up.
Be extra cautious while hitting the main roads and highways.
Look out for Amber Warnings – a bright yellow light signal that is sent out as a caution signal in case of heavy rain or snowfall.
Keep a great deal of distance between the cars in front and at the back.
Keep a check on the speed.
Try to give warnings to the fellow drivers which are more than you usually do.
Most importantly, do not miss out on the black ice as the chances of ignoring that is great during heavy snowfall in UK.
In case you experience a problem on the roads, make sure you get hold of a corner on the road and park your vehicle safely.
No matter how much you may want to have some fun in the snow that has turned Britain into a winter wonderland, make sure you keep these tips in mind, and stay out of trouble till the time this heavy snowfall in UK subsides. And if you know of any more tips, do not hesitate to share them in the comments below with the fellow readers and people who're traveling to UK in the near future.