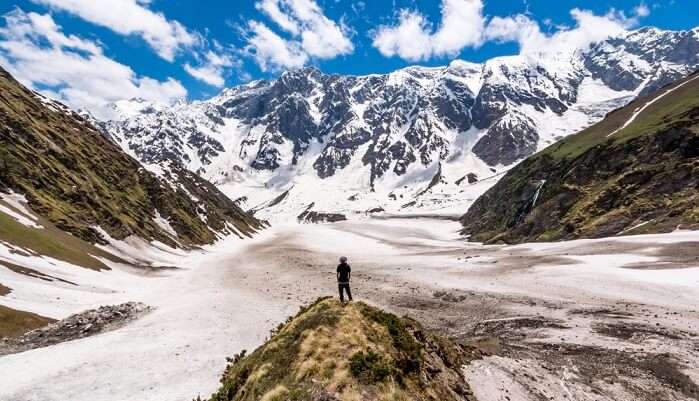 India is home to numerous hill stations alluring wanderers from across the globe to unravel the scenic stories between edgy turns and untouched terrains. North India, which is the northern region of India, majorly features the Indus-Gangetic Plain and the majestic Himalayas. With the Himalayan Range stretching across 12 states, numerous hill stations are known for offering refreshing vacations. Impeccable landscapes to miles of lush green forests and exquisite cultures, numerous things make a hilly holiday a perfect break to escape the mundane. If you are looking for the best hill stations in North India to plan your next vacation, continue reading.
Top 7 Hill Stations in North India
Whether interested in a romantic trip or planning a getaway with your fellow backpackers, here are the popular hill stations in North India that host the best summer as well as winter break.
1. Manali

Perched in the majestic Himalayan ranges, Manali features a blend of natural landscapes, thrills, and cultural archaeology. From heritage temples to thriving waterfalls and mystic valleys, this pristine hill station in North India is a popular place for all kinds of vacations.
At Manali, adventures beckon at your doorstep throughout the year. You can plan a getaway to Vashisht Temple and Old Manali, where you can indulge in trekking, rafting, mountain climbing, and skiing, depending upon the season. Honeymooners and leisure seekers plan their snowy escape to Manali, and the place features hundreds of hotels, resorts, and guesthouses.
Places to visit in Manali: Rohtang Pass, Solang Valley, Jog Falls, Hadimba Temple, Beas Kund Trek, and Mall Road.
37 Awesome Things To Do In Manali In 2022 For Solemn Joy
2. Shimla

Shimla, the former summer capital during the pre-independence era, is amongst the gorgeous hill stations in North India. Spellbinding terrains, colonial structures, and an array of adventures make Shimla a popular option for holidayers. Do a sneak peek at ancient religious sites and architectural megastructures that remind the days of the British Raj in India. betfinal عربي With a toy train journey between Shimla to Kalka, you unravel lush green landscapes with towering mountains beautifying the vistas.
The lively capital city of Himachal is amongst the most sought-after hill stations in North India and serves to be a refreshing escape from scorching heatwaves. Walking down Mall Road during the evenings and capturing the local vibe is something you can't miss out on while holidaying in Shimla. The bustling market along this road gives you a chance to buy the best local products, especially handcrafted ones.
Places to visit in Shimla: Jakhoo Temple, The Ridge, Himalayan Bird Park, Christ Church, and Mall Road.
3. Mussoorie

A leisure vacation that involves sightseeing, nature walks, delicious food, and extravagant shopping experiences, then Mussoorie is an ideal hill station in North India to plan a getaway for yourself. Witness exquisite terrains of Uttarakhand where you can go on a wildlife safari, trekking, white water rafting, paragliding, etc.
The place overlooks the verdant Doon Valley and the never-ending layers of white-capped Himalayas. Kempty Falls serves exhilarating ambiance, whereas Mt. George Everest gives you a chance to listen to your voice echoing through the miles.
Places to visit in Mussoorie: Kempty Falls, Gun Hill Point, Mussoorie Lake, Lal Tibba, and Bazar Road.
19 Things To Do In Mussoorie For A Hill Station Holiday Experience In 2022
4. Srinagar

Srinagar is undoubtedly the most popular hill station in North India. It welcomes visitors from across the world with its immaculate blue skies, refreshing ambiance, remarkable natural water bodies, decorated houseboats, and lush green terrains. The blissful vistas of Srinagar have remained an inspiration for artists, writers, and poets for centuries. The vibrant culture and historical sites will make you fall in love with Srinagar.
The Dal Lake is the prime highlight of Srinagar, where numerous houseboats and Shikaras welcome you. The charm of Mughal gardens is admirable on walks with your loved ones. You can visit bazaars and Mazars of Sufi saints, archaeological sites, and wooden mosques. اشتراك يورو 2022
Places to visit in Srinagar: Dal Lake, Mughal Gardena, Shalimar Bagh, and Char Chinar.
5. Kasauli

Kasauli is in the foothills of the Himalayas, and this cantonment town features a relaxing old-world charm. The snowy peaks, lush green valleys, and tranquility in surroundings give you a chance to admire nature in its undisturbed forms. The place is a paradise for adventure lovers, and you can indulge in trekking, mountain climbing, rafting, and skiing.
The spectacular interlocking mountain chains reside in numerous mystic escapes, and you can explore the place by road. The locals follow quite welcoming cultures, and you can visit local villages to sneak peek at local beliefs and celebrations.
Places to visit in Kasauli: Sunset Point, Shirdi Sai Baba Temple, the Gilbert Trail on Kachcha Road, and Manki Point.
14 Things To Do In Kasauli In 2022 For A Revitalizing And Rejuvenating Retreat
6. Spiti Valley

Spiti is the cold desert mountain valley and features secluded hills and rough terrains. The valley separates India from Tibet and is home to the country's coldest spots. The place is a paradise for adventure seekers as you can indulge in trekking, camping, rappelling, and hiking upcoming trips here. The Spiti Valley features prominence of Tibetan culture and is also called Mini-Ladakh by travelers. روني
The quaint hamlets of Spiti allure mountain admirers, making it one of the best hill stations in North India. The turquoise-grey color of the Spiti River outlines the region in its unique way. The complete stretch, starting from Spiti, goes until Kinnaur is home to mesmerizing landscapes and hosts enthralling road trips. This is amongst the famous hill stations in North India.
Places to visit in Spiti Valley: Kibber, Key Monastery, Pin Valley National Park, Suraj Tal, Kunzum Pass, and Tashigang.
7. Kufri

Located in the vicinity of Shimla, Kufri is an all-time favorite hill station in North India for love birds looking for a break amid mountains. The place is quite secluded compared to Shimla, and you can spend time at your own pace with your loved one. The mesmerizing sights of Kufri are blissful for those who enjoy nature in its undisturbed form.
You can also indulge in photography as the vibrant topography here is perfect for a couple's shoot. You can also plan to visit the Himalayan Wildlife Zoo and indulge in various adventurous activities hosted in and around Kufri.
Places to visit in Kufri: Mahasu Peak, Green Valley, Himalayan Nature Park, Kufri Fun World, Kufri Zoo, and Rupin Pass.
10 Awesome Things To Do In Kufri That'll Enrich Your Himachal Travel Experience In 2022
Wherever you are planning to visit on your upcoming holidays, the hill stations in North India offer numerous adventures and leisurely escapes. You can plan your visit to these refreshing hill stations with TravelTriangle and enjoy a vacation designed according to your preferences.
For our editorial codes of conduct and copyright disclaimer, please click here.
Frequently Asked Questions about Hill Stations in North India
How many hill stations are there in North India?
North India is home to many hill stations and from serene hamlets to lively cities, there are uncountable options to check out when you are planning a break to mountains in India. Jammu and Kashmir, Ladakh, Himachal Pradesh, and Uttarakhand in North India feature hilly terrains, with the Himalayas beautifying the surroundings.
Which is the most beautiful hill station in India?
There are numerous hilly escapades in India, and each one of them features something different from other. The following are amongst the gorgeous hill stations in India – Manali, Nainital, Shimla, Mussoorie, Gulmarg, Darjeeling, Binsar, Gangtok, etc.
Which is the best hill station in North India?
The following are the popular hill stations in North India:
1. Manali – Himachal Pradesh
2. Shimla – Himachal Pradesh
3. Dharamshala – Himachal Pradesh
4. Mussoorie – Uttarakhand
5. Kasauli – Himachal Pradesh
6. Srinagar – Jammu & Kashmir
7. Leh – Ladakh
8. Gulmarg – Jammu & Kashmir
Which city is known as Queen of Hills?
Mussoorie is popularly known as the Queens of Hills. This spectacular hill station is nearly 34 kilometers from Dehradun and features refreshing ambiance with prominent peaks, waterfalls, and numerous impeccable natural beauties in its vicinity.
Is Shimla a hill station?
Yes, the gorgeous capital city of Himachal Pradesh, Shimla is amongst the most popular hill stations in India and features refreshing holidays to nature lovers, adventure enthusiasts, and peace seekers. The place is amongst the most lively hilly regions in India.
{
"@context": "https://schema.org",
"@type": "FAQPage",
"mainEntity": [
{
"@type": "Question",
"name": "How many hill stations are there in North India?",
"acceptedAnswer": {
"@type": "Answer",
"text": "North India is home to many hill stations and from serene hamlets to lively cities, there are uncountable options to check out when you are planning a break to mountains in India. Jammu and Kashmir, Ladakh, Himachal Pradesh, and Uttarakhand in North India feature hilly terrains, with the Himalayas beautifying the surroundings. "
}
}
, {
"@type": "Question",
"name": "Which is the most beautiful hill station in India?",
"acceptedAnswer": {
"@type": "Answer",
"text": "There are numerous hilly escapades in India, and each one of them features something different from other. The following are amongst the gorgeous hill stations in India – Manali, Nainital, Shimla, Mussoorie, Gulmarg, Darjeeling, Binsar, Gangtok, etc. "
}
}
, {
"@type": "Question",
"name": "Which is the best hill station in North India?",
"acceptedAnswer": {
"@type": "Answer",
"text": "The following are the popular hill stations in North India:
1. Manali – Himachal Pradesh
2. Shimla – Himachal Pradesh
3. Dharamshala – Himachal Pradesh
4. Mussoorie – Uttarakhand
5. Kasauli – Himachal Pradesh
6. Srinagar – Jammu & Kashmir
7. Leh – Ladakh
8. Gulmarg – Jammu & Kashmir "
}
}
, {
"@type": "Question",
"name": "Which city is known as Queen of Hills?",
"acceptedAnswer": {
"@type": "Answer",
"text": "Mussoorie is popularly known as the Queens of Hills. This spectacular hill station is nearly 34 kilometers from Dehradun and features refreshing ambiance with prominent peaks, waterfalls, and numerous impeccable natural beauties in its vicinity. "
}
}
, {
"@type": "Question",
"name": "Is Shimla a hill station?",
"acceptedAnswer": {
"@type": "Answer",
"text": "Yes, the gorgeous capital city of Himachal Pradesh, Shimla is amongst the most popular hill stations in India and features refreshing holidays to nature lovers, adventure enthusiasts, and peace seekers. The place is amongst the most lively hilly regions in India. "
}
}
]
}
People Also Read:
Hill Stations Near Lonavala Hill Stations Near Palampur Hill Stations Near Dharamshala