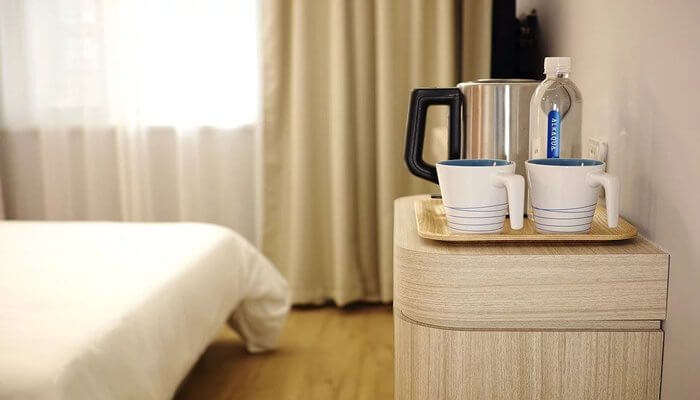 Planning a trip to Tirupati? Tirupati, a small town nestled in the southern state of Andhra Pradesh is famous across the globe for the Tirumala Tirupati Devasthanam. Apart from this, there are other attractions to visit but it is a great trip for travelers and tourists alike. For instance, you can have darshan of Lord Balaji and then go to visit the nearby famous temples too. Finding a suitable accommodation is always a challenge as this can be a daunting task. With so many factors to look into that will fit your budget, here's a list of best homestays in Tirupati that are ideal for a comfortable stay at prices that won't burn a hole in your pocket.
7 Homestays In Tirupati
Accommodation is a problem that you can fix by following the list of homestays in Tirupati that are ideal for staying comfortably without any hassle.
1. Sreenivasa Homestays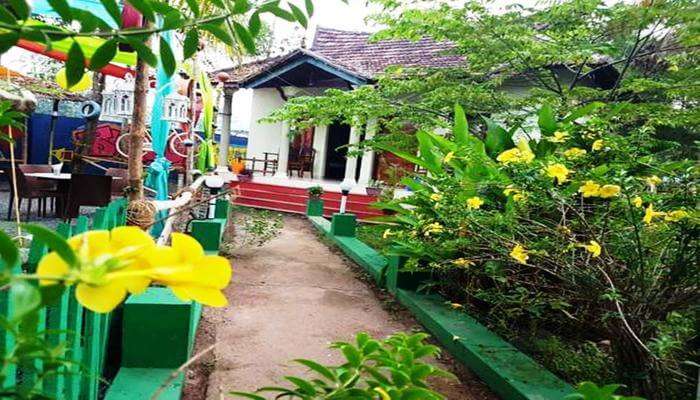 It is one of the most popular homestays in Tirupati for many reasons and you can enjoy the many facilities that guests can enjoy here. Take advantage of the warm hospitality and efficient services by the staff, this homestay is known to have great scenic views and amazing facilities. You can enjoy all the amenities and services at a single place.
Location: No. 02, M R Palli, Tirupati Tirupati India 517502.
Price: 1500 INR per night.
Must Read: Visit These 6 Breathtakingly Beautiful Hill Stations Near Tirupati In 2022
2. Tirupati Homestay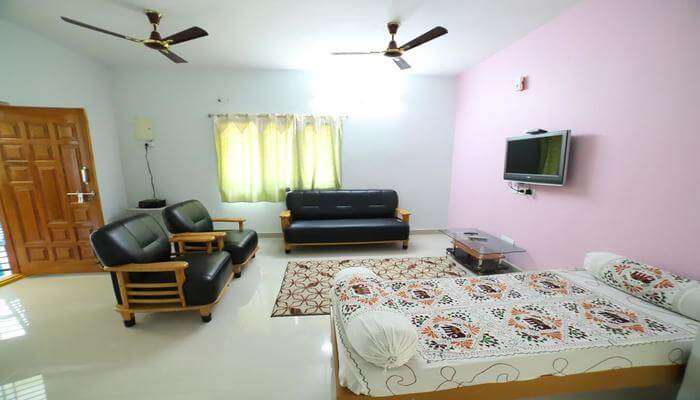 To one of the best stays, Tirupati homestay offers the guests the comfort they have been looking for. You can say that it is one of the most famous homestays in Tirupati that offer a spiritually fulfilling experience that will rejuvenate your mind and soul. Enjoy the tranquil views on your stay and make sure you create wonderful memories.
Location: 42 Raghunadha Resorts, Opp to Ramanaidu Kalyana Mandapam, Thanapalli Road Tirupati India 517503.
Price: 4000 INR per night.
Suggested Read: Planning To Visit The Tirupati Temple? Make Sure You Avoid The Following Dates!
3. Sainivas Homestay
It is the most visited homestay for many travelers because of friendly accommodation. The travelers can access the great accommodation with the free wifi, full-day front desk, shared kitchen and lounge. It is equipped with a garden and private parking facility. The guests can also enjoy a patio with garden views. The guests can spend the additional amount for using the bed linen and towels. You can easily reach Sri Kapileshwara Swamy temple from homestay and access the airport also.
Location: 22-8-179/1, Srinagar Colony, Revenue Ward No 22, Tirupati, 11th Cross Updhaya Nagar, Tirupati India 517501.
Price: 2800 INR per night.
Suggested Read: 9 Best Hotels In Tirupati For A Tranquil Retreat In The Heart Of Tamil Nadu!
4. Divine Homestay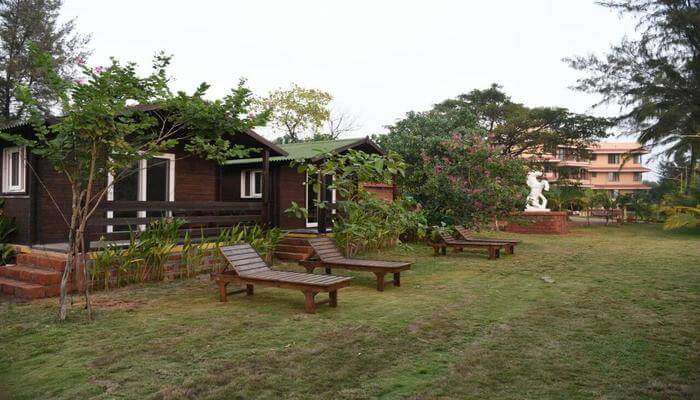 It is a great homestay for travelers to stay in a safe and calm environment. It is a homestay for travelers who want to relax and unwind in green spaces as it has a sprawling lawn. You can just sit back on the lawn and relax. The staff in the hotel provides a hospitable service to the guests without any hassle.
Location: HNO 41, RAGHUNATHARESORTS, TANAPALLY ROAD, Tiruchanur Tirupati India 517501.
Price: 5200 INR per night.
Suggested Read: 14 Exciting Things To Do In Mahabalipuram On Your Next Vacay In Tamil Nadu In 2022!
5. Anu's Homestay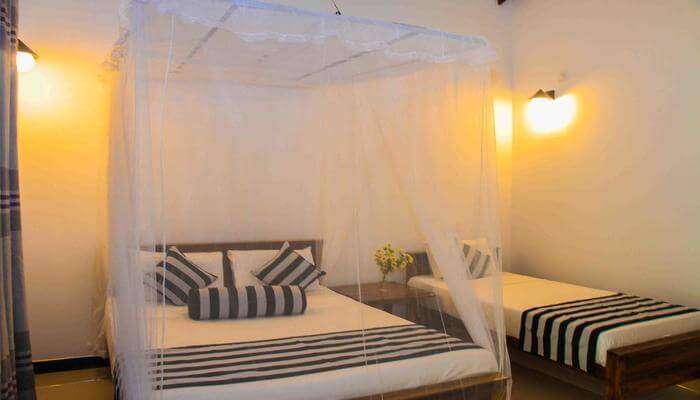 Are you looking for the best facilities in the homestay? Do you want to enjoy a better stay without any hassle? Well, this is the best place for you to have a comfortable stay. You can book the space based on your choices and access the different services like laundry, pillows, cushions, hot and cold water in a simple manner.
Location: 7-84, Chiguruwada, Tirupati Rural, Tirupati Tirupati India 517507.
Price: 1600 INR per night.
Suggested Read: Bookmark These 8 Romantic Things To Do In Kodaikanal For A Blissful Trip In Tamil Nadu!
6. Anjanadri Homestay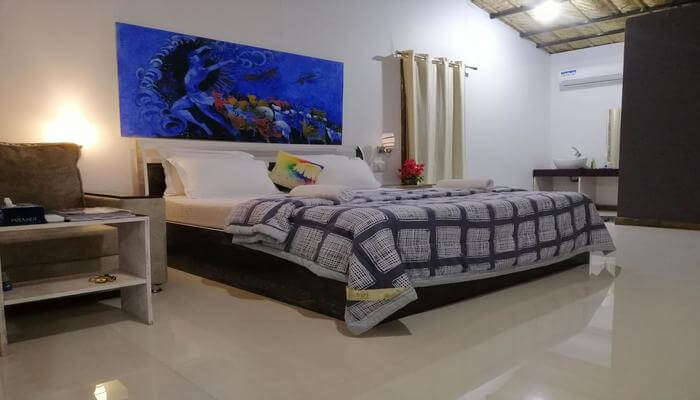 The travelers can access homestay at just a walkable distance from Padmavati ammavari temple. It is located at a prime location that is beneficial for tourists and the guest can easily find a home-like environment. You can pick up a clean and cozy room with excellent ventilation, modular kitchen. The guest can enjoy the friendly activities, airport, public transport, and others easily from the homestay.
Location: 1-72/10-9/4, Opposite To Water Tank, Sankar Naidu Colony, Tiruchanoor, Tirupati Tirupati India 517503.
Price: 2300 INR per night.
Suggested Read: Mahabalipuram Temples: Visit These 10 Breathtakingly Beautiful South Indian Souls In 2022
7. Mahas Homestay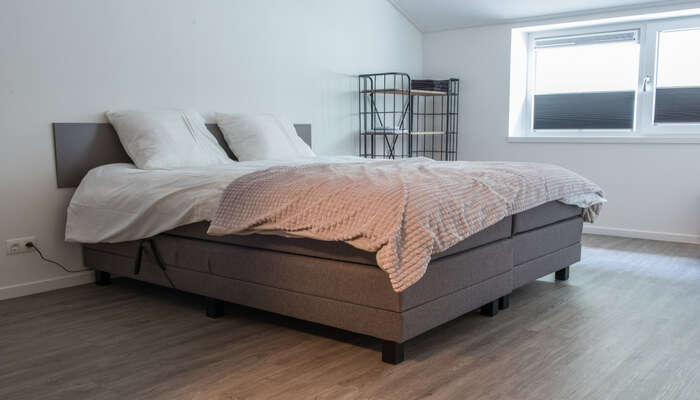 It is situated close to Sri Padmavathi ammavari temple. You can find out the fully furnished space that excellent for a comfortable stay. The guest can receive a great free parking facility and wifi. The travelers can make use of all the facilities in the homestay. You can pick up a suitable space for staying purpose at a reasonable price only.
Location: Backside L.V.Kalyana Mandapam, Padmavathi Puram, Tirupati Tirupati India 517501
Price: 2392 INR per night.
Further Read: 7 Festivals Of Tamil Nadu That'll Take You Close To The Traditions Of The State In 2022!
We have now come to the end of our list of best homestays in Tirupati where you can easily book the place of your choice by looking at its facilities and location. You will find many homestays suitable to your budget. If you are traveling with your family or friends, these homestays can be a great option for you to stay on your trip to Tirupati.
Frequently Asked Questions About Homestays In Tirupati
What are the popular places to visit in Tirupati?
Tourists can visit some of the major attractions in Tirupati like Sri Venkateswara Swamy temple, Sri Govindaraja temple, Srivari Padala mandapam, Sri Padmavathi Ammavari temple, Sri Venkateswara national park, Talakona waterfalls and lot more.
What are the popular homestays in Tirupati?
Srinivas HomeStay, Anu's homestay, GK HomeStay, Bhavana homestay, Divine home, and others are popular homestays in Tirupati.
What is the best time to visit Tirupati?
You can visit Tirupati at any time of the year. However it is suggested that you visit it in the months of November- January.
What is special about this destination?
Tirumala Tirupati is an ancient city that is located in the southern Andhra Pradesh. It is famous for the world-famous Lord Balaji temple. People all over the world come to take the blessings of Lord Balaji.
What you should buy in Tirupati?
People who are in Tirupati can buy locally made products from the handicraft stores. You can purchase the Kalamkari wood carvings, whitewood toys and a few other local products.
---
Looking To Book A Holiday Package?
---
Comments
comments