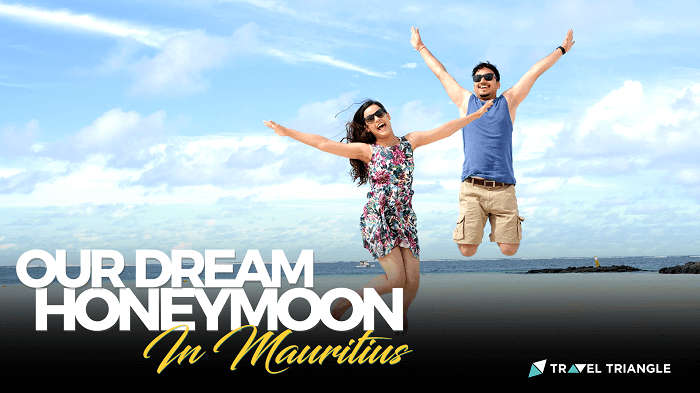 Rightly written by Mark Twain – "heaven is a copy of Mauritius", the nation has become a hub for many tourists from around the globe especially honeymooners. Couples come craving for the utmost beauty of this place that is unlike any other in the world.
Meet Paras and Kritika who took a honeymoon trip to Mauritius with TravelTriangle and loved every single day spent here. Let's know more and look at their excursion which brought them a lot more closer and made their love blossom like a rose.
Here's your chance to have a similar honeymoon experience in Mauritius. Plan with TravelTriangle and get amazing customizable packages to Mauritius and get ready for a marvelous experience.
Frequently Asked Questions About Honeymoon Trip To Mauritius
What is the best time to visit Mauritius?
Mauritius has a tropical climate and the best time to visit this island for a honeymoon is from May to December. Explore the island and the sun shines bright, the wind blows your hair and the sand feels just perfect under your feet.
How many days is enough for Mauritius?
A honeymoon in Mauritius should be planned for at least 3 to 4 days. In this duration, you can explore the scenic beaches, indulge in adventurous activities, try the local food and relax and rejuvenate your souls and bodies.
Is Mauritius a good honeymoon destination?
Mauritius is one of the most frequented destinations in the world and the reason for this is the private beaches and luxurious resorts. Yes, Mauritius is an excellent spot for honeymoon vacation. Stunning beaches, fun-packed activities, and resorts that provide top-notch services are what your honeymoon is going to be.
What should I wear for a honeymoon in Mauritius?
You can wear cotton clothes and whatever you feel comfortable on your honeymoon in Mauritius. There are certain items that you must carry like swimsuits, shorts, t-shirts, and hats.
Is Mauritius expensive?
A honeymoon vacation can be as expensive as you want it to be. If you want to stay in luxurious hotels and dine at fancy places, then yes, Mauritius is expensive. This island also has budget-friendly options for couples who want to have a vacation which is easy on their pockets.
Which are the hottest months in Mauritius?
January and February are the hottest months in Mauritius and you should plan your honeymoon according to the weather you like the most. If you prefer warm months where you can go for a swim on the beach then you can plan your vacation in January and February as well.