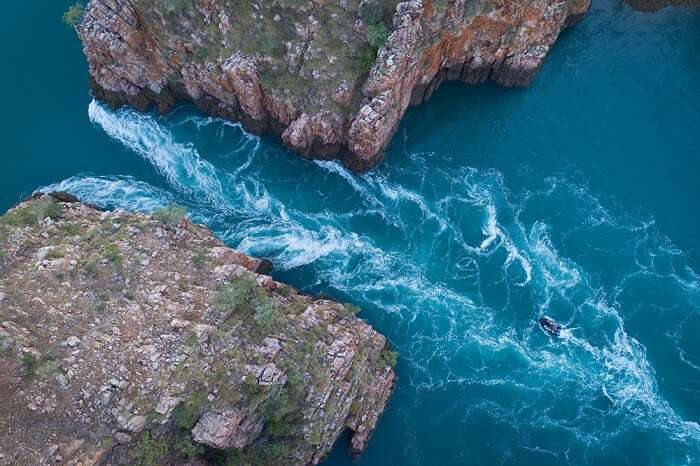 Nature always conjures up new ways to surprise humans. And most of them are so unusual and ridiculously cool like these horizontal falls in Australia that we have option but to be awestruck! Up until now, you must have only seen vertical waterfalls falling from a cliff. Talbot Bay, located on the coast of Kimberley, is where you will find Australia's most unusual natural wonder. Nicknamed as 'Horries', these are the only horizontal waterfalls to exist on the planet earth. How cool, right?
About Horizontal Waterfalls In Australia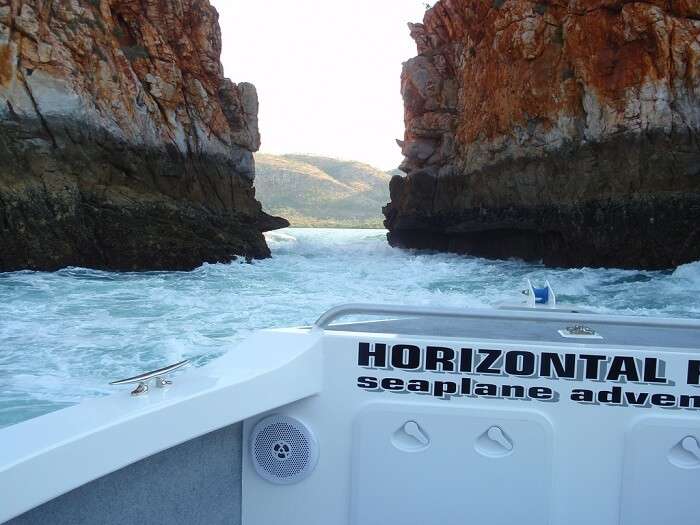 Another trick up nature's sleeve, these unusual waterfalls are the result of unique tidal movements when the turquoise water squeezes through two narrow gorges. The water banks up on one side of the cliff of the McLarty Range and flows through a short passageway in a rapid speed creating a waterfall-like appearance. You will also notice that these waterfalls turn sideways.
The coolness doesn't end here, guys!
Every day, when the tide turns, the water begins to flow in the opposite direction. So the falls are not just horizontal, they are 'reversible' too. Say what?!
Can you wade through these absolutely staggering horizontal falls in Australia?
Yes, you absolutely can. In fact, many tour operators in Kimberley, Australia organize boat trips to the horizontal waterfall which they call a 'trip of your lifetime'. If you do not like wobbly boat rides, you can join the seaplane tours to witness this rare phenomenon.
How to Reach Horizontal Falls in Australia?
If you are wondering how to get to Horizontal Falls, the only way is by boat. There is no road access to Talbot Bay of Kimberley Region (Western Australia) where the falls are located. It is 110 km north west of Derby and 220 km north west of Broome. The only way to reach Kimberly is via road. The nearest airport is Broome International Airport which is connected via flights from all parts. From here, you can hire a car.
The time-saving way would be to book a Horizontal Falls tour from Derby or Broome which will fly you in a seaplane over the falls from Derby/Broome and even take you on a cruise to Talbot Bay.
Horizontal Falls Map
Intrigued much?
Further Read: The Rip-Roaring Zip-lining Over Niagara Falls Is Back. Hurry, Do It Before The Summer Ends!
If you're a true nature lover then you have got to see this rare wonder of nature on your next trip to Australia. After all, life is all about daring adventures and witnessing the rare phenomenon nature has in store for you.