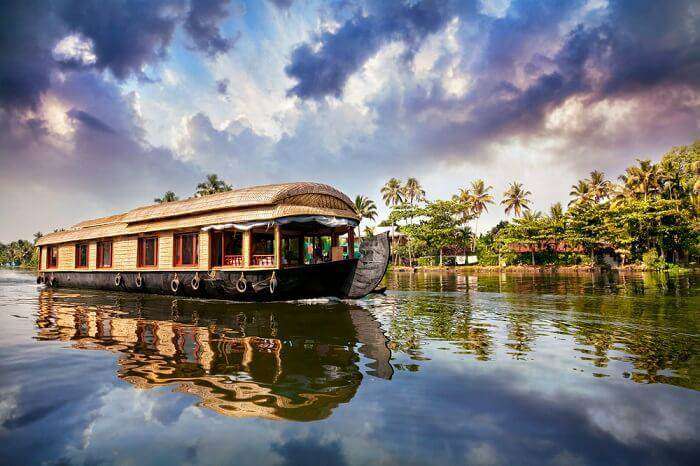 Living in a houseboat in Alleppey is a captivating experience. Floating on serene backwaters, passing through bent mangroves and beautiful sceneries, with wafting aroma of coconuts beautiful sceneries is nothing short of a dream escape.
Catering to travelers with different budgets, these houseboats in Alleppey have been a rage for a long time. A fair balance of essential amenities and luxuries, these houseboats are a whole new experience on their own.
Let's take a virtual tour of these famed houseboats to get an idea about the experiences, amenities, food options, costing, and a host of others offerings associated with them; so that your Kerala tour turns out to be flawless!
Houseboats in Alleppey – An overview of the stay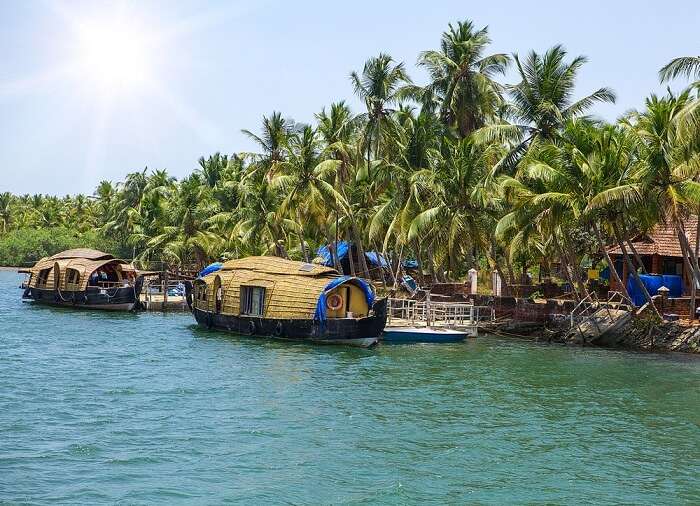 The archway of coconut grooves and expanses of paddy fields form scenic passages for houseboats in Alleppey. The rich cultivation and wild greenery on both the sides of the backwaters are simply mesmerizing. Even though it is a popular tourist attraction in Kerala, the hoopla is suppressed by inherent peace of the backwaters. Tranquility and serenity penetrate to your heart in this soul-soothing environment.
Earthy aromas and the cool breeze are perfect feel-good elements for any given day. Occasional rainfalls create an aura of coziness and fuzziness. Moonlit nights create the perfect atmosphere for star gazing. Chirping of birds and swishing of water make for an enchanting background music. With so much leisure promised, houseboats in Alleppey are for those who love nature, quietude, and some uninterrupted me-time.
Popular Routes and Types of Houseboats in Alleppey
Types of houseboats in Alleppey: Most tourists opt for a private houseboats (yes, there are two types) and the duration of the stay is 1D/1N. During this time, houseboats float in the backwaters only for a couple of hours. Rest of the time (which is from about 5-6 in the evening till morning) they stand stagnant in the water.
Shared houseboats are where you share a big houseboat with another couple or family. Such houseboats are not that popular and are opted in case of really low budgets.
Popular routes: There are 5 popular routes which offer the mesmerizing glimpses into the lustrous backwaters of Kerala.
Alleppey – Regions in Vembanad Lake – Alleppey
Alleppey – Kumarakom – Thottappally – Nedumudi – Alleppey
Alleppey – Kumarakom – Alleppey
Alleppey – Alumkadavu
Alleppey – Champakulam – Chennamkary – Kainakary – Alleppey
The experience: As per your plan, if a houseboat in Alleppey is going to be your abode amidst mangroves for a day – there's a lot you can see, experience and absorb. From visibly beautiful landscapes to nuances of the kind of lives natives lead, it is going to be a memorable affair. If you have a penchant for capturing moments, keep your camera ready while heading for a houseboat tour.
A range of frames – like sightings of wilderness, villagers sowing their fields, rice plants swaying with the wind, towering coconut palms, kids swinging on the trees, and families having fun time – will keep you occupied. Being the spice state, a myriad of distinct aromas will hypnotize you on the way – a strong smell of filter kaapi will be as welcoming as the one of wafting from scrumptious Chicken Chettinad.
Facilities & meals in houseboats in Alleppey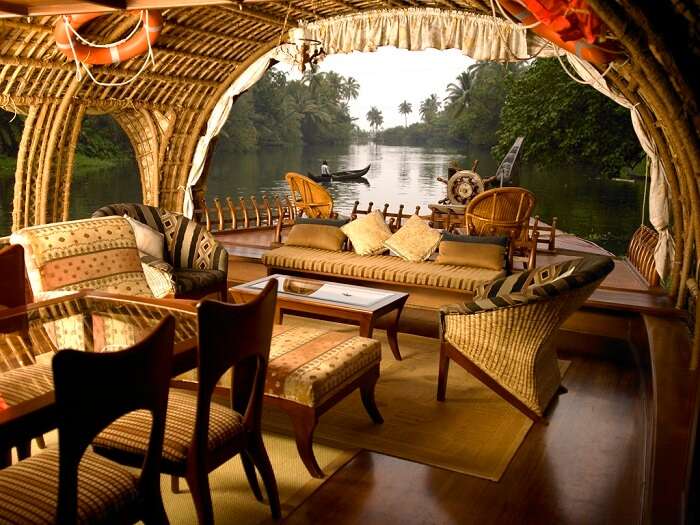 Facilities: Obviously the degree of luxury is proportional to the cost. A simple houseboat with one living room and one bedroom costs something like INR 5,000 in the peak season, which is from September to February. The rooms have basic facilities like well-furnished rooms with tables, chairs and beds, neat and clean bathrooms, and spacious balconies or hedges to offer the views of running by sceneries.
Also, these sparsely decorated houseboats in Alleppey are quite airy. Their breathy interiors are not high on show-off; most of the times, the decor is minimal but essential facilities are in place.
Must Read: 12 Festivals In Kerala To Experience The Rich Traditions Of God's Own Country In 2022!
Food: Houseboats in Alleppey have fairly good arrangements for food. All meals are included in the deal and the fare is mostly a mix of North and South Indian delicacies.
Usually, vegetarians don't have much options in terms of food, beside the authentic South Indian food like Idli, Sambhar, Vada. But for non-vegetarians, the food is simply blissful. Delicacies from all over India accompany authentic South Indian delicacies like Chicken Chettinad and Chicken Malabar. Sometimes, chefs are well-equipped to prepare fingerlicking Continental dishes, too.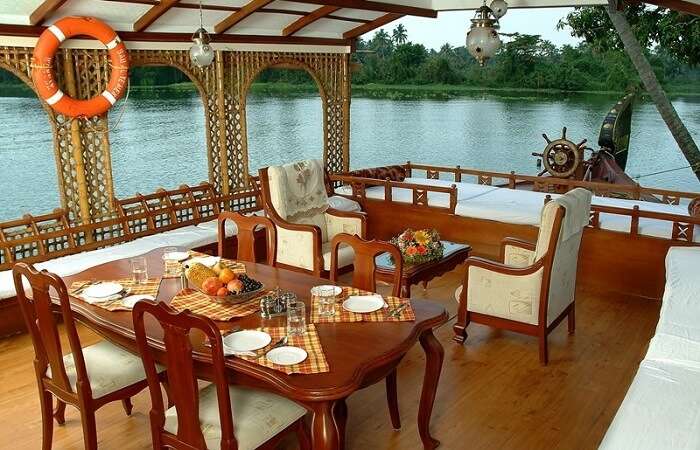 Customization and special requests: Besides regular offerings, a lot of customization options are available during your stay in a houseboat. Be it your food, room facilities, or any other service, all requests are fulfilled – might take some time though.
Special requests about food should be made before you board the houseboat. If you have made the request after boarding then it'll take more than a couple of hours as they might have to outsource the food.
The buffet of mouth-watering food offers dishes well-prepared and utterly delicious. Some of the best houseboats in Alleppey even arrange for a private, candle-light dinner or something equally mind-blowing on request.
P.S. Kerala is predominantly a non-vegetarian state. If you are vegetarian, specify while ordering a meal.
Cost of houseboat stay in Alleppey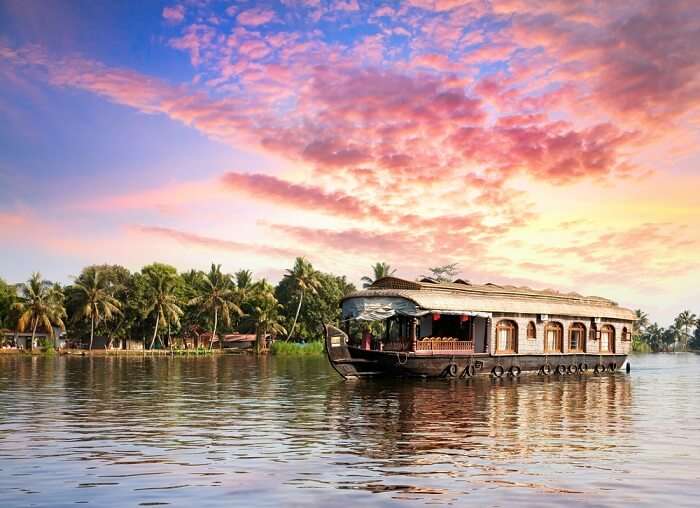 Based on the services offered, rates of houseboats in Alleppey may vary from INR 6,000 to INR 1,50,000 per night.
Budget: In a budget of INR 6,000 you can book a small houseboat with just one room and minimal decor.
Standard: If you go up a little and raise the budget to INR 8,000 to INR 12,000, you can get a decent houseboat with fairly better amenities. A good fleet of houseboats in Alleppey will offer you two bedrooms with a modern bathroom and ample of windows in the given price range. While the food will be of different varieties, the experience will be so much better.
Luxury: In case your budget can go up to INR 40,000 per night, you can enjoy ultimate luxury and the best of facilities. Besides, 2-3 bedrooms and a living room, the decor is sophisticated, the food spread is elaborate, and the experience is unforgettable.
Premium Luxury: If you are looking for an experience unmatched and unsurmountable by anything, then you can opt for glass houseboats. While they will cost you over INR 1,40, 000 per night, the experience of watching everything through glass is really something else.
Shared Houseboats: For those who do not want to shell out such big bucks, there is also an option of shared houseboats. You may book a room of the houseboat in around INR 2,500 and enjoy the perks of a luxury houseboat in Alleppey.
Whatever be the price, it is assured that the experience of riding on a houseboat in Alleppey will be unique and memorable.
Book Alleppey Tour Packages with Travel Triangle
Things to keep in mind
1. Houseboats in Alleppey are usually not as secluded as they look in the pictures. Which means while you are afloat, you might see a number of other houseboats with tourists, navigating the same path.
2. Due to verdant greenery and cool water, the backwaters are full of mosquitoes. Carry your own odomos or mosquito-repellent coil as these things are rarely provided in even the best of luxury houseboats in Alleppey.
3. Since the mother tongue in Kerala is not easily understandable, please notify the operators that you will need an English/Hindi speaking chef and caretaker.
How to book a houseboat in Alleppey?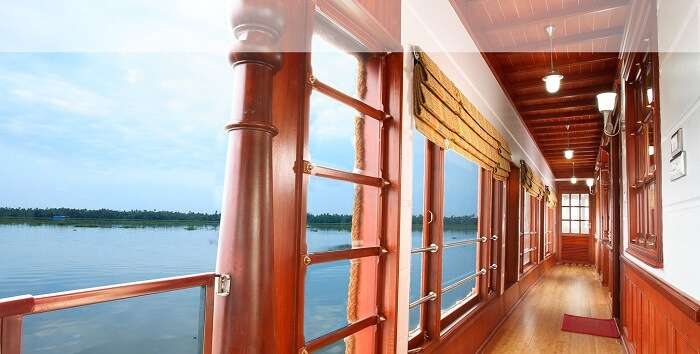 You can make online booking for your houseboat in Alleppey. With just a couple of clicks and answering a questions, you are set for your houseboat stay. Alternatively you can ask agents and marketplaces like Travel Triangle to make a booking for you on the best of available options.
Rainbow Cruises offer the best houseboats in Alleppey. Their well-maintained, airy, beautiful, and elegant houseboats are very much in demand with families and couples.
To know more about them and to make online bookings with them, visit their official website.
Cheap houseboats as well as luxury houseboats in Alleppey are easily booked weeks prior. So be timely in your booking for great offers and amazing accommodations.
Hope the piece answers all your queries about houseboats in Alleppey. Now all you need to do is to plan a Kerala tour and start packing for the amazing houseboat experience.
Further Read: 57 Best Places To Visit In Kerala For A Vacation To Remember In 2022!
---
Looking To Book A Holiday Package?
Book memorable holidays on TravelTriangle with 650+ verified travel agents for 65+ domestic and international destinations.
---