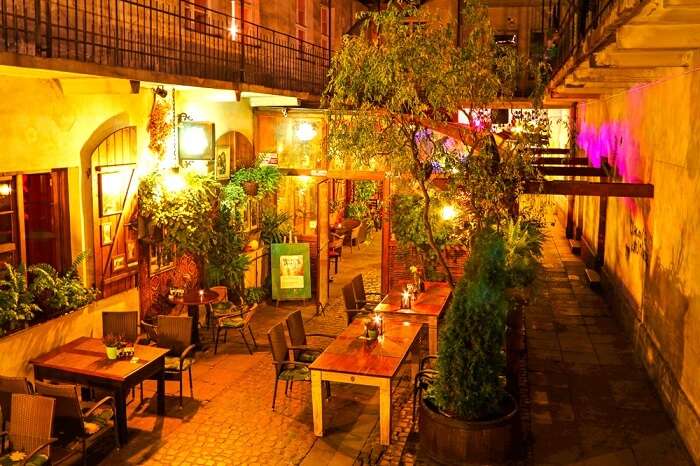 Warsaw, the capital city of Poland, is deemed to be the epitome of strength and endurance in today's era. Buried deep within innumerable layers of war-torn history, the city of Warsaw is regarded to be a paradise for anyone who finds solace acquainting themselves with stories of victory through the struggles. The city, in the present age, stands as an inextinguishable beacon of hope, having risen from the ashes to become a destination that encompasses architectural design marvels from nearly all of Europe, making the cityscape a sight to behold.
The city of Warsaw has been a witness to various reigns, the city nurtures many of the cultures that happen to walk into its sweet embrace. Given the city's open nature, it is sprinkled with various art forms and delicacies hailing from all over the world, including the famous Indian cuisine. Here is a list of the best Indian restaurants in Warsaw.
10 Indian Restaurants In Warsaw
For anyone seeking the traditional taste of India in Warsaw, we've rounded a list of top 10 Indian restaurants in Warsaw that are sure to appeal to your taste buds.
1. Smak Curry

Intricately lined with noticeable slivers of the Indian culture, Smak Curry offers an ambiance that will be significantly nostalgic yet strikingly distinct to anyone who has been acquainted with the culture. Adorned with handcrafted statues of Indian deities and artifacts hailing from the Mughal age, the restaurant makes for a relatively balanced environment that doesn't overwhelm but calmly reminds one of the origins of the place.
Smak Curry transitions its subtle nods towards the Indian culture to their menu, offering the famously familiar tastes of India in both vegetarian and non-vegetarian niches. Some of their popular dishes include butter chicken, chicken tikka masala, paneer Hyderabadi and aloo bhindi masala. The fact that Smak Curry is one of the few restaurants determined enough to serve strictly traditional tastes of India without compromising on the quality which makes the restaurant a part of this list.
Address: Belwederska 44, 00-594 Warszawa, Poland
Google rating: 4.9/5
Website
Must Read: 10 Incredible Things To Do In Warsaw To Enliven Your Spirits!
2. Guru Indian Restaurant and Bar

Guru happens to be one of the few restaurants that go ahead with the bold move of only including the essentials when it comes to both, ambiance and the food. Guru seems like a significant departure from the Indian culture, given the modern polish layered over through wood furnished walls and the modern portraits that adorn the place. Although, it isn't what it seems to be. Guru is the place to be if one wants to witness the harmonious blend between truly traditional Indian cuisine and the ongoing trends of Warsaw. The restaurant might seem far from the culture until one starts to notice the subtle references to India through the place. Guru aims to be the place where the spices of India are united with the local ingredients to create something exceptional. The place offers traditional dishes like butter chicken, chicken Madras, and more, complemented by Indian themed cocktails namely the Mango Pulp Mojitos with a ginger twist.
Address: Widok 8, 00-023 Warszawa, Poland
Google rating: 4.7/5
Website
3. Bombay Masala

Mumbai, or as it was previously known, Bombay happens to be a city in India brimming with famous delicacies matched with the traditional spices of the country. Bombay Masala aims to bring the same variety of dishes along with the familiar taste to the city of Warsaw, and it does so splendidly. Bombay Masala justifies its name by offering dishes that can drown one in nostalgia, including Paneer Tikka, Samosas, and Chicken Tikka along with familiar sides such as the Naan bread and Paranthas.
As for the ambiance of the place, Bombay Masala is as respectful of the modern trends as it is aware of the Indian culture. The restaurant is subtly lined with statues of Indian deities, paying tribute to their ancient place of origin yet it is also polished with modern trends, making for a soothing and calm environment that is impartial to any cultures that walk through its doors.
Address: Jana Pawła II 23, 00-854 Warszawa, Poland
Google rating: 4.5/5
Website
Suggested Read: 15 Best Places To Visit In Poland For A Fun European Vacay
4. Kalyan Indian Restaurant

If you wish to escape back to the streets of India while being physically present within the city of Warsaw, Kalyan Indian Restaurant would be a good choice for a place. As you walk in, you can not only feel the serene ambiance that the restaurant offers but also a sense of humbleness that the place holds dear. Kalyan would be a great example for making the most out of a relatively limited real estate. The place holds the simplicity it offers with pride and transitions the same of the beauty of simple things to the dishes it serves. Delicacies like Dal Makhni and Paneer Tikka are strikingly familiar both in taste and appeal. Kalyan Indian Restaurant is certainly a spot where you can appease your taste buds just as you would if you were to dine in a local Indian restaurant.
Address: Janusza Meissnera 1/3, 03-982 Warszawa, Poland
Google rating: 4.5/5
Website
Suggested Read: 35 Best Places To Spend Christmas In Europe 2021: Where Festivities Breathe Magic Into The Air!
5. Namaste India

Treating your taste buds to authentic Indian food is significantly enhanced if one dines within an ambiance that compliments the authenticity of the dishes that are being served. Namaste India is a restaurant that not only acknowledges that but also implements to the best of its efforts. The place is beautifully adorned with mirrors and wall decorations lined with traditional Indian patterns. The wood furnishing and the popping hue of red and pink give that place a truly Indian vibe which just makes the experience noticeably better. Coupled with the authentic dishes, cooked meticulously by Indian chefs, makes the place the perfect spot for not only experiencing the Indian culture through art but also through the food.
Address: Nowogrodzka 15, 00-511 Warszawa, Poland
Google rating: 4.4/5
Website
6. Bollywood Lounge

Bollywood Lounge is the most coveted place if you wish to dine on something that is just as fancy as it is authentic with the dishes it serves. Bollywood Lounge is one of the best Indian restaurants in Warsaw that offers traditional Indian delicacies with its own variety of novelty beverages, making for one of a kind experience. With authentic Indian delicacies such as Butter Chicken served with a side of Naan bread, Dal Makhni, Paneer Tikka, and various other traditional dishes, the Bollywood Lounge holds nothing back when it comes to treating its customers with the best of India. Going along with the delicious and irresistible menu items, the place makes for a truly jaw-dropping ambiance with vintage designs complemented with hints of vibrant hues of red and blues, reminiscent of how one would experience in India. The Bollywood Lounge is the perfect place to dine in if one wishes to taste the authenticity of Indian cuisine with the luxury of sipping on their favorite cocktails.
Address: Nowy Świat 58, 00-363 Warszawa, Poland
Google rating: 4.2/5
Website
Suggested Read: 10 Cafes In Prague: Enjoy Croissants, Sausages And More In A Perfect European Fare
7. Rasoi Indian Restaurant

It's virtually impossible to deny the beauty of how at times the simplest of thing trumps the most lavish of luxuries. The Rasoi Indian restaurant makes the most of that fact through its simple and humble ambiance, layered with minimal modern design and polished with complementing shades of white. Although, one would be wise to not be fooled by the restaurant's simple approach as the place is known to offer some of the best, lip-smacking and authentic Indian delicacies. Rasoi Indian restaurant is a great place to be if one wishes to wind back after a fancy night out yet wants to indulge himself within the overwhelming taste and spices of India.
Address: Chmielna 98/15, 00-156 Warszawa, Poland
Google rating: 4.5/5
Website
8. Tulsi Mokotów

An ecstasy that you'll always adore when it comes to Indian food is Tulsi Mokotów. Maybe it is because of the calm and soothing ambiance it offers through its simple and sleek themes or maybe it is because of the little nods towards the Indian culture that are littered through the place. Either way, Tulsi Mokotów, is a restaurant where you can appeal both your sight and your taste buds. Given the fact that the place specializes in traditional Indian cuisine that is sure to make you take a sigh of wonder after the first bite, makes the place even more appealing to visit. Tulsi Mokotów is certainly one of the few restaurants that can just pull you out of reality and put you straight back into the familiar grounds of India.
Address: Metro Wilanowska, Domaniewska 22, 02-672 Warszawa, Poland
Google rating: 4.4/5
Website
Suggested Read: Shopping In Czech Republic: For Adding More Charm To Your Wardrobe With A European Touch
9. Tandoor

The moment you walk into Tandoor, it overwhelms you with a vivid variety of vibrant yet complimentary spectrum of colors which is sure to put a gentle smile on your face in anticipation of the delicious, traditional delicacies of India that you'll be munching on shortly. There are few restaurants that match to the aforementioned feat, and fortunately, they not only deliver on your expectations but far surpass it by serving exceptional fusions of local and Indian flavors. If one ever visits the city of Warsaw, this is definitely a place to visit, regardless if one has an appreciation of Indian spices or not.
Address: Marszałkowska 21/25, 05-007 Warszawa, Poland
Google rating: 4.3/5
Website
10. Swagat Indian Restaurant

Swagat Indian Restaurant, as the name suggests, is a place that welcomes its customers with open arms, regardless of where the hour hand of the clock is ticking. If you wish to satisfy your craving for authentic Indian food at late hours, Swagat Indian Restaurant would be your best pick. The restaurant goes with a simple yet soothing ambiance with its tiny booths, reminiscent of a late night dinner. With a minimal painting of Buddha adorning the center wall, the restaurant offers a safe haven for all the food enthusiasts seeking for a late night munch.
Address: 57, Jana Kazimierza, 01-259 Warszawa, Poland
Google rating: 4.6/5
Website
Further Read: 9 Lakes In Norway Worth Exploring On Your Vacation To Europe
Eager to visit and eat at these amazing Indian restaurants in Warsaw? Book your trip to Europe with TravelTriangle and head to the city of Warsaw which boasts of the best restaurants and entertainment in entire Poland. Try the amazing Indian dishes with a hint of the local flavors and have a great vacay here with your family and friends!
---
Looking To Book An International Holiday?
Book memorable holidays on TravelTriangle with 650+ verified travel agents for 65+ domestic and international destinations.
---