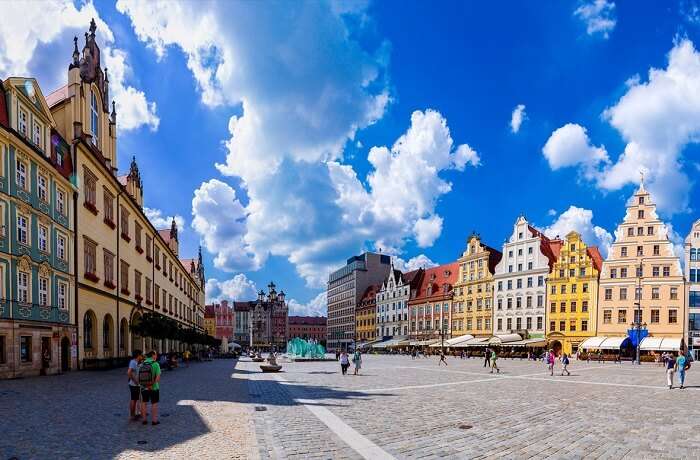 Poland is known for its success story in the post communist era with its emergence as a proud, independent country. It is a famous European destination for its picturesque landscapes, rich history, vibrant culture and historical places to visit in Poland. You can enjoy the sea, the mountains and various other outdoor landscapes in Poland. The delicious cuisine and Jewish heritage are a few of other popular Poland tourist attractions.
Top 15 Places To Visit In Poland
While you're out and about in the fun packed paradise of Poland, this list of places will surely woo your senses. Check out this list to know what all awaits you here!
Wonderful Main Market Square
The Auschwitz-Birkenau Memorial And Museum
Krakow Old Town
Royal Castle
The Museum Of The History Of Polish Jews
Palace Of Culture And Science
The Vistula River Beach
Ostrów Tumski
Rynek
The Royal Palace
Białowieża Forest
Wieliczka Salt Mine
Bydgoszcz
Gdansk
Malbork
1. Wonderful Main Market Square

This is the first amongst Poland destinations you should start your visit in Krakow with. Main Market Square is the largest medieval market in Europe and a famous hub of social life for youth and young tourists traveling from around the world. a busy urban space today, it dates back to the 13th century.
Location: 0-062 Kraków, Poland
Suggested Read: 14 Essential Europe Travel Tips For The First-Timers Taking A Euro-cation In 2022!
2. The Auschwitz-Birkenau Memorial And Museum

Image Source
It is built in the honour of approximately 1.5 million people exterminated here during the Second World War. Today, this museum serves as an important historical area left exactly as it was when the Nazis abandoned it, complete with gas chamber ruins that makes it one of the foremost places to visit in Poland.
Location: Więźniów Oświęcimia 20, 32-603 Oświęcim, Poland
Timings:: 8:00 AM – 3:00 PM
3. Krakow Old Town

The Main Square of Krakow is the largest in Central Europe and serves as the center of the city's political and social life since the Middle ages. It is the best place for Poland tourism for its amazing Renaissance feels reflected in the Sufkiennence, St Mary Basilica and artsy cafes and bars. Infact Krakow has one of the world's most beautiful street owing to its wonderful architecture.
Location: Old Town, Krakow, Poland
Suggested Read: 20 Things To Do In Prague: Key To An Apt European Vacay
4. Royal Castle

Image Source
Located in the Old Town on the beautiful Castle Square, it housed Polish royalty between the 16th and the 18th century. It was rebuilt in the 1980's after being destroyed in the Second World War. Don't miss out on the the series of portraits of Polish kings and 23 18th-century paintings of Warsaw.
Location: Więźniów Oświęcimia 20, 32-603 Oświęcim, Poland
Timings:: 8:00 AM – 3:00 PM
5. The Museum Of The History Of Polish Jews

Compared to other places to visit in Poland, it has opened in recent times and is an interactive museum which serves as a centre of culture. Various events, workshops, debates and lectures are held here. This is one of the places in Poland that is notable for the depiction of the thousand-year old history of Polish Jews.
Location: Anielewicza 6, 00-157 Warszawa, Poland
Timings:: 10:00 AM – 6:00 PM
Suggested Read: The Disney Magic Cruise Will Let You See Italy and Southern Europe In An Exciting Way
6. Palace Of Culture And Science

Image Source
If you are wondering what to see in Poland, this should be one of the first few items on your checklist. It was gifted by Stalin and is a long high-rise building that is inspired The Empire State Building. It is today a centre for various events such as concerts, theatrical performances, sports clubs, and cultural activities. This is surely one of the most famous places to visit in Poland for your next trip!
Location: Plac Defilad 1, Warsaw 00-110, Poland
Timings:: 11:00 AM – 11:30 PM
7. The Vistula River Beach

The Vistula acts as a district of entertainment and recreational activities in the middle of Warsaw. The beach, stretch of natural grasslands and various indigenous species of birds make this area a spectacular point to chill in the city with its vibrant colours and magical atmosphere. This place surely tops the list of most beautiful places to visit in Poland!
Location: Wybrzeże Helskie, Warsaw, Poland
Suggested Read: Planning A European Holiday? Here's How You Can Get Paid To Travel Across Europe!
8. Ostrów Tumski

Image Source
This stunning island is one of the oldest areas in Wroclaw. Bound by the River Oder, there are many prominent monuments on this island such as the Cathedral of Saint John the Baptist (restored after World War II), the Holy Cross and Saint Bartholomew's Collegiate. The place has some fantastic architecture. Be charmed by the aesthetic and historic buildings here.
Location: Ostrow Tumski, Wroclaw, Poland
Timings:: 8:00 AM – 7:00 PM
Suggested Read: Wildlife In Poland: 9 Popular Animals In The Country You Must Witness
9. Rynek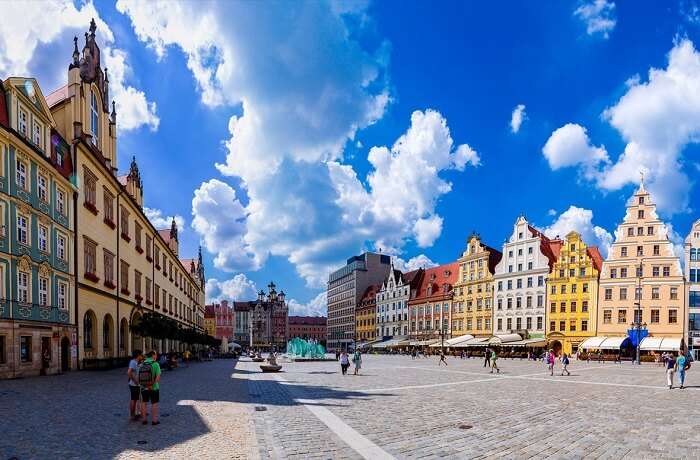 This market square is located in the heart of Wroclaw and features the Cloth Hall and the Town Hall, with elements of Gothic and renaissance architecture. Visiting the Rynek is an important part of your itinerary on Poland travel and amongst the best places to visit in Poland.
Location: Stare Miasto, Wrocław; Lower Silesian Voivodeship
Suggested Read: Head To The Switzerland Mountains For A Dreamy Alpine Vacation In Europe
10. The Royal Palace

Image Source
The Royal palace is home to the historical Museum of Wroclaw which shows the historical traditions of the city through interactive exhibitions such as Wroclaw's millennium. The Baroque style garden and royal apartments in this palace makes it one of places to visit in Poland.
Location: Kazimierza Wielkiego 35, 50-077 Wrocław
Timings:: 10:00 AM – 6:00 PM
Entry fee:: Rs. 292
Suggested Read: 10 Best Festivals In Poland That Showcase Its History And Traditions In 2022
11. Białowieża Forest

Covering a region of more than 3,000 kilometres, Białowieża Forest is amongst the most raw and untouched form of scenic beauty that you can visit in Poland and is also listed amongst the UNESCO World Heritage sites. Having a wide variety of trees such as oaks as old as 500 years are the speciality of this region. If you're lucky you can spot one of the many wild creatures present here including golden eagles, European bison and deer.
Location: Grodno and Brest regions, Belarus; Podlaskie Voivodeship
12. Wieliczka Salt Mine

Another one of the UNESCO sites, Wieliczka Salt Mine has been open since the time of middle ages and takes about 2 hours to tour the entire place. This mine goes as deep as 140 feet under the ground level and has plenty of stairs which will help burn some calories. The experience of traveling through this stunning site also feels like moving towards the centre of the Earth as per some travelers.
Location: Jana Mikołaja Daniłowicza 10, 32-020 Wieliczka
13. Bydgoszcz

Known to have some of the finest universities and colleges abode, Bydgoszcz in Poland is a must visit cosmopolitan city. It's one of those places where you can pamper the artist in you by exploring the various theatres and music centres in the city. Don't miss out on Nicolaus Copernicus Square and Bydgoszcz Pantheon while you're here.
Location: Bydgoszcz, Poland
14. Gdansk

Famous as the place where the Solidarity movement in Poland started, Gdansk is a must visit spot for its shipyards. A boat trip around the port will let you witness some of the finest views and you can surely head straight to try some Polish beer while you're here. What's more is that the Royal Route and the Old Town have some surprising hidden secrets for travelers to explore!
Location: Gdansk, Poland
15. Malbork

Europe's most splendid castles with all their glory and charm can be found in the quaint town of Malbork. With a serene view from each of the historical and architectural sites to visit in this place, this place has something in store for every kind of traveler. Don't forget to stop by at some of the local shops to indulge in the authentic flavours of this place.
Location: Malbork, Poland
Further Read: These Pictures Of Freezing Amsterdam Canals Will Make You Fall For European Winters!
Know any more places to visit in Poland? Put them in the comments below. Plan your trip to Europe for the most amazing and unparalleled experiences in Poland with your loved ones like never before. So, what are you waiting for? Pack your bags and get going for that much awaited trip you've been longing for and tag your favourite travel buddies along!
Frequently Asked Questions About Places To Visit In Poland
What are three tourist attractions in Poland?
Poland is home to some of the most fascinating attractions and landmarks in the world, and three tourist attractions that we recommend you must visit are:
1. Wieliczka Salt Mine, Wieliczka
2. Warsaw Old Market Place
3. Auschwitz-Birkenau Camps, Oswiecim
How expensive is Poland?
If you are planning to visit this central European country, you can expect to spend around zł2,944 ($726) for two people. While Poland is not one of the most expensive countries to visit, it is above average when it comes to the cost of accommodation, food and sightseeing.
What is the most visited site in Poland?
While there are more than one popular sites in Poland, two of the most recommended is the Salt Mine in Wieliczka and the historic site of Auschwitz which you must visit.
---
Looking To Book An International Holiday?
Book memorable holidays on TravelTriangle with 650+ verified travel agents for 65+ domestic and international destinations.
---