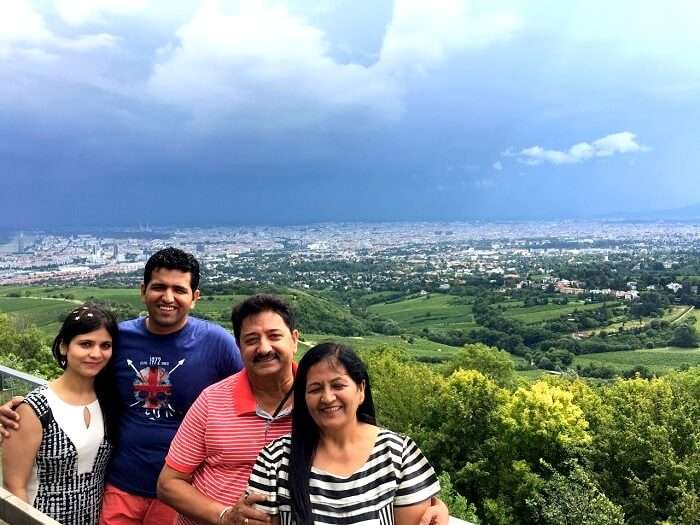 Kaushic flips the pages of his travel diary to recall his marvellous time in Europe. Read the intriguing account of a family as they traveled to Austria, Hungary, Czech Republic and Slovakia to quench their wanderlust. They took a package from TravelTriangle costing INR 184000 which included their accommodation, breakfast, transfers and sightseeing
Being a frequent traveler, I wanted to visit the lesser known places of Eastern Europe. Initially, I had planned to book a trip to Venice by myself however after doing some research on Google, I landed on the TravelTraingle page. Finding their customization option better and hassle free, I ditched my previous plan and approached them for a personalized package. 
I submitted a query on their website and was soon contacted by a representative from the company. She understood my travel needs and further connected me to various travel agents for the best package. I received multiple quotes from different travel agents, out of which I selected the most competitive price quoted by 'Duniya Safari' Travel Agency and was soon sorted on our Europe Family Tour Package. 
Our family trip to Europe was ready to take flight. Excitement was running high in the family and we were looking forward to a wonderful trip and some amazing memories. 
Day 1: Arriving in Vienna
We boarded our flight from New Delhi, to arrive in Vienna later that evening. Upon our arrival, the taxi guy was present to receive and drive us to the hotel.
We checked into the hotel and settled in for the evening. Our remaining time was spent resting and recovering from the jet lag and tiredness of the journey. 
Day 2&3: Exploring the aristocratic Vienna
The day began with an early morning breakfast post which we boarded an open-top bus for the Vienna city tour. Our first stop was the famous monument – Schonbrunn Palace and exploring this place was a wonderful experience. 
Back on the road, we enjoyed the panoramic view of the city from the bus as we moved across its cobblestone streets and classical roman architecture. After visiting some more prominent monuments along the Ringstrasse, we ended the tour at the Prater amusement park.
The amusement park was incredible. We took the Ferris wheel ride and saw a gorgeous view of Vienna city from the top. Later in the evening, we decided to try some local cuisine in a restaurant.
The next day, we had nothing planned on the itinerary. So I went ahead and booked a tour of the Donauinsel Island near Vienna. The small man-made island is a big attraction for the tourists visiting Vienna.
Day 4: To Prague via train
Suggested Read: DO NOT Leave For Europe Without Packing These 8 Things
Post breakfast, we checked out of Vienna to move to our next destination – Prague. It was a train journey and we loved the views that we saw on the way. 
We reached Prague in the afternoon. After arriving we took a taxi to the hotel and checked in. A little later in the evening, we decided to go out and explore the streets of Prague on our own. As we walked the streets of Prague, we stopped by a restaurant with an outside seating to have dinner. This was a nice dining experience and we loved the ambience that the city had on offer. 
Day 5&6: Falling in love with Prague and Skydiving
We got up early that day to begin our Prague tour. The weather for the first time during this trip was a bit cold.
The city tour began with a charming cruise on the river Vltava. After the river cruise, we move on to the bus, to enjoy a two-hour city tour covering all the major monuments.
Finally, we deboarded at the romantic and iconic Charles Bridge in the evening. The charm of the bridge was further multiplied during this time when the perfectly illuminated ambience complimented the beautiful Vltava river.
The next day for us was marked as leisure. But on this trip, a word like leisure didn't exist in my dictionary at least. I decided to utilize this day with a thrilling sky diving experience and it was one of the best adventures I had ever had in my lifetime! A major 'things-to-do' item was ticked off my bucket list leaving an incredible mark on my life. 
Day 7: Bon Voyage to Bratislava
The next morning, we checked out of Prague and headed towards Bratislava via train. After a short train ride, we arrived in Bratislava and quickly checked in to our hotel.
Without any further delay, we began with the city tour. The tour started with a trip to the Bratislava Palace followed by the Bratislava Castle. Afterwards, we proceeded towards seeing other famous buildings and monuments in the city.
In the evening, we explored the lively and vibrant marketplace of Bratislava where we did some shopping and had dinner. The overall ambience of Bratislava was very nice and cheerful and we loved every bit of time that we spent here.
Day 8: Budapest Beckons
Suggested Read: Romance, Luxury, Comfort and Beauty, Her 8 Day Trip To Europe Had It All
After breakfast, we checked out of Bratislava and moved towards our next destination. We boarded a train to Budapest and arrived there in the afternoon.
We checked into the hotel in Budapest and immediately proceeded for lunch at a local cafe. As we had some sunlight hours left, we decided to explore the streets of Budapest on foot.
Later on, as it turned dark, we decided to explore the happening nightlife in Budapest which was once again a very lively experience. 
Day 9&10: Budapest Sightseeing
Post breakfast, we began with the sightseeing tour of Budapest. As the city is divided into two major parts, Buda and Pest, the tour covered the Buda part of the city.
The first stop was the Parliament, followed by Gellert Hill. From here, we could see the entire Budapest city which looked like a dream from afar. Afterwards, we visited the Heroes' Square and Andrassy Avenue.With that, the city tour ended late in the afternoon and we headed back to the hotel.
The final day in Budapest for us was a leisure day. This again gave me a chance to use my exploring skills and wander out to places less travelled.
Hence, we visited the town of Szentendre. A small, yet beautiful riverside town near Budapest. Due to the ease of accessibility, this place was a hit with local tourists. Upon arriving there and roaming around for a bit, it wasn't hard to guess why.
After spending time cycling around the scenic town, we decided to move back to the hotel in Budapest in the evening. Our European adventure was about to end the next day.
Day 11: Return to Vienna and fly back home
Suggested Read: 15 Experiences Not To Miss On Your Euro Trip
We checked out of Budapest early morning and proceeded back to Vienna via train to catch our flight. We arrived at the Vienna airport in the afternoon, to catch our flight back to New Delhi.
Exploring so many countries, witnessing different cultures, tasting various cuisines, and visiting iconic cities made my family trip to Europe one step short of a dream. It took a while for me to let the feeling of seeing so many amazing places in 10 days sink in but when it did, it was hard to let go of so many fond memories that we made. 
It was a blessing for me to witness the beauty of Europe in the company of my loved ones.  And for this,  I thank my God and also EUROPE! 
High Points:
Skydiving in Prague is something I can never forget.

Our short yet memorable stay in Bratislava
Low Points:
Would have liked to stay a night extra in Bratislava
Tips for Travelers :
Do not go for any local currency exchange center, you could be cheated.
  Want to embark on your own family adventure? Book your package to Europe NOW!
---
Looking To Book An International Holiday?
Book memorable holidays on TravelTriangle with 650+ verified travel agents for 65+ domestic and international destinations.
---