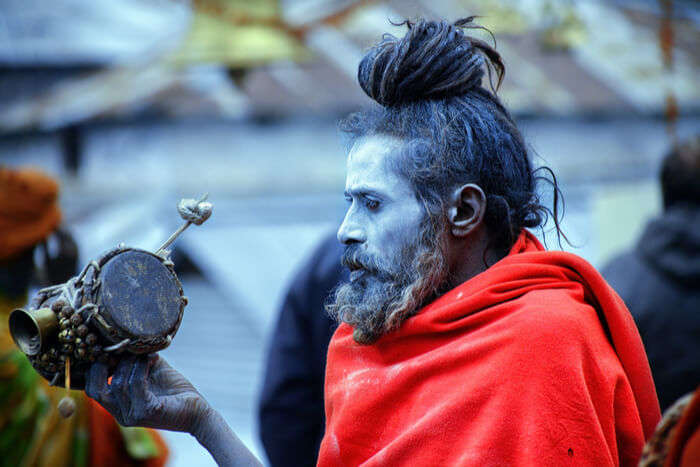 Celebrated 4 times over a time span of 12 years, Kumbh Mela in India is nothing less than a festival itself. Pilgrims and believers of Hindu religion attend this famous occasion which marks a significant period as per the Hindu calendar too. Sadhus, Naga Sadhus and hermits mark the beginning of this renowned fair with their entrance on horses and elephants as they come in groups of many alike. Even tourists traveling to India from abroad can be spotted enjoying the festive and holy vibes at the site.
As the Kumbh Mela 2019 approaches soon, you would definitely not want to miss out on the main features, highlights and essential information about it. So, scroll down to know what all awaits you this year!
About Kumbh Mela 2019

Whether you're traveling for the first time to India or are simply planning to visit this glorious fair in Ujjain, knowing all about it beforehand will surely help you have a smooth journey along the several days that this fair is known to be for. Not to forget, this auspicious mela will be there for 55 days and has a great mythological as well as social importance. Besides the main occasion involved in this fair, of bathing in the the divine confluence of the three significant rivers, that is, Ganga, Yamuna and Sarasvati, there are several other things to do and see at this site.
One can surely visit this site to witness the spectacular yajnas taking place involving vedic mantras and chants related to Hindu mythology. A main important aspect of this fair besides, coming together of millions of folks from all walks of life from within and outside the country, is the donation of several things including clothing, food and precious gems to the poor, to the saints and the cows. Well, a warm and happy vibe is waiting for you in this festive fair, which needs no advertising of any kind.
Maha Kumbh Mela 2019 Dates: 14 Jan to 4 March
Kumbh Mela 2019 Duration: 55 Days
Major Highlights Of Kumbh Mela 2019

Being a major ritual, the bathing ritual at Kumbh Mela has an importance of its own and several pilgrims and people belonging to this faith join together for this prime reason itself. So, here's a quick catch-up with the Kumbh Mela 2019 schedule that this auspicious bathing becomes even more special as per the religion beliefs.
15 Jan: Makar Sakranti
21 Jan: Paush Purnima
4 Feb: Mauni Amvasya
10 Feb: Basant Panchami
19 Feb: Maghi Purnima
4 Mar: Mahashivratri
Best Things To Do In Kumbh Mela
The opening of this major festive fair is marked by Peshvai or Praveshai, where people are welcomed from all over the world, marking the beginning of the auspicious mela. In the beginning itself, the saints arrive here in huge groups and a procession is carried on in honour of this occasion. Take a look at some of the events and things you can do at this site.
1. Cultural Events

Witnessing the rich culture and heritage that our country possesses, people from all over India visit this renowned fair which will consist of 5 main pandalas of series of several events. You will get to see some spectacular musical performance along with some traditional folk dances on a regular basis from January 2019. If you wish to have a spiritual experience here at the site, make sure you visit the Pravachan pandal where certain events of the like will take place.
Must Read: Pushkar Mela 2022: Everything You Need To Know About The Most Gorgeous Fair In India!
2. Tourist Walks

Organised by the government, tourist walks have a unique significance as they let you explore the various parts of a region including the renowned temples and forts. In the Sangam walk, arranged for the tourists visiting Allahabad, you will get an opportunity to visit Bade Hanumanji Temple, Patalpuri Mandir, Akshya Vat, Allahabad fort, and Ram Ghat. As tempting as it may sound to the traveler in you, another option of the Prayagraj Walk also remains to attract the visitors from across the country, which includes Allahabad Museum, Public Library and Swaraj Bhawan in the tour.
3. Waterways

Indulging in a serene water boat or ferry experience is surely something you can try to soothe your soul at this pilgrim occasion. As organised by the Inland Waterways Authority Of India, you can take a ferry ride close to the Sangam Ghat in the Yamuna river. Starting from Sujawan Ghat, moving towards the Boat Club Ghat, this ferry ride will end at Kila Ghat. This is surely one of those things that let you soak in the blissful vibes of the place around while you get to witness many sites on these ghats.
Suggested Read: 4 Best Tourist Circuits In Madhya Pradesh
4. Laser Light Show

Among various other things to see and do around the festive fair, this laser light show has been organized by the government this year for all the visitors to experience a unique laser and sound theme at this site. What's more is that this is one of a kind and is surely going to be an amazing experience at a place like this. If you're looking for a different experience than the one you've had here before, try this show and make sure you book well in advance to avoid any hassle later on.
5. Thematic Gates

In order to be able to navigate your way through this giant fair, and to enhance the aesthetic appeal of this glorious fair, government has also instilled several thematic gates, that you shouldn't miss while you're out and about in this place. These gates are known to have been strategically placed and with every gate having a unique identity, you're surely be amazed at these cultural creations installed this year. It is also made sure that such gates can be reused after this year's fair.
Suggested Read: 10 Festivals In June That'll Make Your Summer Chill
Accommodations Around And At Kumbh Mela
With so many options to choose from, in and around this mela, you'll be spoilt for choice. The best way to decide is to keep in mind the budget and experience that you wish to have.
1. Tents

The Kumbh Mela organizers have provided several tent accommodation options at the site itself and you may not worry about traveling from a far off place to visit the mela. You can choose from Kalpa Vriksh, Kumbh Canvas, Vedic Tent City and Indraprastham city which have all the basic amenities including a well appointed tent and washrooms.
Tariff: Starting from INR 2500 onwards excluding the meals
2. 3-Star Hotels

If your budget is not very high and you don't wish to stay in a tent, this is the best you can opt for. Be it a one night stay or a week long visit to this renowned place, some of the best options include Hotel Kshipra Dham and OYO rooms nearby. These also come with basic facilities but will also allow you for some privacy and a space of your own. You can also choose better hotel options with packages starting from INR 5,500 for a one night stay in the Allahabad city.
Tariff: Starting from INR 1500 onwards
Suggested Read: 15 Tourist Places Near Haridwar That Will Leave You Enchanted Forever!
3. 4-Star Hotels

Even though the tents in themselves will provide you a luxury experience with some of them located in a way to provide 3D views of the site, if you're opting for a 4 star hotel you can surely book one in Allahabad while planning your next visit to Kumbh Mela in 2019. The Legend in Allahabad offers a decent 4 star accommodation, along with free Wifi, shared lounge and a garden on the property. They also provide car-rental services if you wish to opt for one.
Tariff: Starting from INR 7029 onwards
How To Reach Kumbh Mela
The nearest city to Kumbh Mela that is well connected to all major cities in India, is Allahabad in Uttar Pradesh. So, scroll down to know what are your options to reach this famous fair this year!
By Air

The Allahabad domestic airport is operational only for the domestic flights, connecting to a very limited number of cities in the country. The other airports, namely Lal Bahadur Shastri Airport in Varanasi and Amausi International Airport in Lucknow are better options as they connect the major cities across India. However, you will have to take a cab from the airport to reach the Kumbh Mela as there is not direct flight to the destination.
Suggested Read: 36 Famous Festivals Of India To Bring Your Life Into A State Of Exuberance
By Train

While there are 10 main railway stations connecting Allahabad to the main cities of India, including Delhi, Mumbai, Chennai and Kolkata, one can surely select the best train option for a smooth journey till Allahabad city. These railway options include, Allahabad Chheoki, Naini Junction, Allahabad Junction and Prayag Junction. During this festive occasion, temporary railway stations are made available to facilitate pilgrims to reach the final destination conveniently.
By Road

Allahabad is the central point connecting major highways and national ones to reach Ujjain. Some of the routes you can take include NH2 running across the city and NH27 leading to Mangawan in Madhya Pradesh. While NH96 and NH28 connects two major cities of Allahabad and Ayodhya, you can also opt for tourism buses or interstate buses.
Further Read: 39 Super Fun Places In Delhi That Prove It Is The Happiest Metro In India
Now that you know what to explore here, why not plan your next pilgrimage soon? Get your bags packed and plan a trip to Allahabad with your friends and family and get a chance to visit even the famous sites like the museums, forts and more in the city!
People Also Read