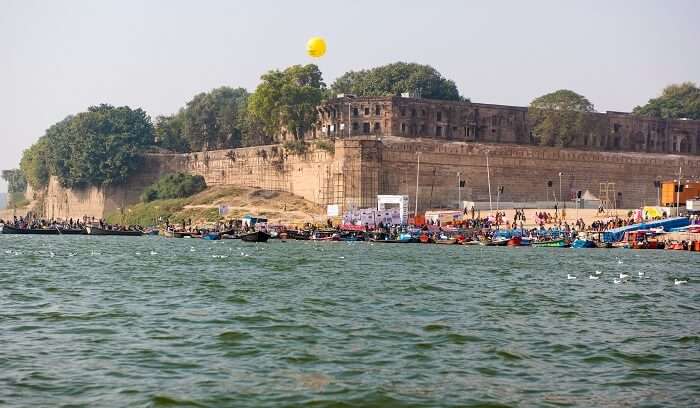 Allahabad, now named Prayagraj, is known as the city of offerings and is one of the most religious cities in India. It is the largest city of Uttar Pradesh and is famous for being enveloped in a past that boasts of history and mythology like no other.
The city is known for various reasons, one of them being the point of confluence of three rivers – Ganga, Yamuna, and Saraswati. From Kumbh Mela to Allahabad Fort, from historical marvels to splendid architecture; there are a lot of places to visit in Allahabad which will keep you engulfed.
10 Places To Visit In Allahabad
Allahabad or Prayagraj offers some great places for the tourists who visit this place from around the world. Let's take a look at some of the places to visit in Allahabad.
1. Triveni Sangam

Triveni Sangam is one of the holiest places not only in Allahabad, but also Central India. It is located at a distance of 7 kms from Civil Lines in Allahabad and is the point of confluence for three rivers – Ganga, Yamuna, and Saraswati. Triveni Sangam is the place where Kumbh Mela is organised once every 12 years. The rivers Ganga, Yamuna, and Saraswati are of great religious importance in the Hindu mythology and hence the point of confluence is of great religious importance too. It is believed that taking a bath in Triveni Sangam will wash away your sins and free you from the cycle of rebirth. It is one of the most beautiful places to see in Allahabad
Must Read: Longest Rivers In India: Know About The Important Water Bodies Of The Country In 2022!
2. Khusro Bagh

Khusro Bagh is one of the most famous places to visit in Prayagraj and attracts a large number of tourists. Located in Lukarganj, this bagh and its walls and brackets are a reminder of beautiful Mughal architecture. The bagh houses three tombs of the Jehangir family; Shah Begum; his wife, his daughter and son; Sultan Nithar Begum and Khusrau Mirza respectively. Major of the bagh and its surroundings was designed by Aqa Reze – an artist in the court of Jehangir. The intricate carvings, beautiful inscriptions on each mausoleums, and mesmerizing gardens filled with roses and Guava trees make this one of the must-visit tourist places in Prayagraj
Suggested Read: Allahabad Fort: A Handy Guide To The Marvellous Fort In Prayagraj
3. Anand Bhawan

Anand Bhawan, now a museum, was once the residence of the Nehru family. This museum now houses artefacts and articles of the India's Independence Movement in India. This mansion (now museum) is double-storied and was designed personally by Motilal Nehru. The house is adorned with beautiful furniture and items that were imported from China and Europe. The house is also filled with various artefacts from all over the world. It is one of the places to see in Allahabad.
Suggested Read: 23 Places To Visit Near Varanasi That You Cannot Miss Out On In 2022!
4. Allahabad Museum

Allahabad museum is situated inside the famous Chandrashekhar Azad Park and is touted as one of the national-level museums in India. The museum is famous for providing an insight into the history, culture, and heritage of India. It also houses some amazing artefacts that are related to art, history, archeology, literature, and environment that helped shape the independence movement of India. Rock sculptures, miniature paintings from Rajasthan, terracotta from Kaushambi, literary and artwork from Bengal School of Art are some of the main highlights of the Allahabad Museum. Allahabad museum is one of the best places to visit in Allahabad and is a treasure chest filled with the jewels of Indian history.
Suggested Read: 39 Places To Visit In Varanasi In 2022 For The Best Of Culture, History, And Spirituality!
5. Allahabad Fort

Allahabad Fort was built in the year 1583 by the Mughal Emperor, Akbar and is nothing less than an architecture marvel. This splendid piece of architecture is standing at the banks of the confluence of River Yamuna and River Ganga and is known as the largest fort that was ever built by Akbar. This fort is one of the most famous tourist places in Prayagraj and attracts a large number of tourists from around the world owing to its historical significance and its magnificent architecture. While the access inside the fort is not allowed, the glorious architecture and the humongous size of the monument overlooking the confluence of two rivers is a nothing less than mesmerizing.
Suggested Read: 15 Best Places Of Indian Cultural Heritage You Must-Visit In 2022!
6. Allahabad Pillar

Allahabad Pillar is a famous place in Allahabad that is a remnant of the Gupta era. The pillar is one of the many pillars that were set up by Ashoka – the Mauryan Emperor. The sandstone spires are polished and you will find inscriptions on the pillars from the Samudragupta (4th BCE) and Jahangir era (17th Century). The Allahabad pillar was, however, shifted from its origin to Allahabad Fort of Akbar; now an army land. Therefore, to visit the Allahabad Pillar one will require prior permission. If you are looking for Allahabad sightseeing places, this place should not be missed.
Suggested Read: 18 Beautiful Train Journeys In India In 2022 That Will Compel You For A Ride!
7. All Saints Cathedral

All Saints Cathedral, one of the Prayagraj tourist places, is a Anglican Christian Church which was built during the late 19th Century. It is also known as Patthar Girja and is one of the most beautiful churches in the state. Not only does it attract pilgrims on a regular basis, but it also attracts a large number of tourists from all over the world. The church, which is also locally known as "Church of Stone" was founded in 1871 by Lady Muir Elizabeth Huntly Wemyss. The construction of the church was completed in the year 1891, post the consecration of the church in 1887.
8. New Yamuna Bridge

New Yamuna Bridge is a cable-stayed bridge that was built in the year 2004 over river Yamuna to minimise the traffic flow on the old Naini Bridge in Allahabad. The New Yamuna Bridge is also known as the Naini Bridge and it runs from northern to southern Allahabad and connects it to Naina. The bridge is supported by cables and runs over 1510 meters in length. It is a 6-lane bridge that boasts of modern structure and design. The bridge should be visited during the dusk if you want a sweeping view of the city and the Triveni Sangam.
Suggested Read: 43 Famous Historical Places In India To Visit In 2022
9. Jawahar Planetarium

Jawahar Planetarium was a former home of the Gandhi-Nehru family and was built in 1979 and is situated besides the Anand Bhavan in Allenganj Area of Allahabad. The planetarium now hosts space and celestial shows and can seat 80 people. The planetarium also airs documentaries based on our galaxy and other life in space as well. In this planetarium you can measure your body weight on the Moon and other planets such as Jupiter and Saturn.
Suggested Read: These 10 Richest Cities In India Showcase A Modern World Charm In 2022!
10. Minto Park

Minto Park is one of the best places to visit in Allahabad and is constructed along the banks of river Yamuna in Allahabad. It is a lush green park and was previously known as Madan Mohan Malviya Park. The highlight of the park are the four lion sculptures in white stone that were established by the Earl of Minto in 1910. The Minto Park was the place where India was declared as a shifted colony from the East India Company to the British.
Further Read: 17 Solo Female Travel Destinations In India: Girls, Start Making Your Travel Plans For 2022!
This gorgeous city never ceases to amaze the tourists, pilgrims, and devotees. The treasures filled around every nook and corner of the city are evidence of ancient happenings, marvellous architecture, and how India shaped as a free country. Take a trip to Allahabad today and explore this city and the places it offers.
Disclaimer: TravelTriangle claims no credit for images featured on our blog site unless otherwise noted. All visual content is copyrighted to its respectful owners. We try to link back to original sources whenever possible. If you own the rights to any of the images, and do not wish them to appear on TravelTriangle, please contact us and they will be promptly removed. We believe in providing proper attribution to the original author, artist or photographer.
Frequently Asked Questions about Places to Visit in Allahabad
What are the top attractions to visit in Allahabad?
Here are some attractions in Allahabad that you must visit:
1. Triveni Sangam
2. Khusro Bagh
3. Anand Bhawan
4. Allahabad Fort
5. Allahabad Museum
6. Allahabad Pillar
7. All Saints Cathedral
8. New Yamuna Bridge
What are the most popular things to do in Allahabad with children?
1. Feel the serenity at Triveni Sangam
2. Explore Anand Bhavan
3. Witness history at Khusro Bagh
4. Haven fun at Nandan Kanan Water Retreat
Can I visit Allahabad during the current Covid situation?
Yes, you can plan a visit to Allahabad during the current Covid situation. However, make sure that you are completely vaccinated and always carry your vaccination certificate. Besides this, you need to follow government protocols that include wearing a mask when in public, sanitizing hands at certain intervals, and maintaining social distance.
Which sweet is famous in Allahabad?
There are several sweet dishes or desserts that are famous in Alhahabad. Some of these include motichoor laddu, kali gazar ka halwa, gond ka peda, sonth ka laddu, sohan papdi, sohan halwa, gulab jamun, and more.
What is Allahabad famous for?
Allahabad is famous for its Kumbh Mela that is organised once every 12 years. It is also famous for Triveni Sangam - the point where Yamuna, Ganga, and Saraswati rivers meet.
What should one buy from Allahabad?
Being a city with high religious significance, some of the things that can be bought from here are Sandalwood, incense sticks, beads, vermillion, and camphor. Various religious books can also be bought.
What is the famous food of Allahabad?
Some of the famous food items of Allahabad are Kachori Sabzi, Biryani, Lassi, Gulab Jamuns, Masala Churmura
How many days are enough for exploring Allahabad?
If you want to witness the best of Allahabad, you must plan a trip of 2-3 days.
People Also Read:
Places to visit in Kufri Places to visit in West Bengal Places to visit in Chandigarh