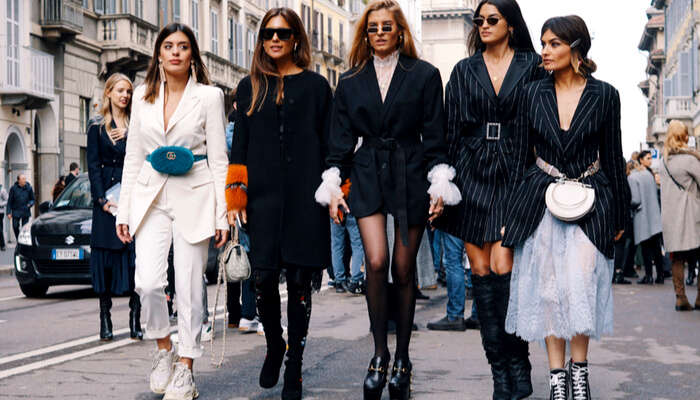 Runways are set. Rehearsals are at a full swing. Outfits are fitting. Mark your September calendars for the most-awaited fashion week is all set for its next season and how! One of the hottest 'Big Four' events in the fashion industry, this London Fashion Week festival is going to be all about the upcoming hair trends, make-up looks, and dazzling clothes for the fall/winter 2020. Exhibiting the adventurous and most innovative work of both the renowned and emerging names of the industry, the second season of London Fashion Week 2019 has all the fashion enthusiasts waiting with bated breath.
The names as heritage as Burberry sharing the stage with the names as contemporary as Supriya Lele is something that consistently keeps the world's eye spectating the fashion scene of London. More than 80 designers, over a hundred brands, thousands of audiences, and the extravagant after-parties have led this event to earn a top rank in the fashion world. Take the front row seats of the public shows and witness the famous models hitting the ramp up close to find answers to your 'how-to' and 'what to buy' questions. Glance through this London Fashion Week 2019 schedule and get ready to be a part of something extremely grand!
Details About London Fashion Week 2019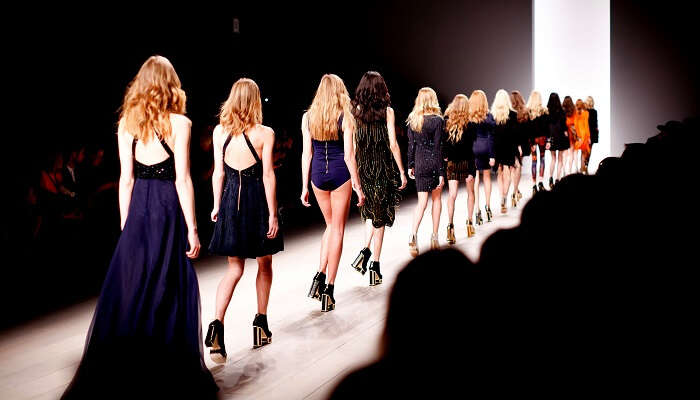 Image Courtesy: goodfreephotos
Here is a list of a few important details that one certainly needs to keep in mind when planning to head to London Fashion Week.
Event Name
London Fashion Week Fall/Winter 2020
Dates For The LFW Private Event
Find below the starting and ending London Fashion Week dates:
Start Date- 13th September, Friday
End Date- 17th September, Tuesday
Dates And Timings For The LFW Public Show
14th September, Saturday | 10 AM to 12 PM
14th September, Saturday | 1 PM to 3 PM
14th September, Saturday | 4 PM to 6 PM
15th September, Sunday | 10 AM to 12 PM
15th September, Sunday | 12:30 PM to 2:30 PM
15th September, Sunday | 3 PM to 5 PM
Where
Venue for London Fashion Week Fall/Winter 2020:
BFC Show Space, The Store X, 180 Strand, London, WC2R 1EA
Tickets Cost
London Fashion Week 2019 tickets have two options of the seat for the general public- Standard and Front Row
Standard
Cost: £135 or INR 11,300
Inclusions: Access to catwalk show | Access to BFC Positive Fashion Exhibition & Talk | Complimentary Drink & LFW tote bag
Front Row
Cost: £245 or INR 20, 500
Inclusions: Access to catwalk show- front row seat and VIP lounge | Access to BFC Positive Fashion Exhibition & Talk (reserved seat at the front of the room) | Complimentary Drink & LFW tote bag with goodies
Website
Must Read: 10 Best Hostels In London For Holidaying In The Lavish City Like A Pro!

London Fashion Week 2019 Schedule
| | | |
| --- | --- | --- |
| Date | Day | Time |
| 14th September | Saturday | 10 AM to 12 PM |
| 14th September | Saturday | 1 PM to 3 PM |
| 14th September | Saturday | 4 PM to 6 PM |
| 15th September | Sunday | 10 AM to 12 PM |
| 15th September | Sunday | 12:30 PM to 2:30 PM |
| 15th September | Sunday | 3 PM to 5 PM |
London Fashion Week 2019 Designers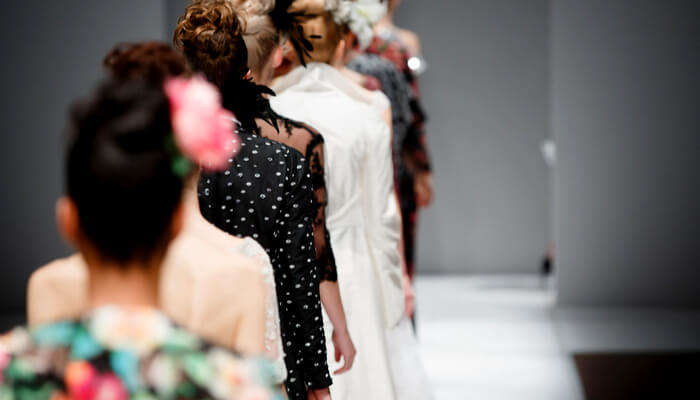 Scan through this list of a few of the famous London Fashion Week designers that will showcase their artwork on the ramp and make this already grand fashion event of 2019 even more ultra!
Famous LFW 2019 Designers:
Burberry
Ashley Williams
David Koma
Mark Fast
JW Anderson
Victoria Beckham
Christopher Kane
Emilia Wickstead
Marques Almeida
Suggested Read: 8 Cottages In London For Best Of Hospitality & Comfort

Facts About London Fashion Week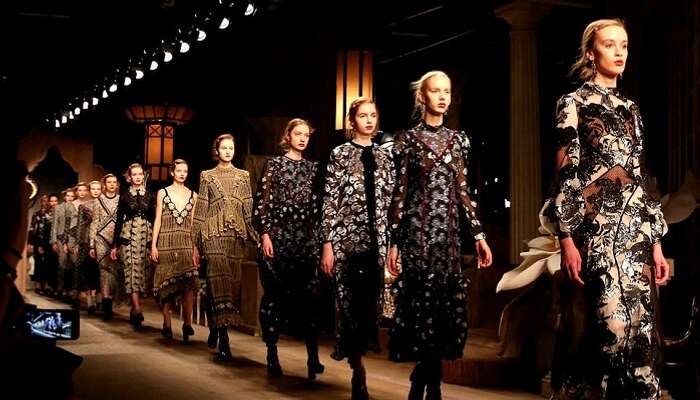 Image Courtesy: britishfashioncouncil
Organized by the British Fashion Council and the London Development Agency in association with The Department for Business, Energy and Industrial Strategy, the first-ever London Fashion Week event was held in October 1983.
Big brands like Mercedes, Nivea, Toni&Guy, The May Fair, and many more sponsors and fund this mega event of the fashion industry.
LFW earned its place on the list of hottest fashion weeks right next to Milan, New York, and Paris soon after Margret Thatcher attended the show in 1986.
In order to make sure that fashion enthusiasts get their hands on the original contemporary designs that walk through the ramp, the British Fashion Council now owns a fashion store that preserves the latest outfits and accessories.
The private event of the industry is attended by more than 5,000 press and buyers that will be followed by shows officially hosted for the general public on particular dates.
Suggested Read: Historical Tours In London 2019: An Encounter With The History And Culture Of This British City!
Where To Stay For London Fashion Week 2019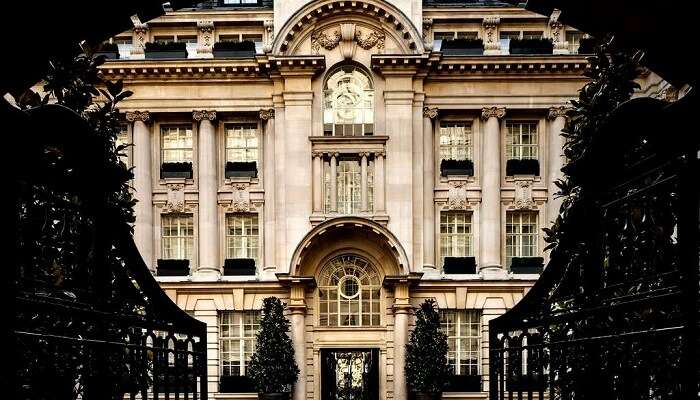 Image Courtesy: theluxuryeditor
With the city getting ready for one of the mega fashion events, there is no dearth of accommodation for the travelers attending this event. From luxurious five star hotels offering an ample amount of facilities and services to the budget hotels catering to tourists traveling with light pockets, the venue of London Fashion Week is surrounded by an extensive number of comfortable and convenient stays. Bed and breakfasts, hostels, resorts, Airbnbs, and homestays are also a few options offered to the tourists. Since September is peak season with flocks of tourists traveling to London to soak in the summer sun, attendees of the Fashion Week are suggested to make their reservations at the preferred hotels beforehand.
Suggested Read: 10 Best Day Trips From London To Explore This Extravagant Capital City In England!

How To Reach London Fashion Week 2019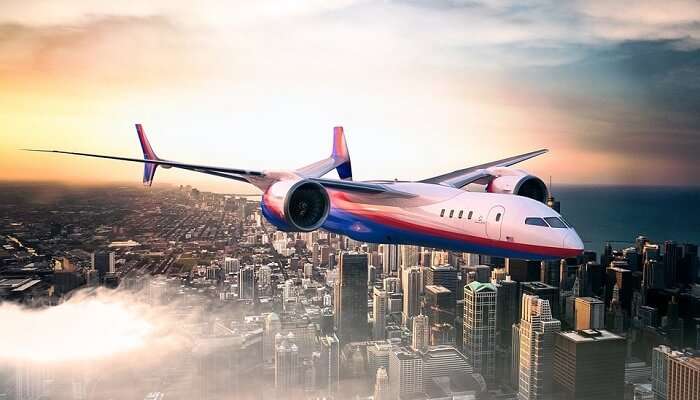 Being one of the most appealing and popular destinations amongst the traveling crowds, the fashion capital of the United Kingdom is not at all difficult to reach. One can make it to the event without any hassles. The largest city of England, London is extremely well-connected with the rest of the major parts of the world. Housing an international airport namely London Heathrow Airport, airways are the fastest mode of travel to reach London.
By Air
London is home to 5 airports out of which three important ones include Heathrow, Gatwick, and Stansted. The most important airport that connects London city with the major cities worldwide is London Heathrow Airport. Over a hundred international flights fly to and from this airport to various corners of the world. London is directly connected with the major cities of India. Direct flights flying from India to London are Air India, Jet Airways, British Airways, and Virgin Atlantic.
By Train
If one is traveling from neighboring cities such as Paris, Amsterdam, Brussels, Berlin, and others in Europe, London offers train services that are linked well with the surrounding cities. London is a hub of the British Rail Network which makes traveling to London much easier and convenient. One can make use of private or public vehicles and cover the pending distance by road without any hassles.
By Road
Offering an excellent and extremely beautiful road network, London is linked to other cities of the country well enough. With paths passing through the villages, traveling by road to London allow travelers to witness the beauty of English countrysides. London also offers bus services that connect the city with domestic and international destinations both. For tourists traveling on a budget, opting for bus proves to be the best option.
Further Read: Monsoon In London: A Guide To Explore This Beautiful City While It Rains!

Calling out to all the fashion enthusiasts for London Fashion Week, the capital city of England is ready to host the most significant event of the fashion industry. With renowned names in the industry being right in front, the paparazzi going crazy, buyers selecting their choice of clothing, and the upcoming fashion trends being displayed, this event is one of the must-try experiences at least once in a lifetime. So, without any further ado, spend some money on the LFW tickets without feeling guilty and plan your fashion escape to London now!
Frequently Asked Questions About London Fashion Week
Q. Who runs London Fashion Week?
A. The British Fashion Council (BFC) for the London Development Agency runs London Fashion Week with help from the Department for Business, Innovation and Skills.
Q. How many times a year is Fashion Week?
A. Fashion Weeks are held twice a year, usually in February and September, to showcase the spring and winter collections.
Q. When was the first London Fashion Week?
A. The first London Fashion Week was started in 1984.
Q. Who started Paris Fashion Week?
A. Charles Frederick Worth started Paris Fashion Week.
People Also Read:
Miss World 2019 Day Of The Dead Pro kabaddi League 2019 Schedule
Comments
comments