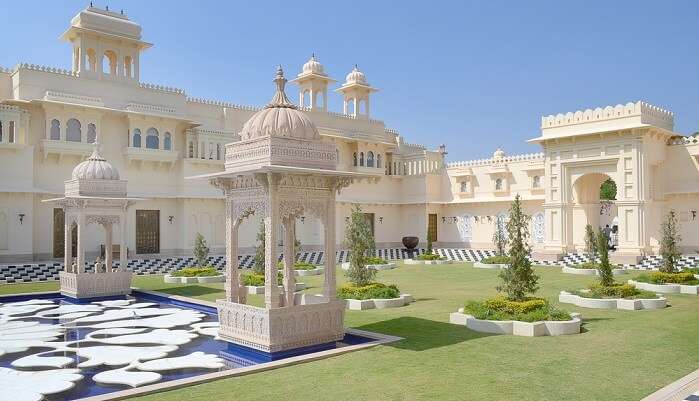 In the post-Covid times, travel is serving as a refreshing rescue for people all across the world. Earlier, there were more demands for getaways, budget trips, pocket-friendly escapes, etc. However, the table has turned today, and there is a significant rise in luxury holidays. Now travelers are more interested in luxurious trips that ensure a safer ambiance and bring a spree of relaxation to bounce back with a positive approach in day-to-day life. A holiday that comes up with massive rooms and comfy beds, expensive fixtures, and splendors at every step. If you are looking for the best luxury resorts in India to rejuvenate yourself with palatial facilities, then here are the best escapes for you!
Top 6 Luxury Resorts In India
Whether you are planning a romantic getaway with your significant other or interested in a luxuriating holiday with family and friends, the following are the best luxury resorts in India:
1. The Oberoi Udaivilas – Udaipur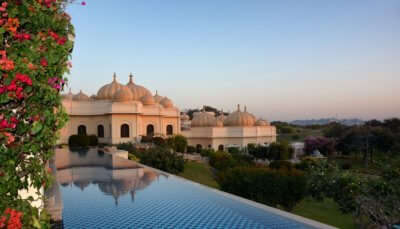 The charming City of Lakes, Udaipur, once served to be the capital of the Kingdom of Mewar and glitters magnificently with its enormous palaces & forts, temples & museums, verdant gardens, and unending grandeurs. Oberoi Udaivilas is the epitome of marvelous architecture where opulence and luxury drizzle through its gorgeously designed megastructure. The property stretches across 30 acres of sprawling landscapes. Located on the banks of Lake Pichola, the complex layout of corridors and domes reflects the design of Udaipur city that has seven lakes linked via canals.
Location: Badi-Gorela-Mulla Talai Rd, Haridas Ji Ki Magri, Pichola, Udaipur, Rajasthan 313001
Price per night: INR 37,000 onwards
Website | Review
15 Spectacular Resorts Near Udaipur For A Refreshing Getaway
2. Amanbagh – Ajabgarh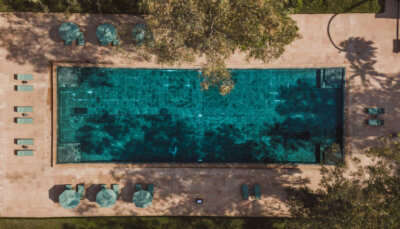 The palace formerly resided by the Maharaja of Alwar during hunting expeditions is today known as the Amanbagh. Called the pride of the Aravallis, the property hosts outstanding vacations for those seeking luxury amid impeccable surroundings of nature. This modern-day Mughal palace replicates the golden age of Indian history. The stylish domed ceilings, luxuriating suites, and sophisticated pavilions with a private terrace or courtyard make your holiday an unforgettable memory to embrace over the years to come. Amanbagh is undoubtedly one of the best luxury resorts in India to experience seclusion with elegance.
Location: Ajabgarh Forest Range
Price per night: INR 83,000 onwards
Website | Review
3. The Oberoi Amarvilas – Agra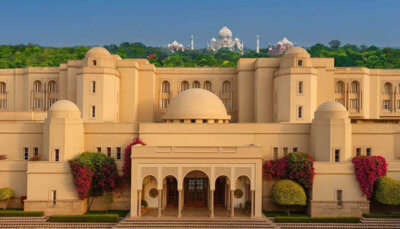 The proud home of the Taj is known for featuring luxurious abodes for travelers from across the world. Agra is amongst the most visited places in India, and features three prominent UNESCO World Heritage Sites – Taj Mahal, Agra Fort, and Fatehpur Sikri. The Oberoi Amarvilas is nearly 600 meters from the Taj Mahal and offers a perfect ambiance to rekindle the romance. The property shows the prominence of Mughal architecture and features synchronized fountains, reflection pools, terraced lawns, and pavilions. Extravagant epicurean delights, marvelous surroundings, sumptuous rooms, and suites make Amarvilas an experience for a lifetime.
Location: Taj East Gate Rd, Paktola, Tajganj, Agra, Uttar Pradesh 282001
Price per night: INR 28,000 onwards
Website | Review
20 Places To Visit In Agra: Explore the City Beyond Taj Mahal In 2022
4. Taj Lake Palace – Udaipur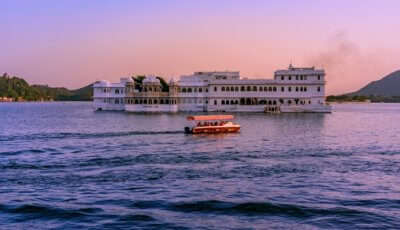 Maharana Jagat Singh commissioned his pleasure palace on Lake Pichola in 1746. Earlier known as Jag Niwas, today's marvelous Taj Lake Palace is one of the most popular luxury hotels in India. It is located on an island amid Lake Pichola, and its magnificent architecture gained world fame with the James Bond movie, Octopussy. The property has 65 luxurious rooms and 18 suites, each ordering breathtaking views of the neighboring places, especially the City Palace, Machala Magra Hills, Jag Mandir, and Aravallis. You can indulge in serene boating with a barbeque experience during sunsets.
Location: Pichola, Udaipur, Rajasthan 313001
Price per night: INR 35,000 onwards
Website | Review
5. Taj Falaknuma Palace – Hyderabad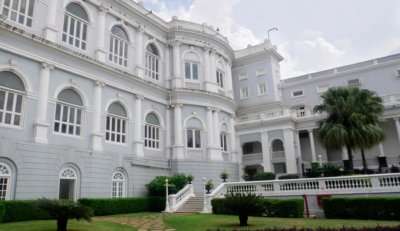 Taj Falaknuma, the jewel amongst the clouds, is perched at 2,000 feet above Hyderabad city. The palace was once the residence of the former Nizam, who was famed to be the richest man of his times. The property overlooks the glistening city of pearl and is an unmatchable representation of royal architecture, and elegance will make you fall in love with the place. You arrive here on a horse-drawn carriage, and every step features extravagant splendors that would last in your memory. They host a scrumptious gastronomic ride where you can savor Indian as well as multi-cuisine recipes. There are countless reasons that make Taj Falaknuma Palace one of the best luxury resorts in India.
Location: Engine Bowli, Falaknuma, Hyderabad, Telangana 500053
Price per night: INR 30,000 onwards
Website | Review
55 Fascinating Places To Visit In Hyderabad In 2021 To Witness The Rich History And Glory
6. Ananda in the Himalayas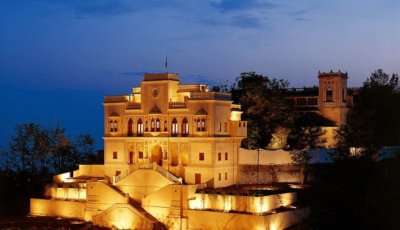 Ananda is another luxurious experience that revives the soul amid the majestic Himalayas. Along with an amalgamation of Ayurveda, yoga, and meditation, the property ensures a rejuvenating encounter while harmonizing energies through a holistic approach. Surrounded by never-ending forests, Ananda in the Himalayas is an escapade for those who wish to revitalize themselves and prefer a break amid impeccable nature.
Location: The Palace Estate, Tehri – Garhwal,, Narendranagar 249175 India
Price per night: NA
Website | Review
Grab the best chance of pampering yourself at the luxury resorts in India with TravelTriangle and enjoy an enthralling vacation designed exclusively according to your preferences. A holiday always serves as the best break to rejuvenate your mind and soul, so why not do it in a king-style!
For our editorial codes of conduct and copyright disclaimer, please click here.
Frequently Asked Questions about the Luxury Resorts in India
Which is the most luxurious resort in India?
The following are amongst the most luxurious resorts in India:
1. Umaid Bhawan Palace, Jodhpur
2. Taj Falaknuma Palace, Hyderabad
3. Aman-i-khas, Ranthambore National Park
4. Taj Lake Palace, Udaipur
5. The Oberoi Amarvilas, Agra
Where can I go for a staycation in India?
The following properties are famous for staycations in India:
1. Wildflower Hall, Shimla
2. Jungle Retreat, Masinagudi
3. Vythiri Resort, Wayanad
4. The Tree House Resort, Chandwaji
5. ITC Grand Goa, Gia
6. The Park, Visakhapatnam
Is it safe to stay at the resorts during Covid times?
Make sure that the property you are visiting follows all the mandatory guidelines mentioned by the government for the safety of travelers. The property must follow proper hygiene standards and sanitation facilities to restrain the spread of virus. For your personal safety, follow social distancing and remain masked while stepping out.
Which is the most costly hotel in India?
The following are the top most expensive hotels in India:
1. Rambagh Palace in Jaipur
2. Taj Lake Palace in Udaipur
3. Kumarakom Lake Resort in Kumarakom
4. The Oberoi Amar Vilas in Agra
5. The Oberoi Rajvilas in Jaipur
6. Umaid Bhawan Palace in Jodhpur
Which is the highest hotel in the world?
The following are the highest hotels in the world - St. Regis Chicago (365 m), Gevora Hotel (356.3 m), JW Marriot Marquis (355 m), and Four Seasons Place (343 m).
People Also Read:
Resorts In Shimla Resorts In Lonavala Resorts In Cherrapunji