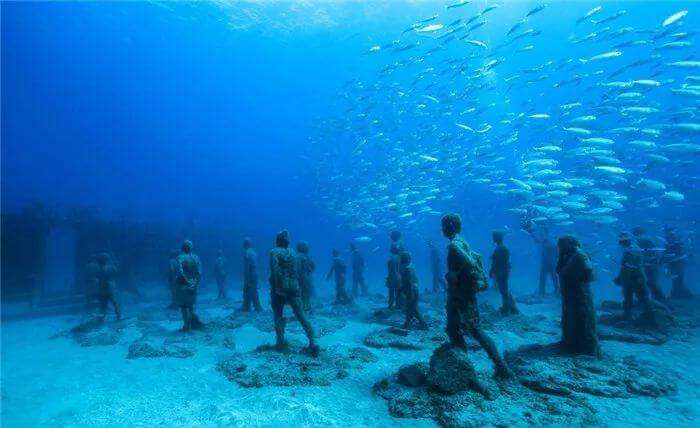 Maldives is raising the bar altogether, especially when it comes to experiential stays. The time is gone when water villas were a huge thing. Sirru Fen Fushi is the new resort in the country, featuring 120 villas, and most importantly an underwater sculpture park, called Sculpture Coralarium, for the divers to explore. This semi-submerged tidal gallery space is crafted by the famous sculptor, Jason deCaires Taylor.
Created as a gateway to the ocean, the sculpture gallery features hybrid sculptures – showcasing a blend of humans, corals, and plants. The tour to this underwater realm is guided and lead by Sirru Fen Fushi's resident biologists. These tours take place in different time slots throughout the day, but the group size is small.
Highlight Of The Resort

This surely is a major highlight of the resort, but there are several other activities to look forward too as well; such as sunset fishing, sunlight dolphin tour, local island experience, diving, snorkeling, castaway picnics, overnight cruises, destination dining, and coral restoration – just to name a few.
The resort has 12 types of villas on offer, each having its own distinctive quality. The in-house Willow Stream Spa is another paradise in Sirru Fen Fushi, where the therapies speak of Maldivian tradition and legacy.
Further Read: These New Nature Parks In Maldives Will Surely Make You Crave For A Holiday Right Now!
Surely, Sirru Fen Fushi sprinkles more charm to an already stunning escape to the Maldives. If you wish to experience divinity during your vacation to this country, browse through our Maldives tour packages.
People Also Read