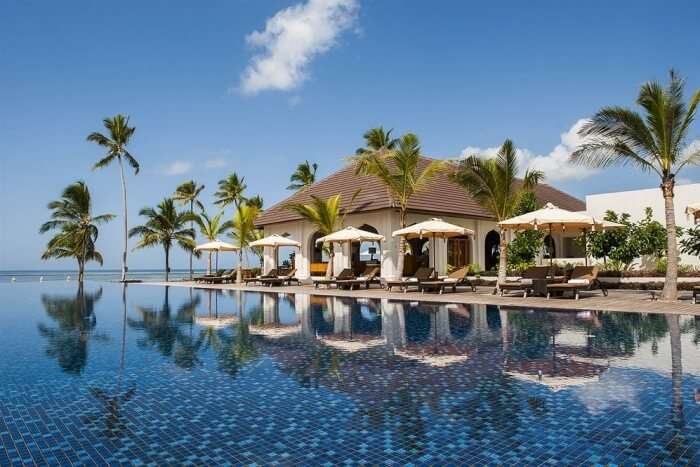 Overview
Worlds away from the bustle of nightclubs and souvenir shacks of the north and west, the east coast of Mauritius is blissfully untouched by mass tourism. It has its fair share of resorts, and these Mauritius East Coast resorts are truly an amazing treat for one's senses. Being more exclusive than the west coast, the resorts on the east coast are some of the most luxurious properties in the world. Draped with the finest materials and decorated in a manner that is elegant yet grand, these resorts can take their vacation on a level much higher than one would imagine.
Mauritius East Coast Resorts provide for their guests all the services one might need and go an extra mile to make sure that their holiday experience here is impeccable. Magnificent views of the Indian Ocean and the peaceful bliss of being one with nature can be had at any of these resorts. Polite and welcoming staff also goes a long way in making guests feel comfortable in any of these properties.
Special Experiences
Almost all the Mauritius East Coast Resorts are all about well-manicured gardens adjacent to white sandy beaches. As one steps inside these resorts, they are sure to be transported away from the beaches and water into a world that is dominated by amazing architecture, elegance, and world-class amenities. Whatever is the idea of an amazing vacation, these resorts have it all for everyone. With most of these resorts being right on the waterfront, water sports activities are somewhat of a norm in all luxury east coast resorts in Mauritius. Activities like diving, snorkeling and windsurfing are sure to get people pumped full of adrenaline while land-based activities like hiking and horse riding will surely calm them down. Anahita Golf & Spa Resort and Shangri-La's Le Touessrok Resort & Spa also provide Yoga Classes for their guests where one can say goodbye to any holiday stress they might be feeling.
Facilities
Mauritius East Coast Resorts pride themselves on their world-class services and facilities. With a well-trained staff and efficient methods, these resorts lay claim on customer satisfaction like few others. From libraries where travelers can sit by themselves to get away from the holiday mania and relaxing spa therapies to Golf courses and infinity pools, one can definitely find all that they need here in these Mauritius East Coast Resorts. Basic facilities like WiFi, parking, Fitness centers, sun terraces, room service, beauty salons, airport shuttles and car hire services, sauna, outdoor swimming pools, and Luggage storage facilities are available at all resorts. When choosing a resort for a stay in Mauritius, there are many options available for tourists, starting from budget resorts that give a homely feel too high-end luxurious hotels with more amenities than one could possibly use.
Dining
Some of the Mauritius East Coast Resorts really put on an extravagant show for their guests such as Constance Belle Mare Plage with its 7 restaurants and 6 bars, which gives people plenty of option to find their kind of food without ever having to leave the hotel. With cuisines ranging from Indian, Thai, Mauritian to Western food, talented chefs work hard in these hotels to give them the best possible dining experience. These hotels are also very welcoming for guests with special dietary needs, where people need only to ask and the chefs can whip up an amazing meal that will satiate their hunger. Bars are also aplenty in these Mauritius East Coast Resorts where one can end their day with a quiet drink enjoying a sports broadcast or live music. Most of the resorts also offer kids menus on demand and are more than happy to have their kids enjoy their property as much as they do. What more could one ask for?
FAQs
Q1. How far is East Coast from the International Airport?
A. East Coast resorts are about 50 – 75 minutes away from Sir Seewoosagur Ramgoolam International Airport depending on where the resort is.
Q2. Do resorts in East Coast offer shuttle services?
A. Yes, all resorts in East Coast offer shuttle services. Though some hotels offer this service free of charge, most resorts levy an additional charge for this transfer.
Q3. Are these resorts wheelchair accessible?
A. Equipped with modern facilities of lifts and well-wrought paths within the resorts make most of the areas here accessible by a wheelchair.
Q4. Do the resorts in East Coast have a private beach?
A. Not many properties have a private beach attached to them, although there are a lot of beachfront properties and the public beach is not very crowded at any time of the year.
Q5. What activities are offered by the Resorts in East Coast?
A. Almost all resorts here offer water sports activities that can be booked from the hotel itself at an additional cost, as well as Horse riding and hiking, are also offered in some.
Boasting of some unparalleled views of the Indian Ocean and relishing in the non-touristy side of Mauritius, east coast is one of the best destinations to look at when searching for a bit of alone time. And this alone time is what these Mauritius East Coast Resorts give guests in the best way possible. Right from the time they step in the lobby to the time they leave, these resorts ensure that guests have everything they might need, ready for their service. Some of the Mauritius East Coast Resorts beyond the ones already mentioned are LUX* Belle Mare which features a swimming pool that is about 2000 m sq, Long Beach A Sun Resort with 3 outdoor pools offering different views of the property, Four Seasons Resort Mauritius at Anahita where guests can enjoy world-class golfing at a course designed by Ernie Els.
Going for a walk by the beach not more than 5 minutes walk from the hotel, shopping in the gift shops here or just treating to a massage at one of the spa centers is all part and parcel of the amazing Mauritius holiday given to guests by these resorts.