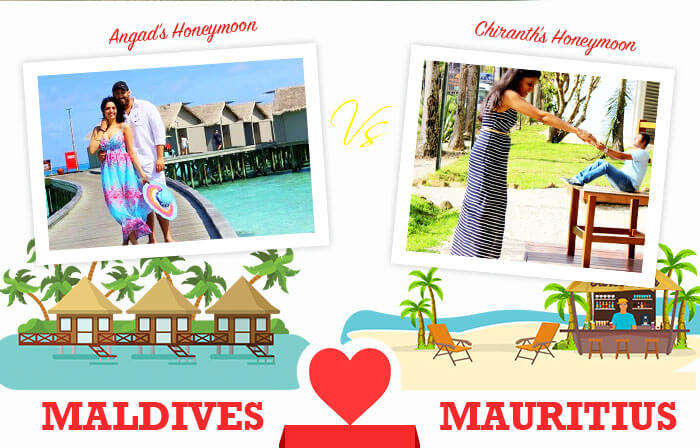 We know how difficult it is, to narrow down to that one picture-perfect destination for your honeymoon. Mauritius and Maldives are two destination that tops the list for Indian honeymooners. Both these destinations offer impeccable romantic experience to newlyweds.
In this article, we'll help you figure out if you're a better fit for Mauritius or Maldives. In order to do that, we interviewed two couples, one of whom went to each of the destinations with us.
These travelers had a great time on their holiday and have shared their romantic experiences with us. Let's find out how they made their trips so awesome, so that you can too.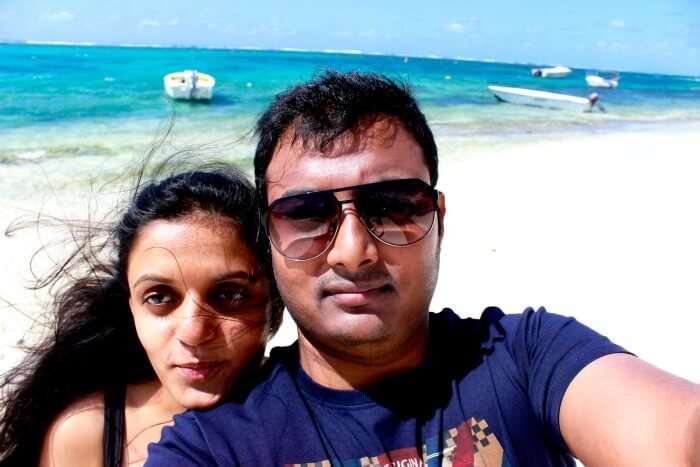 Bored of the monotonous work schedule, Chiranth planned his trip to Mauritius with his wife. The destination gave him a good mix of nature's scenic charm and the thrill of adventure all at a reasonable price. He booked a package through TravelTriangle for two that included their stay in 3-star beach resort, local tours, meals, and tickets, all at a cost of INR 1,20,400.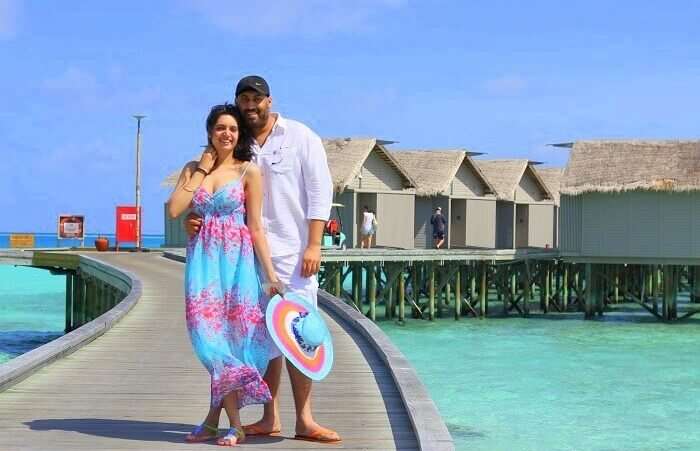 Navangad Singh Chadha talks about his romantic trip to Maldives. He tells us why it is one of the best destinations to visit when it comes to couple holidays and also elaborates on its natural charm. He booked his all inclusive Maldives tour package from TravelTriangle and it included their island resort stay, transport, water activities (equipment), and meals for a cost of INR 140,600.
Accommodation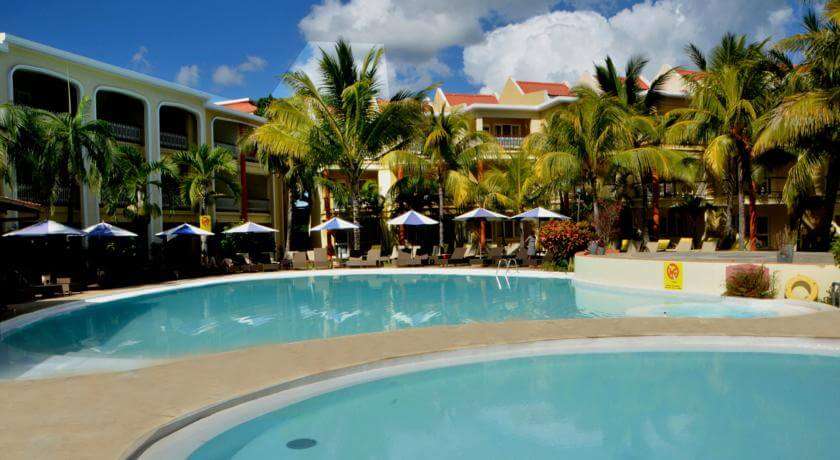 Chiranth who chose to travel to Mauritius with his wife was taken to a lovely 3 star beach resort. "On landing at the airport, we were picked up by the driver who took us to our hotel. We reached the hotel, Tarissa Resort & Spa around 3 PM and had lunch. Our room was beautiful, offering a mesmerizing view of the sea. As a gesture of welcome, the hotel had kept a bottle of champagne and a bowl of fruits, which we really liked." explains Chiranth about the resort.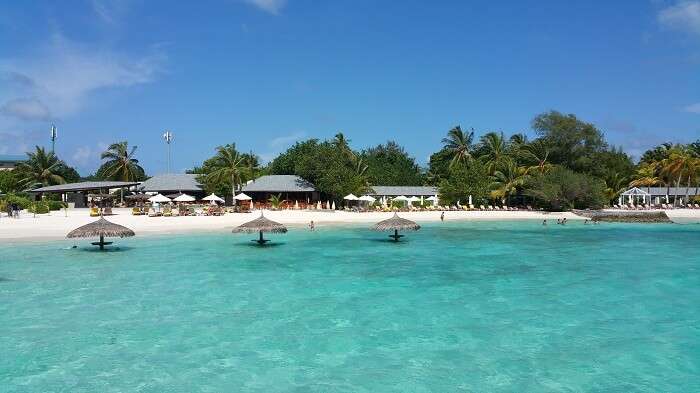 Suggested Read: 50 Pristine Places To Visit In Maldives For An Amazing Vacay In 2022!
Angad was taken to a luxurious resort island that had exotic water villas. He describes, "Post the landing, we were met by the representatives from our resort – Centara Ras Fushi Resort & Spa. They took us to a well-kept speedboat and transferred us to our island resort. The boat ride was refreshing and the cool misty smell of the ocean excited us about things that were yet to happen!"
Sightseeing & Activities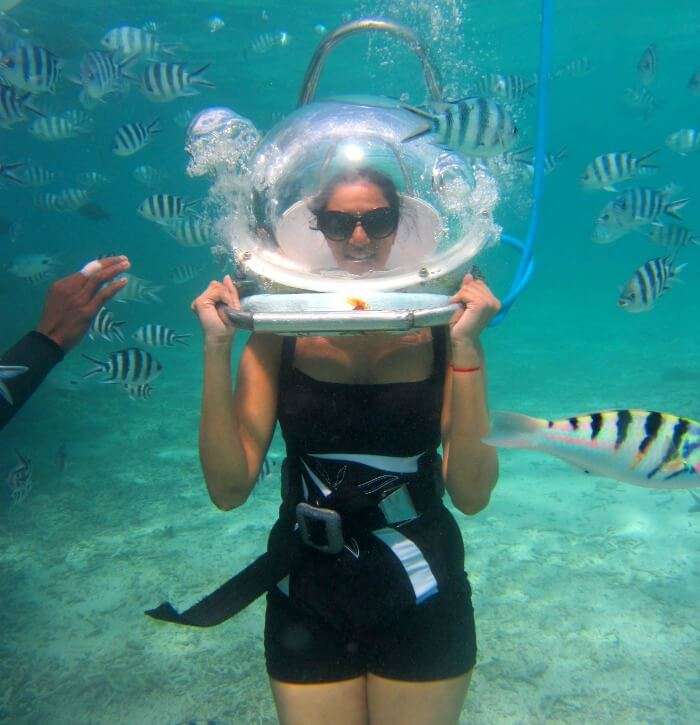 The best part about Mauritius is that it's loaded with a number of sightseeing options as well as activities. Many of which are included in our packages and some are not. Chiranth and his wife began their exploration from the famous Ile Aux Cerfs Island where they indulged in parasailing and underwater sea walk. "My wife and I thoroughly enjoyed the parasailing experience, but underwater sea walk was only enjoyed by my wife. This was because I wanted to go for scuba, which is supposed to last longer than the sea walk", says Chiranth.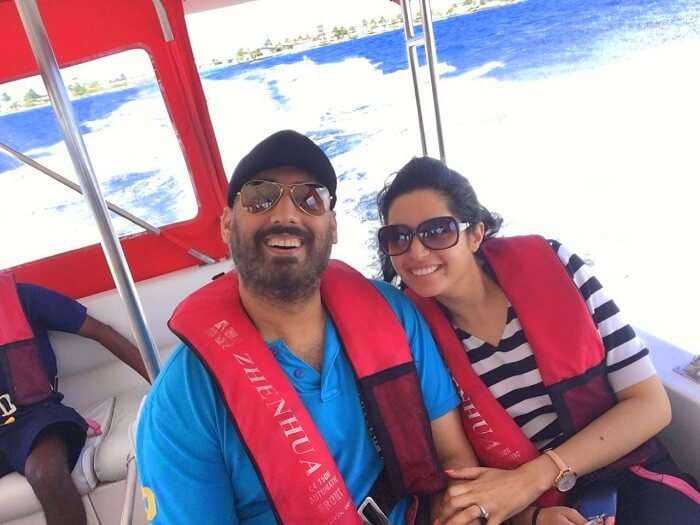 Suggested Read: His Pictures Are Proof That Maldives Is An Ideal Honeymoon Destination
Maldives, on the other hand, offers absolutely relaxed and leisurely experience. The sightseeing options are limited but there are a lot of water activities that you can indulge in. You will tour around the private island of the resort and discover the typical Maldivian beauty adorned with white sandy beaches and turquoise blue waters.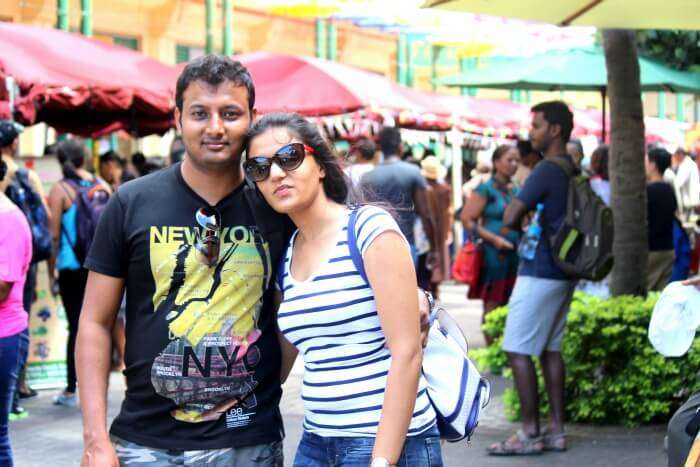 Suggested Read: Go Crazy Shopping in Mauritius: 12 Places That Offer A Mix of Luxury, Kitschy Crafty
Another famous tour in Mauritius is the North Island tour. "Booked for the North Tour in Mauritius, we took to the fort Adelaide near Champ de Mars Racecourse", Chiranth says. "To look at the mesmerizing view of the city from the top of the fort, adorned with the race course was a fantastic experience."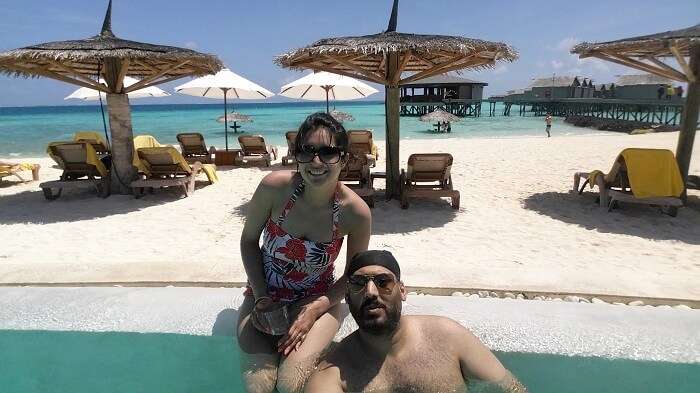 "We went for our snorkeling test (since the snorkeling kits were included in our package) and we passed it with flying colors (both my wife and I are good swimmers)" explains Aangad. Snorkeling is an amazing experience in the clear waters of Maldives. "I absolutely loved swimming in the crystal clear waters of Maldives. There were squids, small turtles, and even baby sharks in the waters – that ran away as soon as we got close to them. It was a heavenly feeling and we really enjoyed it.", he says.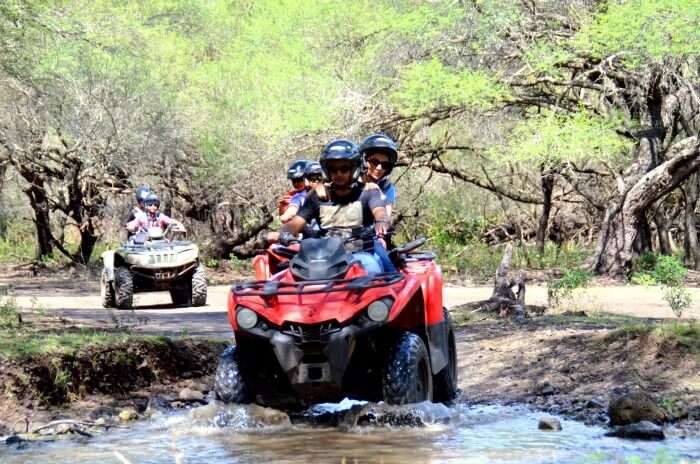 If you are up for some adventure, make sure to visit Casela Adventure Park in Mauritius. "The world of adventure was opened to us with the thrilling quad biking experience!", exclaims Chiranth.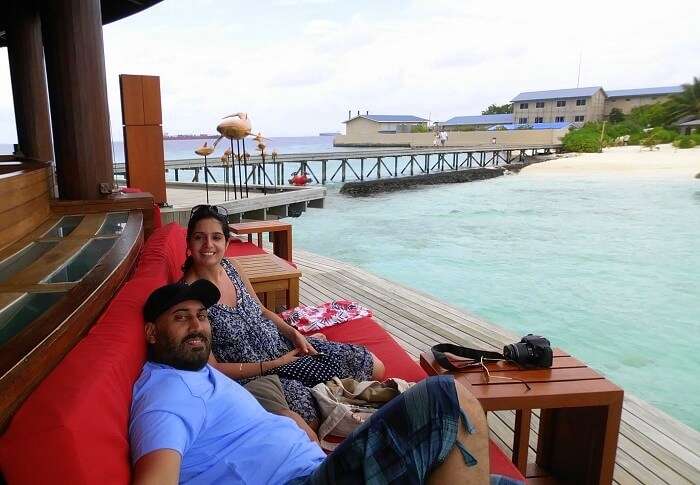 "Our next stop was the 'Viu Bar' and here we had the opportunity to feed the fishes with food tidbits that we were having. It was quite a calming activity and we saw many marine creatures like small turtles and crown fish among others."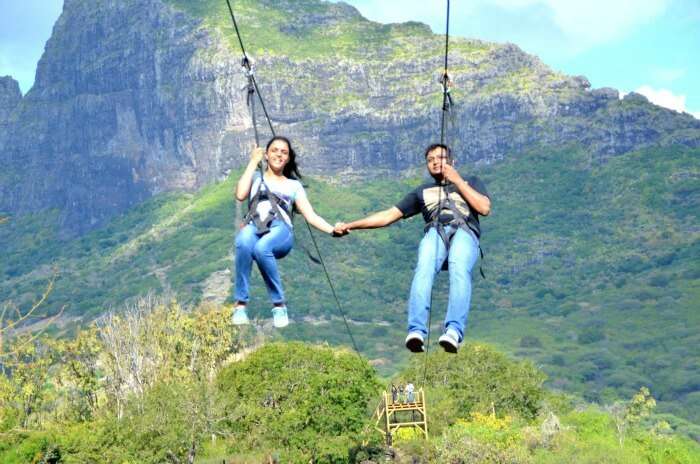 "After the exhilarating quad biking experience, we went for the zip-line, which offered adventure with a veil of fear."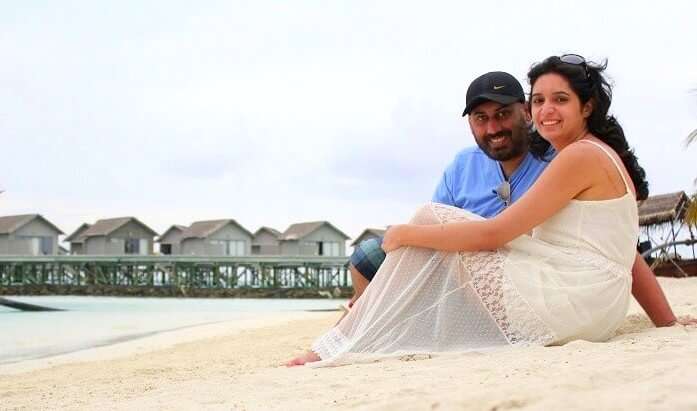 Suggested Read: Indulgent & Reinvigorating: 11 Spellbinding Water Villas in Maldives For A Calming Vacation
"It was a refreshing experience and we decided to spend some more time in the open but this time at the 'Waves Pool Bar' – where we had a few refreshing cocktails."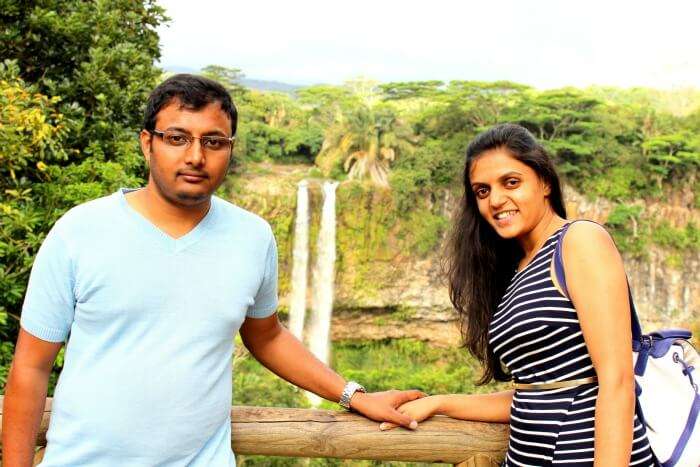 "After a jolt of adventure the previous day, we started the South tour by a visit to the inactive volcano." He explains how the tour took them through the beautiful seven colored earth, a wondrous waterfall, and various other places.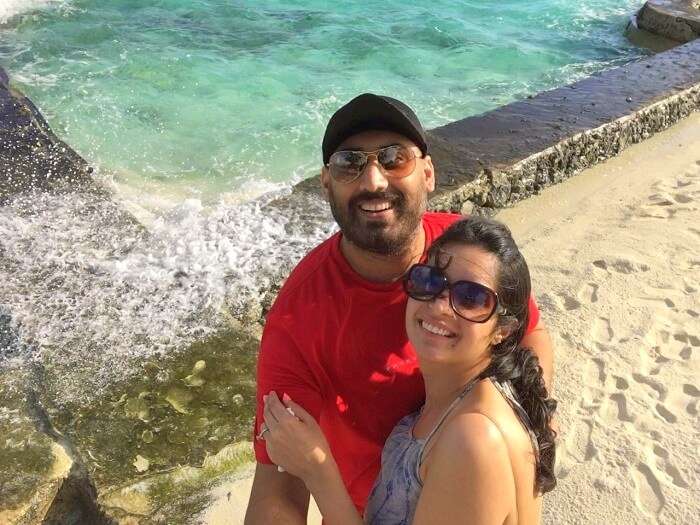 "It was a bright and sunny morning and we woke up to an amazing view of the ocean courtesy our water villa. I was tempted at the sight and it wasn't long before I climbed down the stairs of my water villa and jumped into the ocean – snorkeling and rejuvenating my senses."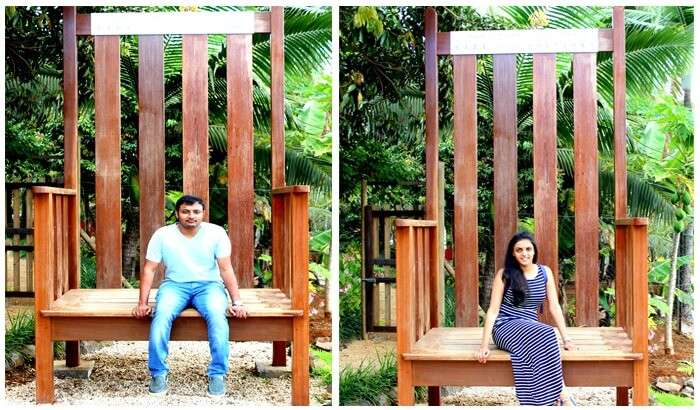 "We were also taken to a place called Illusion where we enjoyed our photography sessions. The experience on this day seemed rather bland, having had so much fun on the previous day."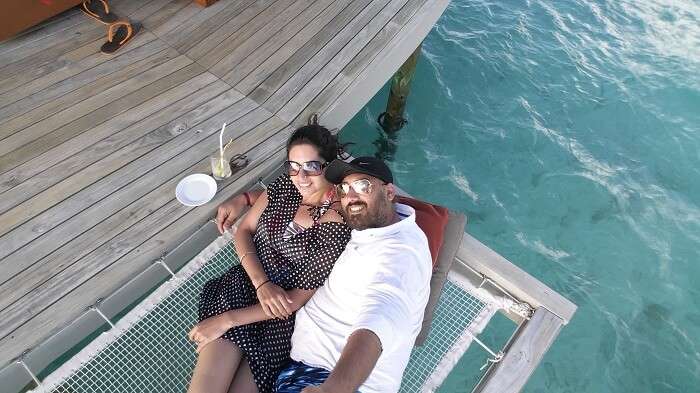 "Maldives turned out to be an amazing destination for both me and my wife. It offered us the much-needed serenity and was a rejuvenating experience – away from all the daily hustles."
To further break it down, check out this cool infographic that clearly classifies all differences between the two destinations as well as the holiday of these travelers.


We hope that after reading the personal accounts of these travelers you have made up your mind, whether you want to pack your bags for Maldives or take off to Mauritius. However, if you're not, don't you worry because our travel experts are here to help you out with all your questions.
Come indulge in a romantic honeymoon in Maldives! Or
Embed This Image On Your Site (copy code below):