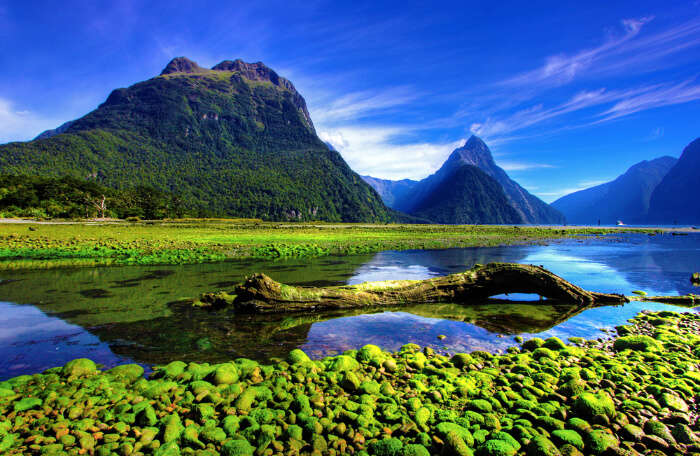 The Milford Sound in New Zealand is one of the best attractions of New Zealand Fiordland National Park. This is the largest national park in New Zealand covering a total of 12,500 km. It is a 'fjord' or a 'fiord' which is typically a narrow, deep long inlet of the sea between high cliffs, that are formed by submergence of a glaciated valley. This land formation is the beauty of this place and you would be surely left spellbound when you visit Milford Sound on a cruise.
About Milford Sound in New Zealand
Milford Sound is far overlooked by early European explorers. Milford Sound in New Zealand is also the part of the World Heritage Site Te Wahipounamu. Milford Sound is about 2 miles wide and extends inland for about 19 km. Milford Sound was named in the 1820s by a whaler because of its similarity to Milford Haven in Wales. Milford Sound is one of the few permanently inhabited places of the region.
Milford Sound is not a Sound but is actually a Fiord. It is named Sound because of the mistake of European settlers.
The only Fiord accessible by road in New Zealand is Milford.
The Maori name for Milford Sound is considered to be Piopiotahi.
The first European to visit Milford Sound is John Grono.
After many years later, Maori people started exploring Milford Sound.
Amongst the area's famous visitors was Rudyard Kipling.
Milford Sound is a part of the UNESCO World Heritage Site.
One of the wettest places in the world is Milford Sound.
There is also a Milford Sound village but it is very small. This village has a permanent population of around 120 residents.
The waterfall named Lady Bowen Falls is the tallest waterfall and provide electricity as well as water to the people of the Milford Sound village and also helps in a lot of operations to the villager.
You can see a variety of marine creatures such as dusky and bottlenose dolphins, blue ducks, penguins, birds like mohua, takahe, kea, and kakapo. Travelers see all these creatures while diving, underwater observatory, sailing, on a hike, and also during Milford Sound Cruise.
Must Read: New Year Parties In New Zealand 2022: Explore The Nightlife Of The Country!
Why Visit Milford Sound, New Zealand?
Milford Sound in New Zealand is one of the spectacular places to visit in New Zealand. You will be mesmerized by seeing the beauty of this place. Milford Sound is one of the must visit place if you are traveling to New Zealand. This is the must visit place especially for Kiwis. You can take a cruise to see the beauty of the glacier. After heavy rainfall, you can also see the waterfalls at this place. To enjoy more, you can tell your boat-man to stop your boat underneath the waterfall so that you can fully enjoy the word power shower. You can also see dusky and bottlenose dolphins and southern right whales. Milford Sound is also famous for deserted beaches, rugged wild coastline, and wildlife.
You will also enjoy the beautiful sceneries, landscapes, steep mountains, and rainforests. You can capture many memories at this place because of greenery and natural beauty you can click wonderful pictures. You can bike, paddle, hike, sail or fly at this place. In short, you can do anything and enjoy as much as you can.
Best Time To Visit Milford Sound, New Zealand
The best time to visit Milford Sound and see the spectacular sites at this place is in winters when the mountains are partially covered with snow. Most of the people visit Milford Sound in December and January. If you visit Milford Sound in winters you may also see sea lions, fur seals, various marine or native bird species and also yellow eyed penguins. You must not forget to pack some of the things when you visit Milford Sound in New Zealand and that is sun/rain hat, camera, and binoculars if you want to keep an eye on marine life and birds, waterproof clothes and decent walking boots.
Suggested Read: Destination Of The Month: These Surreal Places Will Entice You To Fly To New Zealand In November
How To Reach Milford Sound?
There are a lot of flights to reach Milford Sound. The major nearest airport is Queenstown, where comes a lot of flights from Australian, Christchurch, Wellington, and Auckland airports.
Places To Stay Near Milford Sound
As Milford Sound is the World Heritage site, therefore, freedom camping is strictly banned here. Book DOC huts, if you are doing a Milford Track. Other people will have to stay at the only accommodation provided in Fiordland National Park and that is Milford Sound Lodge that serves all travelers for all types of budgets. There are also overnight Cruises as an option which you can consider. Queenstown and Te Anau is also the option which many travelers opt to stay for a night.
Suggested Read: Ski In New Zealand: 10 Places Every Adrenaline Junkie Must Visit At Least Once!
Things To Do Near Milford Sound
There are a lot of tours and attraction points at this place. The journey at this place is itself very exhilarating. They have vivid guided tours. One can easily spend a whole day or two nights and three days as per one's convenience.
1. Hiking
One of the most popular way to explore Milford Sound is hiking. You can join a hiking tour that takes small groups with 12 people at max. The hike generally starts from Sandfly Point and goes along the banks of the Arthur River and Lake Ada. Enjoy the breathtaking panoramic views along the and that of the Giant's Gate waterfall from the swing-bridge over the river.
Suggested Read: Shopping In New Zealand: 10 Incredible Places For Retail Therapy
2. Cruises
For sightseeing, Cruise is the best option. If you want to observe the waterfalls closely, you can do it with Cruise and also if you want to observe Milford deep underwater, the only way by which you can observe is the Cruise.
Suggested Read: 10 Adventure Places In New Zealand That Will Give You An Adrenaline Rush
3. Waters activities
You can also do fishing, diving, and kayaking etc at this place. Sailing over the Milford Sound is also a very good thing to do at this place. Other things that involve are day walks, Milford track, day tours, scenic flights etc. You must not forget to take your binoculars with you if you want to closely observe birds and other marine life.
Further Read: Stewart Island: An Unchartered Territory In The Heart Of New Zealand
In this article, we have come across everything about Milford Sound in New Zealand. This World Heritage Site, is an amazing place to enjoy your vacation and make memories with your friends and family. Observe the landscapes, birds, marine life, travel in cruise, scenic flights, stay overnight, sail, dive, hike and a much lot to do. In short, visiting Milford Sound is a perfect vacation and unforgettable memories. So, plan a trip to New Zealand ASAP!
---
Looking To Book An International Honeymoon?
Book memorable honeymoon on TravelTriangle with 650+ verified travel agents for 65+ domestic and international destinations.
---
Comments
comments