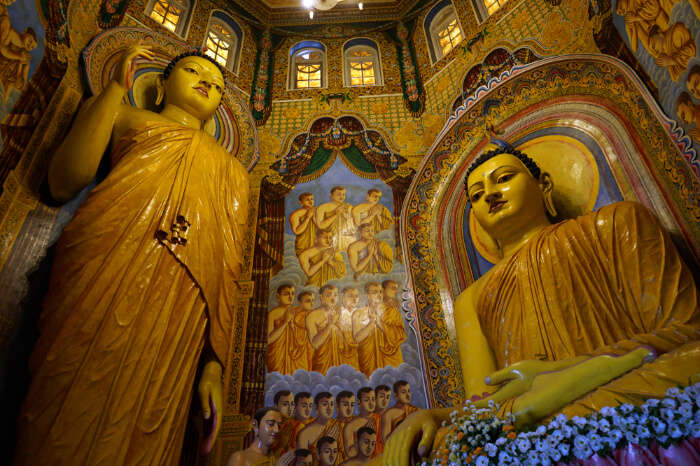 The beach capital of Sri Lanka, Bentota, is one of the most famous coastal areas and cities in Sri Lanka that boasts of some of the most beautiful shores in this island nation. Born out of Portuguese, Dutch, and British influences owing to the colonial rule here long ago, this city has managed to retain its natural charm and splendor despite the various posh and modern sky-high buildings cropping up here. Though it's rich in natural beauty and is rather laid back as compared to Sri Lanka's capital Colombo, it still has plenty of leisure facilities, high-end restaurants, hotels and resorts, healthcare amenities, entertainment options, and an amazing nightlife. However, it's the natural charm and beauty that brings people here from far and wide instead of the urban chaos and modernization. Amidst these natural environs like mangrove forests, beaches, and jungles you will also find various parts of Sri Lanka's rich heritage and culture in terms of the many monuments in Bentota that stand intact to remind us of this country's glorious past! Exploring heritage sites, ancient architecture, and holy shrines amidst absolutely natural settings will surely be a unique and dreamy experience for you and your loved ones.
A paradise for beach bums, this Sri Lankan town is known for its rather imposing set of monuments that make heads turn and draw tourists here even if they had just come here to bask in the golden beaches in the first place. Some of the most notable and visit-worthy monuments standing in this city in strategic and beautiful locations in Bentota include the Barberyn Island Lighthouse, Kande Viharaya, Kechimalai Mosque, Masjid Ul Abrar, and Kalutara Bodhiya. We have provided some information about all of these in this write-up so that you can plan your holiday to these points of interest in Sri Lanka accordingly.
5 Marvelous Monuments In Bentota
Don't miss out on the fabulous experience of exploring these stunning monuments located in Bentota in Sri Lanka. Each of these is unique and will provide you and your travel companions with you an in-depth knowledge of the interesting history and heritage of this island nation.
1. Barberyn Island Lighthouse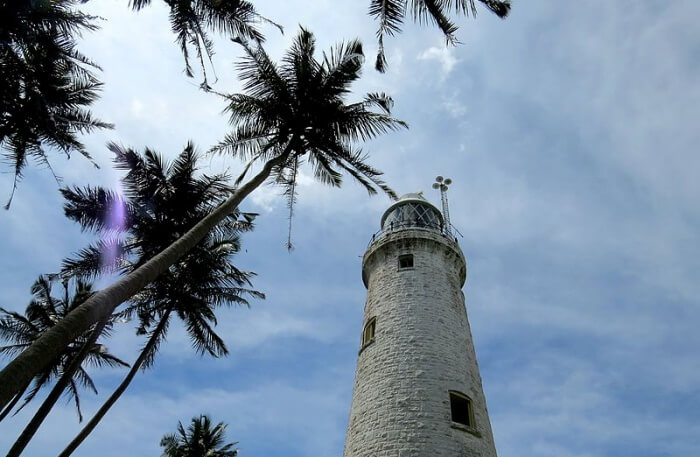 Situated on Barberyn Island, this lighthouse, which is also referred to as 'Beruwala Light', is a beautiful 10-minute boat ride from the town of Beruwala. Barberyn Island spanning around 8 acres is situated 0.8 km offshore from this city of Beruwala on the Southwest shore of Sri Lanka. Offering a little diversion from your mundane routine, this lighthouse is royal and archaic, with its architecture dating back to colonial times, creating wonderful scenery all around.
An Old Dutch hospital now converted into lavish bar and restaurant will give you wholesome meals and you can surely treat yourself to a long, peaceful walk while indulging in fascinating conversations with the locals.
Location: Barberyn Island, Beruwala 12070, Sri Lanka
Rating: 4.5
Read More: These 12 Places To Visit In Beruwala Will Make Your Trip To Sri Lanka In 2022 Memorable
2. Kande Viharaya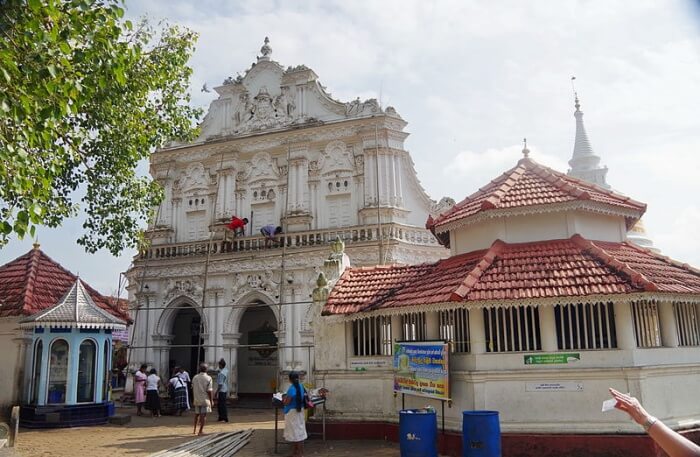 Kande Viharaya is situated in the district of Kalutara, about 16 km from Beruwala. The temple was founded in 1734 and derives its name from its venue on top of a hill. This is one of the best places to visit near Beruwala. Thousands of acolytes congregate to the temple every day, more so on the full moon days of Poya. The place has the key elements of every temple: Stupa, Bo Tree, Relic Chamber, Image House, Sri Vishnu MahaDevala and the four Maha Devalas, including Kataragama Devale.
The references from the Jataka Tales, the Ancient Bodhi Tree, Buddha's life and above all, the greatest stories of Buddha and his life, his teachings, and principles, are all engraved and stored within the walls, paths, and statues. The entire essence of this place is authentic, ethnic, and shows the true colors of Buddhism, what it meant, and means to the Sri Lankans.
The place symbolically preaches the values of peace, morality, and brotherhood. The very fresh sapling taken from here and thereon planted in Bodhgaya that was Buddha's tree, his version of worship just shows how deep its roots are here.
Location: Temple Road, Aluthgama 12080, Sri Lanka
Rating: 4.5
Read More: 5 Exciting Places To Visit In Wattala For A Blissful Escapade To Sri Lanka
3. Kechimalai Mosque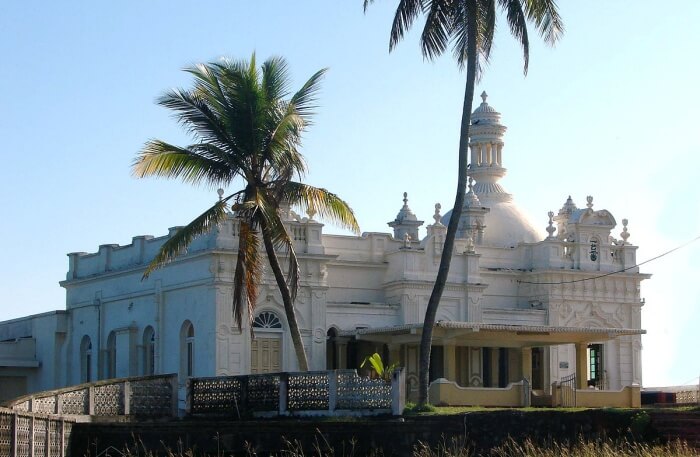 The historical site is centred on the first (Yemeni) Muslims to land in Sri Lanka and the tombs of two of these people are located just outside of the mosque with a third one inside the mosque due to the proclivity of the worshippers. This site can be classified as a "Darga ".
It's an architectural splendor, standing tall and magnificent, it's among the oldest and most valued mosques here. With an orphanage right next to it, the entire experience may turn out to be quite humbling. You might as well walk out a better, more compassionate, and enlightened person.
Location: Beruwala, Beruwala 12070, Sri Lanka
Rating: 4.5
Read More: 8 Places To Visit In Negombo For A Perfect Sri Lankan Vacation!
4. Masjid Ul Abrar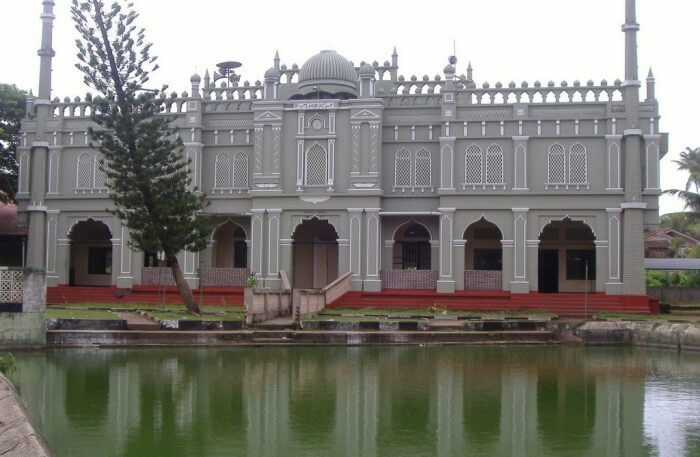 This mosque was built in 920 A.D by the Arab traders who came to Sri Lanka bythe sea in search of spices. The place is quite big and kept very tidy with a landscaped garden and a cemetery as a part of it. The surrounding areas still show the devastating effects of the tsunami and yet the people have carried on with hope and practice, a certain dedication to their religion and culture.
The mosque too is surprisingly beautiful. Besides that, the teachings of Islam stand out and open you up to a whole new world, one definitely worth exploring. The Masjid ul Abrar should be on your list, so add it to your itinerary without a second thought!
Location: 143/7 abdhulkadharaalimRoad,MaradanaRd,Beruwala,Sri Lanka
Rating: 4
Read More: 15 Places To Visit In Hatton To Witness The Tranquil Side Of Sri Lanka In 2022
5. Kalutara Bodhiya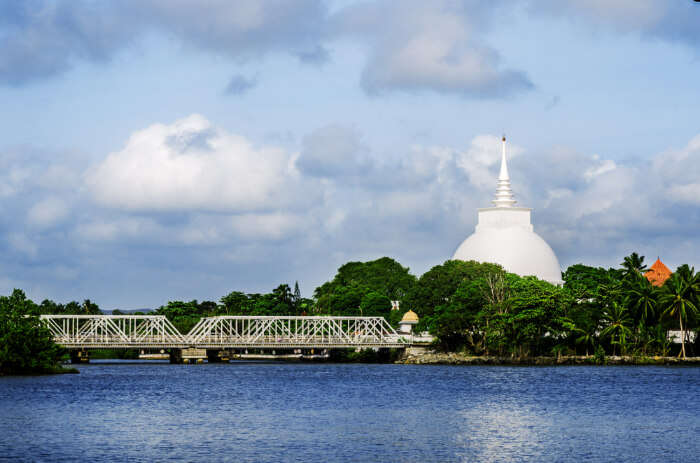 You must definitely add this to your list of places to visit in Bentota. Kalutara Bodhiya is a mesmerizing shrine located about 20 minutes away from Beruwala and serves as one of the most well-known holy shrines in Sri Lanka. It has one of the 32 saplings of the renowned Anuradhapura Sri Maha Bodhiya in its premises, which lures in spiritual souls and pilgrims here from every part of the world. The entire shrine is decorated with beautiful and eye-catching paintings that make it one of the most iconic Buddhist temples here in Sri Lanka! You will be enveloped in an intense feeling of serenity, tranquility of nature, and the architectural splendor of this sanctum that is balanced with religious and historical significance to provide peace of mind and a sense of calm to the beholder. Visiting this marvelous shrine will surely be an experience of a lifetime!
Location: Galle Colombo Main Road, Kalutara 12000, Sri Lanka
Rating: 4.5
So, which of these incredible monuments in Bentota will you pen down in your itinerary for your holiday in Sri Lanka? You should actually visit all of them to educate yourself with the intriguing facts behind the history and culture of Sri Lanka and what shaped this beautiful country into the paradise that it is today. Take a vacation in Sri Lanka and lose yourself in the fascinating aura of these architectural marvels!
---
Looking To Book An International Holiday?
Book memorable holidays on TravelTriangle with 650+ verified travel agents for 65+ domestic and international destinations.
---