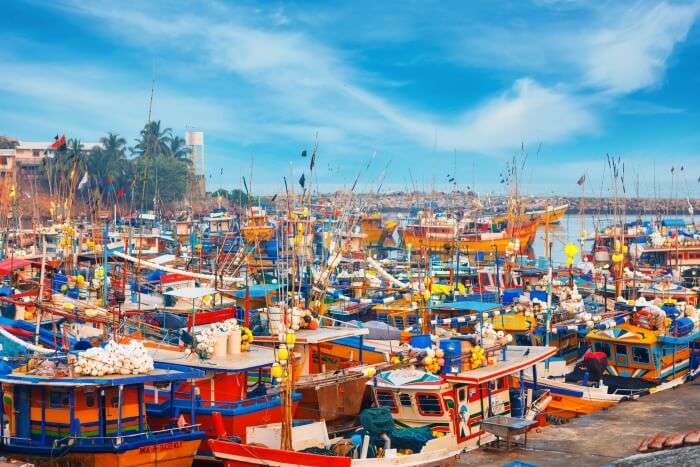 Sri Lanka is all beauty and treat to the eyes. Being posh yet authentically simple, the country is counted amongst must-visit holiday destinations in the world. Most of the towns in this country should be visited at least once, from Galle to Kandy and Bentota to Nuwara Eliya. Like all these magnificent towns, Beruwala also reflects the Sri Lankan culture.
This town has a number of spots that are perfect for spending your vacation in. However, it is as much important to know about the places to visit in Beruwala as it is to visit the city.
12 Best Places To Visit In Beruwala
Want to come to spend some time here but don't know where to start or what to do? Don't worry, that's what we're here for. Here are 12 handpicked, best places to visit in Beruwala that will definitely make your trip memorable!
Bentota Beach
Beruwala Beach
Brief Garden
Barberyn Island Lighthouse
Richmond Castle
Kande Viharaya
Kechimalai Mosque
Masjid ul Abrar
Beruwala Fish Harbour
Kalutara Bodhiya
Kosgoda Turtle Hatchery
Fishing Village, Wadiya
1. Bentota Beach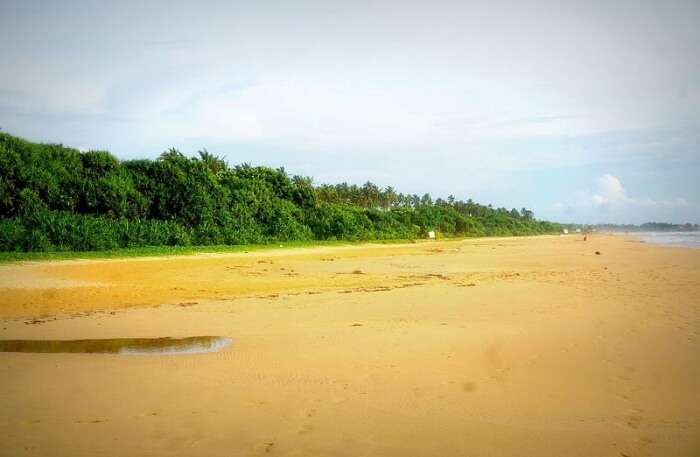 For the ones who adore the sound of the waves crashing against the shores, the sea gulls' wailing, and the feel of soft, cool sand under your feet, healing you all over, this place is for you. Less toxic and lesser crowds, this beach has only casual hawkers and street vendors selling handmade souvenirs.
The beach is so picturesque that you'll feel it is speaking to your creative, artistic side, making you almost believe as if you are a part of yet another great novel. Beautifully mysterious!
Location: Bentota 80500, Sri Lanka
Rating: 9.5
Places To Stay: Avani Bentota Resort, Chitra Ayurveda, Ekho Surf, Channa Villa
2. Beruwala Beach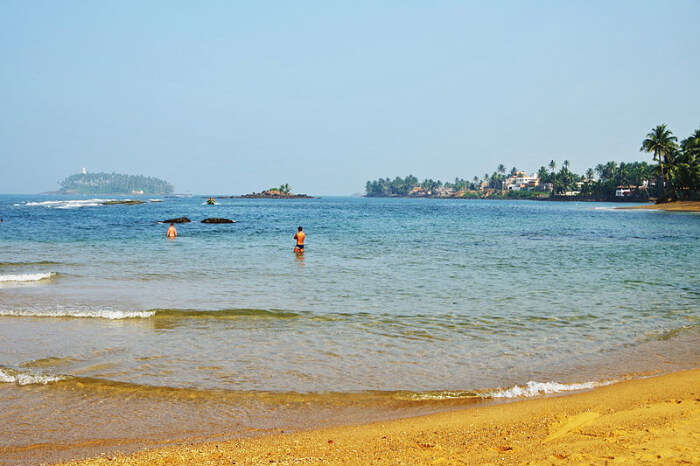 Long, wide, and painted in the colour of honey, Beruwala beach will surely surprise you. The calm waters are ideal for sports like jet-skiing, windsurfing, and parasailing make the beach one of the best places to visit in Beruwala. You don't have to go far to re-fuel, thanks to the handful of restaurants and coffee shops that are located right by the sand.
For a relaxed evening or an eventful, adventurous morning, this breathtaking beach with cool sand and welcoming sea waves, is the ideal spot to be at. Keep your eyes peeled for turtles – they flock to this stretch of shore to nest. Don't you worry, everything's coming up waters!
Location: Beruwala 80500, Sri Lanka
Rating: 4
Must Read: 8 Villas In Beruwala That Are Just Perfect To Enjoy Glorious Tropical Weather
3. Brief Garden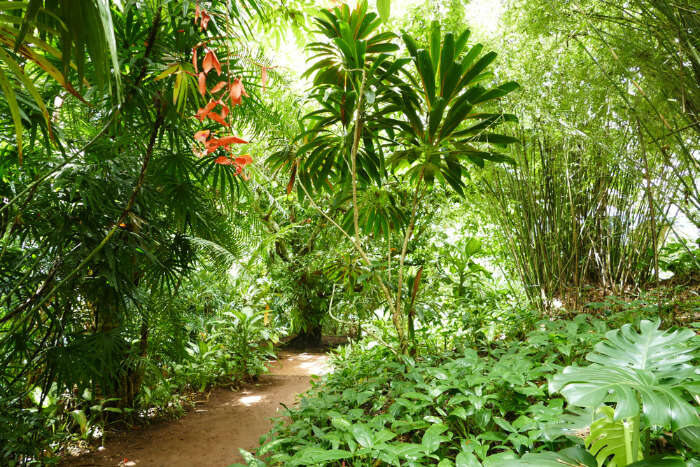 To meander off into the depths of forest and amongst the trees, truly finding out the hidden history and certain mystery of the place, Brief Garden is the perfect place. Its intensity will capture your attention at every moment, surprising you, enticing you. This is one of the places to visit in Beruwala, Sri Lanka which is full of artsy and homoerotic artifacts, sculptures, and furniture.
The design is a blend of modernist and Asian traditional motifs. Beautifully maintained, creativity reeks everywhere around here and leaving this tucked away world will be harder than you can ever imagine. A slice of heaven, all for you!
Location: Kalawila Village, Beruwala 12070, Sri Lanka
Rating: 4
Places To Stay: Silent Garden All Meals+Treatments, Jungle Heart Cabanas, CAD Lanka Apartment, The Aluthgama House
4. Barberyn Island Lighthouse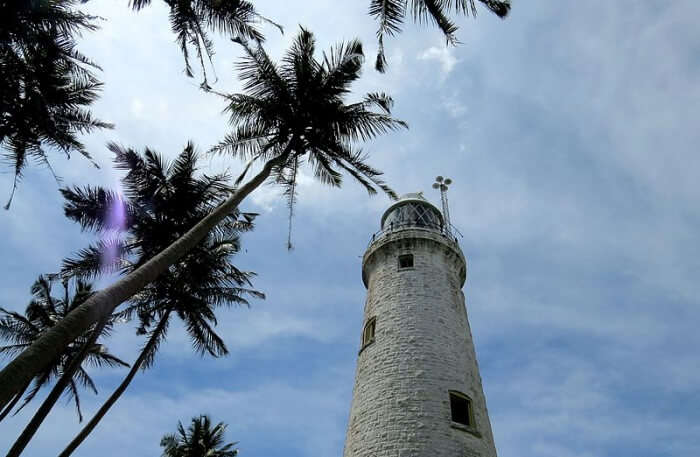 Situated on Barberyn Island, this lighthouse, which is also referred to as 'Beruwala Light', is a beautiful 10-minute boat ride from the town of Beruwala. Barberyn Island spanning around 8 acres is situated 0.8 km offshore from this city of Beruwala on the Southwest shore of Sri Lanka. Offering a little diversion from your mundane routine, Beruwala lighthouse is royal and archaic, with its architecture dating back to colonial times, creating wonderful scenery all around.
An Old Dutch hospital now converted into lavish bar and restaurant will give you wholesome meals and you can surely treat yourself to a long, peaceful walk, while indulging in fascinating conversations with the locals.
Location: Barberyn Island, Beruwala 12070, Sri Lanka
Rating: 4.5
Suggested Read: 7 Most Haunted Places In Sri Lanka To Make You Face Your Darkest Fears
5. Richmond Castle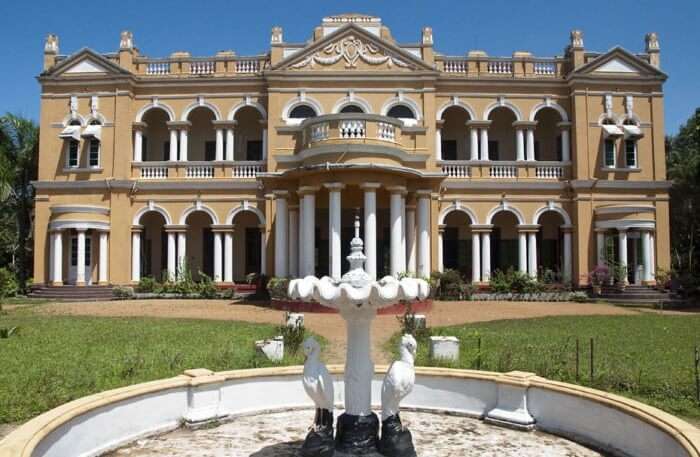 Image Source
Located near Kalutara, this tumble ring old castle is an extraordinary poise and honour. It's beautiful to watch and surreal to feel. With its surroundings being just as breathtaking, it's hard not to wait here forever.
Made so grand from the contributions and countless efforts of the locals, it's a place of extreme historical significance, one that should never be overlooked. Great examples of Ceylon history are portrayed artistically and correctly presented to relive great tales and stories. It is one of the great places to visit in Beruwala Sri lanka.
Let's just hope the glory of this place is preserved. (Also, while you're there, make sure you take amazing pictures!)
Location: Riverside road, Kalutara 12000, Sri Lanka
Rating: 4
Places To Stay: Citrus Waskaduwa, AVANI Kalutara Resort, Anantara Kalutara Resort, Turyaa Kalutara, Mermaid Hotel & Club
Suggested Read: Honeymoon In Italy: Full-Fledged Guide To Plan Your Romantic Voyage
6. Kande Viharaya

Kande Viharaya is situated in the district of Kalutara, about 16 km from Beruwala. The temple was founded in 1734 and derives its name from its venue on top of a hill. This is one of he best places to visit near Beruwala. Thousands of acolytes congregate to the temple every day, more so on the full moon days of Poya. The place has the key elements of every temple: Stupa, Bo Tree, Relic Chamber, Image House, Sri Vishnu MahaDevala and the four Maha Devalas, including Kataragama Devale.
The references from the Jataka Tales, the Ancient Bodhi Tree, Buddha's life and above all, the greatest stories of Buddha and his life, his teachings and principles, are all engraved and stored within the walls, paths and statues. The entire essence of this place is authentic, ethnic, and shows the true colours of Buddhism, what it meant, and means to the Sri Lankans.
The place symbolically preaches the values of peace, morality, and brotherhood. The very fresh sapling taken from here and thereon planted in Bodhgaya that was Buddha's tree, his version of worship just shows how deep its roots are here.
Location: Temple Road, Aluthgama 12080, Sri Lanka
Rating: 4.5
Places To Stay: Solal Villa, Bougain Villa, Samsara Hotel, Methira Villa, Guesthouse Sunshine
Suggested Read: The Definitive Guide To National Museum Of Colombo In Sri Lanka
7. Kechimalai Mosque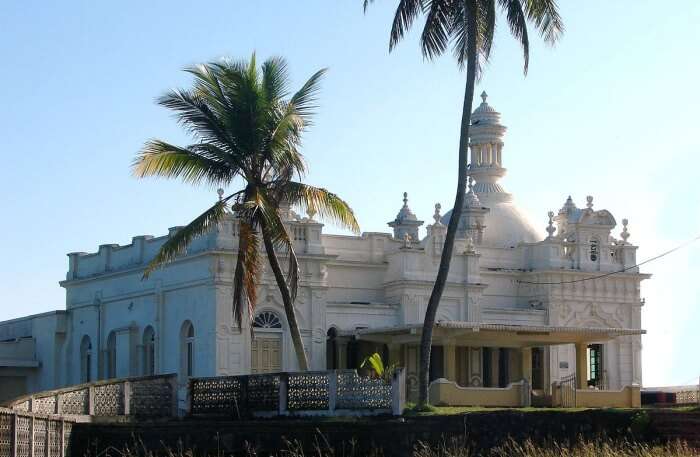 Image Source
The historical site is centred on the first (Yemeni) Muslims to land in Sri Lanka and the tombs of two of these people are located just outside of the mosque with a third one inside the mosque due to the proclivity of the worshippers. This site can be classified as a "Darga ".
It's an architectural splendour, standing tall and magnificent, it's among the oldest and most valued mosques here. With an orphanage right next to it, the entire experience may turn out to be quite humbling. You might as well walk out a better, more compassionate, and enlightened person.
Location: Beruwala, Beruwala 12070, Sri Lanka
Rating: 4.5
8. Masjid ul Abrar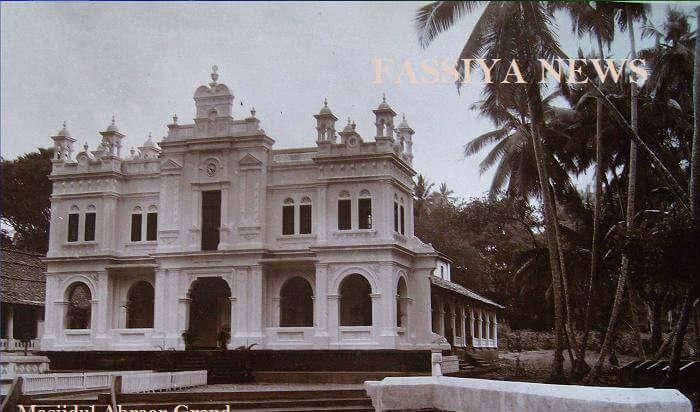 This mosque was built in 920 A.D by the Arab traders who came to Sri Lanka by sea in search of spices. The place is quite big and kept very tidy with a landscaped garden and a cemetery as a part of it. The surrounding areas still show the devastating effects of tsunami and yet the people have carried on with hope and practice, a certain dedication to their religion and culture.
The mosque too is surprisingly beautiful. Besides that, the teachings of Islam stand out and open you up to a whole new world, one definitely worth exploring. The Masjid ul Abrar should be on your list, so add it to your itinerary without a second thought!
Location: 143/7 abdhulkadharaalimRoad,MaradanaRd,Beruwala,Sri Lanka
Rating: 4
Places To Stay: Manara Beach, Casablanka Rest Beruwala, New Asra Gems, New Okay Hotel
Suggested Read: Sri Lanka In January: Best Places To Visit & Stay
9. Beruwala Fish Harbour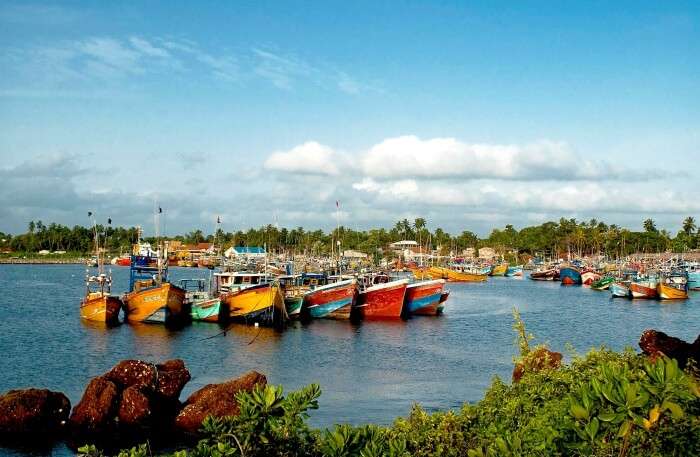 Image Source
Beruwala Fish Harbour is one of the principal fishing harbors on Sri Lanka 's west coast. Take a nice stroll early in the morning along the fishing port and you're sure to savor the sight of fishermen taking in their morning catch or watch the quiet and yet raucous waves crash on the shores with salty air tousling your hair.
The sights and sounds of the colourful boats, the lively fish markets are sure to pique your interest and give you many wonderful opportunities to show your photographic skills. Being a naturally protected area, the coastal stretch in Beruwala is said to have been utilized as a port by merchant vessels for hundreds of years.
The locals might give you insight on their daily experiences and perhaps even exaggerate things through their twisted myths and tales.
Location: Maradana Rd, Beruwala, Sri Lanka
Rating: 4
10. Kalutara Bodhiya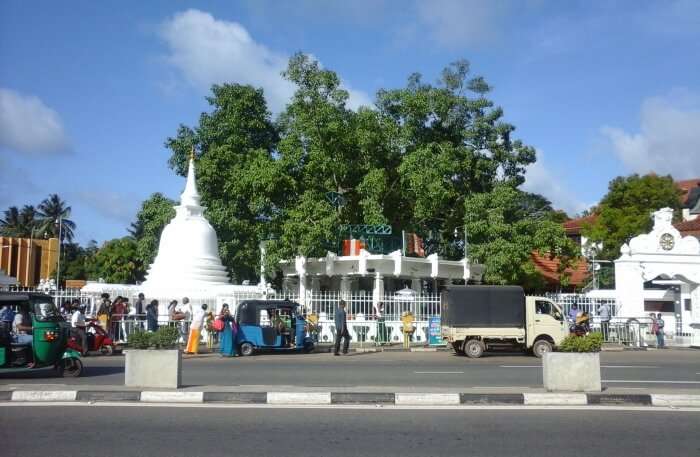 Image Source
One more spot that you can add amongst the places to visit near Beruwala, is Kalutara Bodhiya. It is about 20 minutes from Beruwala and among the most well-known holy shrines in Sri Lanka and home to one of the 32 saplings of the renowned Anuradhapura Sri Maha Bodhiya.
Decorated with amazing and beautiful paintings, it's one of the most iconic Buddhist temples here in Sri Lanka! The feeling of serenity, tranquility of nature, and architectural splendour balanced with religious and historic significance will make your heart content. For the experience of a lifetime, you need to visit this place.
Location: Galle Colombo Main Road, Kalutara 12000, Sri Lanka
Rating: 4.5
Places To Stay: Hotel Oceanspray, Sagala Bungalow, Royal Oshin, Kani Vacation Apartment, Citrus Waskaduwa
Suggested Read: 10 Mountains In Sri Lanka That Will Put You Under A Spell With Their Mesmerizing Beauty
11. Kosgoda Turtle Hatchery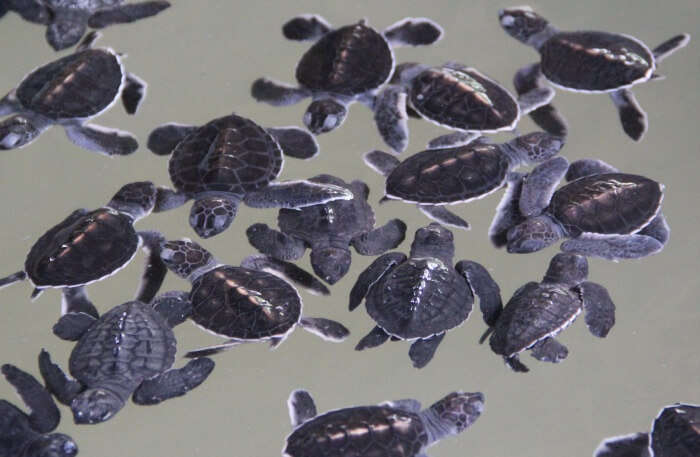 Image Source
The Kosgoda Turtle Hatchery was opened in 1988 and regulates local sea turtle activity and preserves local nesting sites, while also run a hatchery for stored and rescued eggs in the project sanctuary.
A day visit will give you some quality time with the lovely little turtle hatchlings but the real deal is at approximately 6:30 pm when the hatchlings are released. The Hatchery staff will pick the ones that are ready for release and guide you along the way.
Location: 13A Galle Road, Kosgoda 80570, Sri Lanka
Rating: 4
Placeo Stay: Turtle Paradise Villa, Villa 252 Kosgoda, Villa Cookie Aunt, The PLeasure Kosgoda, The Habitat Kosgoda
12. Fishing Village, Wadiya

Image Source
The Fishing village of Wadiya too is one of the places to visit near Beruwala. Watch the fishermen do what they do best and witness them bringing in their daily catch, as well as get the opportunity to choose an assortment of fresh fish for your favourite seafood dish. The hardworking and skilful fishermen and women have certain flairs and tactics that they put to use to trap the fish.
The caught valuables are then brought and thus, fresh fish curries and dishes are prepared just for you. For the smell of food wafting through the air, the ocean and for the fishermen, take a detour and come spend some time in Wadiya with the boat houses and local music.
Location: Wadiya, Sri Lanka
Rating: 4.5
Further Read: These Spice Gardens In Sri Lanka Will Take You Through An 'Aromatic' Experience
Beruwala is an unconventional choice of place to visit on your Sri Lankan trip, nevertheless a wonderful one and worthy of your visit. This list of the places to visit in Beruwala would prove to be helpful in making your trip a memorable one. Make sure you cover most of these places and end up making the most of your vacation in Sri Lanka
People Also Read:
Places To Visit In Hatton Places To Visit In Nuwara Eliya Places to Visit in Matara
---
Looking To Book An International Holiday?
Book memorable holidays on TravelTriangle with 650+ verified travel agents for 65+ domestic and international destinations.
---