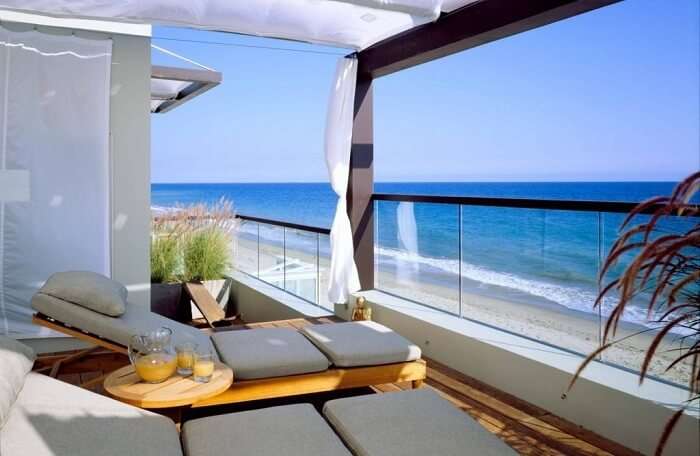 Romantic beach houses which are away from the monotony of the city life, and offer a breathtaking view throughout the day are truly a paradise for couples. Don't you agree?! If a clear blue sky, sparkling water, fine sand, and a luxurious retreat makes for a perfect backdrop for your love story, then you must check out these 10 beautiful beach houses in the world!
1. Alinghi Beach House in Queensland
Suggested Read: 15 Romantic Beaches In Sydney
A unique designer beach pad, this house is set on 14 acres of serene Australian bush land on a cliff, giving a sense of absolute privacy for a romantic getaway. Right from the moment you wake up to the time you for a sleep, this beach house offers spectacular views and sounds only of the waves crashing against the rocks. It all seems magical and dreamy, yet is actually true. If you're looking for romantic beach houses to visit in the world, look no further as this is your own haven of romance!
Where: Agnes Water, Queensland, Australia
Highlights: Voted as one of the top 5 beautiful beach houses in the world, Alinghi is situated over the ocean, and guarantees complete privacy to you.
TripAdvisor Rating: 5/5
Price: AUS $1000 or INR 49,500 per night.
Things To Do: Cooking your favorite cuisines, taking a dip in the pool, playing tennis, or relaxing with a peaceful view are some of the things to do here.
Website | Reviews
2. Casa Kimball in Dominican Republic
This beach villa is an exceptionally beautiful place in the Caribbean. Being a private villa, it is located on the emergent north coast of the island of the Dominican Republic and makes up for a luxurious romantic retreat for every couple who visits here. From a formal lounge and bar to an entertainment space, Jacuzzi, and an infinity pool, this place will surely keep you two busy with each other throughout your holiday!
Where: 5-6, Cabrera, Dominican Republic
Highlights: Built like a contemporary villa, this place is one of the best luxury villas on the beach, and a great option for a private vacation!
TripAdvisor Rating: 5/5
Price: $3,000 USD (INR 1,94,910) to $26,250 USD (INR 1,705,462) per night depending on the season.
Things To do: Horse riding, a visit to the Playa Grande beach or the Dudu Cave, bonfire, relaxing in the spa, etc. are some things to do with your loved one here.
Website | Reviews
Suggested Read: 12 Incredible Places To Visit In USA In Summer For A Magical Journey
3. Oke Beach House in Bay Of Islands
Must Read: 16 Things To Do On Honeymoon: Travel Tips And How To Make It Special
Out of the many romantic beach houses in the world, this place has been recognized as one of top five best beaches, which is located in the Bay of Islands in New Zealand. The house is spacious enough to accommodate more than two people and have glass sliding doors, which only enhances the charm of the place. Apart from all the amenities, this beach house gives you easy access to the two semi-private beaches: Hauai and Oke Bays near it.
Where: 125 Rawhiti Rd, Rawhiti, New Zealand
Highlights: It gives the utmost amount of privacy to you, along with spectacular views of the two private beaches – Hauai Bay and Oke Bay near it.
Price: NZ $1,200 (INR 54,540) to $2,200 (INR 99,990) per night.
Things To Do: Snorkeling, fishing, canoeing, sailing, and parasailing are some of the fun activities to do together. You can also take a leisurely stroll on the nearby hiking trails and along the Cape Brett Walkway, which is a terrific spot for bird watching.
Website
4. The Kassiopia Estate in Corfu
The Kassiopia Estate is one of the most luxurious and romantic beach villas in Europe. This luxury villa in north east Corfu has been designed by a renowned architect – Norman Foster, and is located on a privately owned five acre land. With beautiful views and stunning landscaped grounds, this place provides the perfect setting for an unforgettable romantic experience. Its two properties, the luxurious Cassiopeia House, and incredibly comfortable and intimate Atolikos House make for a great memorable stay!
Where: Corfu, Greece
Highlights: One of the most beautiful beach houses in the world, which also happens to be an epitome of luxury and comfort.
TripAdvisor Rating: 5/5
Things To do: Get into the salt water infinity pool overlooking Albania and soak up the beautiful view in style. Or spend some time together at the poolside bar, gardens, or the lounge areas.
Website | Reviews
5. Urban Spa Residence in Malibu
Suggested Read: The Most Romantic Honeymoon Suites In The World
Designed by renowned architects Shubin & Donaldson, this beautiful beach house is set along Malibu's Pacific Coast Highway, and gives and easy access to the beach. It focuses on the overall theme of air, light, and water, which is quite evident from the materials and colors in the house. Let yourself rejuvenate while you enjoy the incredible views, and spend some great time together!
Where: Malibu, California
Highlights: This romantic beach house is known for being designed as an urban spa like retreat for a relaxing holiday.
Things To do: Go for a romantic stroll on the beach later in the evening, or organize a dinner date outdoors and dine in with your loved one with a mesmerizing view around.
6. Casa Ikal in Mexico
Casa Ikal is another stunning beachfront accommodation amongst the many luxury villas on the beach in the world. It is located within the Sian Kaan Biosphere Reserve, which leads to a rich coral reef, the lagoon front to the ancient Mayan canals. Its double infinity swimming pool overlooking the green palms, white sands and the turquoise sea below will only help you make everlasting memories here with your partner!
Where: Sian Kaan, Riviera Maya, Mexico
Highlights: This Caribbean beachfront house brings you closer to nature, and lets you enjoy a personalized dietary service and hospitality.
Price: $2,050 (INR 1,33,200) to $5,050 (INR 3,28,098) per night.
Things To do: Fly fishing, scuba diving, kite boarding, tennis, golf and other local excursions are some of the activities to indulge here.
Website
7. Casa Atrevida in Costa Rica
One of the many romantic beach houses in the world, Casa Atrevida is the most uniquely built and designed by architect – Martin Dulanto. This is the perfect place to holiday with your spouse, if both of you admire and support environment friendly initiatives. The house has been built with bamboo in a modern tropical style to give you the utmost desired comfort in the lap of nature. You both will surely have an unforgettable experience here!
Where: Puntarenas, Costa Rica
Highlights: This is a luxurious environment-friendly house situated on a woody private refuge, which is a great hotspot for romantic getaways!
Price: $292 (INR 19,000) and above per night.
Things To do: The list of things to do here are endless. From zip-lining to canoeing for adventure seekers to whale watching and excursion tours for nature admirers, there is something for everyone.
Website
8. The Beach House in Maldives
Suggested Read: 27 Best Beaches In Maldives For A Relaxing Time With Your Partner
If you and your loved one prefer offbeat over the mainstream, then The Beach House in Maldives is the perfect place for you to spend your romantic holiday. With numerous options between luxury beach villas to choose from, and great hospitality, this house resort is undoubtedly a great choice for both honeymooners and those seeking a romantic hideaway.
Where: Iruveli Island, Male', Maldives
Highlights: This beach house is a haven of romance for couples and a paradise for those who love capturing memories.
Price: US$1,316 (INR 85,500) to US$1,720 (INR 1,11,750) per night.
Things To Do: Diving, snorkeling, spending time on the Sunset Cruise, relaxing in the spa are some of the things to do with your better half.
9. North Island Villas in Seychelles
Set along the East Beach with direct access to the beach and ocean, these romantic beach villas feature ten elegant, yet relaxed presidential stays. Stay assured about your experience here, as this place is a beautiful home away from home. It also has a fabulous bath area for you to romanticize with your partner, with gorgeous views across the beach to Mahé and Praslin islands.
Where: North Island, Seychelles
Highlights: These elegant presidential beach villas are the perfect romantic hideaway.
TripAdvisor Rating: 4.5/5
Price: €1,835 (INR 1,27,130) per person per night.
Things To Do: Go out together for scuba diving, cycling, spa treatments, or take a mini buggy to explore the island.
Website | Reviews
10. The Beach House in Bali
Suggested Read: Shopping In Bali: A Retail Therapy Guide On What To Buy And From Where!
Located in Seminyak, this beach house is undoubtedly one of the most beautiful beach houses in the world. Apart from its finely designed rooms, the spa service and personal chef will make sure you and your partner have the most pampered romantic getaway ever! Despite the popular eateries and shopping markets nearby, this is the most secluded place to spend your vacation peacefully!
Where: Seminyak, Bali
Highlights: Out of all the romantic beach houses in the world, this one is known for its amazing location and close proximity to all the famous places nearby.
TripAdvisor Rating: 5/5
Price: US $1,150 (INR 74,715) and above per night.
Things To do: Visit the Seminyak beach for a romantic walk, take a dip in the private pool, or win your partner's heart by cooking their favorite cuisines.
Website | Reviews
Now you know which of the above romantic beach houses you should head to for your next getaway! Make sure you plan your trip in advance, spend some great time with each other, and have the most memorable affair ever!