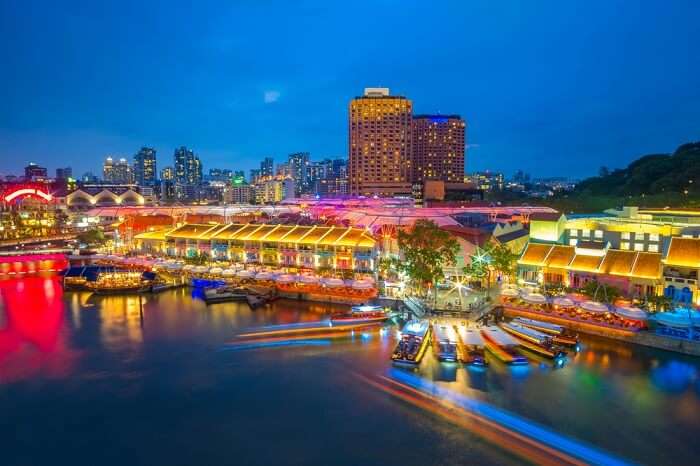 A place with beaches, islands, theme park rides, gardens, water sports and a lively nightlife, what more can you possibly want for your vacation? The stunning land of Singapore has many tourist attractions, more than you can hope for. This is one of the reasons why Lion City is amongst the most preferred destinations for tourists all around the world. If you're looking to check out some museums in Clarke Quay, the following list will help you on your journey here.
Clarke Quay is famous for having stunningly lit restaurants on board that also let you enjoy the charming view of the river flowing right adjacent to these dining places. This makes your dining experience even better. For a thrilling family vacation, head straight to Universal Studios Theme Park and step into the streets of Chinatown market to watch various performance by the street artists for a fun shopping experience while you're in Singapore. There's always an option of visiting Little India for a hearty breakfast and the hawkers market are full of tasty delights to satiate your street food cravings in this land. But, walking around the museums of this land will enlighten you all about the glorious past of Lion City and how it all came to be!
8 Best Museums In Clarke Quay
Know more about Singapore's culture, history and arts at the various museums in this land. Check out this list to know what awaits you inside the unique places!
1. Asian Civilisations Museum

The Asian Civilisations Museum is just a 4-minutes drive away from the Clarke Quay in Singapore. This museum is a part of the group of four major museums in Singapore that includes – Peranakan Museum at Old Tao Nan School, Singapore Art Museum and the National Museum of Singapore. ACM exhibits Southeast Asian ethnological materials including tools, utensils, weapons, crafts, and costume used by Malay and people from Southeast Asian cultures.
Location: 1 Empress Pl, Singapore 179555
Timings: 10 am – 7 pm
Tickets: INR 260
2. Singapore Philatelic Museum

The Singapore Philatelic Museum is a very interesting museum in the country which is dedicated to the preservation of old posts, postcards and stamps of Singapore. Here you get to to know about the postal history of the country. This is one of the favourite museums of people who are into stamp collections.
Location: Coleman St, 23-B, Singapore 179807
Timings: NA
Tickets: INR 200 – INR 300
3. Parkview Museum

The Paarkview Museum is an art musuem in Singapore. This is one of the most unique museums in the country. It is not for the weak-hearts as it displays several disturbing pieces or works of art. The museum also conducts various thematic exhibitions from time to time. 
Location: 600 North Bridge Rd, Level 3 Parkview Square, Singapore 188778
Timings: 12 pm – 7 pm
Tickets: Free
4. Police Heritage Centre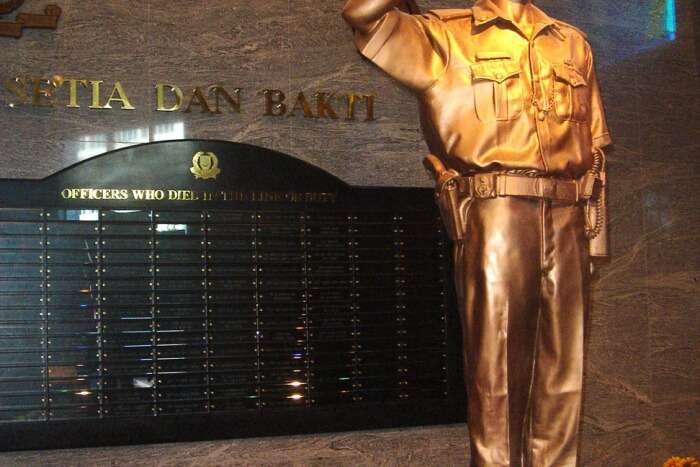 The PHC logo is a feather quill to symbolize the connection between the present and the past in order to plan the future and maintain the legacy of the SPF. The PHC has put up for display exhibits that allow a peek into how the SPF was founded and their systems developed since the 1800s. It sheds light on the trust that exists between the public and the police as a result of the corrupt-free rule of lar and carrying out of justice.
Location: 28 Irrawaddy Rd, Singapore 329560
Timings: 10 am – 5 pm
Tickets: NA
 10 Things To Do In Novena To Make Your Singapore Trip More Fun
5. Peranakan Museum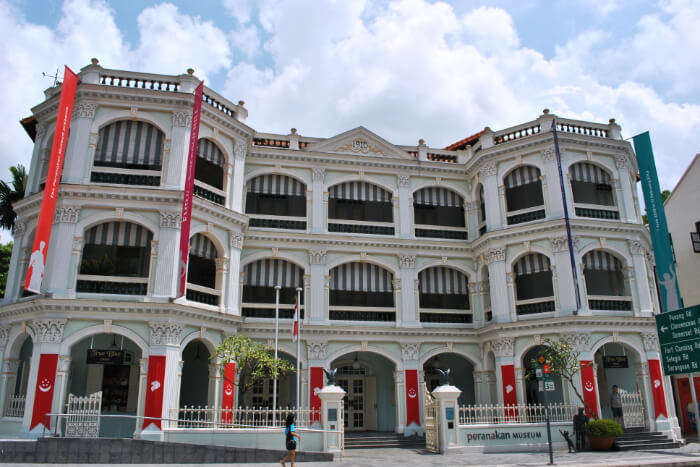 Peranakan Culture is actually one of the major South Asian hybrid communities. It consists of three cultures; namely Malay, Chinese and Indian. This museum houses some of the largest collection of this bygone hybrid of heritage and culture. Built in the year 1913 by some Chinese traders, this venue contains three stories which each house very distinctive artifacts which are related to Peranakans. Here you will get to experience museum tours which will take through the traditional Peranakan's huge 12-day wedding complete with furniture, textiles and ancient jewelry. The tour is available in Japanese, Mandarin, English, and French languages. You can also book a private tour for your group of it contains 20 people or more.
Location: Armenian street, Singapore
Timings: 10 am – 7 pm | 10 am – 9 pm (Fridays)
Tickets: INR 500 – INR 1300
  54 Remarkable Places To Visit In Singapore In 2022 Where A Wandering Heart Finds Peace
6. National Museum Of Singapore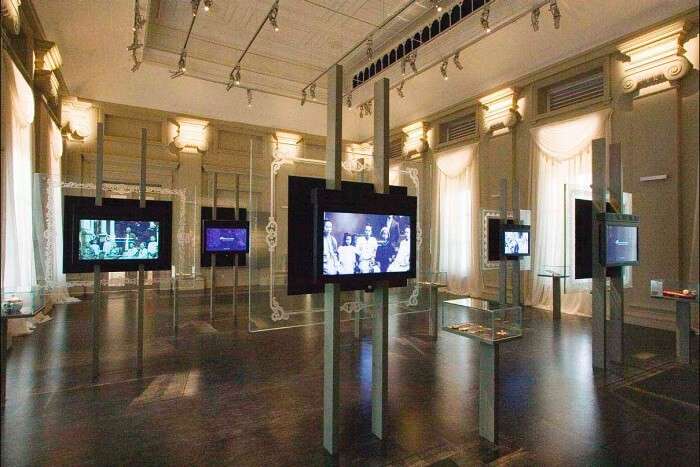 This is the place to visit to learn all about the country be it wars, architecture, fashion, designs or culture. Best among the historical museums in Singapore, it takes you through an intriguing journey of fun and information. And its not just a depository of artifacts. There are video montages, interactive exhibits, guided tours, art performances, live galleries and movie screenings. Quite unconventional with various fun sessions and interactive exhibitions, National Museum is a beautiful amalgamation of all the historical sites in Singapore, at one single place.
Location: 93 Stamford Rd, Singapore 178897
Timings: 10 am – 6 pm
Tickets:
 Blast From The Past: 11 Spectacular Historical Places In Singapore
7. Buddha Tooth Relic Temple & Museum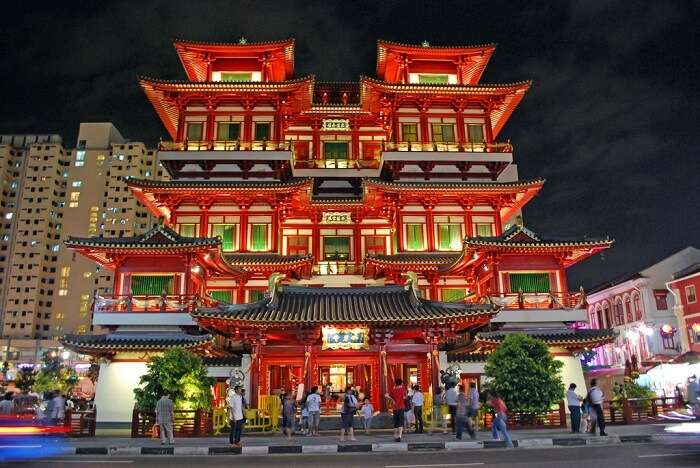 The five-storey high traditional building in red color is your address for spiritual awakening in Chinatown in Singapore. The Tang Dynasty-styled temple houses a massive 3,500 kg stupa mad with 320 kg of gold. The roof garden and the prayer wheel on the terrace are your sources for blessings and tranquility.
Location: 244 South Bridge Rd, Singapore
Timings: 5.30 am – 12 pm | 6 pm – 9 pm
Tickets: Free
  Chinatown In Singapore: Take A Pleasant Stroll In Singapore's Most Happening Town
8. Changi Museum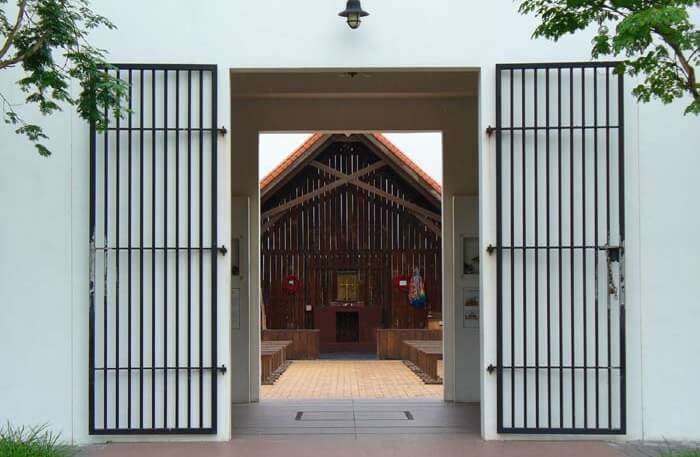 Displaying various artifacts, objects, paintings, murals and sculptures of Second World War era, Changi Museum is one of the icons of the place. The place showcases various stages, war and victory stories that Singapore had experienced during the period of World War II. It also honors and salutes the accomplishments of martyrs who lived in the Changi area and sacrificed their lives during various battles. Seeing these precious
exhibits is one of the most popular things to do in Changi. Other than the galleries and exhibition halls, there is a library, caf- called The Bark Caf- and a souvenir shop.
Location: 1000 Upper Changi Rd N, Singapore 507707
Timings: 9.30 am – 5 pm
Tickets: INR 400 – INR 650
  10 Things To Do In Changi In 2022: A List That Would Entice All Travelers
A remarkable transport network of this nation-state will facilitate your movement around Singapore. What's more is that the lively bars and restaurants in Lion City add on to your charming nightlife experience where you can drink, dance and have fun with your folks. Don't miss out on a splendid view of Singapore Skyline from the Marina Bay Sands hotel or Tiger Sky Tower in Sentosa or head straight to some of the best museums in Clarke Quay as mentioned in the list above. While you're here, there's always scope for more enjoyment with the thrilling water sports at various beaches of this land. So, what are you waiting for? Plan a trip to Singapore for an ultimate holiday experience with the loved ones like never before!
Frequently Asked Questions About Museums In Clarke Quay
Which are the top museums in Singapore?
Some of the most popular museums in Singapore are: 1. National Museum Of Singapore 2. Peranakan Museum 3. Buddha Tooth Relic Temple And Museum 4. Police Heritage Museum 5. Changi Museum
Which are the best places to visit near Clarke Quay?
Some of the best places to visit near Clarke Quay are: 1. Merlion Park 2. Virtual Room Singapore 3. Statue Of Sir Stamford Raffles 4. Boat Quay 5. Singapore Riverside Point – Singapore River Cruise
What are the best things to do in Clarke Quay?
Some of the best things to do in Clarke Quay are: 1. Explore Singaporean cuisine and other cuisines 2. Hangout at a cafe with friends 3. Shop at the boutiques at Clarke Quay
Which are the top nightlife places in Clarke Quay?
Some of the top nightlife places in Clarke Quay include: 1. Chupitos Shots Bar 2. Crazy Elephant 3. Live At The Cross Roads 4. Level Up 5. F. Club Singapore
How to reach Clarke Quay?
The nearest station to Clarke Quay is the Fort Canning Jetty (66 m). From here, Clarke Quay can be reached within a 1 min walk.
---
Looking To Book An International Holiday?
---