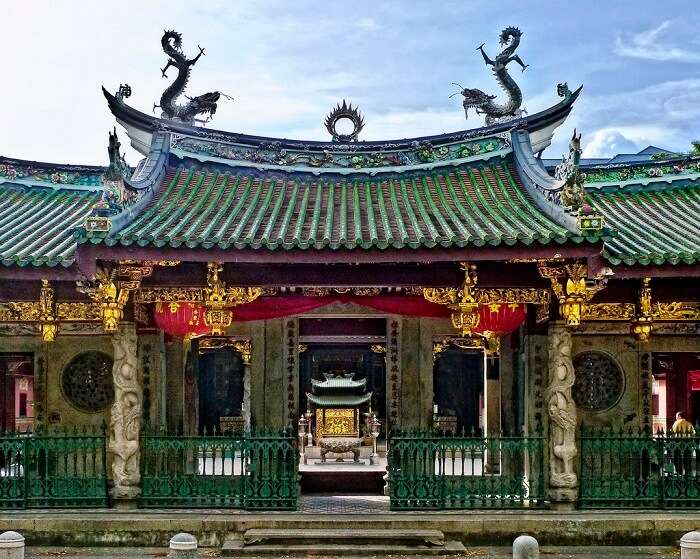 Palaces, forts, horses, cannons, bunkers, monuments, swords, artifacts, cultures, conspiracies, coups, strategies — all of these comprise the colorful past of Singapore. Be it museums, memorials, or religious sites, Singapore has it all to share its story of centuries and more, with pride. Take a look at 10 most spectacular historical places in Singapore which will give you a glimpse of its glorious past.
10 Famous Historical Places In Singapore
Historical sites of a destination are of a great significance to its tourism also. These places allow visitors to have a glimpse of the past, know about the culture and art and architecture of that particular place. Here are 10 such historical sites in Singapore that you must visit:
1. Kranji War Memorial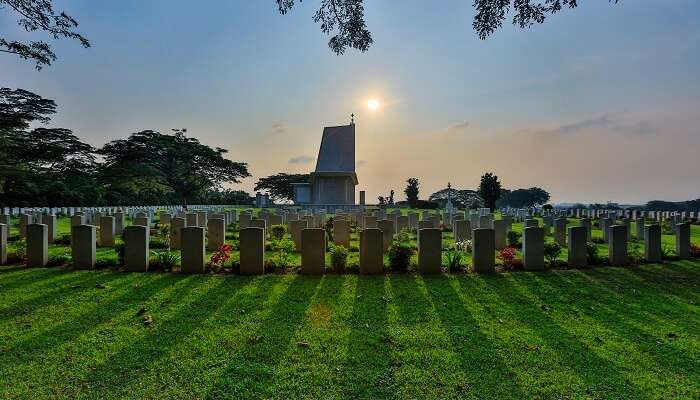 This is one of the most famous historical places in Singapore. The Kranji War Memorial is one of the historical places in Singapore. It honors those who were killed in the line of duty during the World War II. Also, it has a mass grave of 69 Chinese soldiers who died during Japanese Occupation of Singapore. Over 4,400 white gravestones make it look hauntingly serene. Also, a huge remembrance is held on the Sunday closest to November 11, every year.
Note: Also visit Kranji Military Cemetery, which is not restricted to World War's deceased. It has graves of Singapore's first and second presidents as well.
---
Singapore Holiday Packages On TravelTriangle
Go on a luxurious Singapore holiday and visit Universal Studios, Singapore flyer, Gardens by the Bay, Marina Life Park, and Marina Bay Sands. Packages Inclusive of airport transfer, 4 star hotel stay, breakfast, visa, sightseeing, & more at unbelievably affordable rates!
---
2. Indian National Army Monument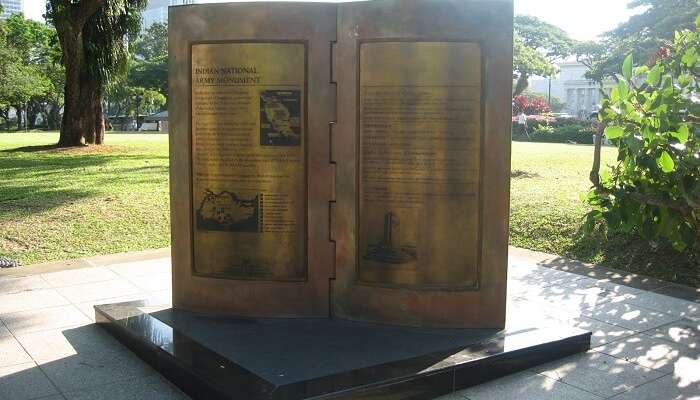 Image Source
Located in the beautiful Esplanade Park, the Indian National Army monument is said to be one of the most visited historical sites in Singapore. It is a marker to commemorate the 50th anniversary of the end of World War II, erected in 1995.
Standing over an original memorial, which was dedicated to an unknown Indian soldier and destroyed during war, it is a structure where you feel unsurmountable respect and sadness for all deceased.
Suggested Read: 6 Easy Tips To Travel To Singapore On Budget In 2019
3. The Civilian War Memorial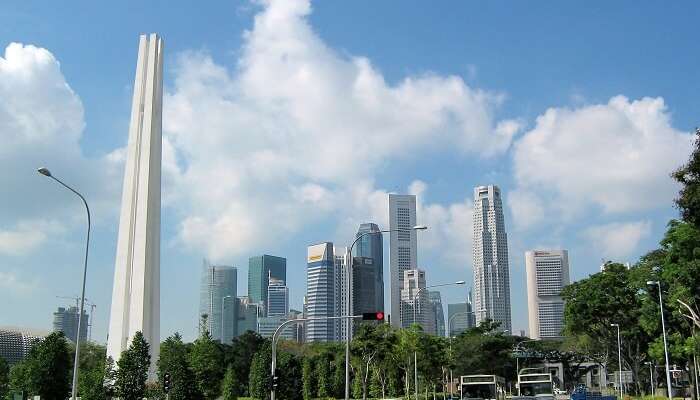 Image Source
The Civilian War Memorial was unveiled by then Prime Minister, Lee Kuan Yew on February 15, 1967. The day also marks the 25th anniversary of the fall of Singapore to Japanese. It is marked by four pillars, 65 meters high, which depict the four main races of Singapore – Chinese, Indian, Malay, and Eurasian. This historical place in Singapore stands above the burial chambers of many civilians which were killed during Japanese Occupation of Singapore.
These towers are fondly referred as "The Chopsticks" by the youth. There is a memorial service held every year on February 15, to pay tribute to such.
Must Read: Shopping, Celebrations & Safaris: 10 Reasons To Visit Singapore In 2015
Interesting Museums & Exhibitions
The historical places of Singapore which documents and exhibitions the history of the country.
4. National Museum of Singapore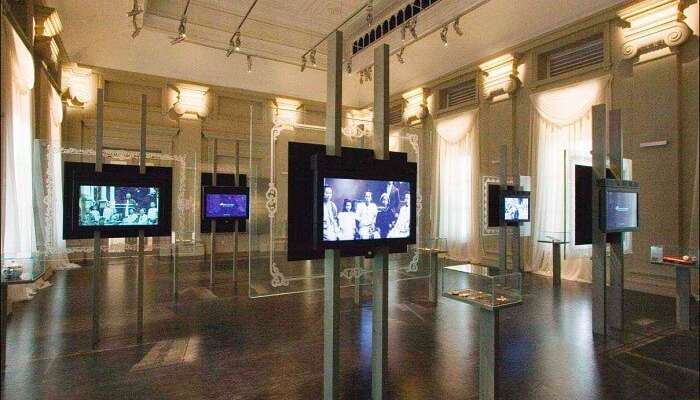 Image Source
This is the place to visit to learn all about the country – be it wars, architecture, fashion, designs or culture. Best among the historical museums in Singapore, it takes you through an intriguing journey of fun and information. And it's not just a depository of artifacts. There are video montages, interactive exhibits, guided tours, art performances, live galleries and movie screenings.
Quite unconventional with various fun sessions and interactive exhibitions, National Museum is a beautiful amalgamation of all the historical sites in Singapore, at one single place.
Opening hours: 10 am to 6 pm
Entry fee $ 10
Website
5. The Battle Box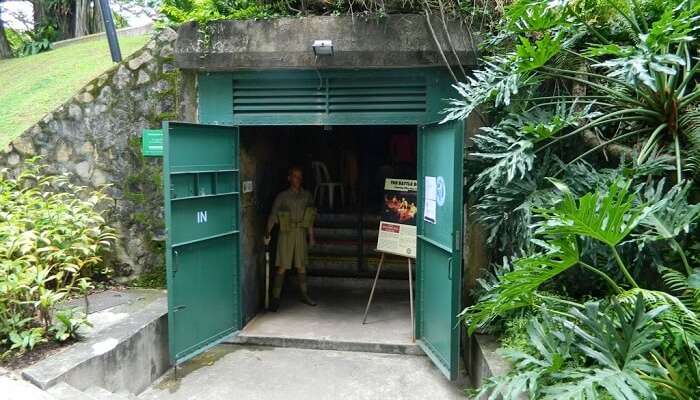 Image Source
The Battle Box is a famous historical place in Singapore with a very interesting history. Its purpose, originally, was to serve as a bomb-proof bunker of Britain's Headquarters Malaya Command, during World War II. Nine meters beneath Fort Canning Hill, it is said to be the site where General Percival reached the doomful decision of handing over Singapore to Japan on February 15, 1942.
Now, an interesting museum and tourist attraction, the Battle Box's 26 underground rooms are used to depict various stages of battle and prominent warriors of the battle. There are wax statues, moving figures which use the concept if animatronic, war collections and such.
Opening hours: 9 am to 4:30 pm
Entry Fee: $12
Suggested Read: This Is What Makes Changi Beach One Of The Most Beautiful Beaches In Singapore
6. Mint Museum Of Toys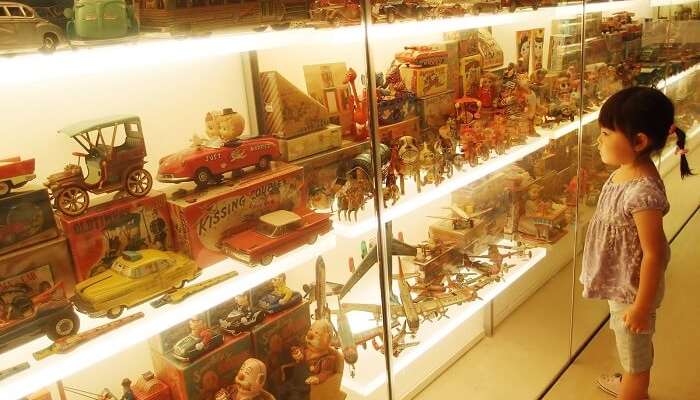 Image Source
The feeling of nostalgia is dominant inside the historical buildings in Singapore. Rows of toys, collectibles and comics will take you down the memory lane. Besides, the information about the era to which they belong is quite interesting.
The Mint Museum of Toys boasts of more than 50,000 vintage toys, of which some are as old as 120 years. Definitely, the museum is a top contender among the quirky historical places in Singapore.
Opening hours: 9:30 am to 6:30 pm
Entry fee: $ 15 for adults and $ 7.5 for children
Website
Must Read: 10 Best Adventurous Activities In Singapore
7. Fort Siloso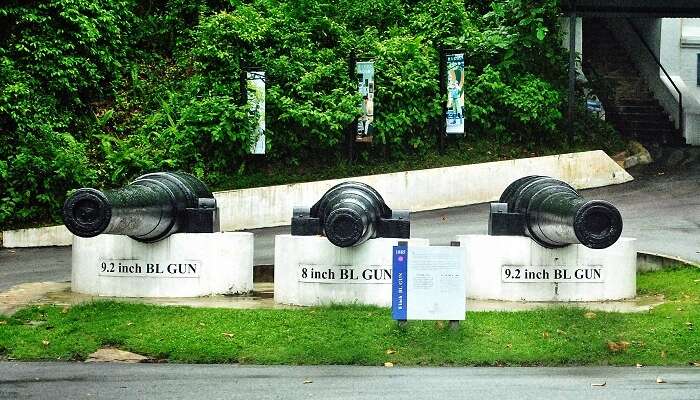 Image Source
Fort Siloso was one of the three forts made to defend Singapore from sea invasion, in the 19th century. Being the only preserved coastal defense fort, it has now emerged as one of the most popular historical sites in Singapore with a rich memorabilia World War II era arms, and other military tunnels and structures.
There are very enriching interactive tours and sessions which impart fun facts and intricate details about the wars and pre-wars strategies.
Note: Don't miss out the Surrender Chambers, which shows the journey of Singapore through British and Japan surrender, with commentaries.
Opening hours: 10 am to 6 pm
Entry fee:
Surrender Chambers: $ 6 for adults and $ 4.5 for children
Guided Tours: $ 20 for adults and $ 15 for children
Must Read: 13 Free Things To Do In Singapore We Bet You Didn't Know About
Religious Places
Historical places in Singapore with religious importance
8. Sultan Mosque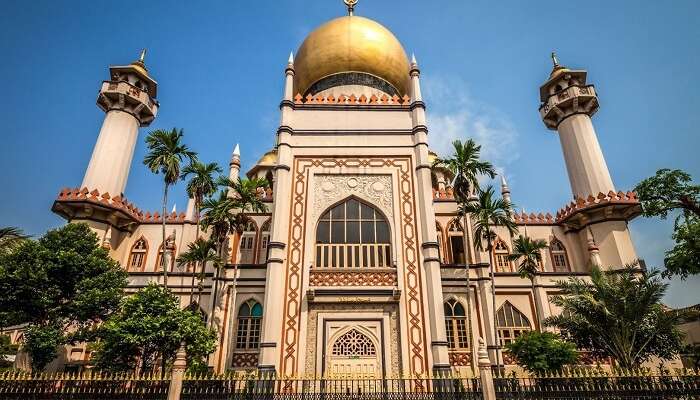 Image Source
The spectacular mosque was built in 1824 by Sultan Hussein Shah, the first sultan of Singapore. After a century, it was in dire need of reconstruction. So when it was renovated, its massive golden domes and huge prayer halls were decorated with glass bottle ends. These ends were donated by poor Muslims, so that everyone can put in their bit for the construction and resurrection of the mosque. Being the biggest mosque of the country, it is one of the famous historical monuments in Singapore with some religious importance.
Timings:
Monday to Sunday: 9:30 am to 12 pm & 2 pm to 4 pm
Friday: 2:30 pm to 4 pm
Suggested Read: New Year Celebration In Singapore: Head Down To Lion City To Welcome The Next Year With A Bang
9. Sri Veeramakaliamman Temple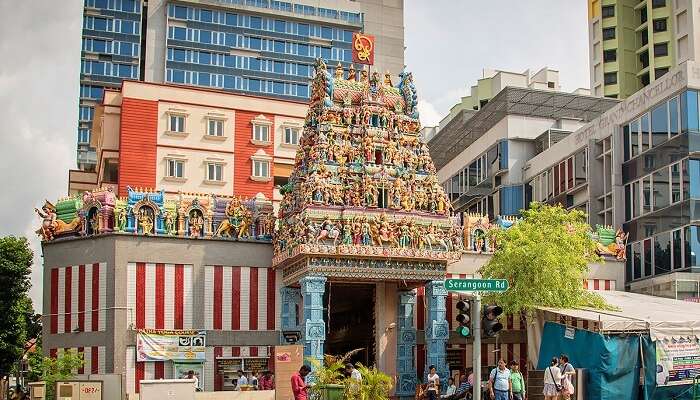 Image Source
The oldest Hindu temple in Singapore, Sri Veeramakaliamman Temple is dedicated to Goddess Kali. It was built in 1881 by migrated Hindus, and today is among the most popular historical sites in Singapore. The temple was beautifully redesigned with six stories and colorful interiors in 2014. The intricate carvings and sharp detailing are spectacular.
It is also said that when Japan air-raided Singapore during World War II, the people taking refuge in the temple remained unscathed as the bombing did not affect the structure and statues of the temple.
Timings: 5:30 am to 9:30 pm
Suggested Read: These Exhilarating Experiences On Sugi Island Will Make You Take A Detour From Singapore
10. Thian Hock Keng Temple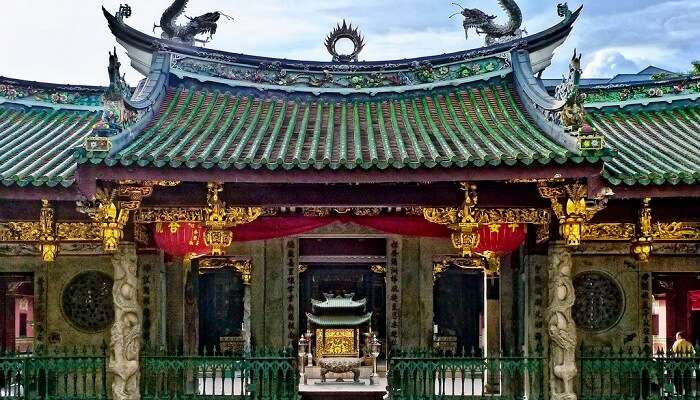 Image Source
Thian Hock Keng Temple is the oldest Chinese temple and the most prominent Hokkien temple of the country. There are two temples, one is dedicated to Mazu—the Taoist goddess of the sea; and the second one at the back is dedicated to Kuan Yin—the Buddhist god of mercy. The temple has vibrant interiors with bright colored tiles and colorful carvings of peacock and roses. The grand entrance with the lions, tigers and the Door Gods guarding the door feels like a different world altogether.
Being the oldest one built in 1842, it attracts many tourists with its splendor. Famous among the Chinese historical monuments of Singapore, the temple is great place to be at for some calmness and serenity.
Timings: 7:30 am to 5:30 pm
Further Read: 10 Romantic Places To Visit In Singapore For Your Honeymoon
Impressive collection, isn't it? We are sure that there were many unknown historical places in Singapore on this list, about which you did know. Don't hold yourself back and see through the engaging history of Singapore, for your own eyes. Plan a trip to Singapore right away and discover these traces of the past with you family or friends.
---
Looking To Book An International Holiday?
Book memorable holidays on TravelTriangle with 650+ verified travel agents for 65+ domestic and international destinations.
---
Comments
comments