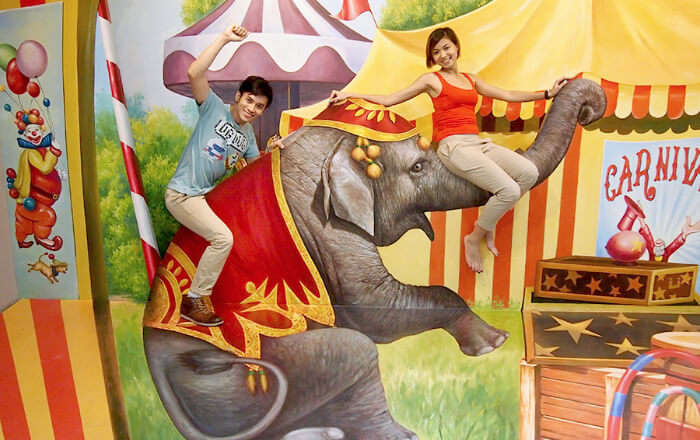 Raffles Place serves as the center of the Financial District of Singapore and is situated in the southern part of the mouth of Singapore River. It was established in the 1820s as the commercial hub of Singapore but has now developed as a rather fun and touristy avenue owing to the range of leisure facilities in this beautiful township. Packed with a number of hotels and resorts, cafes and restaurants, shopping arcades, and various attractions like the popular museums in Raffles Place, it provides endless excitement to travelers. This lovable place should definitely be a part of your travel plan. With so much to explore and indulge in, there's no dearth to the fun you can have here with your friends and family. Its museums are a treasure trove of knowledge and wisdom where you can witness crucial historical artifacts and hear the legends of Singapore that have shaped this island nation into the modern-day Singapore while also retaining its spirit and culture. You'll be surprised with all that you get to learn and discover here.
4 Fabulous Museums In Raffles Place
Here is a list of the finest museums and knowledge centers you need to visit in and around Raffles Place to better understand its past and how it has helped Singapore evolve into what it is today. Don't forget to make a note of these once you're done reading about them here.
1. Trick Eye Museum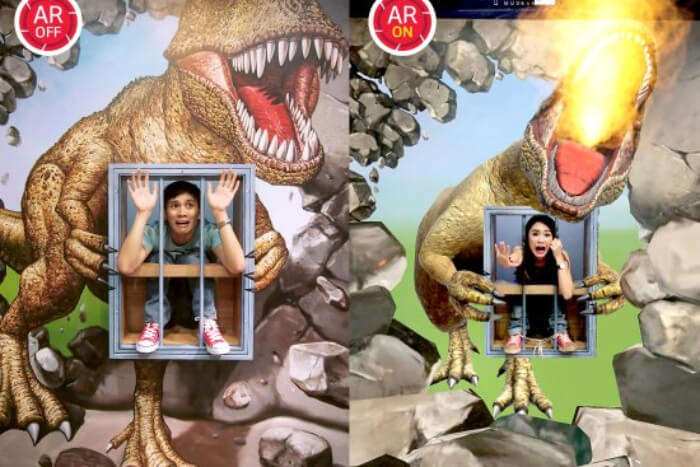 Leave reality behind and bring just your free imagination with you in this unique museum. This place is one of the most internationally acclaimed optical art museums of Korea and is some of the best places to visit if you are looking for anything different to do from the usual while here. This museum uses Augmented Reality factors and features. This AR feature helps bring the art exhibits here to life. But it's not just 3D. These AR features are put into 80 art installations with an optical illusion which will fill your mind with amazing sounds, lights, and other exciting special effects.
Location: 26 Sentosa Gateway #01-43/44, Singapore 098138
Price: Adults-$25.00; Children- S$20.00; Seniors- $20.00
Opening Hours: Open Daily, Time: from 10 AM to 9 PM.
Read More: 54 Remarkable Places To Visit In Singapore In 2022 Where A Wandering Heart Finds Peace
2. Peranakan Museum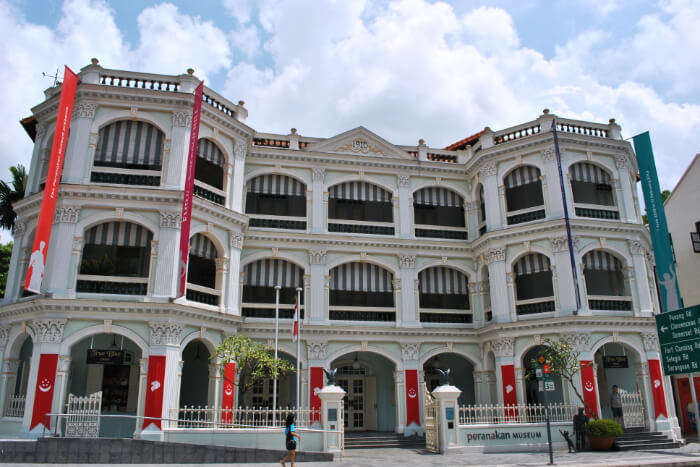 Peranakan Culture is actually one of the major South Asian hybrid communities. It consists of three cultures; namely Malay, Chinese and Indian. This museum houses some of the largest collection of this bygone hybrid of heritage and culture. Built in the year 1913 by some Chinese traders, this venue contains three stories which each house very distinctive artifacts which are related to Peranakans. Here you will get to experience museum tours which will take through the traditional Peranakan's huge 12-day wedding complete with furniture, textiles and ancient jewelry. The tour is available in Japanese, Mandarin, English, and French languages. You can also book a private tour for your group of it contains 20 people or more.
Location: Armenian street.
Hours Open: 10 to 19:00 and 10 to 9 pm on Fridays.
3. Mint Museum Of Toys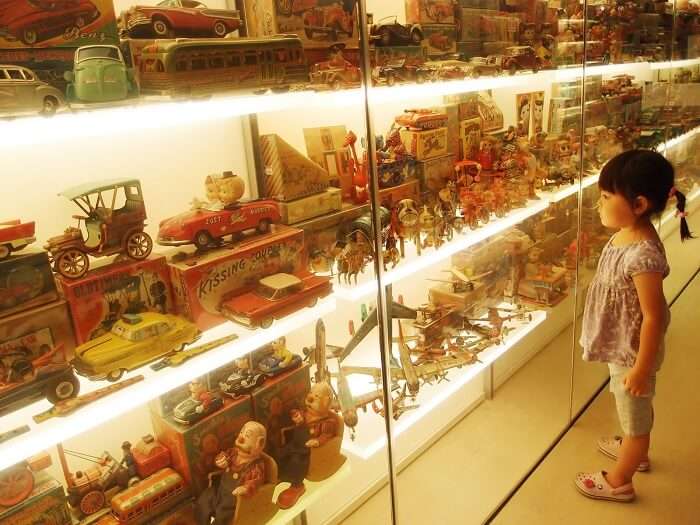 The feeling of nostalgia is dominant inside the historical buildings in Singapore. Rows of toys, collectibles and comics will take you down the memory lane. Besides, the information about the era to which they belong is quite interesting.
The Mint Museum of Toys boasts of more than 50,000 vintage toys, of which some are as old as 120 years. Definitely, the museum is a top contender among the quirky historical places in Singapore.
Opening hours: 9:30 am to 6:30 pm
Entry fee: $ 15 for adults and $ 7.5 for children
Website
Read More: Blast From The Past: 11 Spectacular Historical Places In Singapore
4. Buddha Tooth Relic Temple & Museum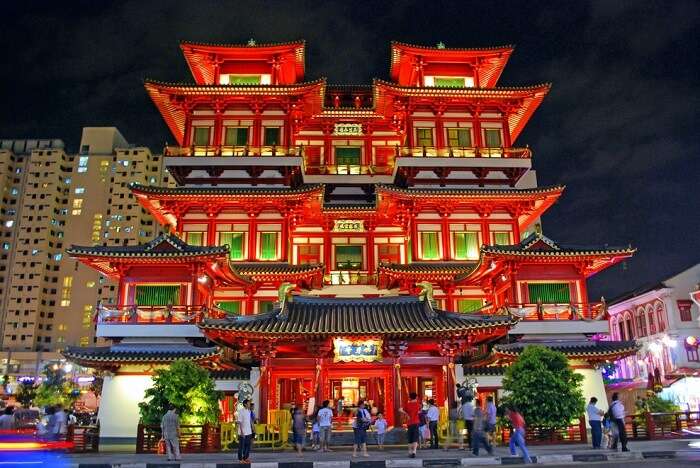 This temple and museum was built only ten years back but speaks of a history centuries old. Located in Chinatown, the temple has its architecture inspired by the Chinese Tang dynasty. This place houses the tooth of Buddha, which is considered a holy relic in Buddhism, placingit on every must-visit Buddhist temple list in Singapore.
Apart from that, it is also home to many beautiful artworks related to the life of Lord Buddha as well as a garden and a bookstore.
Location: 288 South Bridge Road, Singapore
Timings: 9 AM – 6 PM
Read More: 11 Stunning Temples In Singapore You Must Visit On Your Holiday
Best Time To Visit Raffles Place In Singapore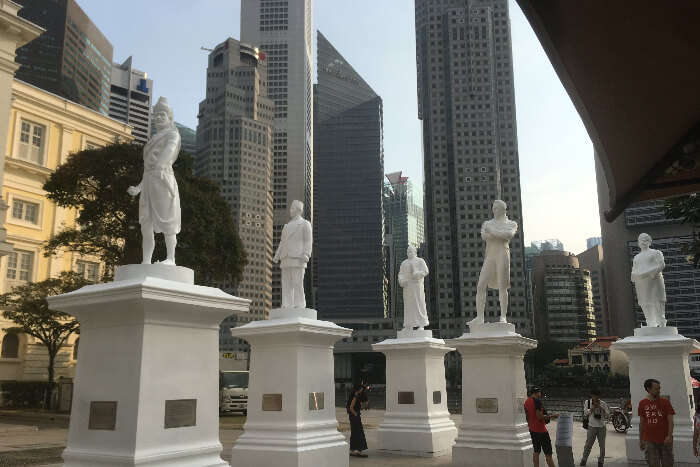 Even though Singapore happens to be a year-round destination, experts recommend that travelers avoid the peak months between September and March so that they do not have to deal with all the touristy crowds and sky-high prices of accommodations in Singapore. On another note, Raffles Place can be visited during the summer and winter months, which anyway is quite a pleasant time for exploring this beautiful region. Visiting Raffles Place during this period will enable you to enjoy plenty of outdoor activities and indulge in sightseeing. Travelers should specifically avoid visiting in the time period between November and January. These are the wettest months when Raffles Place along with other parts of Singapore receive frequent showers that can last for really long durations. While these are the wettest, Singapore's hottest months include May and June. But no matter what time or season one pays Singapore a visit, they are sure to find plenty to see and do in this charming region. Make sure you always stay updated on the weather forecast of the places you visit in Singapore before taking your trip and after getting there as well.
With so much to learn and discover about Singapore's glorious history, heritage, and culture, just visiting one of these museums in Raffles Place won't be enough! Make sure you plan your trip itinerary in a way that enables you to visit all of these to best understand Singapore and explore it in a comfortable, well-informed manner. Escape to Singapore with the help of TravelTriangle for the best deals and a thrilling trip experience. So, which of these enlightening museums are you going to visit first? Take your pick!
---
Looking To Book An International Holiday?
Book memorable holidays on TravelTriangle with 650+ verified travel agents for 65+ domestic and international destinations.
---