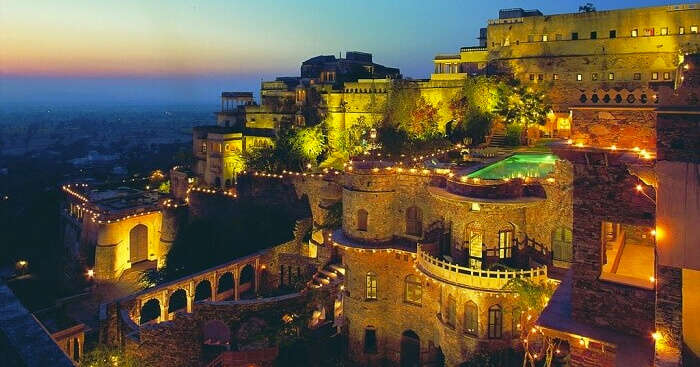 Nestled amidst greenery on the Delhi-Jaipur Highway, surrounded with spectacular views and enriched with the grandeur of history, the Neemrana Fort Palace is undoubtedly the best resort near Delhi for an idyllic weekend getaway. Be it your romantic escapade, a family holiday, or a weekend trip with friends, this place has something for everyone to cherish for a lifetime. Lose yourself in the serenity of the palace for a weekend and enjoy your time here.
Table Of Content
Best Time To Visit Neemrana Fort Palace
Since Neemrana is set amidst greenery, the weather here stays pleasant throughout the year. But, if you want to plan an ideal getaway with amazing weather, try visiting from July to March. The monsoon here is quite refreshing and soothing, whereas the winter season is delightful.
Neemrana Fort Palace Entry Fees And Timings
If you're planning a Neemrana Fort day trip on a weekday, the Neemrana Fort Resorts entry ticket is around INR 1,700 between 9:00 AM and 2:30 PM, which includes a delicious lunch buffet (INR 1,416) and Neemrana Fort entry fee (INR 284) in the package. However, if you're planning to visit on a weekend, the Neemrana Fort Palace fee is INR 2,000 which includes your entry ticket for INR 584 & lunch for INR 1,416 between 12:00 PM to 2:30 PM. These packages include Neemrana Fort entry fee and lunch for one person or lunch and are 100% adjustable against the room tariff. Neemrana Fort booking can either be done through their website or any other hotel booking website. 
The times to visit the fort palace are between 9 AM to 3 PM. However, you can also plan an overnight stay here by staying in one of the best rooms in Neemrana Fort Palace. Make sure you keep the Neemrana Fort Palace timings in mind and leave the palace well in time if you do not plan to spend the night here.
Must Read: 32 Best Romantic Places In Delhi 
About Neemrana Fort Palace
One of the oldest heritage luxury hotels, Neemrana Fort images give you an idea of its exquisite beauty. It is a beautiful amalgamation of history and modernity. Spread over six acres and 12 levels, the Neemrana Fort location will make you fall in love with this place. Some of the most amazing ones are the Deva Mahal, Uma Vilas, Hara Mahal, Chandra Mahal, Francisi Mahal, and Sheela Mahal. A single occupancy room's tariff is INR 4500 plus taxes and a double occupancy and more occupancy room's tariff starts from INR 7,400 plus taxes to INR 35,000 plus taxes. The tariff for accommodation at the palace may vary at times depending on a special occasion or season like New Year's Eve.
Neemrana Fort Palace rooms are beautiful. It boasts two restaurants, two outdoor pools, a fitness centre, spa services, a bar and cafe, free Wi-Fi, and free self-parking. The rooms have classy minibars and coffeemakers along with other facilities. For readers, there is a library, and for everyone else, there is a free hearty breakfast.
What makes this resort uber exquisite is the absence of mainstream TV and room service facilities. This heritage property makes sure your getaway is worth the time and good value for money. So indulge in never-ending conversations, take a dip in the pool, visit nearby places, and spend all the time with your loved ones.
How To Book A Room In Neemrana Fort Palace
The bookings for a weekend stay can be made by contacting their centralized Delhi office which can be reached through reservations@neemranahotels.com or through other travel and tour websites to enjoy an exclusive discount.
With conference rooms and beautiful grounds, you can also book a place in the palace for special events and meetings. You can also book a place for a wedding in Neemrana Fort Palace. The Neemrana Fort Palace food price is also decent.
Things To Do In Neemrana Fort Palace
Wondering what all you can do at the Neemrana Fort Palace in Rajasthan? Myriad experiences await you inside this ancient palace overlooking the gorgeous city skyline. A stay at Neemrana Fort offers amazing excursions along. Scroll down for the best Neemrana Fort Palace activities!
1. Cultural Events

The Neemrana Fort Palace location is ideal for a getaway near Delhi, but also a great holiday destination. The palace retains its charm and elegance with the cultural performances organized by the Neemrana Music Foundation that happen every weekend. Apart from our country's leading musicians and dancers, even foreign artists perform here. Don't miss this chance to watch intriguing folk performances here during your visit.
Opening hours: Mostly on Saturdays (times vary according to event)
Entry fee: Varies according to event
Famous for: Dance programmes, music and singing
Suggested Read: 7 Places To Visit In Neemrana 
2. Spa And Pool

Image Source
Rejuvenate and revitalize yourselves at the Raj Kund, the pool on the plateau or enjoy special Ayurvedic massages to soothe and de-stress your soul. From detoxification to rejuvenation, Neemrana Fort Palace offers a list of treatments to suit your needs. You can pick from these the one that fits your needs, or ask them to curate a special package. To make the most of your Neemrana Fort Day trip, make sure to enjoy it here. 
Opening hours: 7 am to 7 pm
Entry fee: N/A
Famous for: Wellness of body, sunlight-spectrum yoga, meditation, wellness therapies 
3. Camel Ride

The stunning well-spread huge palace has its own joys. Take a good amount of rest and then head over to explore the beautiful gardens and the nearby villages on a camel cart. This is one of the best Neemrana Fort activities to do with your better half if you're on a romantic getaway. 
Opening hours: Evening 
Entry fee: INR 350 for 1 person; INR 900 for 4 (plus taxes)
Famous for: Exploring nearby regions, villages and culture
Suggested Read: 20 Best Palaces In Rajasthan 
4. Ziplining

Once you've lived the fairyland fantasy in the palace, head out to calm the adventurer in you. Zip tour is India's first new aerial adventure and also a must-experience for everyone coming here. So no matter if you're with your family or your partner, this is one of the most thrilling and memorable things to do in Neemrana Fort Palace. It's among the best activities for families with kids to enjoy.
Opening hours: 10 am to 6 pm
Entry fee: INR 1,000 to INR 1,500
Famous for: A great thrill in the palace
5. Vintage Car Ride

Available exclusively for the resident guests here, a ride in the vintage car around the villages for 5 km is a great thing to do here. It costs INR 1,300 plus taxes for three people and can be enjoyed easily by contacting the palace management during your stay. So, the next time you're in Neemrana Palace with your partner and looking for activities to do in Neemrana Fort Palace, don't forget to try this ultra-romantic experience.
Opening hours: 10 am to 4 pm
Entry fee: INR 1,300
Famous for: Exploring the villages like a king
Suggested Read: 33 Famous Palaces In India 
6. Shopping

If you're a huge shopaholic or love taking mementoes home from every place you visit, do stop by the Neemrana Shop. From fashion wear and accessories to candles, pottery, tableware, and more, this shop offers a great shopping experience. While you can get these nearby as well, the shop can offer all authentic goods and nominal prices. Amidst the plethora of fun Neemrana Fort activities, shopping is definitely on the top. 
Opening hours: 9 am to 6 pm
Entry fee: Free entry
Famous for: A unique experience for lifestyle products, artwork, and gifts
Places To Visit Near Neemrana Fort Palace
Some numerous areas and attractions were built around the Neemrana Fort Palace in 15th century, are waiting for you to explore them. Here is the list of some places near Neemrana Fort Palace worth exploring:
1. Forts And Museums

Image Source
While Neemrana Fort Palace is all about relaxing, a three-hour drive to the pink city – Jaipur can help you explore more about the city. City Museum, Amer Fort, Amar Palace, Johari Market, etc. are a few of the places to visit and see around. You can also try various other activities in Jaipur like desert safaris, a visit to Chokhi Dhani, and shopping. Visiting these magnificent spots will complete your Neemrana fort day trip.
Opening hours: Different forts have different times 
Entry fee: Varies according to attraction
Famous for: Understanding the culture, history and heritage of Rajasthan
Suggested Read: 36 Magnificent Places To Visit Near Delhi In Winters
2. Sariska National Park

Located some 124 km away from Neemrana, this national park is one of the best reserves for tigers in the country that counted among the best places to see around Neemrana Fort Palace. The grounds of the park are encircled with Aravallis, which makes it a beautiful location. It's the perfect spot to visit with your family, kids, or friends. You can easily see a leopard, a royal Bengal tiger, four-horned antelopes, a crocodile, a hyena, a jungle cat, and several other birds and animals here.
Location: Subhash Chowk Station road, Malakhera, Alwar, Rajasthan 301406
Opening hours: 6 am to 6 pm
Entry fee: INR 80 per person
Famous for: An exotic range of flora and fauna, The Bengal Tiger
3. Bala Quila

It's a huge fort located on a hilltop, which gives an amazing view of the whole city. The fort has a grand structure and 74 towers that enhance its magnificence and beauty. You must visit here if you're an admirer of art and architecture. It's among the favourite places of all photographers visiting Neemrana since it offers stunning views from the top.
Location: Bala Quila Rd, Alwar, Rajasthan 301001
Opening hours: 10 am to 5 pm
Entry fee: Free entry
Famous for: For a supreme view of the city of Alwar
Suggested Read: Shopping In Udaipur
Places To Eat Near Neemrana Fort Palace
While you can enjoy a free breakfast while staying at the Neemrana Fort Palace, a buffet lunch comes for INR 1000 and dinner for INR 1100 plus taxes, which is organized every day in the palace. The Maha Burj Lunch is one of the two Neemrana Fort Palace restaurants that offer a vegetarian thali for INR 700 and a non-vegetarian thali for INR 900 plus taxes. The palace also has a yearly Gala Dinner on Christmas Eve for INR 2,500 and on New Year's Eve for INR 3,500 plus taxes. But, if you want to escape the routinely planned meals at the resort and have a budget meal, here are a few places to eat near the palace:
1. Hotel Tokas

Image Source
A casual dining restaurant that offers decent north Indian food for INR 800 for two, Hotel Tokas is one of the best restaurants in Neemrana to consider near the palace. A few of the recommended things to try here are their butter chicken and garlic naan. Don't leave Jaipur without having a meal or two at this awesome place.

Must-try foods: Dum aloo Kashmiri, chicken makhani, tandoori chicken
Location: Japanese Zone, National Highway 8, Neemrana, Rajasthan 301705
Timings: NA
Zomato Rating: 3.2/5
2. Sagar Ratna

No matter where you go and how far you travel, Sagar Ratna is one of the restaurants you can always count on. Offering a good variety of south Indian, north Indian, and Chinese, this restaurant on NH-8 in Behror is a good place to dine. And if you're looking for pure vegetarian food in Jaipur near Neemrana, this is where you should be going.

Must-try foods: Mini idlis, medu vada, dosa sambhar, dahi vada, rava onion masala dosa
Location: CP-9 NIC(M) Japanese Zone, Neemrana, Rajasthan 301705
Timings: 8:00 AM – 9:30 PM
Zomato Rating: 3.2/5
Suggested Read: 38 Exhilarating Things To Do In Udaipur 
3. Kuraaku Japanese Restaurant

Image Source
If travel helps you explore places, so does food. Give your taste buds a treat by trying out Japanese cuisine at this restaurant in Behror. The cost for two is INR 1,500, and pork skewers and prawn sushi are the right items to start your order with. You can also try salmon with sushi, another Japanese delicacy offered here. Its delicious variety of meals make this place counted among the best places to eat near Neemrana Fort Palace for lunch.

Must-try foods: Crunchy ebi roll, salmon tempura roll, banya kauda, salmon with sushi, tofu no wafu salad
Location: Plot 1&2, Kolila Sanga, Neemrana, Rajasthan 301705
Timings: 12:00 PM -2:30 PM, 6:00 PM – 10:30 PM
Zomato Rating: 3.2/5
Tips

Make sure you plan your visit between July and March since the weather here this time is the most pleasant.
Book your room in advance since the popularity of this palace hardly leaves it available on the weekends.
Do carry your sunscreen lotion, UV-protected sunglasses, a hat, and a good camera to capture every moment you live in this beautiful palace.
If you're planning a Neemrana Fort day trip, then avoid carrying your homemade food, since they wouldn't allow it.
Don't forget to take your swimsuit along as the swimming pool at the Neemrana Fort Palace is irresistible.
Suggested Read: 35 Best Things To Do In Jaisalmer 
How To Reach Neemrana From Delhi

Neemrana Fort Palace is some 106 km away from New Delhi's Indira Gandhi International Airport. To go to Neemrana Fort Palace from Delhi, you can take the NH 48 to Jaipur and reach the palace in two hours. You can also reach the palace by taking a train from New Delhi Railway Station, which is some 120 km away from Alwar, and reach in two and a half hours.  This is the best route to reach Delhi to Neemrana Fort.
Further Read: 60 Best Honeymoon Destinations In India
Are you already smitten with the palace? Stop thinking and book your trip to Rajasthan with TravelTriangle so that you can explore the Neemrana Fort Palace with ease. After all, a refreshing weekend getaway is all you need! Don't forget to share this with your friends so that they too can join you on your quest to unveil the mysteries of this grand fortress.
For our editorial codes of conduct and copyright disclaimer, please click here.
Frequently Asked Questions About The Places Of Indian Cultural Heritage
How many cultural heritage sites are in India?
There are a total of 38 World Heritage Sites located in India. This number includes 30 cultural sites, 7 natural sites, and one mixed site. Be it the splendid Taj Mahal, the architectural ruins of Hampi, or the various heritage places in Kerala, India is home to a diverse mix of iconic heritage locations recognised by UNESCO. According to the UNESCO World Heritage Convention, these places hold tremendous importance of cultural or natural heritage.
Which city is known as the Heritage City of India?
Ahmedabad is called the Heritage City of India. Winning over Delhi and Mumbai for this prestigious UNESCO, Ahmedabad has been declared India's first World Heritage City. Founded by Ahmed Shah over 600 years ago, this walled city owes its title to its unique heritage and culture.
Which is the cultural city of India?
Kolkata in West Bengal is called the 'Cultural Capital of India'. It is one of the top cultural sites in India and is famed for its rich culture, artistic heritage, and historic traditions, as well as its vast literary wealth.
Is Taj Mahal a World Heritage site?
Yes, the famed Taj Mahal was awarded the title of a UNESCO World Heritage Site in the year 1983. It is regarded as "the jewel of Muslim art in India and one of the universally admired masterpieces of the world's heritage" by UNESCO.
How many World Heritage Sites are there in Maharashtra?
There are a total of 4 World Heritage sites as well as one shared heritage site located in the Indian state of Maharashtra. These are:
Ajanta Caves (Aurangabad)
Ellora Caves (Aurangabad)
Elephanta Caves (Mumbai)
Chhatrapati Shivaji Terminus/Victoria Terminus (Mumbai)
Western Ghats (Sahyadri sub-clusters).
Which country has the most heritage sites?
Italy has the highest recorded number of UNESCO World Heritage Sites in the world courtesy of its rich history and the fact that it is the birthplace of the Roman Empire and the Renaissance.
How can I go to Neemrana Fort from Delhi by bus?
Located on Delhi-Jaipur Highway, Neemrana Fort can be easily reached by bus. There are Several Rajasthan State Transport Corporation as well as private buses that connect Neemrana with Delhi.
Who owns Neemrana Fort?
Currently, Aman Nath, an Indian writer and architectural restorer, owns the Neemrana Fort. Moreover, he is the co-chairman and co-founder of the hotel chains of Neemrana.
What is there to see in Neemrana Fort?
There are several places to explore in Neemrana like Sariska National Park, Baori, Alwar Fort, and Siliserh Lake. While visiting here, travelers can partake in various exciting activities including ziplining, wildlife safari, sightseeing, vintage car ride, and more.
Why is Neemrana Fort famous?
Neemrana Fort has gained popularity due to its magnificent fort palace which has been converted into a luxury hotel. Located just 127 km away from Delhi, Neemrana Fort makes a perfect weekend getaway. Besides this, the fort is one of the most sought-after wedding shoot locations in India.
People Also Read: