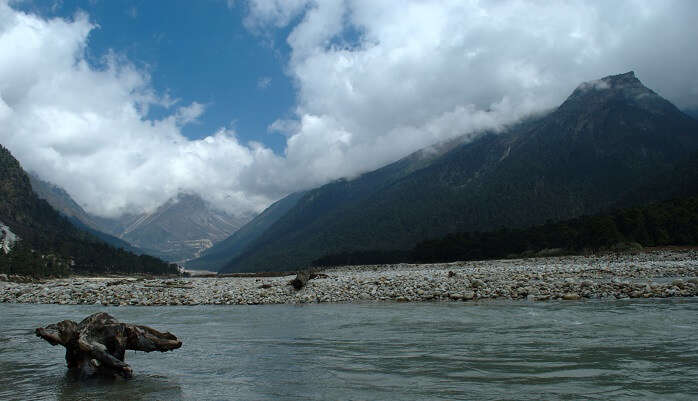 Cover Image Credit: Wikimedia
As monsoon is here, what could be a better time for indulgence in abundant natural beauty when new flowers are in full bloom! Fringed with verdant Alpine forests, melting snow glaciers, and pristine waterfalls, the splendid landscapes of the state of Sikkim, also referred to as the 'Valley of Flowers', become even more exuberant and beguiling. Albeit, due to the incessant downpours from May to September, it is often advised not to visit the north-eastern region as landslides and roadblocks can delay your journey. But again, if nature is beckoning you, an excursion to Sikkim in September can be a great time. For, with the arrival of this month, the refreshing drizzle blanket the whole region with lush greenery, and offer you a captivating experience that is unmatchable!
Weather In Sikkim In September
Boasting enchanting beauty with the average temperature hovering around 15 degree celsius, the weather in Sikkim in September is quite pleasant to let you enjoy a sojourn amidst enchanting views, indulge in outdoor activities, and much more. What's more? If you are the one who loves to escape to a tourist destination with a minimal crowd, then a tour in September is just meant for you.
List of 10 Astounding Places You Cannot Afford To Miss Out On An Excursion To Sikkim In September
Snuggled in the lap of magnificent Himalayas, the north-eastern state is decked with verdant environs in the month of September. But, if you still have a doubt about the excursion; we have come up with a list of the best places to explore in Sikkim that will leave you spellbound till the entirety of the trip.
1. Nathula Pass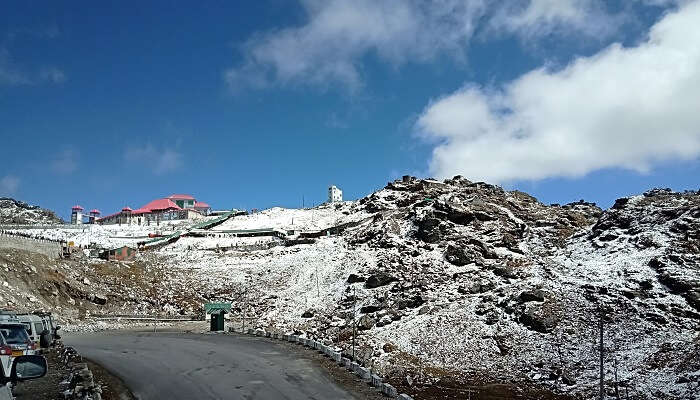 Located at around 14,400 feet altitude above sea level, Nathula Pass is one of the world's highest motorable passes. Popular amongst tourists, especially trekkers, this pass is the best place to have an exhilarating experience while savoring the mesmerizing views. However, the pass is open only to Indians, and foreign nationals cannot make it there. Though, Indians are also required to obtain a permit from the tourism department to visit there.
Location: around 54 km east of Gangtok
Opening Days: Wednesday to Saturday
Permit Cost: INR 200 per pax (approx.)
Must Read: 28 Things To Do In Sikkim In 2022 For Unbeatable Adventures In Breathtaking Landscapes!
2. Tsomgo Lake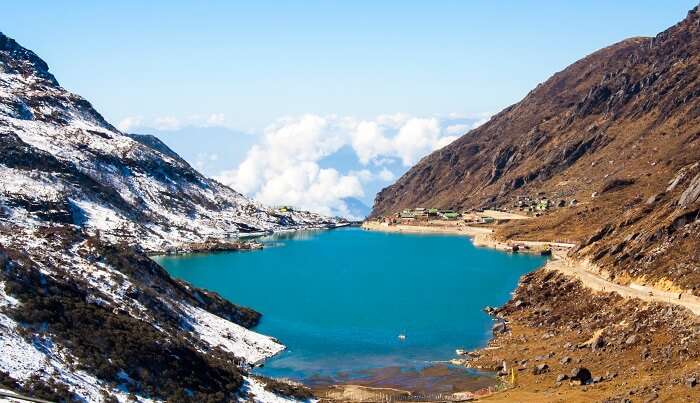 The Tsomgo Lake, also referred to as Changu Lake can, however, be visited by everyone, including foreign nationals, if they have a permit. One of the highest lakes in India, Tsomgo Lake is home to Brahminy ducks and some other exotic species of birds. Shaped like an egg, it offers a striking reflection of the snow-capped mountains, making it one of the most-sought after places to explore if you are planning to visit Sikkim in September. Located en route to the Nathula Pass, it also allows you to enjoy a yak riding for a unique experience.
Location: 35 km from Gangtok
Suggested Read: 9 Cosy Homestays In Sikkim That Are As Good As Home
3. Gurudongmar Lake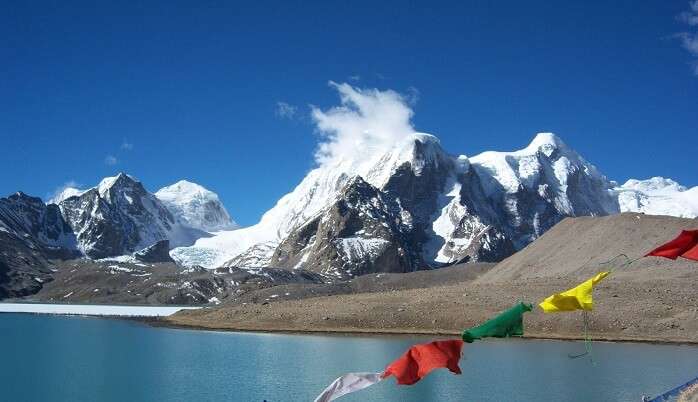 Nestled at a towering height of around 17,800 feet, it is one of the most gorgeous places in Sikkim that you cannot afford to miss out on! Offering a striking reflection of azure skies and snow-covered mountains, this is one of the world's highest fresh-water lakes and also the largest lake in the north-eastern state.
As it is also located in the vicinity of Chinese Tibetan border, foreigners are prohibited to visit this lake. However, if you are an Indian, do try to get a tourist permit for this attraction, and climb to it in case you are planning to take a Sikkim tour in September. Considered as the holiest lake, it is believed that one of the portions of Gurudongmar Lake never freezes, while the rest of the lake remains frozen in the winter season.
Location: North Sikkim
Suggested Read: A-Z Guide To Make Your Honeymoon In Sikkim An Affair To Remember In 2022!
4. Goechala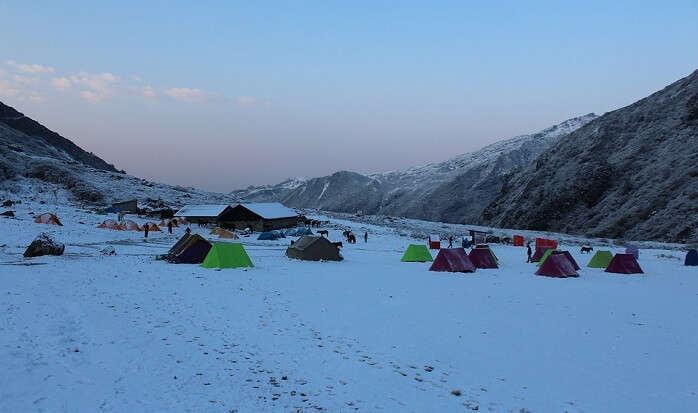 Perched atop at the height of around 4,940 meter above sea level, Goechala is the high mountain pass offering a breathtaking view of the famous Mt. Kanchenjunga. If you are an adventure enthusiast, then this can be the best place for trekking due to its proximity to a few of the highest mountains of the Himalayas. Located en route to the summit of Kanchenjunga, and blessed with untouched beauty, this is one of the must-visit places in Sikkim.
Location: Sikkim
Altitude: 16,200 ft.
5. Teesta River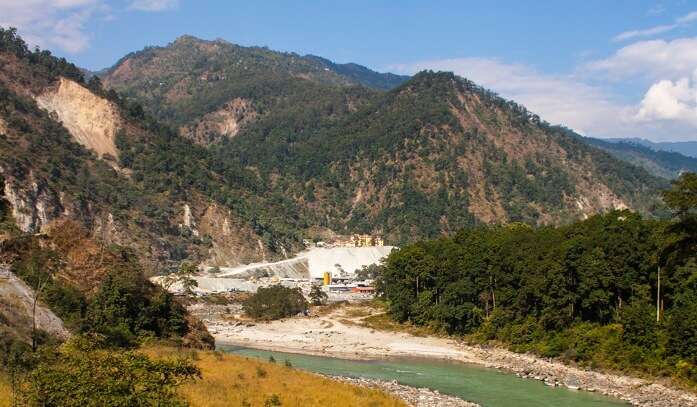 Fringed with a bounty of white sandy beaches, Teesta River offers an ultimate camping experience that you may dwell in your heart forever. While, the boulder-strewn river beds and high cliffs add thrill to the whole experience, as the region is crammed with numerous adventure spots to let you enjoy river rafting for that much-needed adrenaline rush. Sprawling over a course of about 309 km, it is the most prominent river in the state of Sikkim. Passing through Kalimpong, Rangpo, and Jalpaiguri, it separates the north-eastern state from West Bengal.
Location: Parts of West Bengal and Sikkim
Suggested Read: Sikkim In June: A Complete Guide On How To Experience It Best In 2022
6. Baba Harbhajan Singh Temple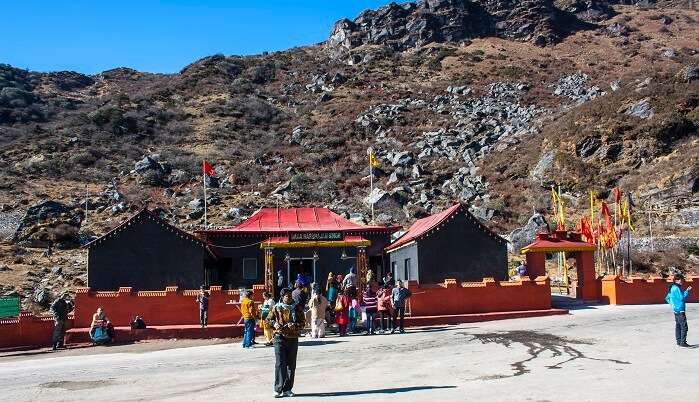 Cradled by Jelepla Pass and Nathula Pass, Baba Harbhjan Singh Temple, as referred to as Baba Mandir is located at a towering height of about 13,123 feet. Dedicated to an Indian Army soldier- Baba Harbhjan Singh, this temple was built in his memory, as it is believed that his soul is still roaming around the mountains since more than 50 years. Now turned into a pilgrimage site, it is often visited by people to pay their homage.
Location: East Sikkim
Timings: 8 AM to 2:30 PM
Entry Fee: No entry fee
Suggested Read: 10 Best Resorts In Sikkim You'll Never Want To Leave When You Visit In 2022
7. Kanchenjunga Base Camp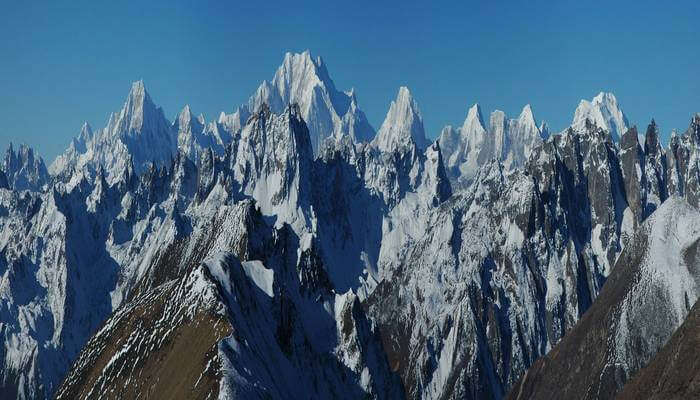 Being one of the prominent parts of the Himalayan ranges, the Kanchenjunga range is a paradise for every true explorer. Perched atop at an altitude of about 14,000 feet, it offers some really breathtaking views from the base camp that might be haunting your memories for life. And, with an ultimate opportunity to witness the magnificence of the world's third highest mountain up close, this place is meant to visit once-in-a-lifetime.
Location: Dzongri
Suggested Read: Paragliding In Gangtok: Witness The Breathtaking Sikkimese Beauty From A Bird's Eye View!
8. Zemu Glacier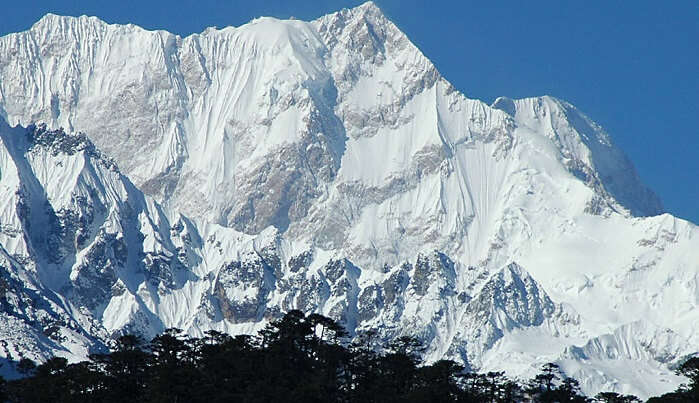 Another base camp to climb to Mt. Kanchenjunga- the world's third highest mountain is located in the eastern region of Sikkim. Nestled at around 18,648 feet, and sprawled over 26 km, Zemu Glacier is the longest glacier in East Sikkim. Decked with snow, this glacier offers a unique opportunity to witness the grandeur of many Himalayan peaks, including Mt. Siniolchu.
Location: East Sikkim
Opening Timings: Throughout the year except during heavy snowfalls
9. Khecheopalri Lake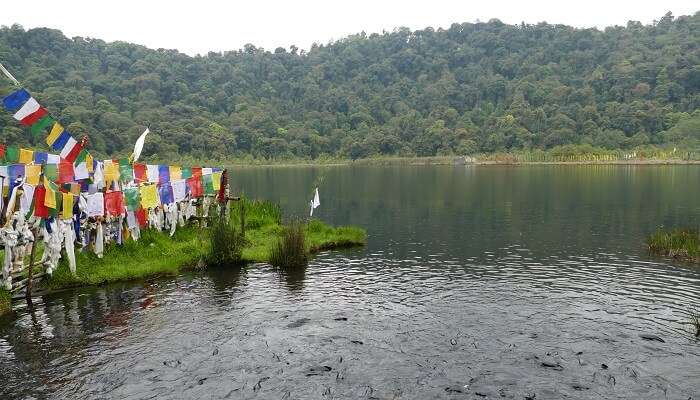 Sitting at a height of about 1,700 meter, the Khecheopalri Lake, also referred to as Kha-chot-palri, is one of the sacred sites in West Sikkim. Nestled in the vicinity of khecheopalri Village, it is quite popular amongst locals and tourists for being a 'wish fulfilling lake'. Housing amazing aquatic life, this lake is fringed with lush forests. And, the most interesting part about it is that you would hardly find a leaf floating in the lake, for they are instantly picked up by birds as soon as they fall on the surface.
Location: West Sikkim, 27 km from Pelling
Timings: 6 AM to 6 PM
Entry Fee: No entry fee
Suggested Read: Trekking In Sikkim: 9 Trails That Will Prove You've Entered The Paradise In 2022!
10. Singshore Bridge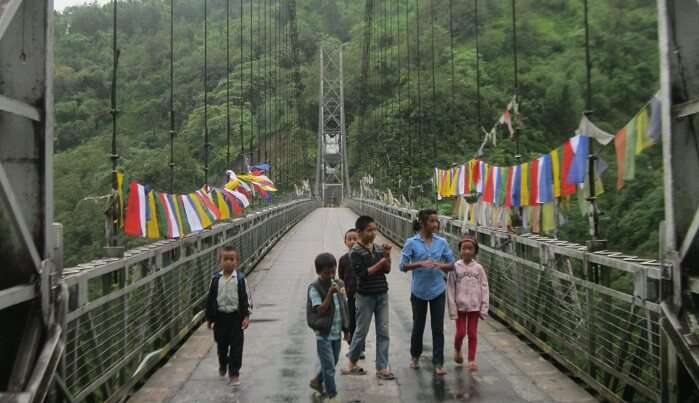 Another enticing attraction located in the vicinity of Pelling is Singshore Bridge. With the height of more than 100 meter above sea level and length of about 240 meter, it is the Sikkim's highest and Asia's second highest bridge. Nevertheless, one of the oldest bridges in the north-eastern state is quite convenient for trekking. Connecting two beautiful hills, it provides you with a chance to witness a striking view of lush landscapes, leaving you in awe; while the strong winds make you heart beat faster.
Location: West Sikkim, 5 km from Pelling
Timings: 6 AM to 6 PM
Entry Fee: No entry fee
How To Reach Sikkim
By Air: With its first airport- Pakyong Airport located about 35 km from south Gangtok, the state is connected to Guwahati and Kolkata via airways. However, if you are traveling from other parts of India, such as Bangalore, Delhi, Mumbai, and others, you can take a flight to Bagdogra Airport, which is located around 124 km from the capital city of Sikkim- Gangtok.
As you reach the airport terminal, you can hire a taxi or public bus to Gangtok, Darjeeling, and Siliguri, and reach your destination easily. Besides that, you can also book a helicopter from Bagdogra to the Sikkim capital, and reach there in around 20 minutes.
By Train: Albeit, there is no railway station in the north-eastern state, you can take a train to Siliguri and New Jalpaiguri which are about 145 km and 188 km from downtown Gangtok respectively. Once you reach the railway heads, there are plenty of buses and taxis to help you reach Sikkim.
By Road: The most convenient and the best way to reach Sikkim is by road. There are a plethora of private and public buses that connect Sikkim to other major cities and towns of India like Bagdogra, Kalimpong, Darjeeling, New Jalpaiguri, and others. The closest bus depots to the state are located in Darjeeling and Siliguri. You can navigate your way through National Highway 31A that connects Siliguri to the capital city of Sikkim- Gangtok.
Further Read: 18 Best Places To Visit In Sikkim In December 2022: Find Exciting Experiences
Nevertheless, what season or month you choose to explore the majestic landscapes of the north-eastern state, there is no dearth of wonderful destinations to entice the true traveler in you. So, take our recommendation, don't ponder too much, book a tour to Sikkim, and set off for an ultimate expedition to Sikkim in September.
Frequently Asked Questions About Sikkim In September
Which are the exciting Sikkim tour packages?
Some of the exciting Sikkim tour packages to enjoy the mesmerising travel destination are:
Gangtok Tour Package For 1 Night 2 Days
Soothing Sikkim Tour Package From Kolkata
Spiritual Gangtok Sightseeing Tour
Is September a good time to visit Sikkim?
Sikkim in September is an awesome place to visit. One experience rainfall in some parts of the state like Gangtok, Pelling, Lachung and Yumthang. The temperature in the month of September varies from 5-7 degree celsius.
How many days are enough for Sikkim?
The duration of on's Sikkim travel depends on the number of places one intends to visit. However, for a trip where one covers all the major attractions and experiences, a 4 night 5 days trip would be sufficient to explore Sikkim at a very relaxed pace.
How can tourists go to Nathula Pass?
Only Indian nationals who have a valid permit can visit Nathula Pass. The only way to reach Nathula is through a drive from Gangtok. Foreign Nationals are not allowed to visit Nathula Pass.
How do travelers get permission for Nathula Pass?
Tourists can obtain a permit by applying to the Tourism and Civil Aviation Department. However, you can also apply for permission through a registered travel agency. Travelers are required to carry along ID proof and two passport size photographs. The permit cost is somewhere around INR 200 per person.
Is Sikkim safe for tourists?
Yes, Sikkim is one of the safest places in India. The law and order in Sikkim is very strict and the locals are very friendly and welcome the travelers with warm hearts and beautiful smiles. One can explore the various attractions of the place and it is safe for female travelers.
Is Sikkim good for honeymoon?
With beautiful weather, suitable climate and amazing views, Sikkim is a great place for honeymoon travel. One can enjoy and long drives along the mountains and the various sightseeing options around the place.
Which is the best month to visit Sikkim?
Ideally, March to June and October to mid-December is the perfect time to escape to Sikkim. Those who want to feel the kiss of spring in this surreal paradise should visit between March and May. And those who want to play in the snow should come here between October and December.
Which is the best time to visit Nathula Pass?
May to October is considered to be the best time to visit Nathula Pass in Sikkim. The temperature of this place at this time is around 10°C, which goes down to -25°C in winters with heavy snowfall. Make sure you get a proper health check-up done before venturing off to Nathula Pass, and wear the right kind of clothes for this place, including layers of warm clothes, gloves, boots, caps, scarves, and jackets. The 3-4 hour journey to Nathula Pass from Sikkim is quite scenic and will take you through beautiful mountains and valleys as well as the famed Tsomgo Lake in between.
Is Nathula Pass open in September?
Nathula Pass remains open in September but it is not recommended to visit this place in the month of September due to the rains, heavy winds, and dense fog. Besides, you won;t be able to see any of those snow-clad mountains that this pass is famous for because of the mist and fog.
Does Sikkim have snow?
Yes, Sikkim experiences snowfall in the winter season. You can see snowfall here between the months of November and February. Sikkim in December and January turns into a white wonderland for snow lovers, couples, and photographers.
Which part of Sikkim is most beautiful?
The most beautiful locations in Sikkim include Gangtok, Yumthang Valley, Lachung, Lachen, Pelling, and Kalimpong.
People Also Read
Bhutan In September Lavasa In September Nepal In September